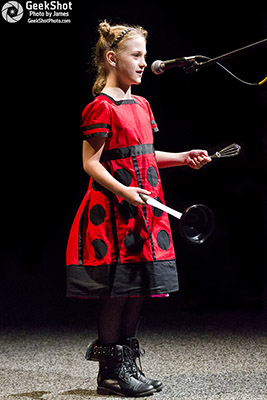 It has been over 2 long years since the last San Diego Comic-Con Masquerade, one of the most anticipated and beloved events honoring the creativity of Comic-Con attendees. Today Comic-Con International revealed that the spotlights will once again be burning bright in Ballroom 20 this November for the San Diego Comic-Con Special Edition Masquerade Costume Competition.
This event will take place on Saturday, November 27 at 8:00pm, with doors opening early for seating at 7:15pm. Attendance at the Masquerade is free of charge, requiring only an approved face covering and a valid convention badge. Tickets are NOT needed to watch the show and overflow viewing areas will be used if Ballroom 20 reaches capacity.
Those interested in competing in the Masquerade can find more information and an entry form on the San Diego Comic-Con Special Edition website. The deadline for entries is November 5, 2021.
Contestants age 12 and up can enter as a single participant or in a group, and trophy medallions designed by fantasy artist Sue Dawe will be given in the following categories:
Best In Show
Judges' Choice
Best Re-Creation
Best Original Design
Best Workmanship
Most Humorous
Most Beautiful
Best Young Fan
Winners in the above categories will also receive a free 4-day badge to San Diego Comic-Con 2022 – which is a big prize in and of itself. In the event that a group wins, up to five memberships (up from four in 2017) will be given.
Additionally, the following sponsored prizes will be awarded:
• Frank And Son Collectible Show, of the City of Industry, California, "Your one-stop show for ALL
your collectible needs" will take a break from their large and popular bi-weekly mini-cons to present to
the entry their representatives deem the audience favorite a $1,000 cash prize!
• The Costumer's Guild West, southern California's costuming fandom group, will present a one-year
membership to their group, as well as one full scholarship and one night's complimentary hotel stay to
their weekend conference, Costume College®, held the last weekend in July 2022 (or winner may
choose 2023 instead) at the Warner Center Marriott in Woodland Hills, CA, to the entry their
representatives select as showing the most promise. Costume College promotes the art of costuming by
providing educational lectures and workshops in every aspect of costuming.
• San Diego Comic Convention is happy to present a special costuming award given in memory of a
long-time committee and Board member Alan Campbell, who passed away and is sorely missed. Alan
was a great fan of the Masquerade, at times generously donating his own prize. The Special Edition
Alan Campbell Award will be $500 cash, presented to the entry deemed Best Re-Creation of a Comics
Character or Characters in the show, as selected by their representative.
You can find more information about the Masquerade on Comic-Con International's website.
Will you be attending or participating in the Comic-Con Special Edition Masquerade? Let us know in the comments.