In just 10 days, we will be together, feasting on overpriced (but delicious) food trucks and spending our money buying all the art. Until then, let us tide you over with WonderCon news on autographs from comics legends, art prints and originals for every taste, and a tote that really puts a cap on this edition.
Let's take a look at the news you might have missed:
Cowabunga! Teenage Mutant Ninja Turtles co-creator Kevin Eastman will be signing at the Torpedo Comics booth during WonderCon on Friday, April 1 from 12pm-3pm, and again on Saturday, April 2 from 3:30pm-5:30pm.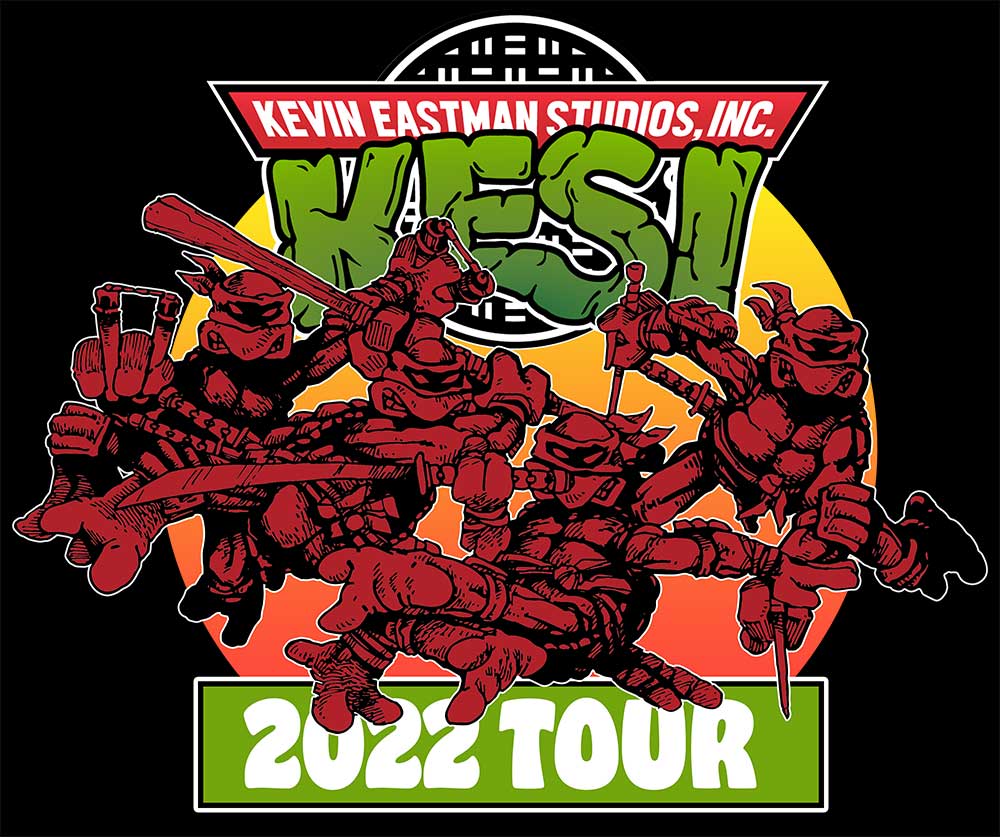 You scream, I scream, we all scream for the Pumpkin King. What's this? Well it's a new Nightmare Before Christmas inspired ice cream cone print by artist Kai B. Parker.
 

 

View this post on Instagram

 
We'll have more Patrick Ballesteros news for you in the morning, but until then, let us tide you over with a peek at some of his Mini Originals for WonderCon. Which is your favorite? 
Seeing how many of these I can get done for Wondercon. Stay tuned folks!#minioriginals #wondercon2022 #exclusive #illustration #sketch #dune #turningred pic.twitter.com/bGc6gv8U4d

— Patrick Ballesteros SDCC DD-08 (@PatrickBallest) March 22, 2022
 

 

View this post on Instagram

 
 

 

View this post on Instagram

 
 

 

View this post on Instagram

 
There's a great, big, beautiful tomorrow, shining at the end of every day… And maybe not tomorrow, but very soon, you can purchase this t-shirt and new products from Whosits & Whatsits at Booth #1801.
 

 

View this post on Instagram

 
Your wallet's going to be in truffle when you see how cute this adorable yellow variant of artist Megan Porch's mushroom tote. Just like the pink version, this is a tote that's sure to have so mush-room for all of your belongings. Grab it at Artists Alley #C-62.
Decided to do a yellow and purple version of my Mushroom bags too! These are my favorite colors. 🙂 They'll also be at Wonder Con! pic.twitter.com/NrB85RiFll

— Meow'Dib 🍄 (@magpieminimart) March 22, 2022
Say the magic word… The first 30 fans who stop by Janie Lee's booth #C-07 in Artists Alley will receive a free keychain when they say the magic word "himbo".
 

 

View this post on Instagram

 
 

 

View this post on Instagram

 
But there are more stickers where that came from! Caleb King showed off a new Ghost Spider sticker he'll hopefully have in time for WonderCon, as well as new Darth Maul canvases. The Darth Maul pieces are limited to 15 signed and numbered 9″x24″, so come join the Dark Side and pick one up.
 

 

View this post on Instagram

 
 

 

View this post on Instagram

 
Artist Val Hochberg has been busy coloring new original pieces of art for her table C-60 in Artists Alley. Stop by all week to snag your favorite, like this wonder-ful Wonder Woman piece, or a Fell Star Byleth.
Had to draw a new Wonder Woman arts for #Wondercon! Of course! 😋
By the way, I'm selling these original art pieces at Artist Alley table C-60! In like less than TWO WEEKS! 😳💦 pic.twitter.com/ytPYDL4dbE

— Valvalchu 💖 (@kickgirl) March 20, 2022
Fell Star Byleth original art piece for #Wondercon! Special thanks to my student Hunter for this one! 🤗#byleth #FireEmblemHeroes pic.twitter.com/RJIDqTgPge

— Valvalchu 💖 (@kickgirl) March 22, 2022
Gonna be selling these signed, limited-edition #wokeonhulu season 2 prints @ #Wondercon2022 and the @cartoonart museum pic.twitter.com/LLlKbA6gYg

— Keith "Yours in the fancy" Knight (@KeefKnight) March 22, 2022
You can take Harley Quinn home with you (not like that, you weirdo) in this fun piece by Taracosm. She might even add glitter confetti to your order.
 

 

View this post on Instagram

 
Wow! @WonderCon is around the corner (April 1-3), so I'm getting stuff ready for it. I'll be sitting at C-03 in Artist Alley. Hope to see y'all there!
•#seangallowayart #batman  #superman #wondercon2022 #superfriends #hannabarbera #saturdaymorningcartoons #cartoon #80scartoons pic.twitter.com/3awWuz8xGi

— Sean Galloway (@seangallowayart) March 21, 2022
Tinkering with more mini prints compositions to have at my Artist Alley table C-03 for @WonderCon 2022.
•#seangallowayart #SuperFriends #HannaBarbera #80scartoons #saturdaymorningcartoons pic.twitter.com/Vb4AQ4FzuC

— Sean Galloway (@seangallowayart) March 22, 2022
Anything we missed? Let us know in the comments, drop us a line, or tweet us at @SD_Comic_Con.