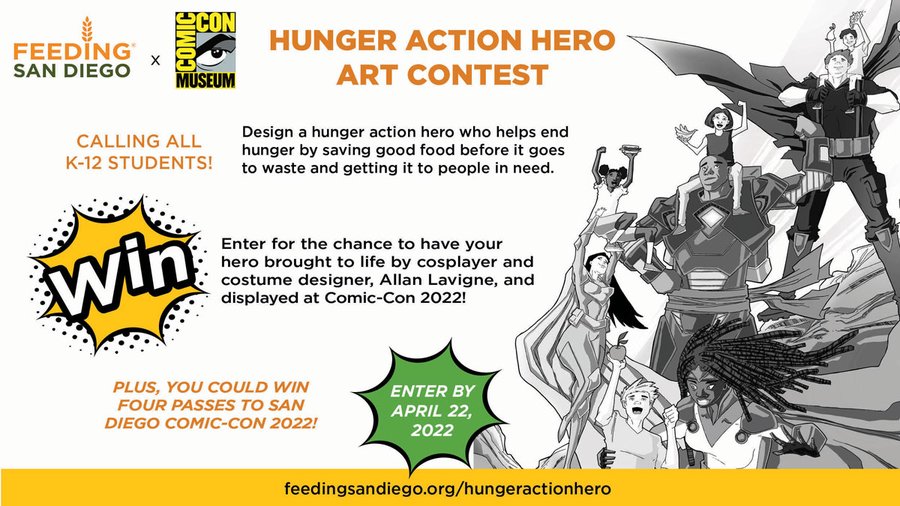 [UPDATE April 29]
The Top 10 Finalists have been chosen, and you can cast your vote now for the Hunger Action Hero Art Contest.
[PREVIOUS]
Anyone can be a hero! You can help make a difference and possibly win badges to San Diego Comic-Con 2022 (or more).
Feeding San Diego and the Comic-Con Museum have teamed up for a Hunger Action Hero Art Contest, where your K-12 child can design a "hunger action hero" who helps end hunger through food rescue. A hunger action hero collects extra food from grocery stores, hotels, restaurants, and farms before it goes to waste (which is called food rescue). Then, the hero gets the food to people facing hunger. Your child's character will rally the community around those who need a little extra help with food assistance and celebrate those who take action.
Beyond that, it's entirely up to your kiddo's imagination — they simply need to submit their design and their hero's origin story (How did your superhero first decide to end hunger? What are your superhero's special powers? How do they help the world by ending hunger through food rescue?) to enter.
You have between now and April 22 to enter (you can enter online or by mailing it; details on the contest site).
The grand prize winner will have their hero brought to life by cosplayer and costume designer Allan Lavigne, and displayed at the Comic-Con Museum during SDCC. Additionally, you'll win four badges to San Diego Comic-Con 2022, and be part of the Comic-Con Museum panel.
But even if you aren't the grand prize winner, you could win other prizes, like a Prismacolor Premier Double-Ended Art Markers Set, complimentary tickets to the Comic-Con Museum, a Comic-Con Museum hat and water bottle, Feeding San Diego Cross Out Hunter t-shirt, and a trip to the Comic-Con Museum's Makers Lab for the class or homeroom of winning students.
Find more information including contest rules on the website.