Welcome to San Diego Comic-Con, have a look around, anything that brain of yours can think of can be found. We've got mountains of content, some better, some worse. If none of it's of interest to you, you'd be the first! We've got a brand new edition of Under the Tents for you, full of artists, comic book companies, a screening, a chance to attend after-parties (if you have deep pockets), and more.
Let's take a look at the news you might have missed:
The account for artist Alex Ross showed off a new original art paying tribute to the Captain America that will be heading to San Diego Comic-Con.
#CaptainAmerica #sketch #art #comic #originalart on the way to #SDCC pic.twitter.com/JuHpr17eKG

— Alex Ross (@thealexrossart) May 11, 2022
Everything, Everywhere, All At Once, Shang-Chi, Ultraman… These are a few of our favorite things. And they're also things that are found in artist Patrick Ballesteros' latest art tease.
A little preview of an exclusive coming to #SDCC in July.

Trying to bring the 🔥 folks! Also, table assignment set so see you all in Artist Alley table DD-08 same spot as always.

#ComicCon #SDCC2022 #everythingeverywhereallatonce pic.twitter.com/rrrKoJV0Ua

— Patrick Ballesteros SDCC DD-08 (@PatrickBallest) May 10, 2022
We could all use a little more Mei in May. Ballesteros also gave a peek at one of his Mini Originals for the con.
Friday here we come!#SDCC #exclusive #TurningRed #minioriginal pic.twitter.com/IdjgK8UEaS

— Patrick Ballesteros SDCC DD-08 (@PatrickBallest) May 13, 2022
The exhibit floor map for San Diego Comic-Con hasn't yet been publicly announced, but the puzzle pieces are starting to come together. Project Naosis was very excited to reveal they got accepted to the convention.
JUST GOT ACCEPTED INTO #SDCC SO AMPED! SO EXCITED I CANT CONTAIN IT! #comicbook #comicbooks #ComicCon

— Project Naosis (@ProjectNaosis) May 9, 2022
Just what do Z2 Comics have brewing for San Diego Comic-Con? Well, we're not entirely certain, but we know it involves vampires and spaghetti, so we are in.
.@Z2comics has some 🔥💩 brewing for #SDCC 🤐
🔎🍿/🪩💥 🧟🧛‍♂️/🪄🍝

— Sean Edgar (@seanmedgar) May 6, 2022
What's pink, purple, sparkly, and possibly heading to San Diego Comic-Con? These Toratai molds, which artist Priscilla Wilson showed off. Would you like to see a run of these beautiful pearlized variants at the con? Be sure to let her know.
Took the new #Toratai molds out for a test drive with some beautiful pearlized colors. Would you be interested in a run of these for #SDCC? pic.twitter.com/cTwTb5hbd1

— Art of Priscilla Wilson 🔜 SLO Comix Fair (@valorandvellum) May 8, 2022
Simply Human Project, a non-profit which provides outreach, housing and services to unsheltered individuals and families, is auctioning off a set of 4-day badges to San Diego Comic-Con, as well as access for two "exclusive Comic-Con" parties. They don't list which, but promise you'll get to choose from "four terrific options". Bidding is live now through May 16.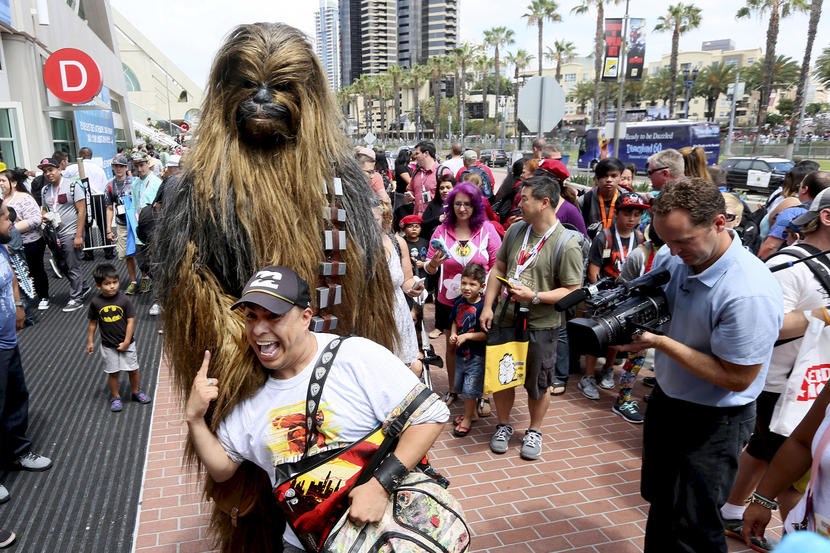 View this post on Instagram

 
We love the art of Monkey Minion — and we also love exclusives that are actually about San Diego Comic-Con. Put the two together, and you've already got an immediate winner. So when are we seeing that final piece, huh, Dane?
There are a lot more plants adorning the @SDConventionCtr than I ever noticed before. Things you notice when you're working on a new #SDCC exclusive.

— Monkeyminion 🔜 home (@monkeyminion) May 12, 2022
2022 Appearances

Bedrock City Comics Mini Con, May 14, Houston
TCAF, June 17-19, Toronto
San Diego Comic Con, July 20-24, San Diego
Galerie 9eme Art, September 1, Paris
New York Comic Con, October 6-9, New York@BedrockCity @TorontoComics @Comic_Con @galerie9art @NY_Comic_Con pic.twitter.com/WTcQsqoxRi

— Terry Dodson (@TerryDodsonArt) May 11, 2022
I will take a pre show commission list 2 weeks before San Diego Comic Con (and all my shows)

— Terry Dodson (@TerryDodsonArt) May 11, 2022
Can't wait to see all the exclusives? Well Diwata Komiks can't wait to tell you all about the exclusives! The Filipino-American indie comics company will be doing a variant cover for The Wrathborn Goddess for SDCC by artist diwatero.
We're excited to share that @diwatero will be doing our #SDCC Variant Cover for #TheWrathbornGoddess!#DiwataKomiks #CarminaSeries #CoverArtist

Check out his fantastic rendition of Mars Ravelo's #Darna! pic.twitter.com/qsz9h1pQ85

— Diwata Komiks (@DiwataKomiks) May 10, 2022
Panel announcements — they're coming! Eventually. For now, we're excited to see that the short film The Bee will be screening at this year's con. The short follows a girl, Sydney, who dresses up like a bee to fight crime, but to reach her full potential she must first overcome a tragic event from her past.
 

 

View this post on Instagram

 
Meloria Maille, who combines metal, chic, and all things geek, will be exhibiting at SDCC this summer. Go congratulate them!
 

 

View this post on Instagram

 
Just got a booth confirmation for SDCC 2022😳 #sdcc2022

— Nay (Naoko Mullally) (@naybacca) May 12, 2022
Anything we missed? Let us know in the comments, drop us a line, or tweet us at @SD_Comic_Con.
If you missed our previous Under the Tents 2022 posts, you can find them HERE.