Good evening all and welcome to another edition of Under the Tents, here to soothe anyone still feeling the sear of missing out on Funko Fundays tickets and offer consolation, empathy and something to help take your mind off it. If lady luck was on your side today, you'll still find lots of great information to enhance your SDCC. We have original art to show you, plus some autograph news and a few more panels. 
Let's take a look at the news you might have missed:
Artist Amy Mebberson knows how important it is to sketch a dollar….or, erm….I mean, STRETCH a dollar. She is bringing along a pile of bargain original art pieces that will start at only $5.00. You'll want to head to booth #5555 right away for the best selection.
 

 

View this post on Instagram

 
Also at booth #5555 is James Silvani and he's revealed even more original art that he'll be offering. These fully rendered pieces will start at $120.
More art for SDCC. My art teacher would be so proud of me. I'm coloring within the lines at least 30% more.
Starting at $120. Find me at booth 5555. pic.twitter.com/A0fc4Wm3MU

— James Silvani (@SilvaniArt) June 20, 2022
While this pic looks like art all by itself, it's actually the blurred gradients and palettes for many (but not all!) of Chris Maze's San Diego Comic-Con exclusives. 
#SDCC is about a month away and I've been waiting months to share my new work with you! I created this graphic which shows blurs/gradients made from the color palettes of my newest work that will debut at the show. This is not even everything!!!

Any guesses? pic.twitter.com/yIF3tFunzi

— Chris Maze (@MAZEhimself) June 21, 2022
Unfortunately a change of plans for New York Times bestselling writer EK Johnson means that San Diego Comic-Con is no longer an option. 
https://twitter.com/ek_johnston/status/1538999691307884546
Artist Justin Harder won't have a table in the exhibit hall unfortunately, but if anyone knows how to turn lemons into lemonade, it's Justin. Keep an eye on his Twitter because he's cooking up a potential pool side soiree.
For @Comic_Con in 2019 I did a pop-up shop where I sold some posters at the Marriott pool. It was awesome and I'm so pumped to be going back this year – thinking bout doing it again! Could do sketches and sell my remaining Mondo Deadpool posters

— Justin Claus Harder (@clausstudios) June 21, 2022
Everything means something to us at the UBlog and so when we saw that one of the writers for the upcoming Netflix show The Sandman, Shadi Petosky, expressed excitement about returning to SDCC we could not help but start hoping for lots and lots and lots of Sandman content. See you in the Gaslamp with the tissues, Shadi!
https://twitter.com/shadipetosky/status/1539026360097681409?s=20&t=su1qOzEXG4KPsz5J4wDcFw
Illustrator of the graphic novel Miles Morales: Shock Wave is inviting friends and enemies to meet him at a signing at the Scholastic booth during San Diego Comic-Con. Date and time T.B.A.
Gonna be at #SDCC next month, at the Scholastic booth signing Miles Morales: Shock Waves, if you're there, if we're friends, or enemies 👁️👁️, stop by, say hi

— Pablo Leon (@ArtsyPabster) June 20, 2022
Voice actor Bekka Prewitt has released her autograph signing schedule for San Diego Comic-Con. You'll be able to catch her in the Sails Pavilion as well as on the Women & Minorities in Gaming panel on Saturday.
Guess who's coming to @Comic_Con 😜See u soon!
@GorillaWithAPen @GwapUniverse https://t.co/u3SOYhLPRF
GFX @BrianSikoff @heir_jordans #comiccon #gaming #voactor #bekkaprewitt #belaslittleones #residentevilvillage #beladimitrescu #kittycheshire #evilwithin2 #everafterhigh #pcap pic.twitter.com/GfYwAk7VN7

— Bekka Prewitt (@BekkaPrewitt) June 20, 2022
The National Cartoonists Society will have their booth full of amazing talent during San Diego Comic-Con, with live traditional and digital art, caricature drawing, and signed cartoons. Be sure to follow their Instagram for all the details.
The Exiled, a graphic novel written by Blade actor Wesley Snipes, is currently funding on Kickstarter. The campaign gives a little hint about a San Diego Exclusive Ashcan, offering it as a reward and indicating that the only other way to get one is to attend San Diego Comic-Con.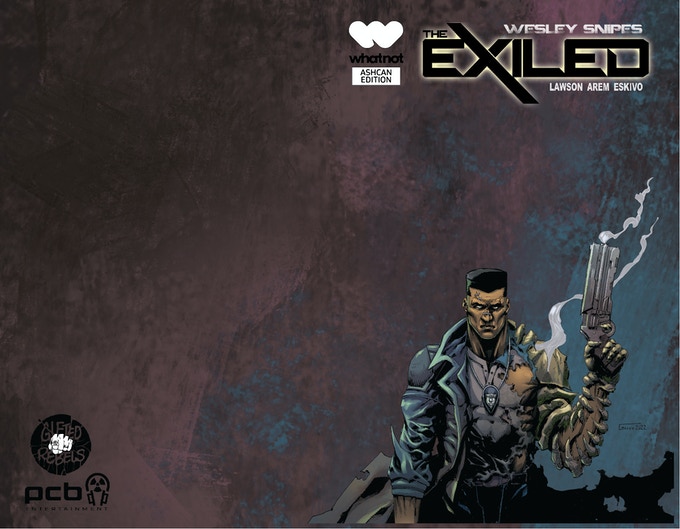 It's all about location, location, location and stylish shirt brand RSVLTS is getting a great one. RSVLTS posted today on their blog that they will be setting up shop inside the Lucasfilm Pavilion with some of their existing Star Wars inspired designs as well as new items every single day. Additionally, keep your ears open for a low-key happy hour where you can meet one of their new collaborators.


Artist Brian Ewing, known for his gig prints, will be at Comic-Con, at booth #4820. If we're very lucky he'll bring some of his test prints with him.
"HOTH TROOPER & JOKER" TEST PRINT
18"x24" • Screen Print
One Of A Kind • Signedhttps://t.co/iBkjnbrqaz

Join the FIEND CLUB for a chance at a BONUS TEST PRINT!https://t.co/DzVjzlWxNu

PSST! I will be exhibiting at #SDCC #SANDIEGOCOMICCON this year!! BOOTH 4820!!! pic.twitter.com/W6nlJfuVGX

— Brian Ewing (@BRIAN_EWING) June 21, 2022
Finally today, the good folks over at Con Rangers announced that they will be moving locations just slightly, but gaining a corner spot. We can expect to see 5 new badges from them for 2022 over the next few weeks. Better start making room on your sashes!
Hard to believe, but this time next month we'll be in SAN DIEGO! We can't wait to see you all in our new location ✨ Q-16 ✨ (just one spot over, but we're on a corner now!) and we're excited to reveal our FIVE new badges for 2022 over the coming weeks, so stay tuned! pic.twitter.com/8kbbjd9AkS

— The Con Rangers (@theconrangers) June 21, 2022
Anything we missed? Let us know in the comments, drop us a line, or tweet us at @SD_Comic_Con.
If you missed our previous Under the Tents 2022 posts, you can find them HERE.