Is anyone else freaking out yet? It feels like a switch was flipped and suddenly we are awash with San Diego Comic-Con news. And while some exhibitors may be trying to hog the spotlight (ahem…Funko) there are certainly so many other items of note that deserve to be seen. Thankfully, this is Under the Tents and we're here to show you some birds with opinions to share, some very sweet crafts, a few more panel announcements and so much more.
Lets take a look at the news you might have missed:
If you have a specific feeling about NFTs and want to share it with the world, Aaron Reynolds, creator of Effin' Birds, has you covered with these finely crafted enamel pins. You can snag them at the Nerd Street booth, #2049.
Those pins, by the way, are my San Diego Comic Con exclusive. We were adding them to the site in case there are any left after the con. If you want some, best bet is to come to SDCC. Failing that, check https://t.co/Qs5plRHCU9 a week after the show. pic.twitter.com/6x80Q8iNlQ

— Aaron Reynolds (@aaronreynolds) June 14, 2022
 

 

View this post on Instagram

 
Completed that Gunslinger #Spawn #sketchcover for #SDCC ! I went with warm grays, since the page was a little toothy, but I'm really happy how it came out!#gunslingerspawn #mcfarlane #image #imagecomics #marker #ink #original #art #cover pic.twitter.com/vWdc2dBT2E

— Jeff Pina Makes Comics! (@JeffPina78) June 14, 2022
Gaming consultant Lydia-Rae Wehmeyer will be leading a discussion for educators about incorporating cosplay in learning spaces.
I took a risk with no expectations and now I'm humbled to announce I've been accepted to present at @Comic_Con !
I'll be leading a panel on how to incorporate #cosplay in learning spaces.
Thank you for seeing me 🖤#comiccon #teacher #learn #BlackGirlMagic #edu #speaker #teach pic.twitter.com/fkjAAX4Z3q

— Lydia-Rae Wehmeyer BA, M.Ed (she/her) 🔜GAMA (@boardgameedu007) June 14, 2022
The collection of original art that James Silvani will have available at San Diego Comic-Con continues to grow. Booth #5555 is where you can find Don Karnage, Darkwing Duck and more, starting at $120.
Why is it every time I tell someone outside the industry that I'm going to be at Comic Con next month, their question is "What are you going to dress up as?"
Anyway, here's more art coming with me. Starting at $120. Find me at booth 5555. pic.twitter.com/vLAPN2HcR4

— James Silvani (@SilvaniArt) June 14, 2022
Members of the Hellfire Club and any other RPG enthusiasts will want to carve out time in their schedule for this panel, "Level Up: Creating an RPG Empire" which will be hosted by Danielle Beckmann.
OMG 🤩 So excited to be hosting a panel at this year's @Comic_Con!
I'll be talking all things RPG biz related with fun guests announced soon. Check back for more details! And lemme know if you'll be there—would love to say hi! 🙋🏻‍♀️#sdcc #sandiegocomiccon pic.twitter.com/X8xupvWttQ

— Danielle Beckmann (@DBeckComedy) June 14, 2022
Creative director of the action-adventure open world game Mictlan: The Game, Guillermo Alarcon announced on Twitter that they will be having a panel about the game on Friday, July 22.
Excited to be back to this year Comic-Con International as panelist representing Mictlan An Ancient Mythical Tale one more time!!

This will be my 3rd Comic-Con in less than a year 🥰❤️

See you in San Diego!@Comic_Con pic.twitter.com/8zO797c7WG

— Guillermo Alarcon (@future_vizion) June 14, 2022
Nan Hockin's art never fails to make us smile….and maybe a little hungry too! We might need a bakers dozen of these cute donuts.
Sewing cute stuff makes me happy! #SDCC2022 #SDCC #donuts #donutfelt pic.twitter.com/EVyRfV72lJ

— ArtByNan (@nanhockin) June 14, 2022
Ben Ferrari is putting together an SDCC Preview book featuring his comic, Carriers, with Red 5 Comics. This will be Ben's first time back to San Diego Comic-Con since 1996!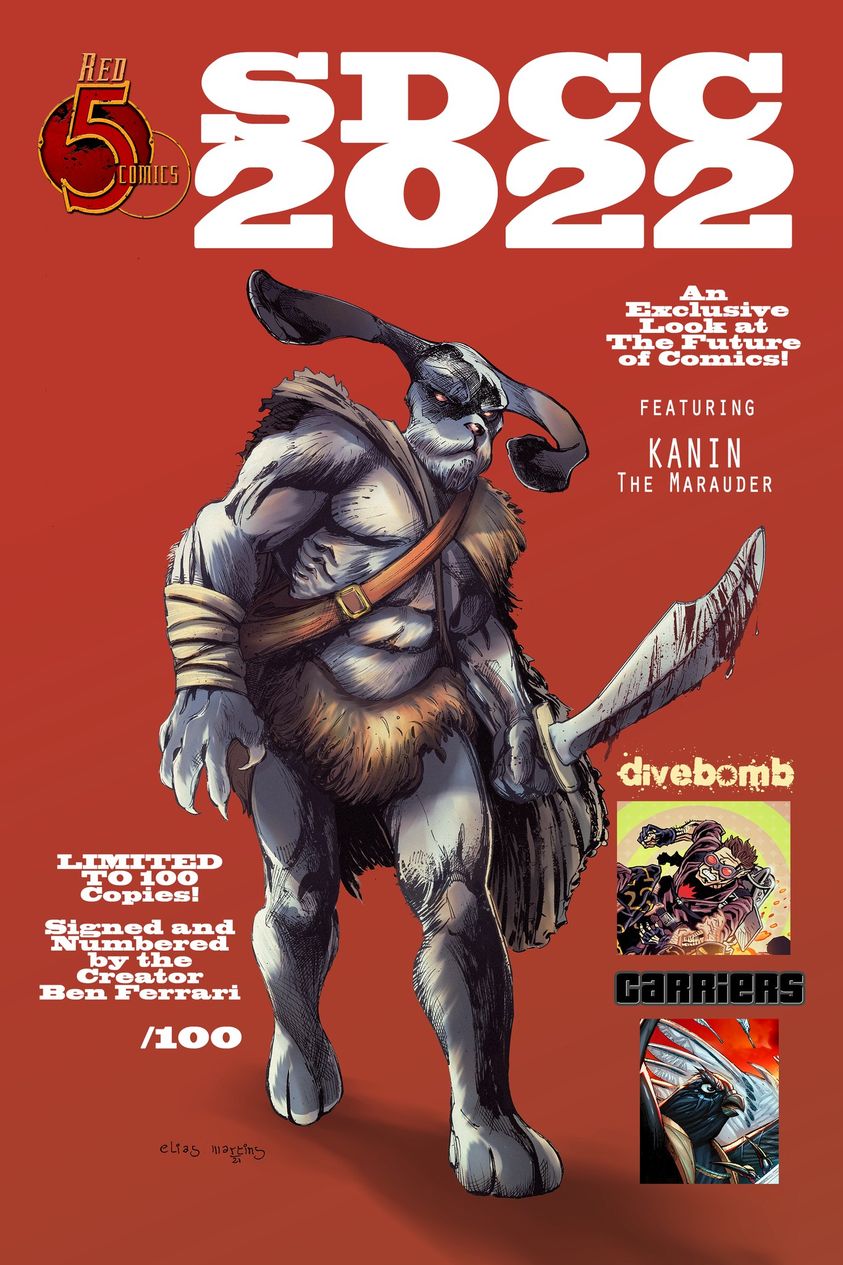 The University of San Diego's Copley Library is hosting panels and presentations for the Comic Studies and Practices Symposium, the first of its kind. The event will be held online the Monday and Tuesday before San Diego Comic-Con.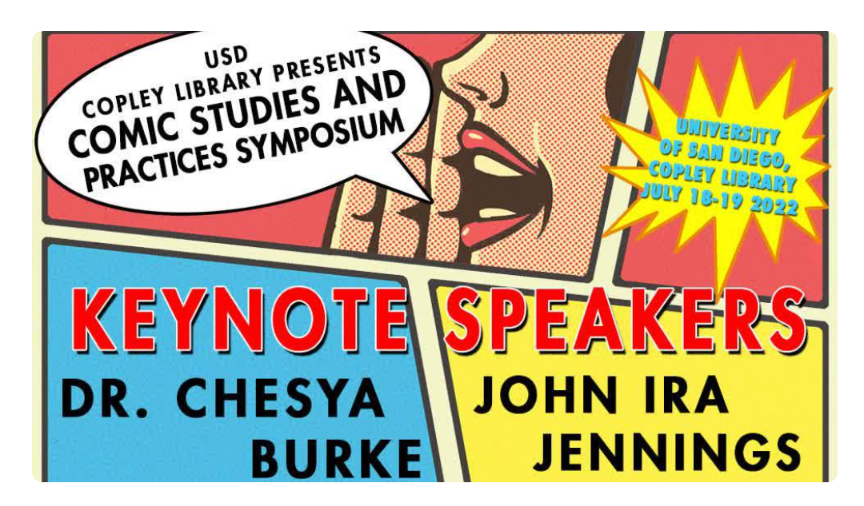 Creator of Hulu's M.O.D.O.K., Jordan Blum won't just be attending SDCC as a fan, he will also be on a panel, yet to be revealed.
Okay, just agreed to do a panel so I guess I'm actually going to do SDCC this year. Come find me at the dollar bins trying to put an Infinity Inc run together.

— Jordan Blum (@BlumJordan) June 14, 2022
Iron Druid Chronicles and fellow dog lover, author Kevin Hearne had to deliver the bad news to a fan on Twitter….he will not be attending San Diego Comic-Con this year.
https://twitter.com/KevinHearne/status/1536805482194771968?s=20&t=lFluiY-s9AbYLhPnPdUceg
And I'm not going to SDCC.

— Matthew Rosenberg (@AshcanPress) June 14, 2022
Triple threat (artist, writer and all around amazing person) Victoria Ying will be offering at least one print for sale at San Diego Comic-Con. We'll keep checking back for any sneak peeks.
Just put in my print order for SDCC! Can't wait to see everyone very soon

— Victoria Ying HUNGRY GHOST April 25 (@victoriaying) June 14, 2022
Anything we missed? Let us know in the comments, drop us a line, or tweet us at @SD_Comic_Con.
If you missed our previous Under the Tents 2022 posts, you can find them HERE.