With just a little over three weeks until San Diego Comic-Con 2022 triumphantly returns to San Diego, news has gone from a trickle to a steady stream. This issue of Under the Tents has some juicy SDCC news from The Sandman, Patrick Ballesteros, Image Comics, and a lot more. Warning: This issue is hot!
Let's take a look at the news you might have missed: 
We've already had plenty of Dragon related news today, why not some more? B Side Management posted pic of yesterday's Deadline article, adding in Jenna Coleman and Kirby Howell-Baptiste will both be there for The Sandman. They also mentioned Matt Smith, who was confirmed today for House of the Dragon.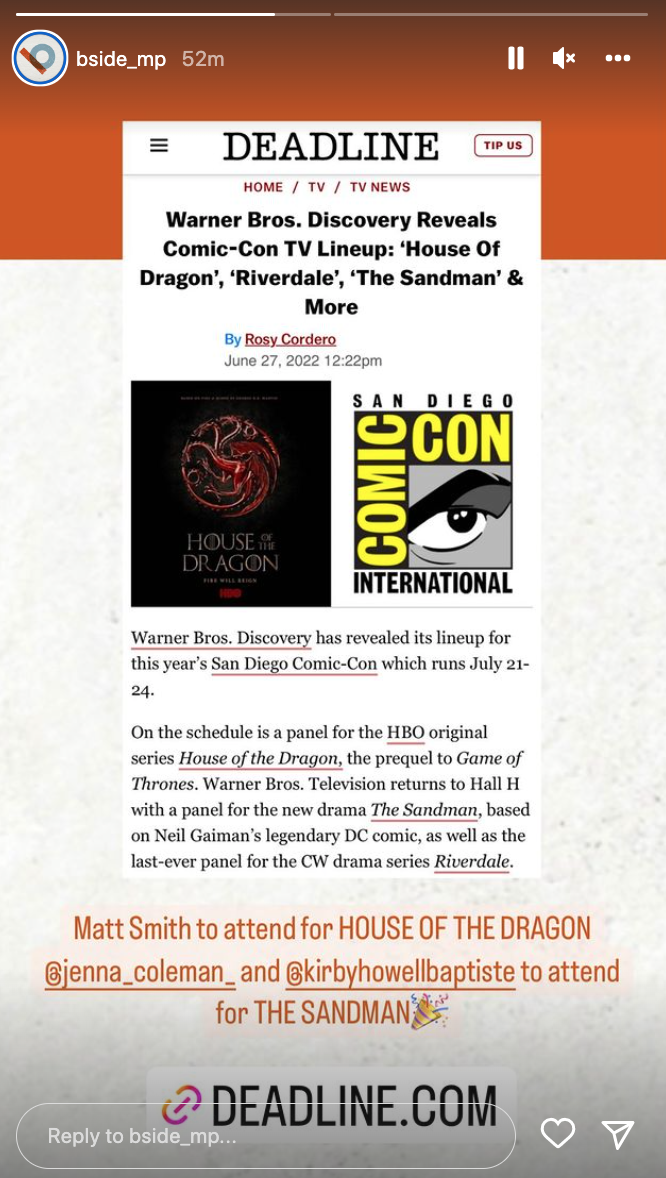 I've said it once and I'll say it again…. that Patrick sure knows how to make anything cute…. and BOYS, do I mean anything! Here's a set of originals depicting characters from The Boys that Patrick will be bringing with him to SDCC.
 

 

View this post on Instagram

 
In case that didn't convince you, here's Patrick's latest SDCC mini-original featuring the best investigative reporter in comics, TMNT's April O'Neil. Jessica who?
For anyone playing Shredders Revenge April is the best!!!#SDCC2022 #TMNTShreddersRevenge pic.twitter.com/mKHLv6d50i

— Patrick Ballesteros SDCC DD-08 (@PatrickBallest) June 28, 2022
There's room for everyone at San Diego Comic-Con, even the world's tiniest heroes. These little cuties will be a part of the Geeky Hooker's critter drops. It's all about "finders keepers" when it comes to these heroes.
You know the drill! More critters are coming, and if time permits maybe some new ones before SDCC! Meanwhile you can peep the current #critterdrop lineup with details on how to join the hunt at my blog: https://t.co/8wbeVQWvBQ pic.twitter.com/yEsHNZ6jT9

— Geeky Hooker (@GeekyHooker) June 28, 2022
Artist Val Hochberg is starting the coloring process on all…*checks notes* ONE HUNDRED AND EIGHT originals that she'll be offering at San Diego Comic-Con. Looks like she is starting with this cheerful Star Wars inspired piece.
 

 

View this post on Instagram

 
Jeff Pina is starting a whole new series of prints for SDCC, and the first one is taking inspiration from Peter David's fantastic run on Marvel's X-Factor. I spy with my little eye Jamie Madrox and Jamie Madrox and Jamie Madrox.
 

 

View this post on Instagram

 
We love seeing the excitement when first-time panelists get to announce their panels. Golden Apple Comic and Art Foundation is so excited to finally have their panel approved, they've decided to give attendees free entries into their charity auction for some swag.
🚨 We officially have been selected for a panel at @Comic_Con this year!

Meet our board members, hear about our charity, what we want to accomplish and how to Help Save Comics!

Plus, all attendees get a free entry to win prizes in our charity giveaway!

More info coming soon… pic.twitter.com/74vQfGXghb

— Golden Apple Comic & Art Foundation (@GAppleCAF) June 28, 2022
I got chills. They're multiplyin'. No, I'm not sick; I'm swooning over Welcome to Toddland's new t-shirt design for Booth #4423 at SDCC this year. This is definitely the one that you want. Oo. Oo. Oo.
"Tell me about it.. stud. Stud. Like a horse." Who's excited to get a new tee shirt that you buy with your own money!?

This (& regular tee version) available later this week to pre-order for shipping or SDCC pickup! Only on https://t.co/56KWC1ZVk5! #bobsburgers @BobsBurgersFOX pic.twitter.com/bfsoVQZgId

— toddland #stayrad® (@toddlandstore) June 28, 2022
According to a recent press release from SDCC mainstays Sideshow Collectibles, they are returning to SDCC Booth #1929 this year and bringing their usual awesomeness with them. They'll have a huge selection of statues, figures, fine art prints, and photo ops at their art gallery-inspired booth — along with friends and partners Hot Toys, Tweeterhead, Insight Edition, Iron Studios, Prime 1 Studio, PureArts, Infinite Statue, EXO-6, and more.
Anything we missed? Let us know in the comments, drop us a line, or tweet us at @SD_Comic_Con.
If you missed our previous Under the Tents 2022 posts, you can find them HERE.