If you tuned into our SDConCast last night, you heard James Riley refer to this as "one werewolf cycle" until San Diego Comic-Con 2022 (if you missed it, feel free to go back and listen to the episode). Warren Zevon would be singing "Werewolves of Comic-Con" if he were still here. We're howling with excitement with announcements from Legion M, Ethan Castillo, Geeky Hooker, and a lot more. Sink your teeth into some juicy SDCC news today.
Here's a look at what you might have missed:
Did you miss out on your Bob's Burgers Louise Ears or "It's Summer Baby" Beach Cover-Up from Toddland at WonderCon? Well, good news, as Todd has confirmed that both items will be restocked for this year's San Diego Comic-Con exclusives collection.
We'll get you your burger of the day winner tomorrow, BUTTS, we're confirming both of these will be restocked online when our summer convention collection goes live in a few weeks!! For pickup at sdcc or shipping. #bobsburgers #BobsBurgersMovie pic.twitter.com/Nl3ThEZf76

— toddland #stayrad® (@toddlandstore) June 22, 2022
The creator behind Warrior Pins was excited to announce via his Instagram feed that he will be among the panelists for this year's SDCC panel about turning art into enamel pins. This panel might be a little dangerous for my wallet, but they have some talented enamel pin designers who will certainly have some great tips to share.
 

 

View this post on Instagram

 
 

 

View this post on Instagram

 
Zoop! Zoop! Jordan Plosky, creator of the indie comic We Are Zoop, will also be paneling at SDCC this year. While he hasn't released too many details yet, more will be coming soon.
@WeAreZoop is on a panel at #SDCC this year! More details to be released as we get closer, but yours truly will be there representing! Come say hello!

— Jordan Plosky – Zoop (@jordanplosky) June 21, 2022
Jewel Shepard (Return of the Living Dead) will also be slaying on a panel at SDCC next month. Look for her at the Dave Stevens/Rocketeer panel on Saturday, July 22 at 10am PT.
https://twitter.com/Jewelshepard/status/1539297827649515520
Great to see everyone this weekend at the Legion M meetup at @FanExpoDallas! Next stop– San Diego Comic Con this July. pic.twitter.com/m4h6UuAwnV

— LegionM (@LegionMOfficial) June 21, 2022
Masters of silicone mask making Composite Effects announced that for the first time, they are opening their SDCC sale items to customers online as well as visitors to Booth #2944. Folks can visit CFXMasks.com during SDCC for the same sale items offered at the con.
💥NEW FOR #SDCC 2022 – For the first time EVER #CFXMasks will open our San Diego Comic-Con International sale to EVERYONE; during show dates in person at booth 2944 AND online at https://t.co/NQv7tOyklm! See the details below or on our FB page for more info! pic.twitter.com/KWcnO1GqF7

— Composite Effects (@CFXunmasked) June 21, 2022
YouTuber/Power Ranger/television host and now, comic book writer Meghan Camarena (known to her followers as Strawburry17) will be appearing at SDCC this year for her first time as a comic book writer. She says she has some "fun stuff planned," so stay tuned for more info.
Heading to @Comic_Con this year for the first time as a comic book writer! Got some fun stuff planned and will let you know once things are announced but if you're going it'd be nice to say hi! 💖🍓 #SDCC2022

— Meghan Camarena (@Strawburry17) June 21, 2022
Former SDConCast guest and amazingly talented young artist Ethan Castillo displayed another of his Spidey Post-It Notes for his Twitter followers. It's one of the many he'll have at Table #AA-01 in Artists Alley this year.
Got some requests for the homie 2099 and I have not drawn him in a while so! #ComicCon #SDCC #SDCC2022 #SanDiegoComicCon #SpiderMan2099 #SpiderMan #SakuraofAmerica #PigmaMicron #GellyRoll #CopicMarkers #Copic pic.twitter.com/62zTKYd6FK

— Ethan Castillo (@EthanCastillo05) June 22, 2022
It's hot in San Diego in July, but Betty and Veronica are frolicking in a winter wonderland and looking nice and cool in NerdStreet's new BEAR themed Betty and Veronica comics. They'll have their CALIFORNIA exclusives at Booth #2049, which feature the Archie ladies with the famous California Grizzly Bear, and an alternate cover featuring an Alaskan Polar Bear. Each comic is $29.95 and limited to a set of 250 each, or you can buy the pair as a set for $49.95. Fans will even have the opportunity to have the comics signed by Dan Parent.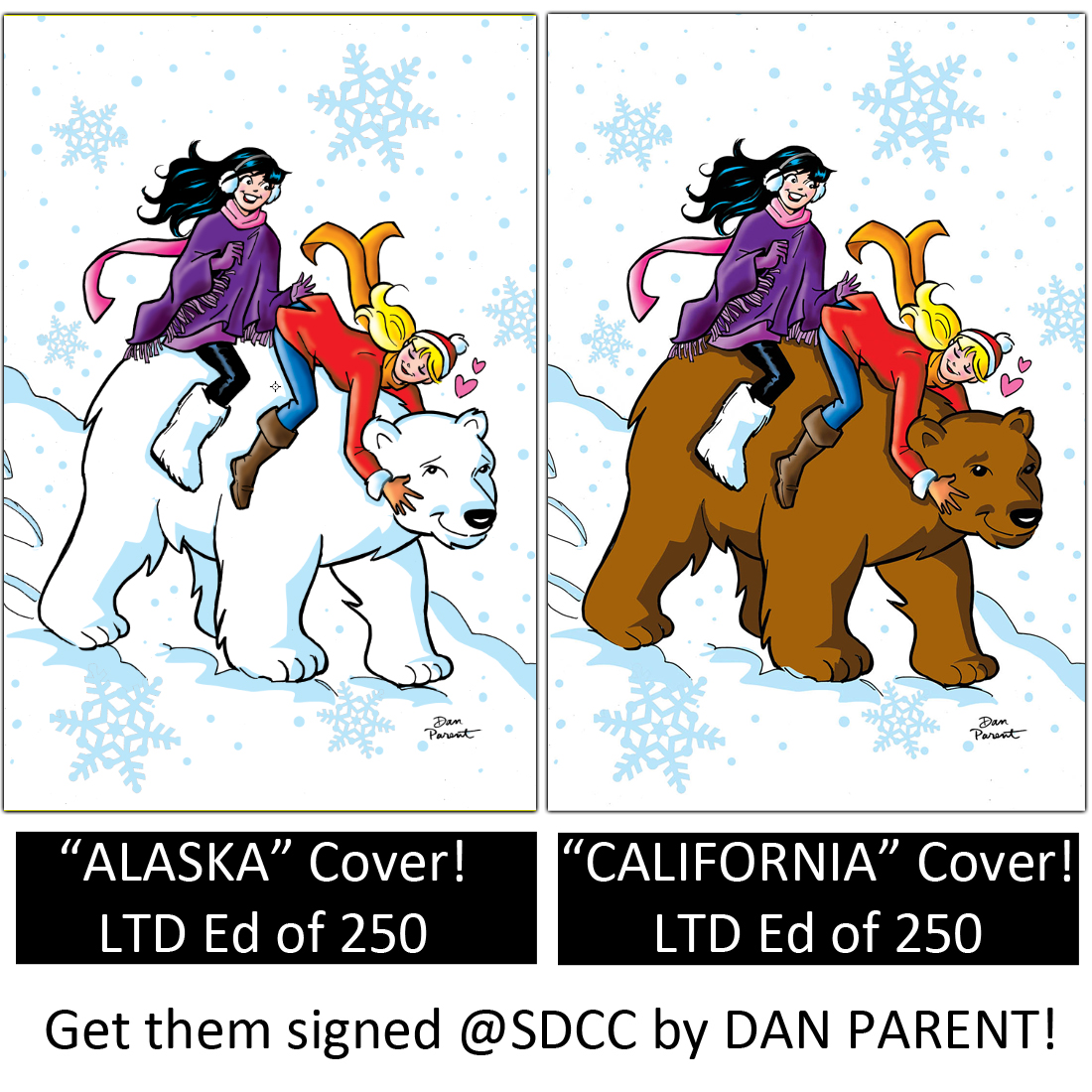 WAKA WAKA WAKA – Pac-Man and Inky are coming with me to SDCC next month! More photos at my IG, and I'll have a blog post with the latest #critterdrop lineup coming soon! (Pattern for Pac-Man by @craftyiscool) https://t.co/sBL0VJQs3d pic.twitter.com/4MZnilXlo3

— Geeky Hooker (@GeekyHooker) June 22, 2022
More WIP samples! The #SDCC prep continues! My "to color" stack of originals is starting to look pretty daunting… 😳💦 There's about 70 pieces total in that pic! Luckily, my fluffy assistant is cheering me on! 😋💖
Hope you like them! More sneak peeks coming soon I hope! pic.twitter.com/wh488XUDTK

— Valvalchu 💖 (@kickgirl) June 21, 2022
Anything we missed? Let us know in the comments, drop us a line, or tweet us at @SD_Comic_Con.
If you missed our previous Under the Tents 2022 posts, you can find them HERE.