It took us three years to get here — and now, just like that, it's over again until next year. But don't worry, we'll be here to scratch your San Diego Comic-Con itch with some wrap-up this week and probably next, before we sleep the Odin sleep for offseason.
2022 was always going to be an odd year. There's still a pandemic raging (and several have already reported catching this year's not-so-exclusive variant, Covid-19) — and many companies are in a state of flux from mergers, downsizing, and just a lack of institutional knowledge in our new normal. So because of that, maybe we're being less critical than usual, but we thought the good far outweighed the bad.
So let's take a look at what we think are the top five winners and top five losers from this year's con.
5 WINNERS OF SAN DIEGO COMIC-CON 2022
Crowds
Anyone who attended San Diego Comic-Con this year definitely felt the difference, but crowds were definitely down this year. And it was AMAZING!
We have no idea of the actual percentage, but it felt like maybe 20% fewer people than a normal year — and that meant lines across the board were shorter, and everything was easier to get into. From personal experience, I lined up at 4:30am on Thursday for Ballroom 20 — and got the same place I get in a normal year when I line up at 7pm. Hall H? Was basically a walk-in every day except Saturday, and some in standby without wristbands even made it in on Saturday. As seen in the video below, the floor was practically a walk-up at times. That may have hurt some vendor's paydays (which we don't like), but fighting fewer people for the things we wanted? Total gamechanger, and led to a much more relaxed, chill convention. Everyone just stay home again in 2023 as well, please.
We also just want to give a shoutout to the amount of crowds that were masked up inside the convention center, which felt like a very, very high percentage, especially compared to other non-CCI conventions of late.
When has the show floor ever been this empty on a Saturday? #SDCC pic.twitter.com/NBf1o1l56D

— SDCC Unofficial Blog (@SD_Comic_Con) July 24, 2022
Dungeons & Dragons Offsite/Line Management
This year was a great year for offsites — if you could make it in. House of the Dragon frequently had an eight hour+ wait, and Severance may have been the best experience of the con, but even with a reservation many waited 2.5+ hours for their timeslot to be called (and that's to say nothing of their joke of a standby line, which they should have done away with after they realized they were filtering in like five people a day from it). In a good convention, we think you need two kinds of offsites: The smaller, more intimate and limited offsites like Severance and Westworld, and then offsites that can handle large crowds and filter them through, all while providing a quick, fun experience.
For San Diego Comic-Con 2022, that second category was filled almost entirely by Paramount Pictures' Dungeons & Dragons offsite.
Where do we even start with how much we enjoyed this experience? First, there were timeslots you could reserve online — and they had high capacity, and were on time. For those who weren't fast enough to score a timeslot, there was still a standby line, which frequently only had a 30 minute wait. We're honestly not sure any other offsite all week consistently had just a 30 minute wait.
The line management here was basically Disney World line queue worthy. There were a few hiccups on Thursday, but by Friday and the rest of the week, it was a well-oiled machine, even if it at times looked chaotic. The woman running the line management here deserves a standing ovation, a raise, and probably a glass of wine or three. She had the best run line of the entire con, either inside or outside the convention.
Once inside, you got a free drink (alcoholic or non-alcoholic), a few interactions with actors, and a fun, quick show. Because it was quick, they were able to filter people in and out, so you left wanting more (and maybe wishing you could keep the mug), but everyone we saw left with a smile on their face.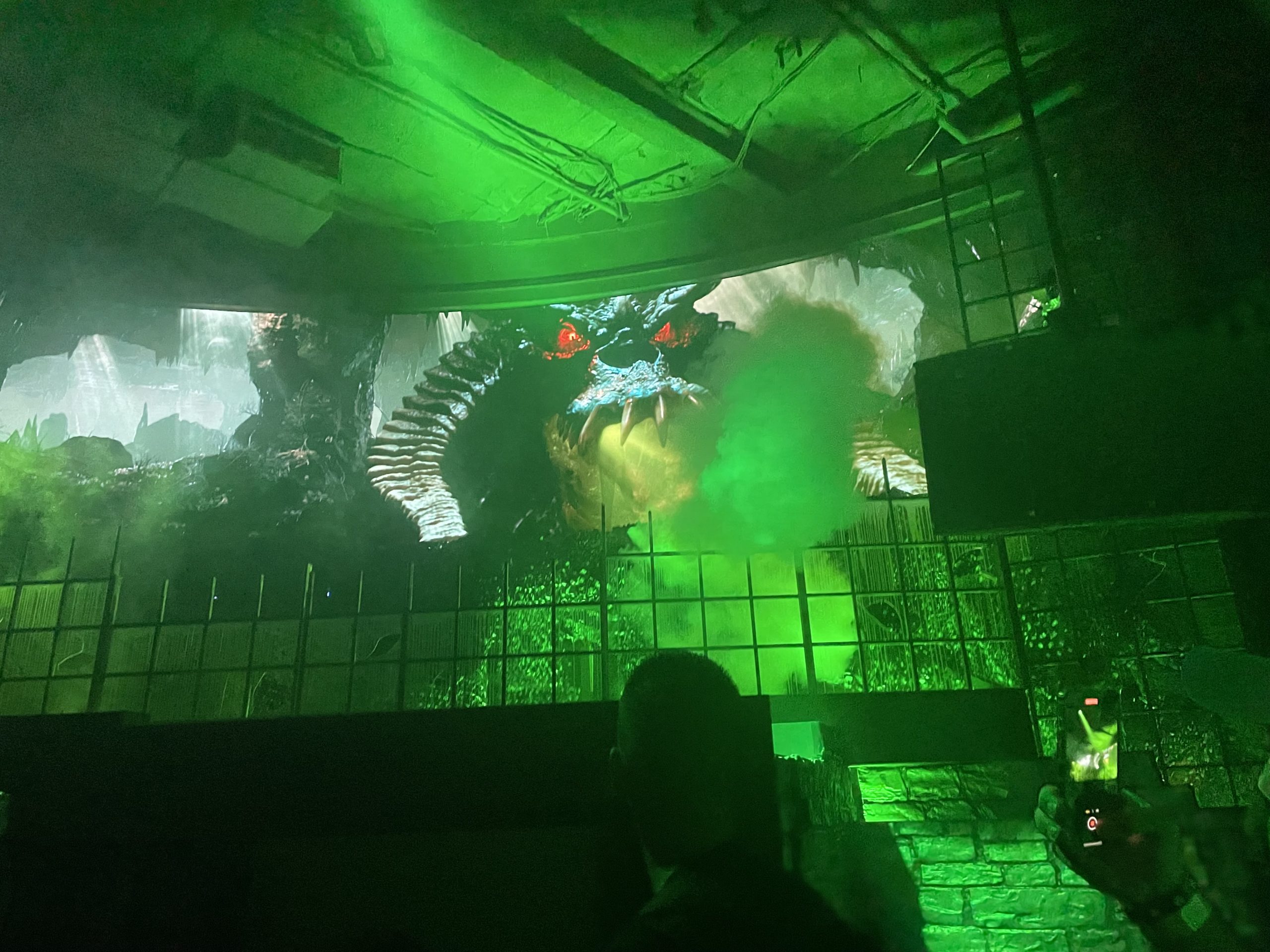 Funko
On the show floor, Funko dominated this con — and they did it right. After three years without, Funko promised to go bigger than ever, and they delivered. 
Their booth was a huge, giant spectacle, made even bigger with the additions of Loungefly and Mondo (and in the latter's case, it also added some prestige to the whole area). Funkoville was impossible to miss, and the one place on the floor everyone longed to be.
The lottery system across the board was a big, chaotic mess this year (and more on that below), but the one company who seemed to have the process down on the show floor was Funko. Lottery winners were filtered in and out quickly, and for those who weren't so lucky, thanks to online sales with shared retailers and opening the booth up at 3pm each day to everyone, more got to purchase without feeling left out.
After what was a fairly lackluster year in 2019, their Fundays event was also back to normal, with fun, giveaways, and celebrities. Their first Hall H panel on Sunday was also the hit of the day, with celebrities like Simu Liu and Rosario Dawson on hand, as well what was probably the best panel swag of the week.
A lot of companies claim to love their fans, but this year more than ever for the big booths, it felt like Funko was one of the few who actually delivered.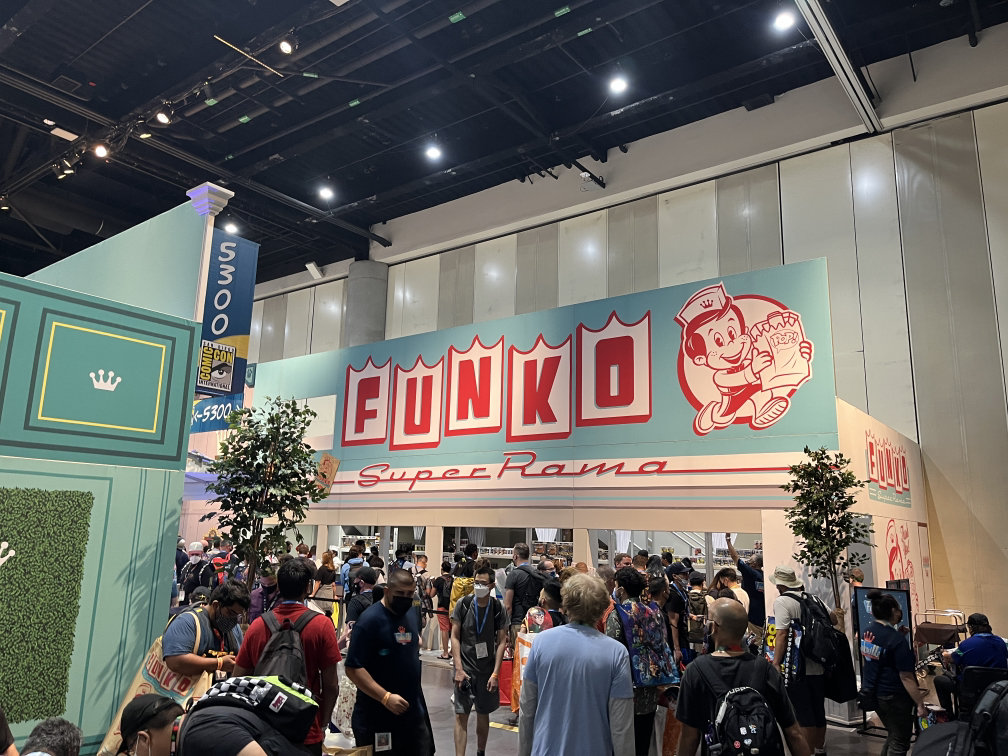 Smaller Vendors
With LEGO bringing no exclusives, and Hasbro and Mattel being a bit of a mess (more on that below as well!), it was a chance for smaller vendors to really shine. Yesterdays and 100% Soft ruled their side of the show floor, with some of the best exclusives at the con including Yesterdays' SDCC heart pins and 100% Soft's pins, Dumpster Fires, and Megamojis. On the other side of the show floor, Toddland also had two successful, fun booths.
Many artists we spoke to also had their best years ever, as less time spent at other booths meant more time for attendees to browse Artists Alley, Small Press, and beyond.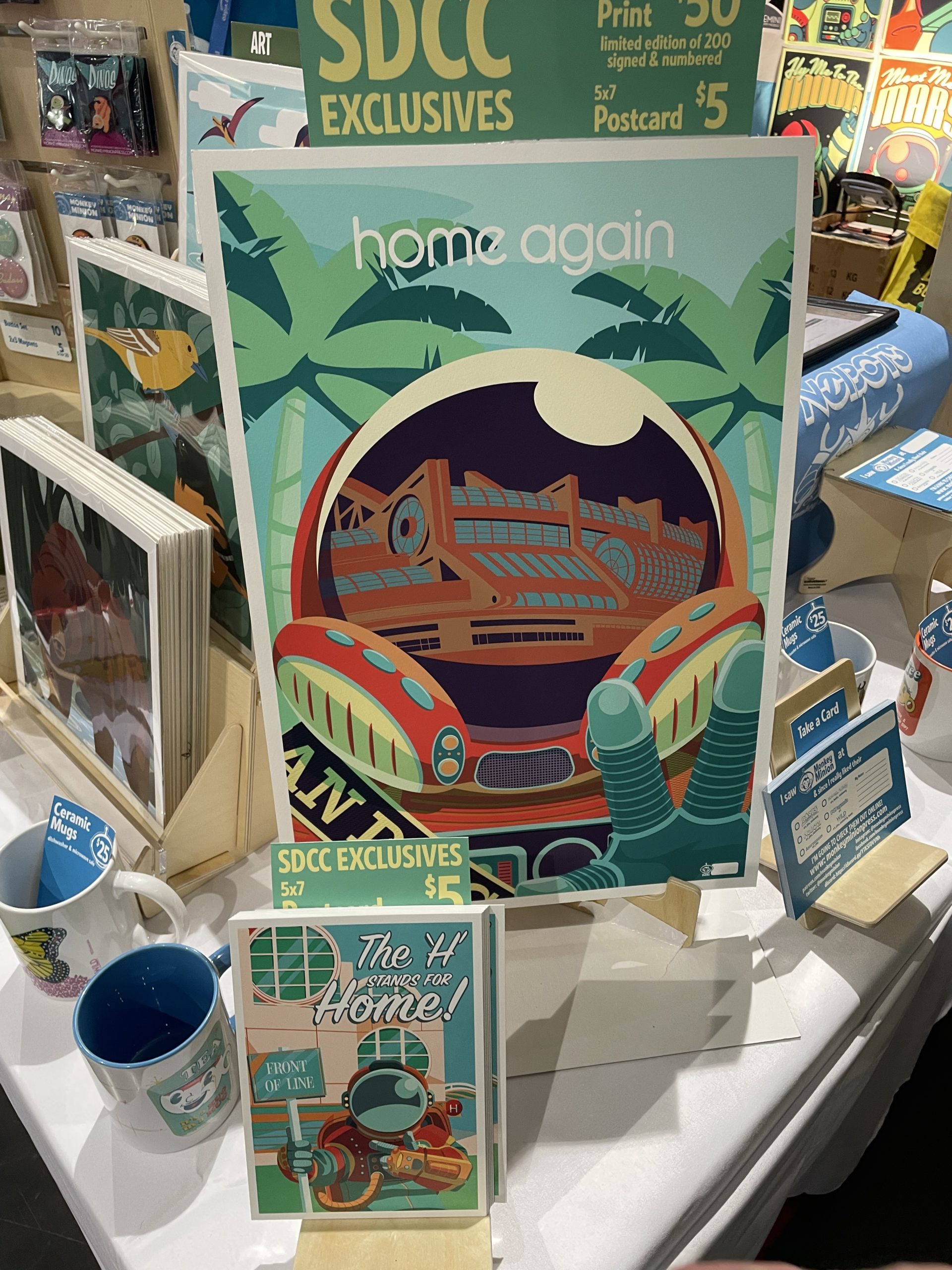 The Con Itself
It's been three years since we got to experience San Diego Comic-Con, and boy did we miss it. There's a lot of nitpicking to be had on minor issues (and we'll do a bit of that below), but overall, we are just so eternally grateful that this convention is still here, and that we were finally able to enjoy it again.
Everyone all week just seemed to be having a great time. It was a chance to see old friends, make new ones, and step back into the world that so many of us love so much.
The fact that we had a San Diego Comic-Con in 2022 at all tops our list, for sure. Thank you, Comic-Con International, for three years of hard work.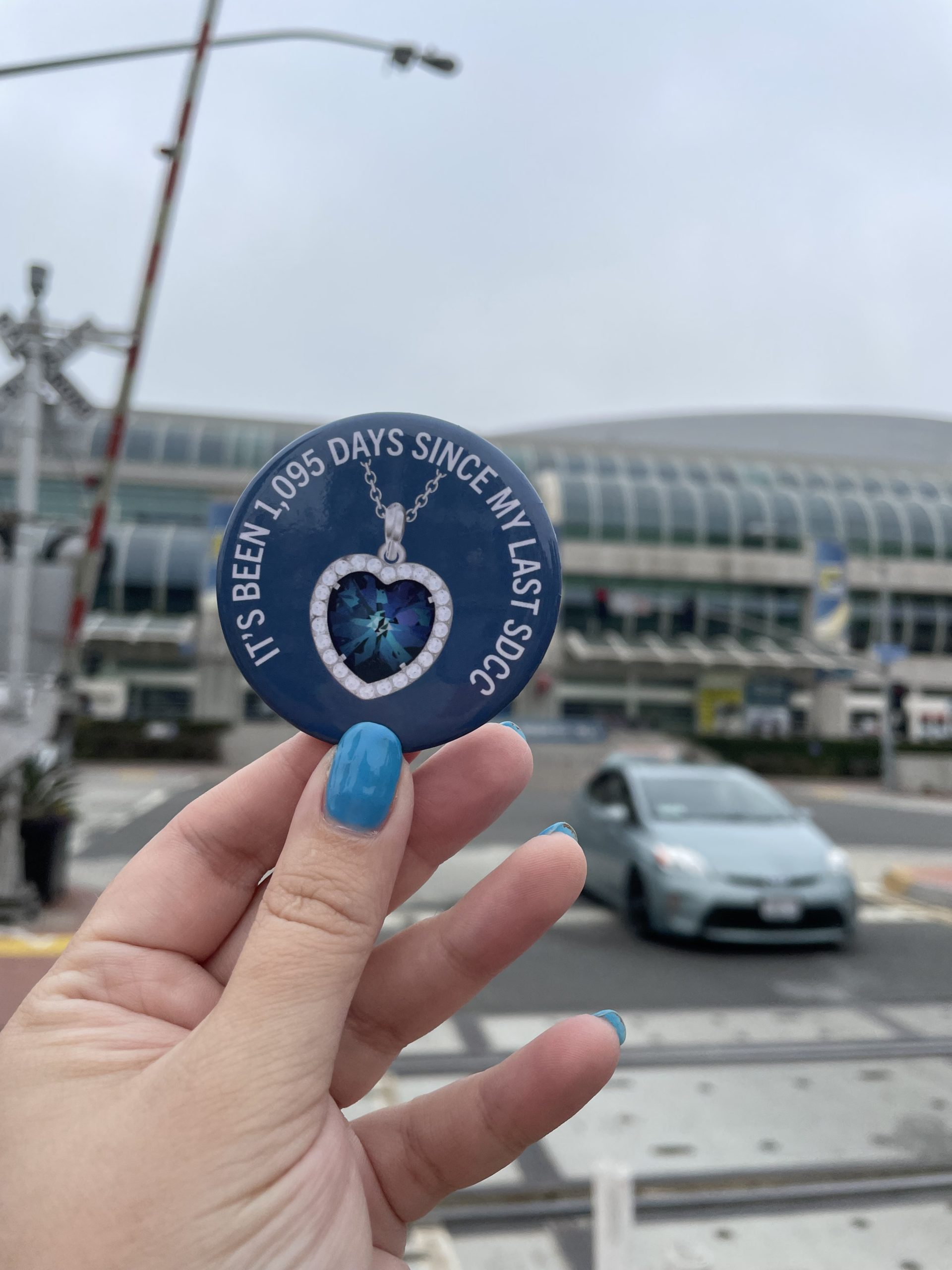 5 LOSERS OF SAN DIEGO COMIC-CON 2022
No Carpet
Having said that… our feet hurt, and that's in large part due to the lack of carpet on the exhibit floor this year. You don't think about how much the carpeting helps protect your feet while walking the exhibit floor, but it makes a huge difference in feeling a little sore at the end of the day, and basically hobbling off.
While we understand money was tight, and that carpet is a huge expense, we really wish some of the things that had been cut (badge boxes, paper wristbands over something nicer, etc.) had been used to fund carpeting instead.
It looked cheap, it felt awful, and this is our #1 complaint of the show.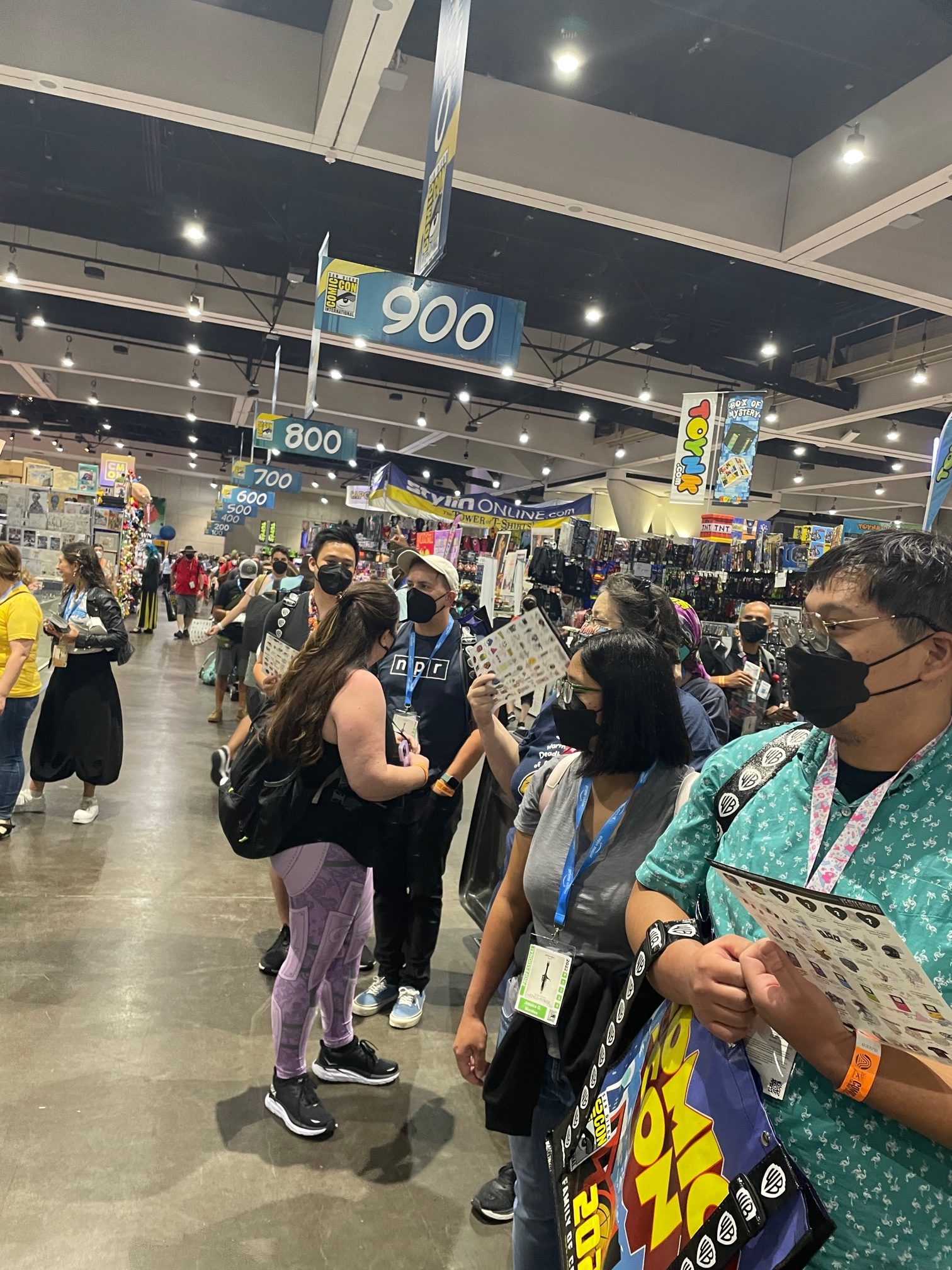 Paper Wristbands
Speaking of areas we wish CCI had been willing to splurge a bit more… The difference in cost between the paper wristbands for the Covid-19 verification and something plastic or cloth was likely pennies on the dollar. While the wristbands were "waterproof", they did not hold up that well in water, or just from daily use for five straight days. By the end, they were more brown than orange, and pretty gross.
You could always get another one, but it added time, walking distance, etc. to your day. In the end, we just wish CCI had been willing to step it up a little bit here.
Ripping them off Sunday night felt like liberation, in a way that had absolutely nothing to do with Covid-19 or politics.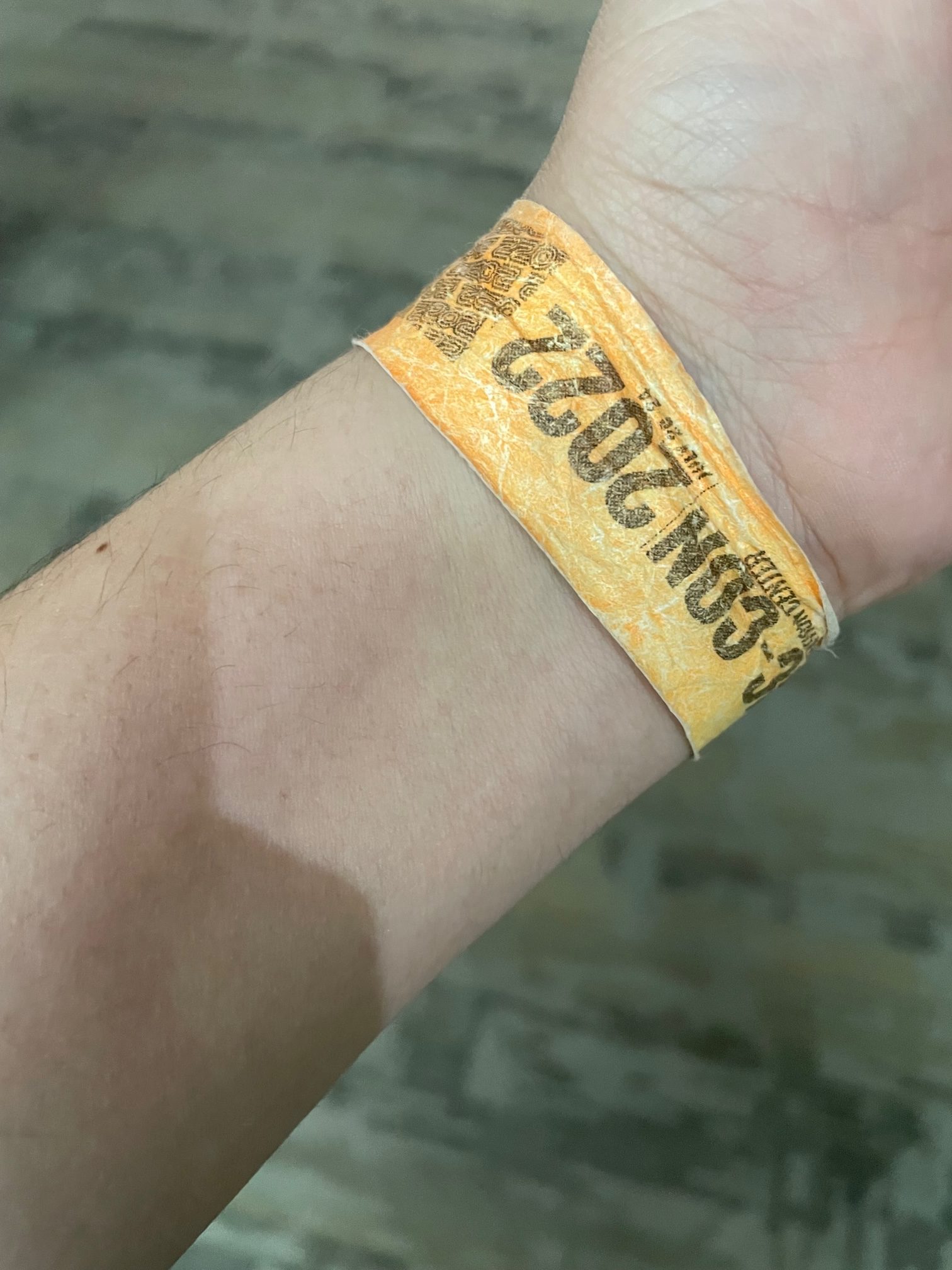 The Lottery
Oh, the lottery system. Comic-Con International changed platforms this year, presumably to also save money, and it's been rough going at times — but never was that more apparent than with this year's lottery system.
The system opened quietly, and for days was plagued by glitches, error messages, and confusion. Comic-Con International finally posted a guide for how to fix some of the issues, but for the vast majority of attendees, it still wasn't working. We also lost functionality since 2019, when we had the ability to reallocate points before the deadline closed.
In the end, some were able to submit but with a random hodge-podge of requests for things they didn't really want, some were never able to fully use their points, some couldn't submit at all… It was just a mess, that's in desperate need of more load-testing for 2023.
But that's only half the story, as many of the booths were a bit of a disaster during the actual lottery. UCC was frequently capped even for those with a timeslot. Jazwares was filtering in standby, and those with a timeslot and a specific item often found that item already sold out. For those who won multiple items from Jazwares, they were also told that they could only purchase one item — and that it was Comic-Con's fault.
This whole system really just needs a rethink. Personally, we think everyone should be limited to one lottery win — and if once everyone has something, only then should people be allowed to win multiple things.
But either way, not a good look on a lot of fronts, or a sign that the lottery is working.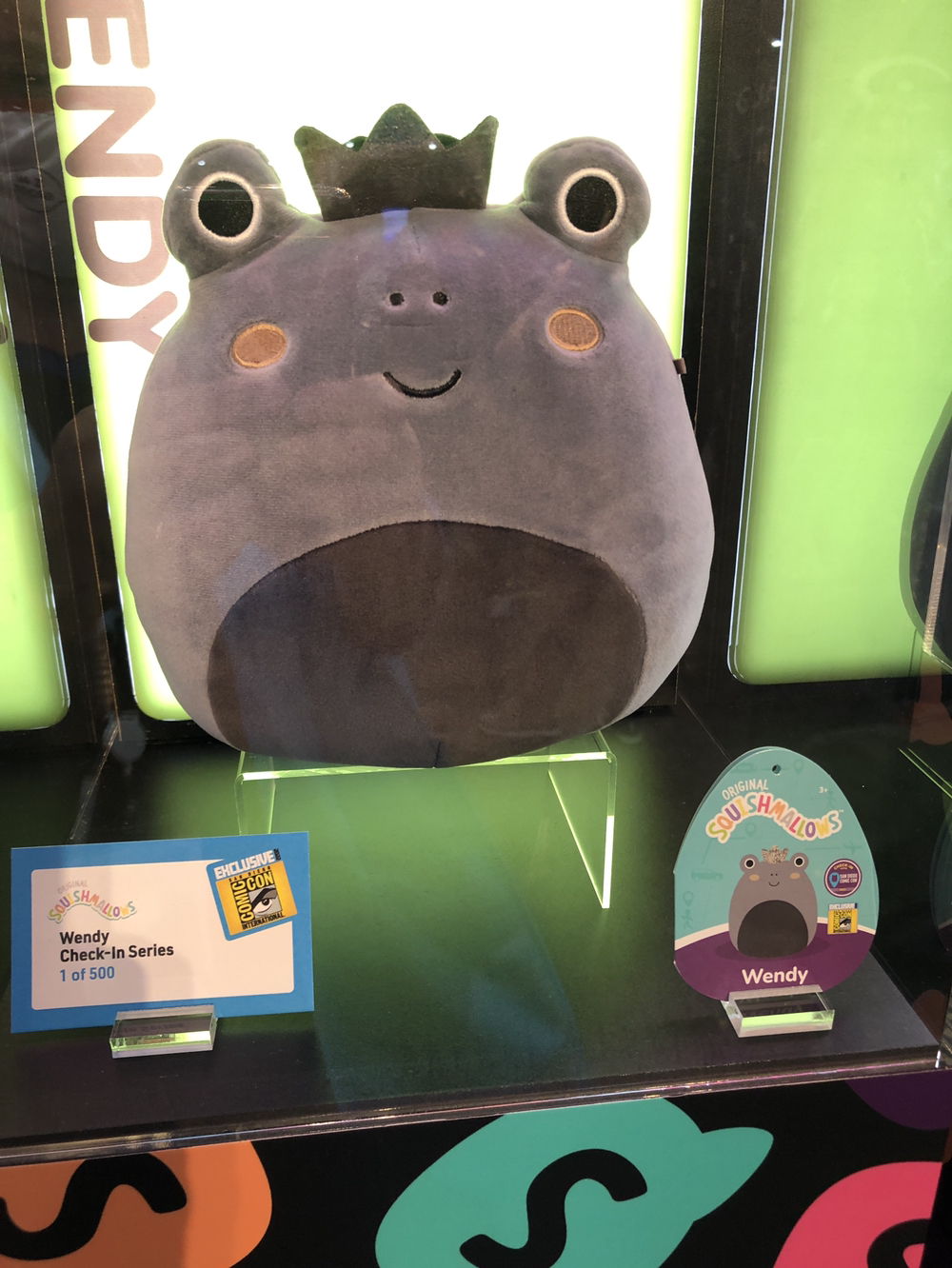 The Big Traditional Booths
Funko may have brought their A-game, but the old standbys… really didn't. "What's going on with LEGO?" was one of the most asked questions leading up to the con, and in the end, the answer was, "Basically nothing." They brought a giant Bowser statue, and while that was cool, San Diego Comic-Con attendees wanted the exclusives and mini-figs, and were sorely let down.
Hasbro was also a bit of a mess. While they didn't bring physical exclusives, they instead brought QR codes to order your exclusives online — only they launched the exclusives online early, to anyone, and they sold out prior to the show floor opening. Eventually, more inventory was released, but it wasn't a great look.
For Mattel, there was a lot of confusion at the show floor. Mattel did bring physical exclusives, but the process to get them was confusing, and kept changing. Some employees would tell you that you needed a ticket, which would be distributed randomly somewhere. Others would tell you that you wouldn't need a ticket at all. Mattel employees argued in front of attendees over how to handle distribution, which is really something that should have been sorted prior to the con. They weren't prepared for the line management, and really probably should have been part of the lottery system, especially in a year with so few "prestige" exclusives from the big boys on the show floor.
Funko, Paramount+, Netflix, and HBOMax put many of the other big booths to shame — and everyone should be looking at their line management for 2023.
Virtual/Cancelled Panels
The biggest widespread ripple of disappoint we experienced all weekend was Thursday morning, when Ballroom 20 kicked off… with a virtual panel for The Rookie and The Rookie: Feds. Many in the room had gotten out of bed extra early for a chance to sit in a room with Nathan Fillion, and it was very clear that this felt like an immediate betrayal.
We all understand that Covid-19 is still a thing, but several panels were announced as being virtual or cancelled, or with no cast attending, on the day of — or in places where attendees weren't looking. Announcements should have been made in the CCI schedule app once this was known. Many didn't realize the Bob's Burgers panel had no cast, or that the Chucky panel was cancelled, until the day of.
It's not so much that attendees expect anyone to put their lives or their livelihoods at risk, but rather, it's an expectation management game. If the panel had been announced as being virtual from the start, as Abbott Elementary was, then attendees would have had better expectations and probably slept in longer.
And the first panel in #Ballroom20 is… virtual. And the room is NOT happy. #SDCC pic.twitter.com/hRIV3TnwbR

— SDCC Unofficial Blog (@SD_Comic_Con) July 21, 2022