DKE Toys offer up one of the most interesting booths on the floor at San Diego Comic-Con, with their designer art toys. Over the years, they've delivered everything from political satires to one of the best exclusives of all time.
New this year, after two years of virtual cons, DKE will be doing a split approach. All of their exclusives will launch first through an online sale on Friday, July 15 at 12pm PT. Owner Dov Kelemer will be on Instagram Live shortly before the sale to answer any questions.
Anything not sold out will then be taken to San Diego Comic-Con — and anything remaining after the convention will be placed on the site after the show.
You can catch DKE at Booth #2643.
Let's take a look at what DKE will have at Comic-Con this year:
[UPDATE July 5]
Luke from the Bible by Luke Chueh – $80
Hand cast and painted 3.75″ scale carded resin figure
Signed and numbered edition of 75
Twitter/Instagram: @lukechueh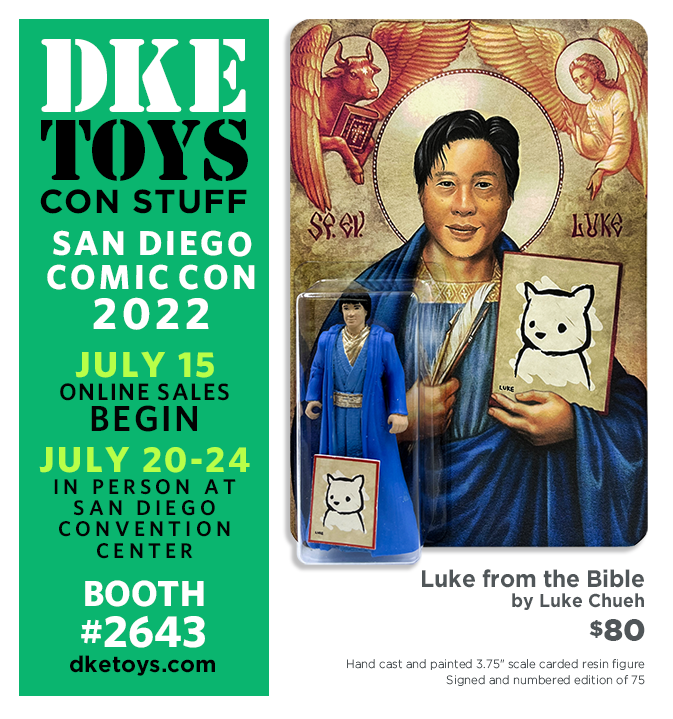 Bear Wars by Magasco & Luke Chueh – $200
Hand cast 3.75″ scale figure on 12×9″ painted wood panel
Signed and numbered edition of 40 
Instagram @lukechueh @deadlypreygallery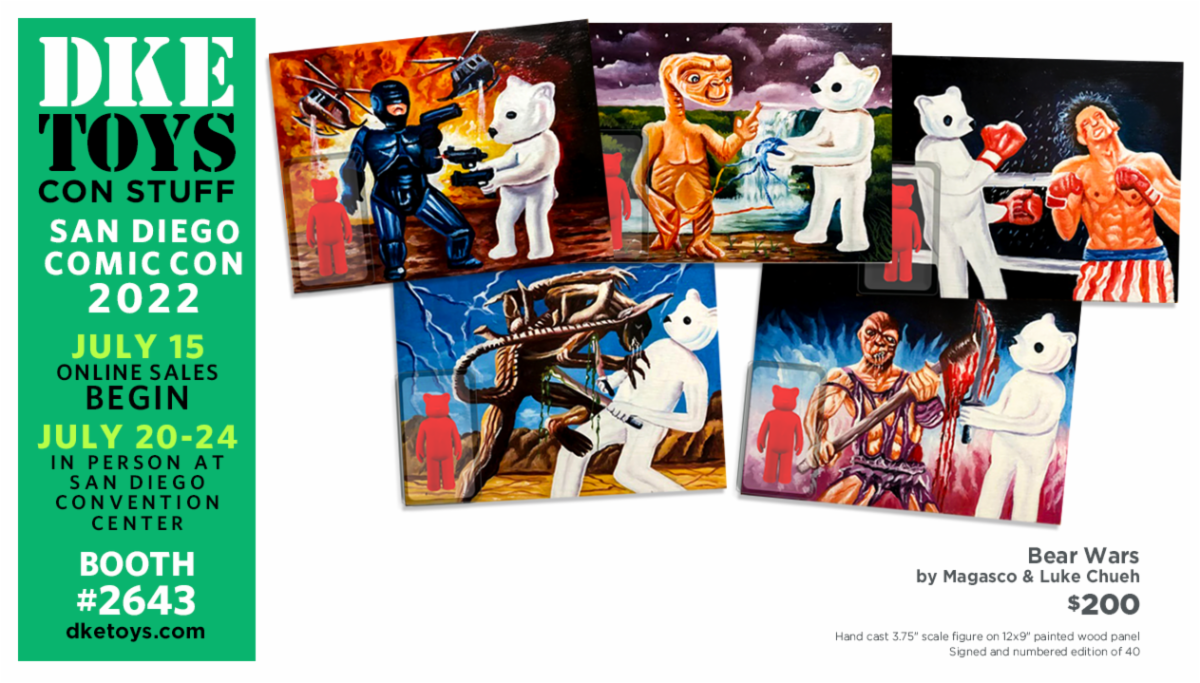 Spooky Mick by Gus Fink x Ghoul of Gabba – $50
Hand cast and painted 3.75″ scale carded resin figure.
Signed and numbered edition of 120
Instagram @gusfink @ghoulofgabba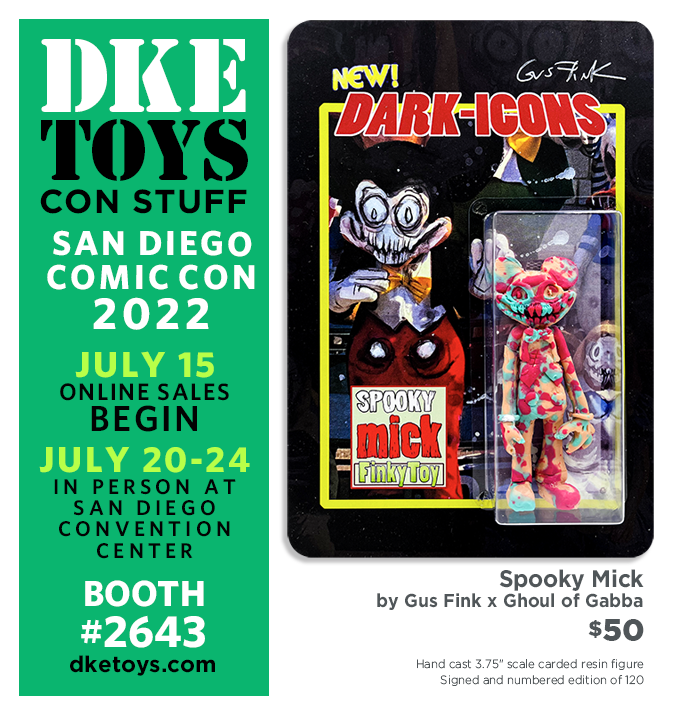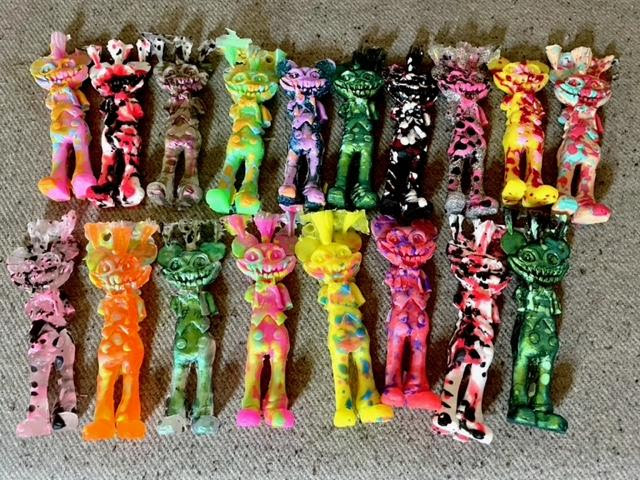 [UPDATE July 4]
Ultramayan By Camote Toys – $75
Hand cast and painted 5.5″ carded resin figure
Signed and numbered edition of 20
Instagram @camote.toys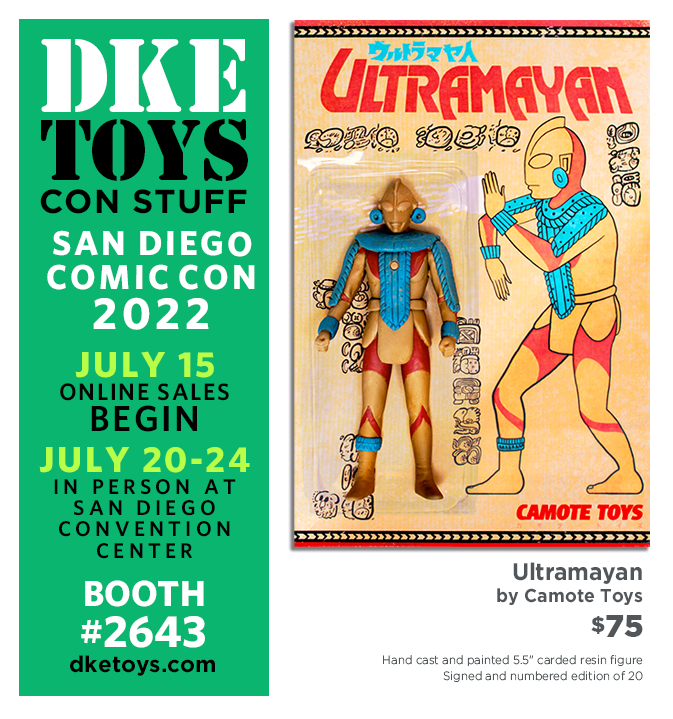 Mutants of the Rainbowverse by Aloud Spacelab x Luke Flowers – $55
Hand cast and painted 3.75″ scale carded resin figure
Signed and numbered edition of 25
Instagram @aloudspacelab @humblygram @lfcreative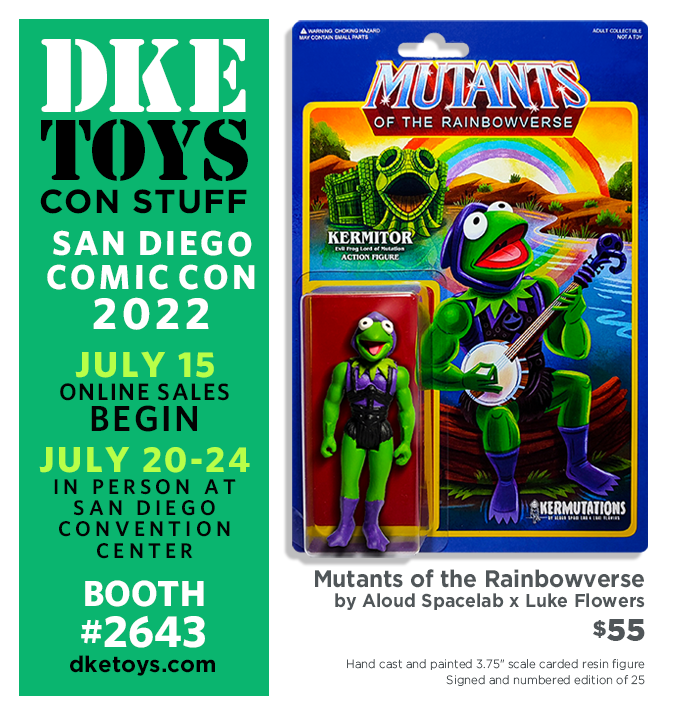 Trite Sublimates: Foam by Whistling Pony – $25
Sculpted foam playset on card
Signed and numbered edition of 20
Instagram @whistlingponytoys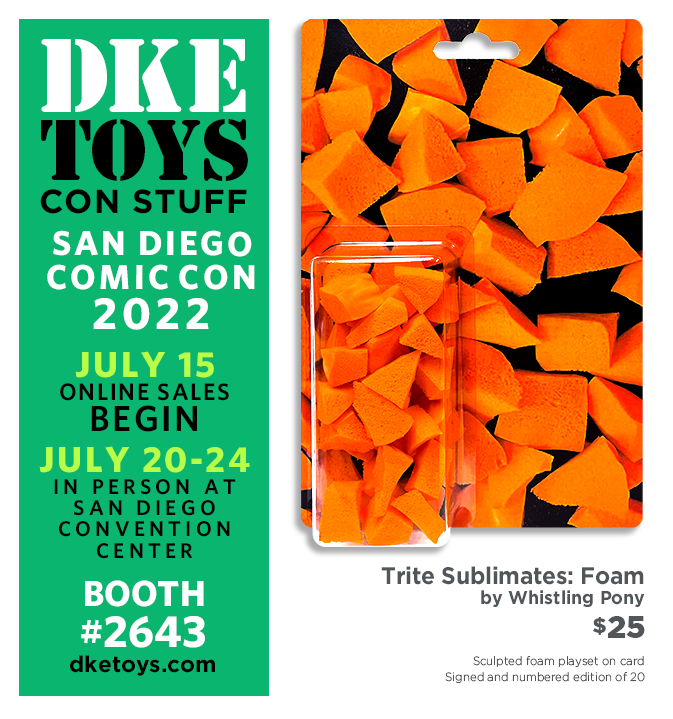 Starzama by Killer Bootlegs – $40
Hand cast and painted 3″ carded resin figure
Signed and numbered edition of 100
Instagram: @killerbootlegs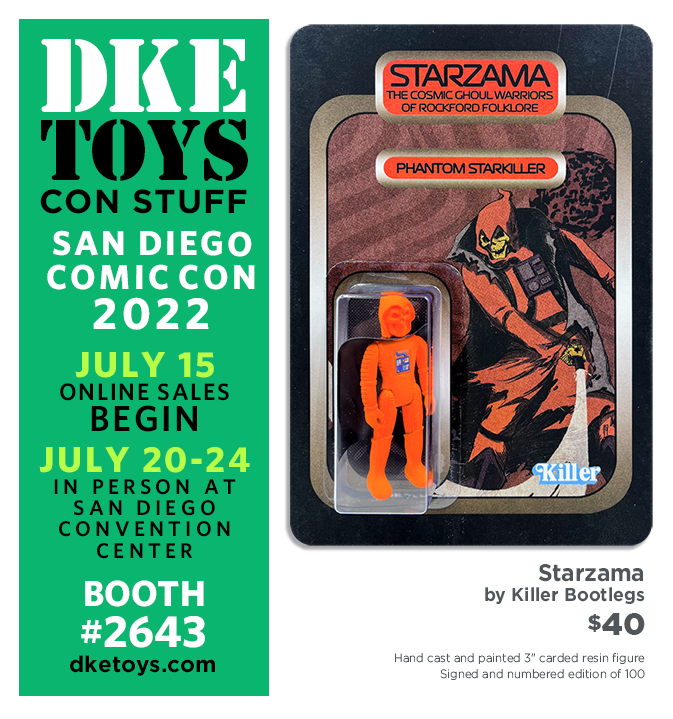 [UPDATE July 3]
Compulsion by Alex Gross – $100
Hand cast and painted 3.75″ scale carded resin figure
Signed and numbered edition of 50
Instagram: @artofalexgross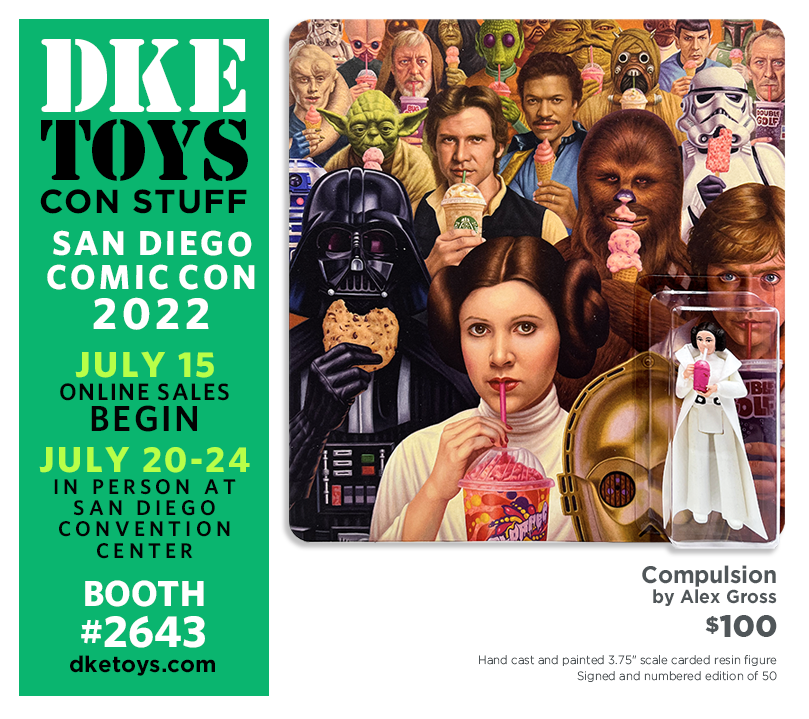 STR WAS: CCPP-OH by Mark Todd – $50
Hand cast and painted 3.75″ scale carded resin figure
Signed and numbered edition of 50
Instagram @mark_todd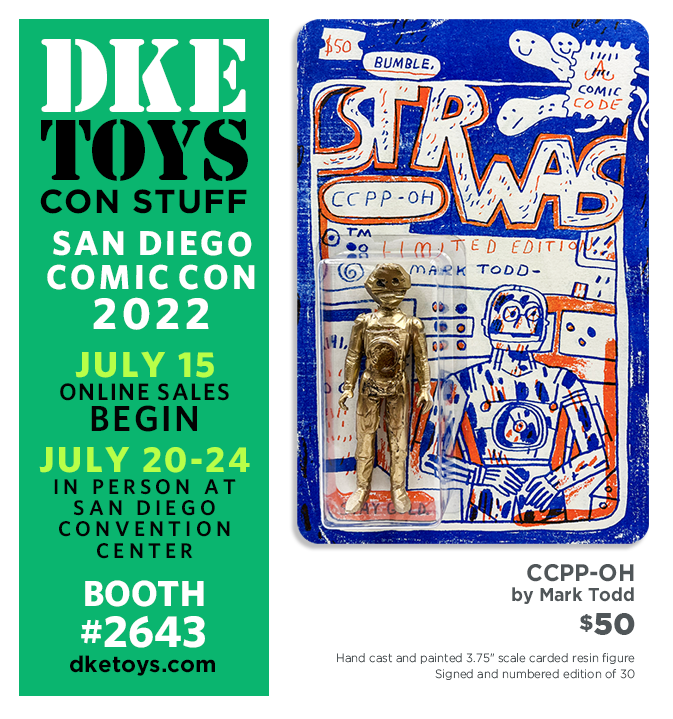 Dude Where's My Arm by Dollar $lice Bootlegs – $60
Hand cast and painted 3.75″ scale carded resin figure
Signed and numbered edition of 50 
Instagram @dollar_slice_bootlegs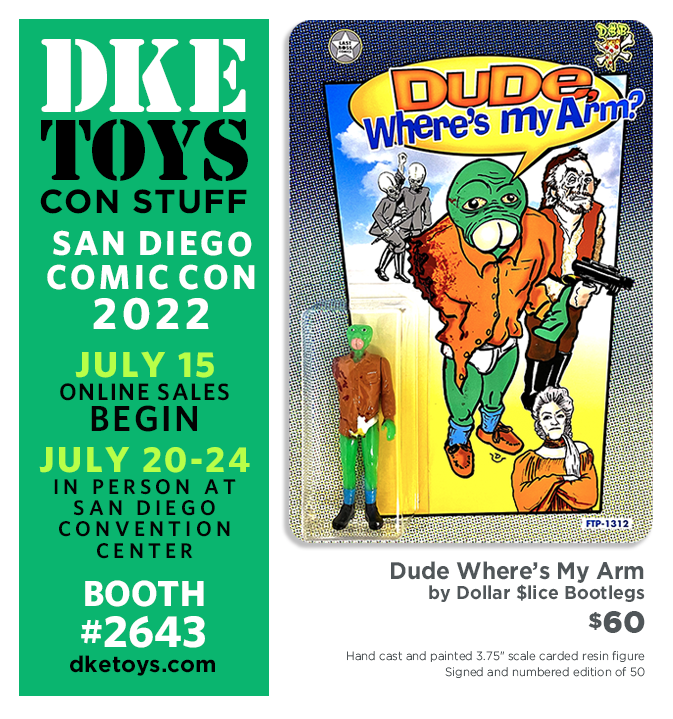 Super Star World: Gamowser by Buzzard Guts – $65
Hand cast and painted 3.75″ scale carded resin figure
Signed and numbered edition of 20 
Card Art by Joel Hatmaker @jojohomefries
Instagram: @damarxtoys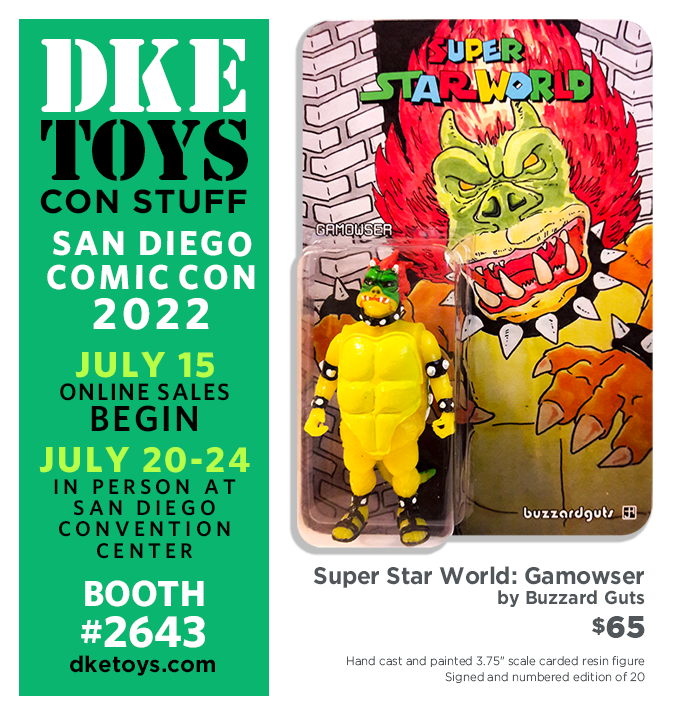 [UPDATE July 2]
McAngel of Death by Doublehead -$50
Hand cast and painted 3.25 inch carded resin figure
Signed and numbered edition of 20
Instagram @doubleheadart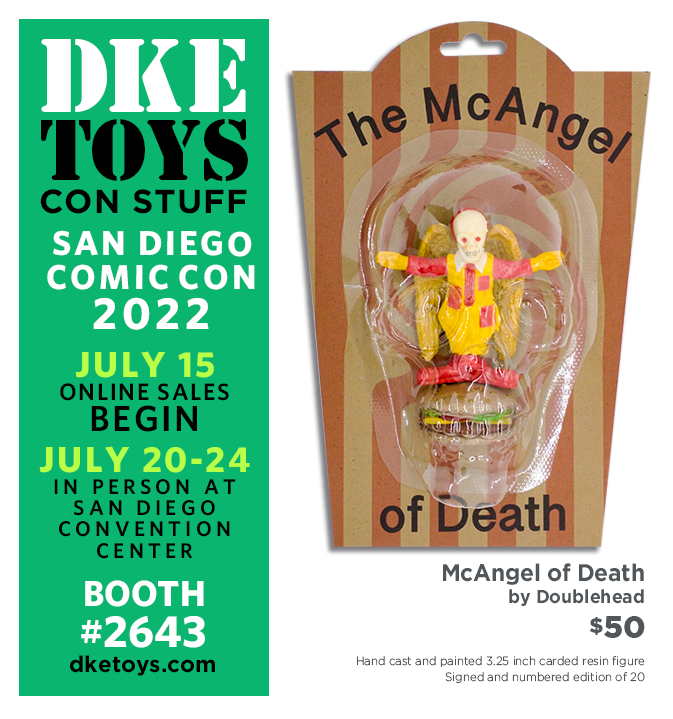 Helmet by RYCA
– $70
Hand cast and painted 2″ carded resin figure
Each box is uniquely hand finished with paint sticks/krink
Signed and numbered edition of 40
Instagram
@ryca_artist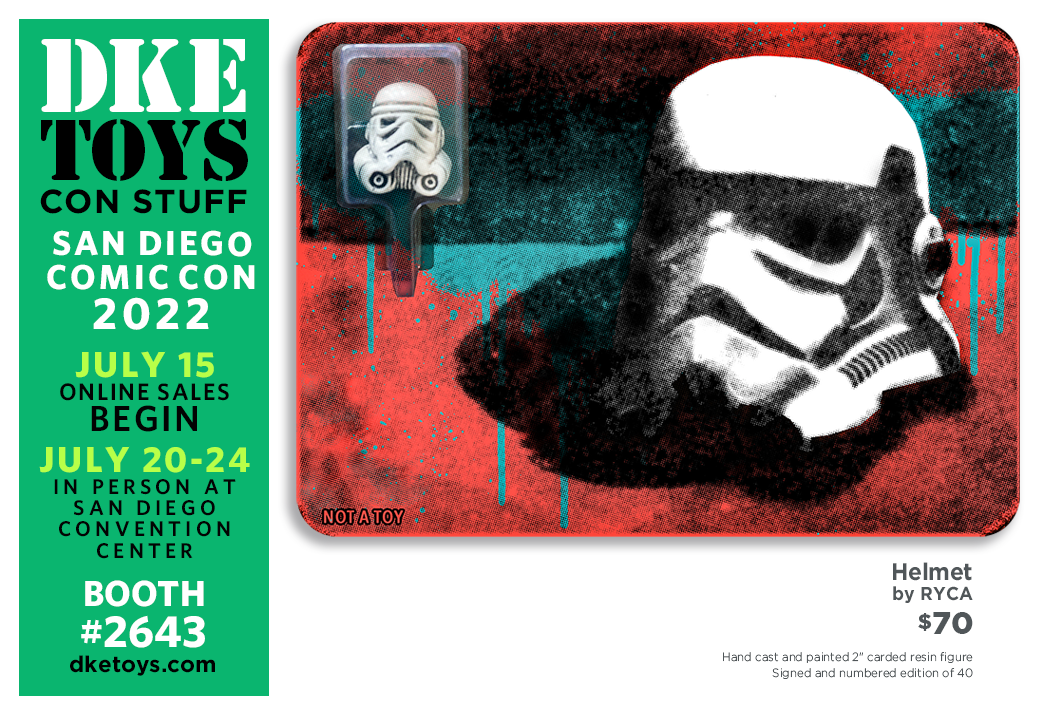 Manakin by RYCA – $80
5″ wood figure on card
Signed and numbered edition of 25
Instagram @ryca_artist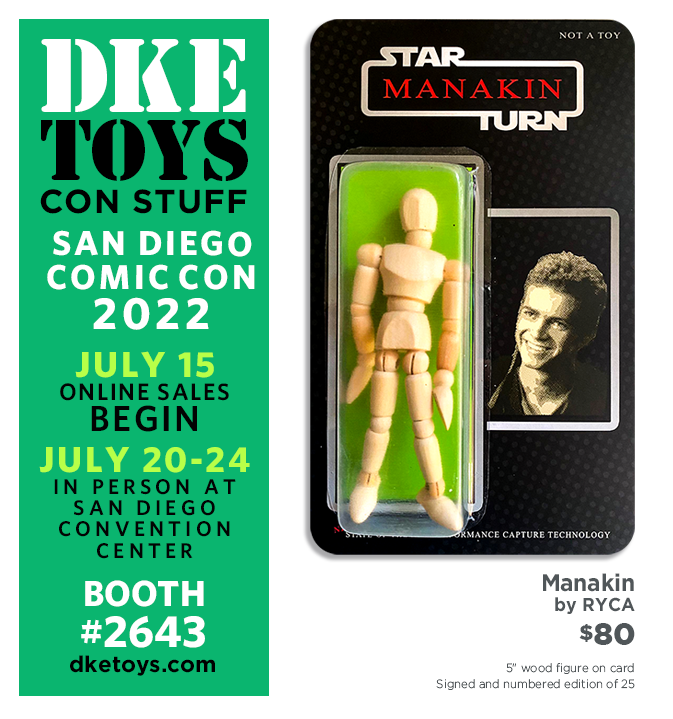 Oni From Dagoobah by Abrakadapoof – $45
Hand cast and painted 3.75″ scale carded resin figure
Signed and numbered edition of 30 
Card opens to reveal a pop-up diorama.
Instagram @abrakadapoof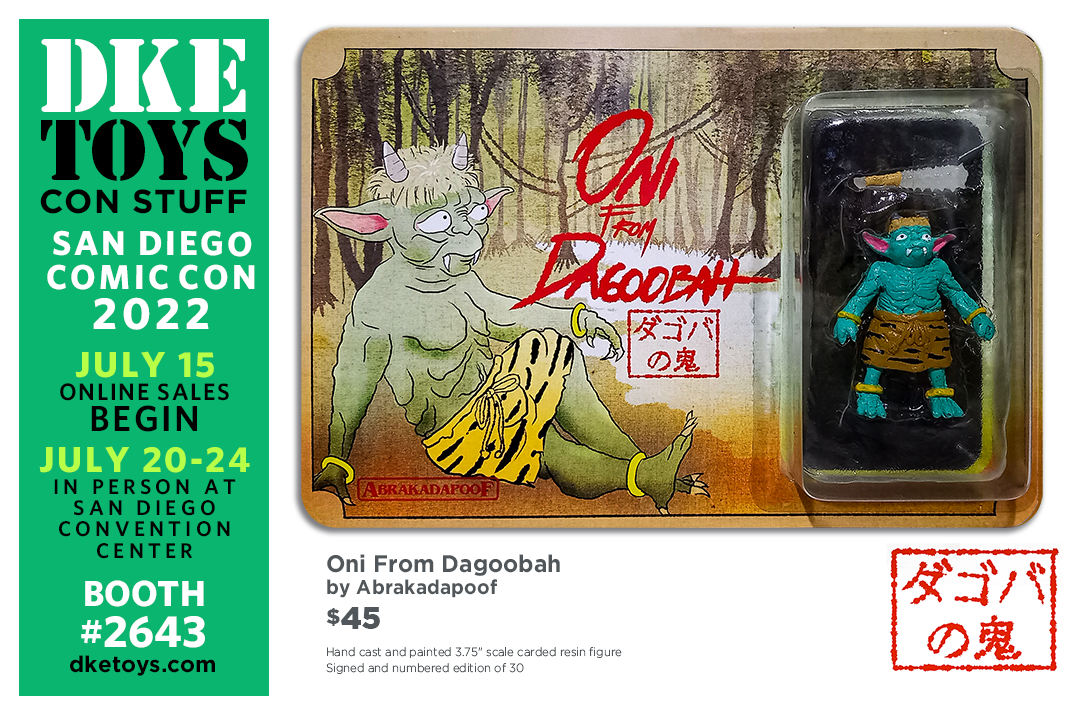 [UPDATE July 1]
Cherry Red Dress by Larry Welz x Discordia Merchandising – $75
Digitally printed and hand painted 4.25″ carded resin figure
Signed and numbered edition of 20
Instagram @cherrycomix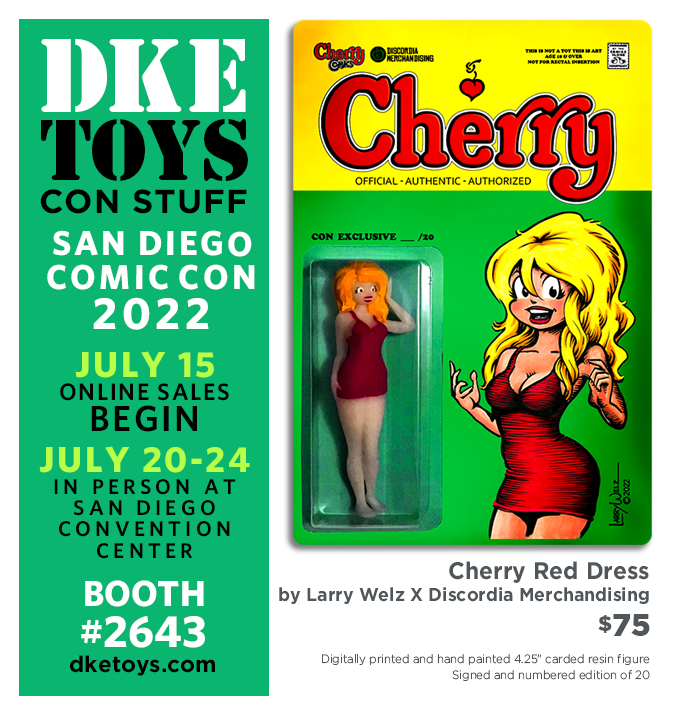 Elon Musk Version 04.25 by King Spider Toys – $50
Hand cast and painted 3.75″ scale carded resin figure
Signed and numbered edition of 20 
Instagram @king_spider_toys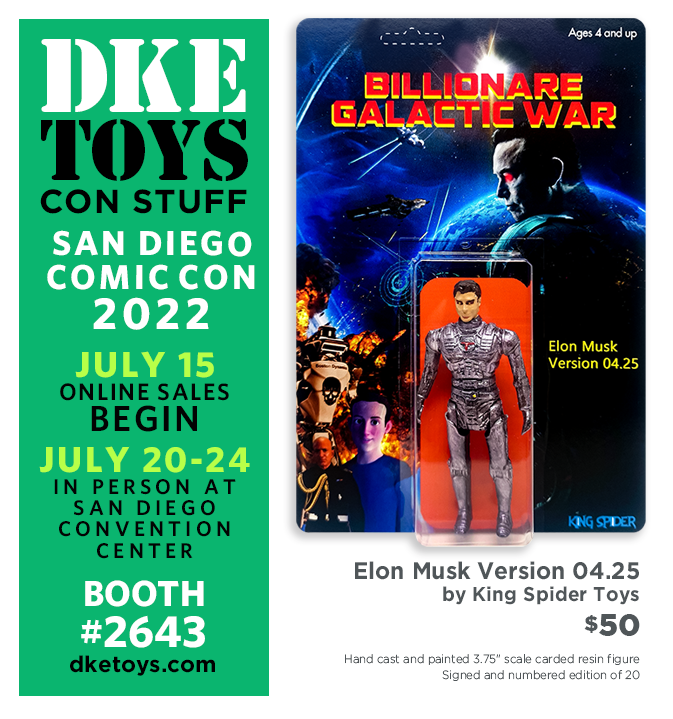 Gay Universe by Shark Sandwich Toys – $80
Hand cast and painted 5.5″ carded resin figure
Signed and numbered edition of 20
Instagram @slinnjoe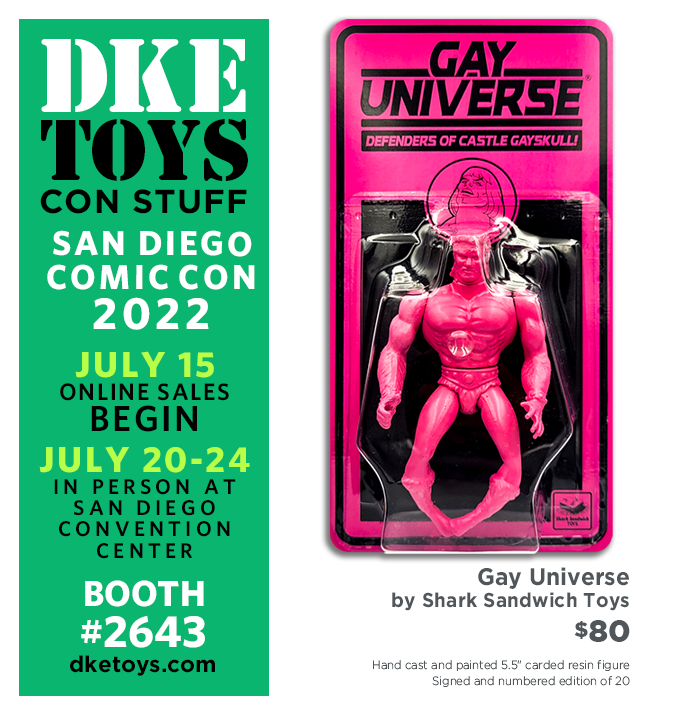 Bootleg Gold by Lou Pimentel x Suckadelic – $30
Hand cast and painted 3.75″ scale carded resin figure
Signed and numbered edition of 200 
Instagram: @loupimentel @sucklord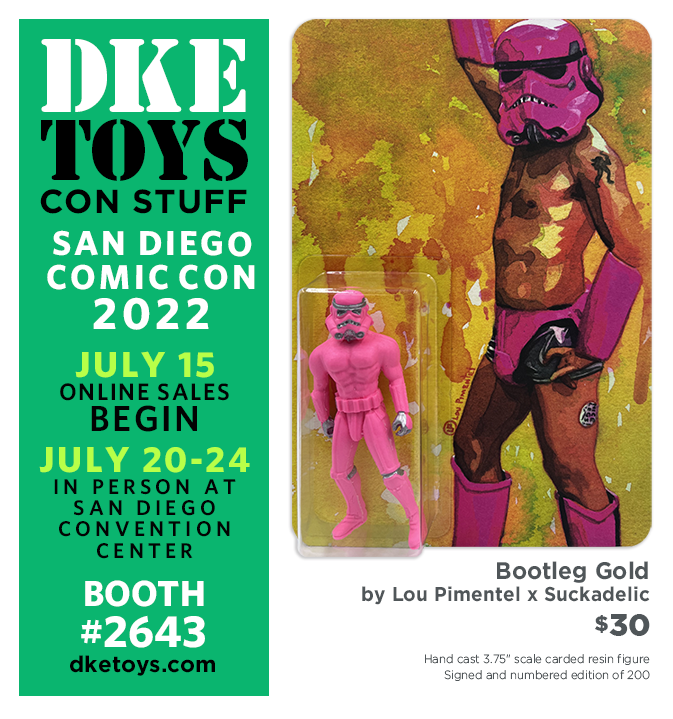 [UPDATE June 30]
The Hot Buttered Croissant of Death by Steve Casino – $100
Hand cast and painted 4″ carded resin figure
Signed and numbered edition of 20
Instagram: @stevecasino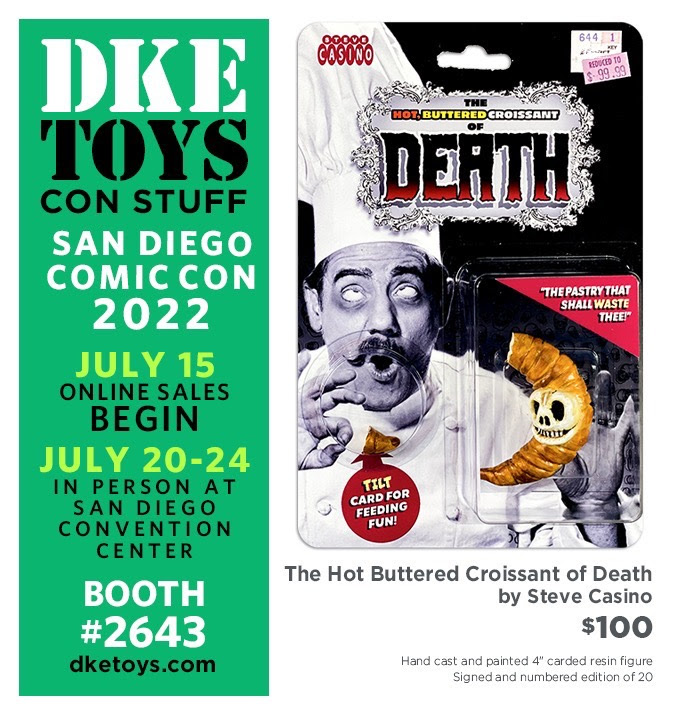 Phantom Jawa Killer by Figure FETTish – $50
Hand cast and painted 3.75″ scale carded resin figure
Signed and numbered edition of 20 
Instagram @figurefettish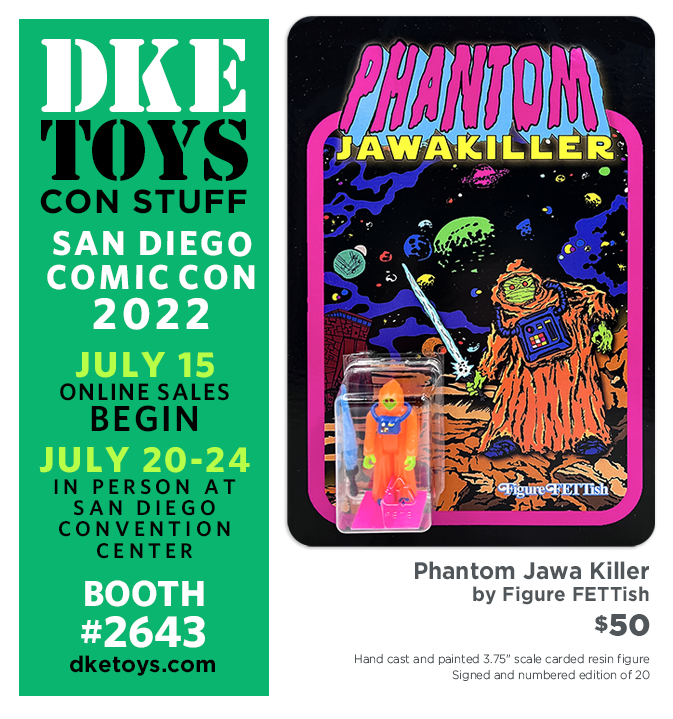 Magic Mushrooms by Rap Trading – $40
Hand made mixed media 3″ carded figure
Signed and numbered edition of 20
Instagram: @raptrading
Trooper of the Month by Slug Industries – $75
Hand cast and painted 3.75″ scale resin figure on hand cast card back
Signed and numbered edition of 13
Instagram @slugindustries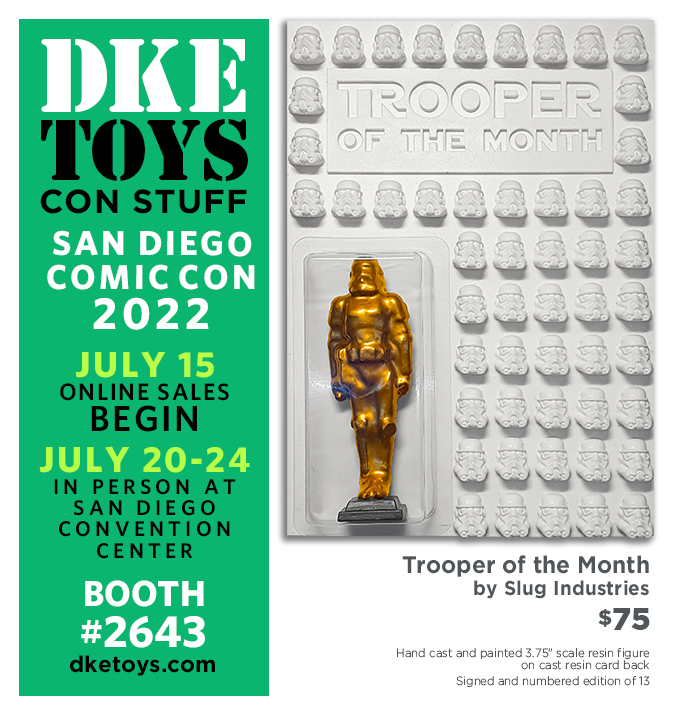 [UPDATE June 29]
Darth Lilith by Mallow Toys – $50
Hand cast and painted 3.75″ scale carded resin figure
Signed and numbered edition of 20
All proceeds for this toy will be donated by the artist to abortionfunds.org
Instagram: @mallowtoys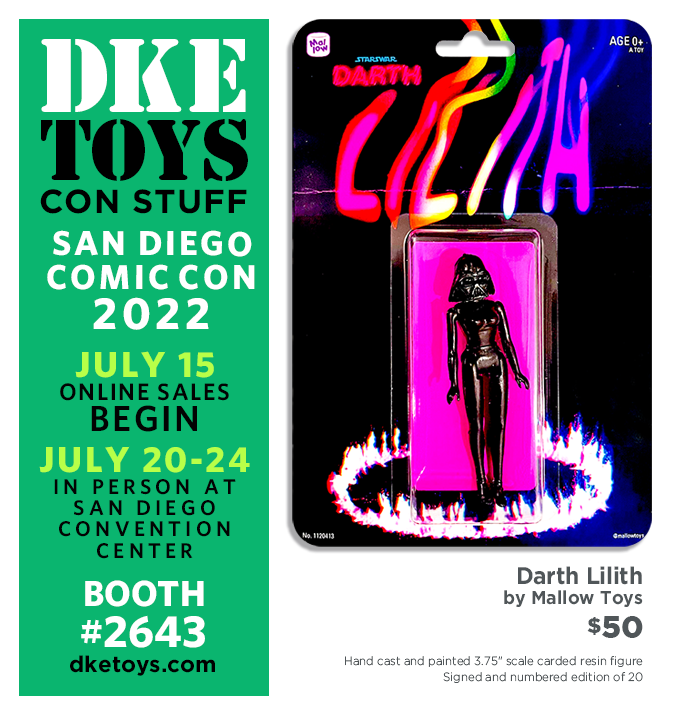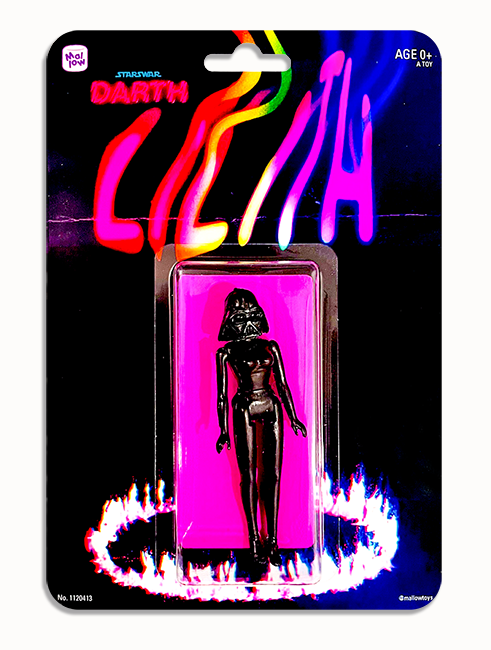 Cinematron by UHOH Toys -$75
Hand painted 6.5″ Japanese soft vinyl figure set
Signed and numbered edition of 20 $75
Instagram: @uhohtoys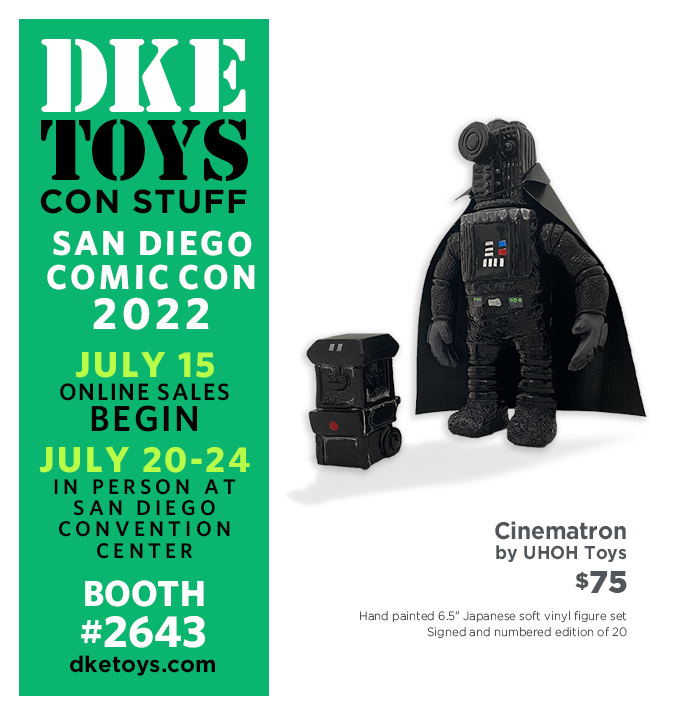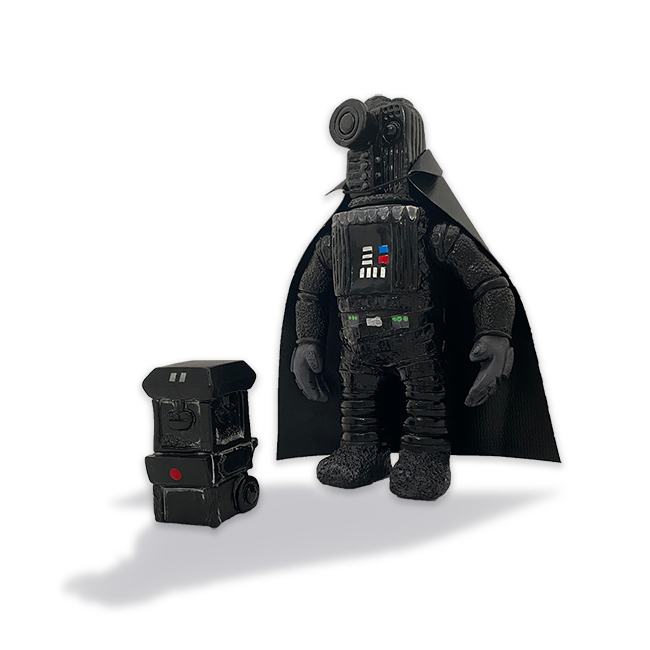 Consume by Dead Greedy x Hal Hefner – $75
Hand cast and painted 3.75″ scale carded resin figure
Signed and numbered edition of 20
Instagram @deadgreedy @halhefner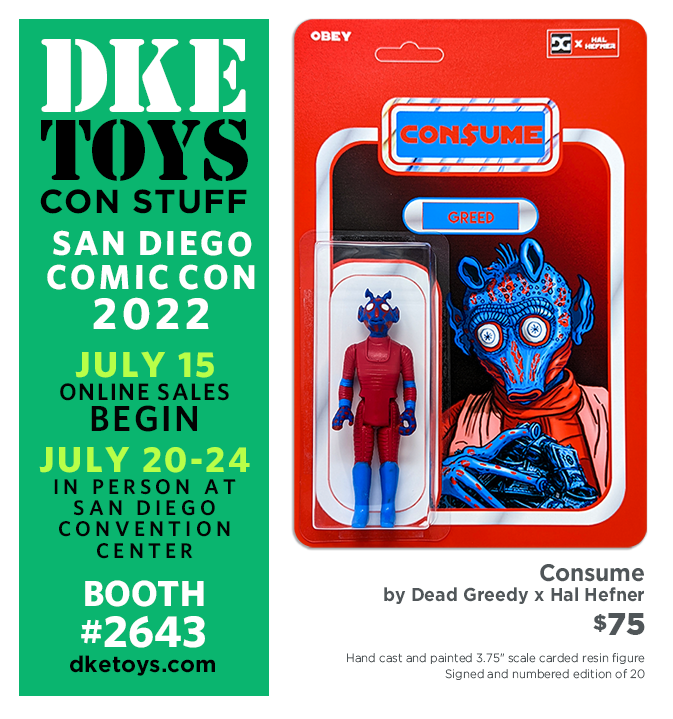 Baron Bloodstar by Retrogimmick – $65
Hand cast and painted 3.75″ scale resin figure
Signed and numbered edition of 20
Instagram @retrogimmick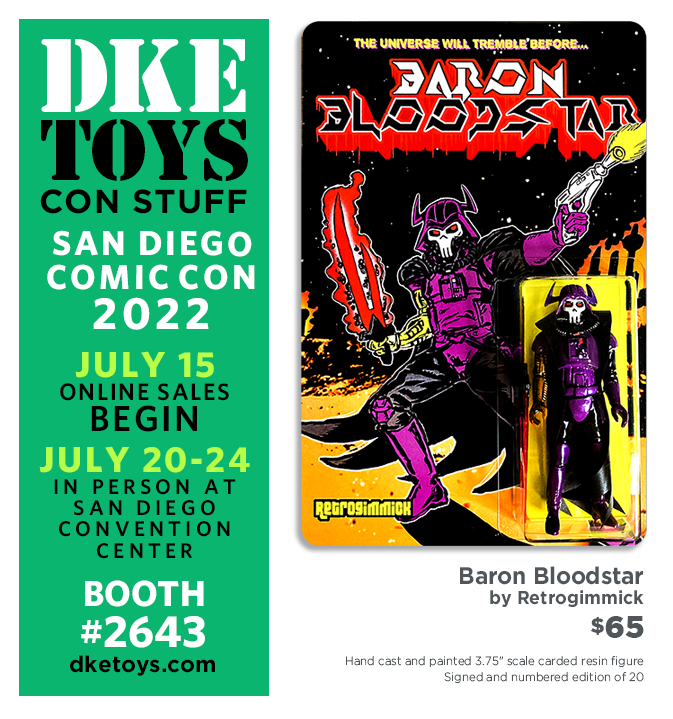 The Seventh Dimensional Swindle: Beast by Scott Wilkowski x Suckadelic – $100
Hand cast 3.75″ scale carded resin figure Signed and numbered editions of 50 $100
Instagram: @scottwilkowski @sucklord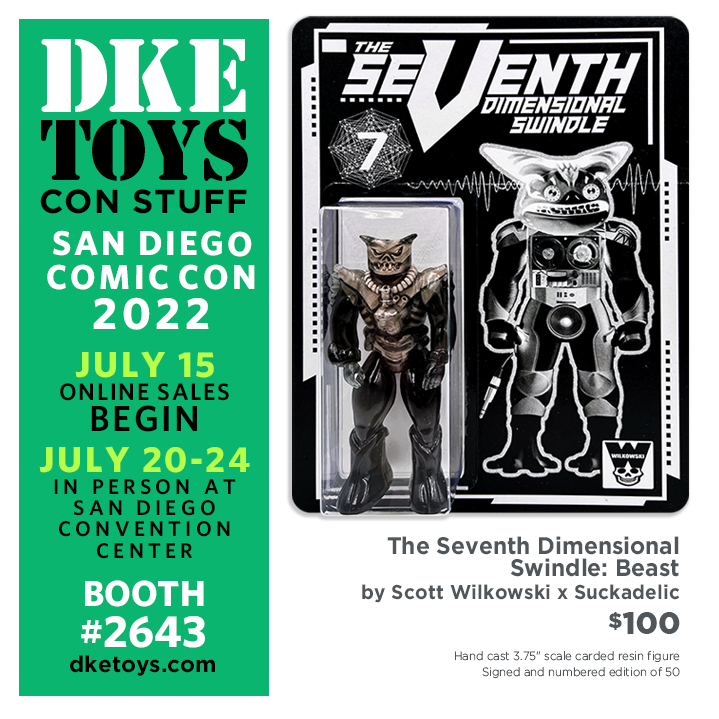 The Great Showdowns by Scott C. – $100
Hand cast and painted 3.75″ scale carded resin figure set
Signed and numbered edition of 100
Instagram @scottlava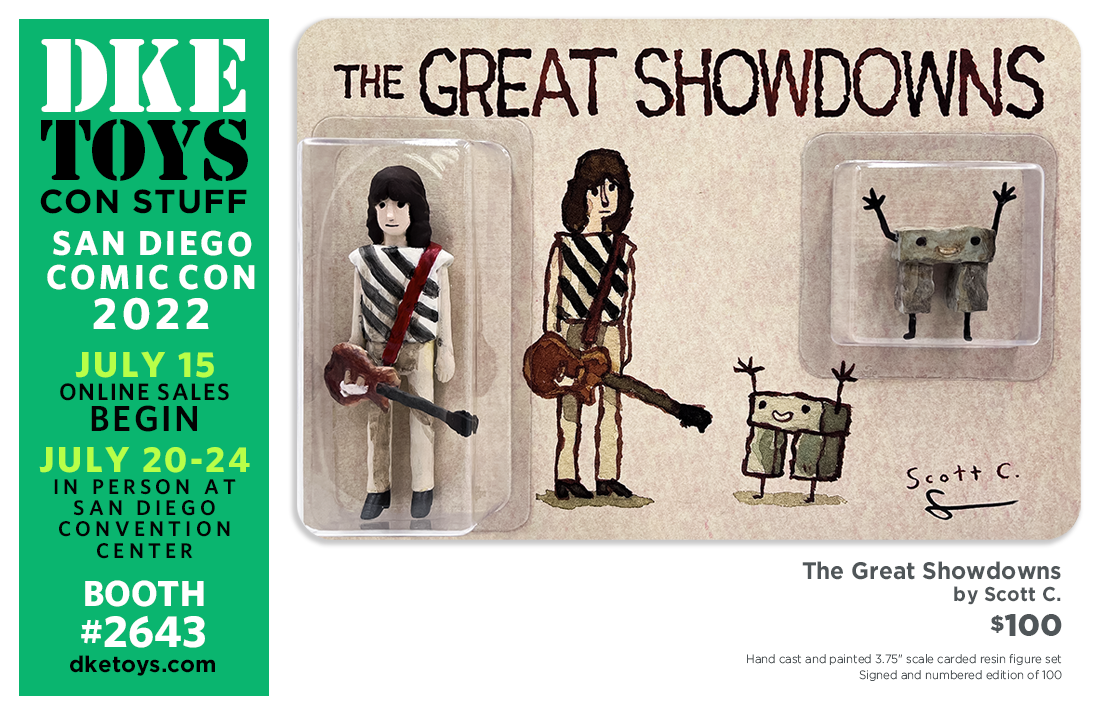 Artoo-Berry by Yoyodyne Toy Division with Tim McDonald – $100
Hand cast and painted 3.75″ carded resin figure in custom cereal box.
Comes with accessories.
Signed and numbered edition of 30
Instagram: @yoyodynetoydivision @canadian_artist_tim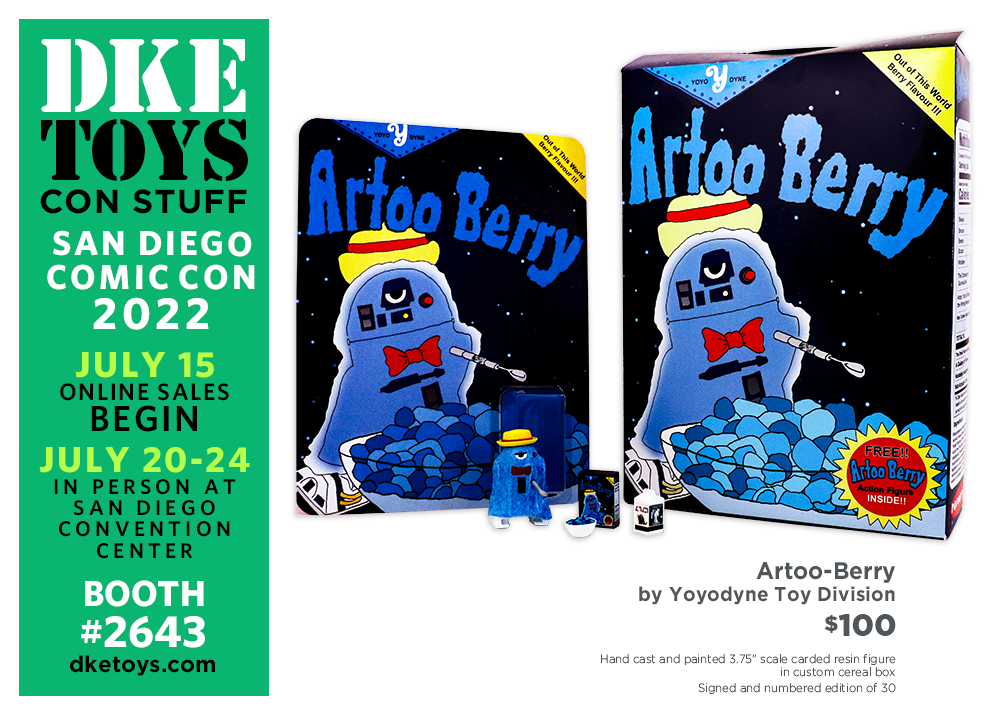 Wampunks by Edwin Salas – $80
Hand carved and painted 3.75″ figure on hand painted card back
Signed and numbered edition of 10
Instagram @edwinsalasart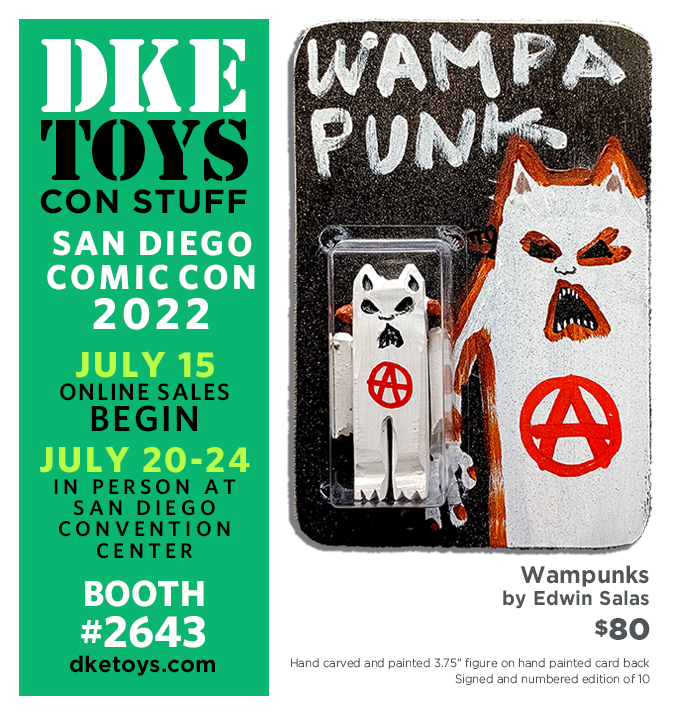 09