Funko Fundays – the celebration for fans of all things Funko – is returning to San Diego Comic-Con on Friday, July 22 at the Manchester Grand Hyatt San Diego, with a blacklight theme for this year.
Tickets for the event are $150, and will go on sale at a later date. Expect these tickets to go fast.
There is a limit of two tickets per person.
[UPDATE July 7]
With Fundays sold out, now Funko can get onto the really fun part — the exclusives. There will be four new team themes at this year's Blacklight event, featuring exclusive collectibles. These Funko Box of Fun's will only be available through Funko-com and Fundays.
Here's a sneak peek at what a box might include: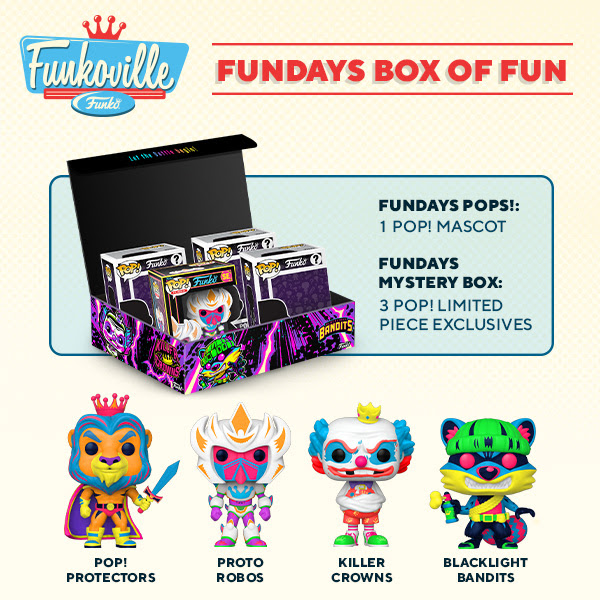 [UPDATE June 17]
Funko has revealed that tickets for this year's Fundays will go on sale on Tuesday, June 21 at a random time between 10am-2pm PT. Keep an eye on their social media for the link/code.
This event, which is one of the hottest tickets at the con, is a chance for attendees to hang out with fellow Funatics, learn about Funko's upcoming releases, as well as enjoy food, drinks, and a chance to try to win more prizes, including one-of-a-kind prototypes. There are traditionally games, contests, and more. Funko also gives a mystery Box O' Fun to each attendee, which in the past has featured three Funko Pop!s exclusive to the event.
The event is all ages, but we stress that the event is not geared towards small children.
[PREVIOUS]
For now, eligible Funko Funatic board members are able to submit to the interest list for tickets. Up to 200 eligible board members will be selected for a chance to purchase tickets on Friday, June 17, when they will have 24 hours to purchase.  If you have to ask what the Funko Funatic board is or if you're eligible — unfortunately, you probably aren't.
Will you be attending Funko Fundays? Let us know in the comments.