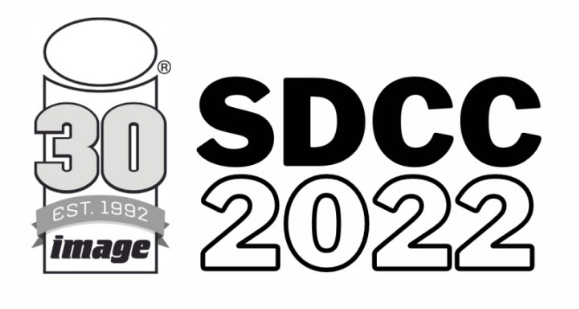 If there is a big fish in the little pond of independent comics, it's Image. From Paper Girls to Do A Powerbomb, from Sweet Paprika to Spawn, whatever you're into, Image has a book for you.
The Image booth, #1915 will be a hub of activity during San Diego Comic-Con with almost non-stop signings.
Signings marked [TICKETED] will require a wristband. Wristbands will be given out at the booth as soon as the convention floor opens on a first-come, first-served basis. Tickets will be available for attendee, retailer, and professional badge-types only, unless otherwise stated, no exhibitors.
There will be a limit of 3 items per person for ticketed signings unless otherwise noted. All items presented for signing are subject to review and denial by staff. No CGC, CBCS, or other witnessing/grading.
Thursday, July 21
11am – 12pm – Todd McFarlane (Spawn) [TICKETED] No sketches; no photos
12pm – 1pm  – Daniel Warren Johnson (Do a Powerbomb)
12pm – 1pm – Scott Snyder (Nocterra, Undiscovered Country)
1pm – 2pm – Johnathan Hickman & Mike Huddleston (Decorum)
1pm – 2pm – Nick Dragotta (Ghost Cage, East of West)
2pm – 3pm – Skottie Young (Twig, The Me You Love in the Dark, Middlewest)
3pm – 4pm – Mirka Andolfo (Sweet Paprika)
3pm – 4pm – Joe Benitez (Lady Mechanika)
4pm – 5pm – Brian K. Vaughan, Cliff Chiang, Matt Wilson, Jared Fletcher (Paper Girls) [TICKETED]

Friday, July 22
11am – 12pm – Todd McFarlane (Spawn) [TICKETED] No sketches; no photos]
12pm – 1pm – Hayden Sherman (Above Snakes)
1pm – 2pm  – Tony Fleecs & Trish Forstner (Stray Dogs)
2pm – 3pm – Skottie Young (Twig, The Me You Love in the Dark, Middlewest)
2pm – 3pm – Pornsak Pichetshote (The Good Asian)
3pm – 4pm – Wyatt Kennedy (Bolero)
4pm – 5pm – Rodney Barnes (Killadelphia)
4pm – 5pm – Nick Dragotta (Ghost Cage, East of West)
5pm – 6pm – Joe Benitez (Lady Mechanika)
Saturday, July 23
10am – 11am – Mirka Andolfo (Sweet Paprika)
10am-11am – Grace Ellis (Moonstruck)
11am – 12pm – Todd McFarlane (Spawn) [TICKETED] No sketches; no photos
12pm – 1pm – Hayden Sherman (Above Snakes)
12pm -1pm – Massive-Verse team signing
1pm – 2pm – Michael Walsh & Tonie Marie Griffin (Silver Coin)
1pm – 2pm – David F. Walker, Chuck Brown & Sanford Greene (Bitter Root)
2pm – 3pm – Skottie Young (Twig, The Me You Love in the Dark, Middlewest)
2pm – 3pm – Tony Fleecs & Trish Forstner (Stray Dogs)
3pm – 4pm – Dustin Nguyen (Little Monsters)
3pm – 4pm – Brian Posehn (The Secret History of the War on Weed)
4pm – 5pm – Tina Horn (SFSX)
4pm – 5pm – Brian K. Vaughan, Cliff Chiang, Matt Wilson, Jared Fletcher (Paper Girls) [TICKETED]
5pm – 6pm – Nick Dragotta (Ghost Cage, East of West)
5pm – 6pm – Sina Grace (Rockstar & Softboy)

Sunday, July 24
11am – 12pm – Todd McFarlane (Spawn) [TICKETED] No sketches; no photos]
12pm – 1pm – Mirka Andolfo (Sweet Paprika)
[UPDATE July 8]
Todd McFarlane will be signing throughout the week in the Sails Pavilion. Interestingly, it notes that in order to attend Limited Signings, you must have a winning ticket to enter the queue. To attend, around 9am each day, "The Box of Decision" will be used to see if the attendee "wins" a line ticket for the Limited Signing they want. This is the same general process as in 2019 for limited signings, though The Box of Decision first made its appearance at Comic-Con Special Edition in the fall. Here's a look at that schedule:
Thursday, July 21
5pm-6:30pm – Todd McFarlane

[TICKETED]
Friday, July 22
10am – 11am – Todd McFarlane

[TICKETED]
Saturday, July 23
4pm-5:30pm – Todd McFarlane

[TICKETED]
Sunday, July 24
1pm-2:30pm – Todd McFarlane

[TICKETED]