Let's get the big news out of the way here: The souvenir book this year will not be a physical book, but rather a downloadable PDF.
CCI has mentioned that you'll be picking up "books" in the Sails Pavilion along with your WB bag and lanyard, so that likely refers to the Quick Guide and Events Guide only, but there's nothing official on that.
Now onto the good news: Even though is digital, this year's Souvenir Book will still be filled with articles, tributes, and more. In the 2022 version, they'll be offering tributes to Charles Schulz, Stan Lee, Jerry Robinson, and William S. Gaines; a celebration of the 60th anniversary of Spider-Man; 50th anniversary articles on Funky Winkerbean, Ghost Rider, Kamandi, Swamp Thing, and Luke Cage; and 40th anniversary pieces on The Rocketeer, Groo, and Love and Rockets. Plus: a special look back at Comic-Con's 1970s El Cortez years!
The cover, a tribute to Dave Stevens' Rocketeer, has art by one of this year's Special Guests, Bill Morrison — known for his Disney movie posters, including The Little Mermaid, Bambi, and The Jungle Book.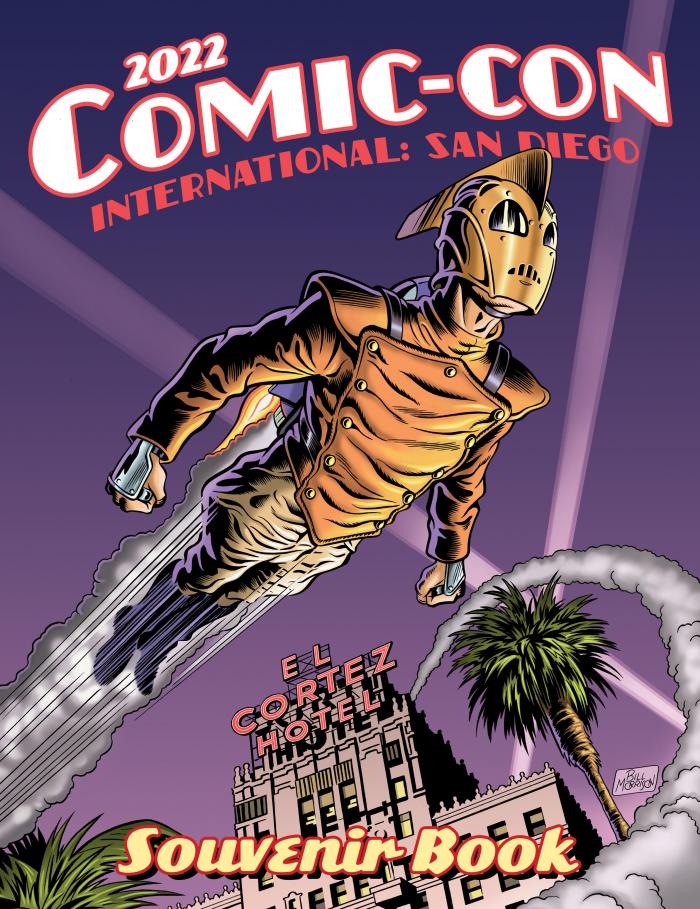 It's worth noting that the CCI app, which is currently not unlocked, says it is a "digital guide to San Diego Comic-Con". Could the app literally be the PDF? We sure hope not.