Good morning, friends! It's time to rise and shine for another day of San Diego Comic-Con news and reveals. For the first time since 2019 we can say that Comic-Con is this month! Boy that sure feels good to say. We're building that excitement with great news from Amy Mebberson, Top Cow, The San Diego Public Library and more.
Here's a look at some of the news you might have missed:
 

 

View this post on Instagram

 
 

 

View this post on Instagram

 
You'll be anything but bored when you stop by Bored, Inc.'s Booth #609 on the Exhibit Hall floor for these adorable Donut Friends they're bringing with them. Yeah, donuts are my friends, too. Good friends. Too good. Maybe even delicious.
 

 

View this post on Instagram

 
There's never a wrong time to rock, and Now or Never Comics and artist Liz Prince have created the most rockin' t-shirt design to hit the SDCC floors. Slide into their Instagram DMs if you want to pre-order.
 

 

View this post on Instagram

 
While showing off their Cyberforce 30th Anniversary print, Top Cow also announced that the artist, J. Gonzo, will be signing at their booth (#2629) on Friday, July 22 at noon. SDCC is the only place you can find this exquisite print.
SAVE THE DATE: @jGonzoArt #SDCC EXCLUSIVE #RIPLCAW/#CYBERFORCE 30th ANNIVERSARY POSTERS will only be sold at @TopCow's Booth #2629!

J. Gonzo signing on FRI, JULY 20 @ NOON at booth #2629.

• Regular Limited 100 – Silk Screen
• Metallic Ink Limited 40 – Silk Screen #comics pic.twitter.com/ZRR2XSQ2lk

— Top Cow (@TopCow) July 1, 2022
Artist Amy Mebberson is painting with all the colors of the wind for these 6″ x 8″ group watercolors, which will be available at booth #5555 starting at $200.
 

 

View this post on Instagram

 
You can meet Cyanide & Happiness co-creator Ron DenBleyker at the very easy to remember booth #1234, where they will be hunkered down with fellow cartoonist The Red Dot.
excited to announce that i am sharing a booth with @The__RedDot at San Diego Comic Con!

come say hello to us at booth 1234 or forever wonder what could've been

who's going to SDCC?

— Rob DenBleyker (@RobDenBleyker) July 1, 2022
Kevin Smith's Mooby's Pop-Up Fast Food Joint will be offering beverages from San Diego local Societe Brewing Co. featuring a very cool collectible can. Drink up, fanboys!
 

 

View this post on Instagram

 
And finally this morning, we now have a look at the San Diego Public Library's collectible library card, featuring the enchanting artwork of Charles Glaubitz. You'll be able to pick one up at the Library's booth at Comic-Con or at any branch.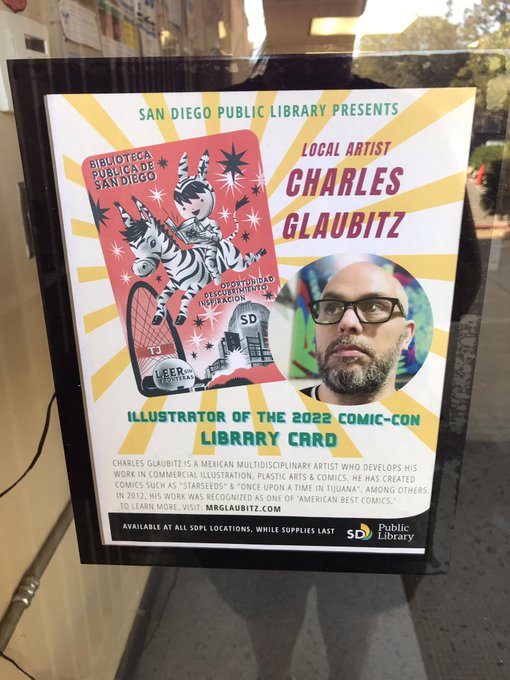 Anything we missed? Let us know in the comments, drop us a line, or tweet us at @SD_Comic_Con.
If you missed our previous Under the Tents 2022 posts, you can find them HERE.