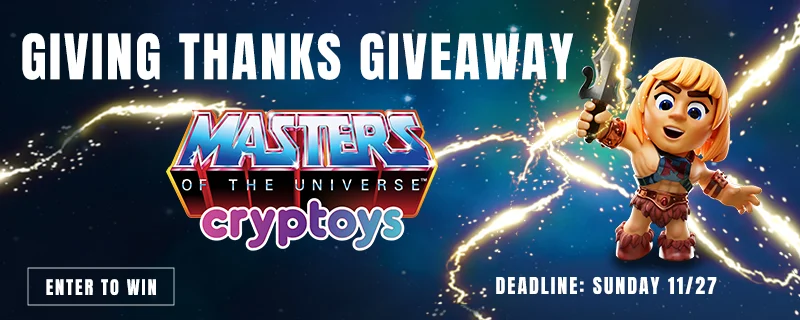 By the power of Grayskull… you could win San Diego Comic-Con 2023 badges! OnChain Studios, who has a multi-year partnership with Mattel for its Cryptoys NFT platform, revealed that it's giving away a pair of four-day badges as part of a Masters of the Universe fan package.
Between now and November 27, you can enter to win prizes including the pair of San Diego Comic-Con 2023 badges, as well as 20 Masters of the Universe Cubes & 4 Golden Tickets, MOTU toys signed by Mattel artists, or a set of the SDCC 2022 three MOTU lapel pins, as well as a poster signed by OnChain Studios artists.
To enter, you can purchase cubes, blister packs, and toys from OnChain Studios, and you can opt-in with your information on their site. Alternatively, for a free entry by mail, you can send a 3″x5″ card with your name, mailing address, e-mail address, phone number, and date of birth mail it to:
OnChain Studios Inc.
9999 NE 2nd Ave
Miami Shores, FL 33138
You can find the official rules here.