Just one week ago, WonderCon was in full swing. And while we're sad that it's over now, it means we can put our full attention on the "big one" — San Diego Comic-Con, which is just 109 days away. The hotel sale is looming on the horizon (no, we don't know the date yet), but there's still plenty of other news to be found, including some of our favorite artists, some companies we will miss this year, and some sneak peeks at what you'll be able to buy on the show floor this July.
Here's a look at the news you might have missed:
You can still score artist Patrick Ballesteros' beautiful The Last of Us print in his online shop, but if you prefer to buy your art in person, he plans to also bring it along to SDCC as well as his new blank sketch book.
That would be the plan, along with some other goodies of course 😊

— Patrick Ballesteros SDCC DD-08 (@PatrickBallest) March 19, 2023
If people pick it up and respond well to it I may do a preorder online and have some for SDCC😊

— Patrick Ballesteros SDCC DD-08 (@PatrickBallest) March 23, 2023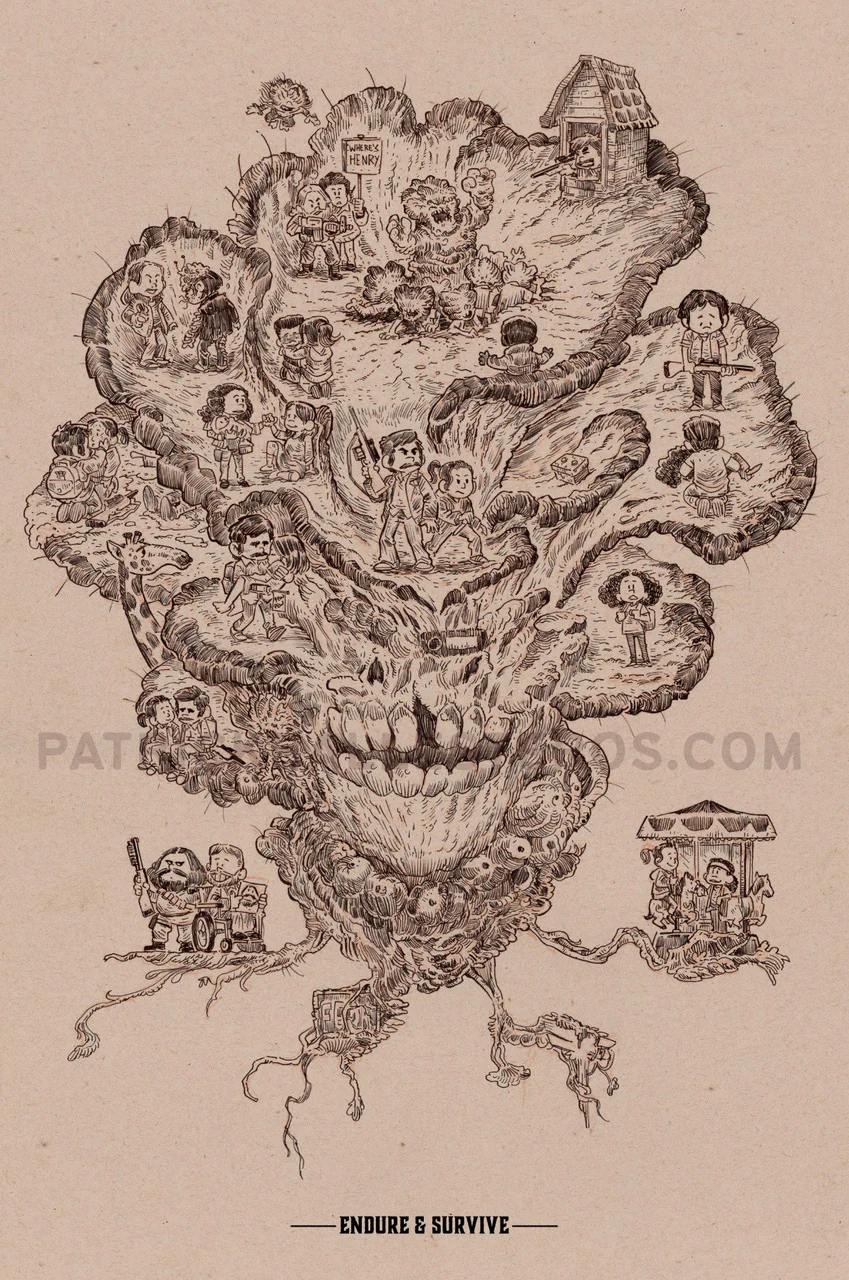 Good news, art fans! Nucleus Gallery is bringing along some of our favorite artists for signing at San Diego Comic-Con this year, at Booth #2015. This year, you'll find Scott C., Babs Tarr, Sara Kipin, and Natalie Andrewson.
While artist Martin Hsu may not have physically been at WonderCon this year (you can still shop several items from his virtual WonderCon booth though!) — he will be present and accounted for at San Diego Comic-Con. Catch Hsu at Booth #4530, where he will surely have new prints, figures, original artwork, and more.
SDCC 2023 hotel confirmed on my birthday! Must be a sign 😃 See you at booth 4530! pic.twitter.com/sA4LdgqS2R

— Martin Hsu 徐 👨🏻‍🎨 (@MartinHsu) March 16, 2023
Commissions are already starting to open up, and Hasbro and LEGO artist Dan Veesenmeyer is starting to think about his own commissions list for SDCC. He expects to open around early May, so be sure to follow him on Twitter (or follow us here at the blog) for more info.
San Diego Comic-Con hotel and flights booked. 🙌

I hope to open pre orders for sketch commissions delivered at the event around early May. TBD. Lots to catch up on first.

Planning at least one new print (G&R), hopefully two.

— Dan Veesenmeyer (@dveese) March 16, 2023
If you're already obsessed with the Disney Lorcana trading card game coming out in August (Editor's Note: Looking at you, James), we've got some bad news for you: they won't be attending San Diego Comic-Con this year.
We won't be at SDCC this year, but Disney Lorcana will be making its debut at Gen Con this August. 😀

— Disney Lorcana (@DisneyLorcana) March 16, 2023
Artist Chris Maze teased that he's got something new for SDCC this summer, and that is's something he's never done before. We can't wait to see what he's got up his metaphorical sleeve.
I just completed something new for #SDCC this year. It's something that I've never done before and I'm a little anxious about it. However, with that said… pic.twitter.com/5ZBkmLKyWj

— Chris Maze (@MAZEhimself) March 21, 2023
Each year, the Kevin Workman Foundation sponsors an artist to bring to their booth at San Diego Comic-Con, giving a spotlight to their work and added exposure for a rising star. This year, they've chosen Daria Aksenova, a shadowbox art maker from Texas, who creatures gorgeous and often haunting pieces featuring hand-cut artwork and precision. You can find her at the Kevin Workman Foundation Booth #934.
 

 

View this post on Instagram

 
We've barely finished WonderCon, and artist Priscilla Wilson has already set her sights on SDCC. She hopes to bring some of her new wallets and fans to SDCC (which are open edition), as well as "a lot more exclusives".
Thank you!! They're both open edition so I hope to have them at SDCC! Though SDCC tends to be where we lose/spend even more money 😂

— Art of Priscilla Wilson 🔜 Makeshift Muse (@valorandvellum) March 30, 2023
That will be it for exclusives for the show but I still have some of my open edition Soonay pins! I hope to have a lot more exclusives for SDCC. WC was challenging because of back to back shows and KS fulfillments this month.

— Art of Priscilla Wilson 🔜 Makeshift Muse (@valorandvellum) March 25, 2023
You can stop asking Toddland now: They'll be bringing The Great North merch to SDCC, in sizes XS-6X — and while not stated, we're willing to bet you'll get your first look at it right here when it is announced.
Yes.
Comic con.
XS-6x.
Stop asking.
❤️
❄️🌲@GreatNorthFOX#thegreatnorth pic.twitter.com/AXzqz8CaMl

— toddland #stayrad® (@toddlandstore) March 27, 2023
What you CAN ask Toddland about is the Bob's Burgers lanyards that some of their crew wore at WonderCon. While originally a cast and crew gift at the live show at the Orpheum a few years back, Toddland may be able to make some magic happen. Be sure to let them know you want them.
We are NOT selling those lanyards (*yet), they were for cast/crew for the @BobsBurgersFOX live at @LAOrpheum a few years ago. If you make enough noise about em, us and bob's can MAYBE get our business daddy to cough up some marketing $ to do a gift w/purchase at @Comic_Con ? https://t.co/BK7Dwm7J0b

— toddland #stayrad® (@toddlandstore) March 24, 2023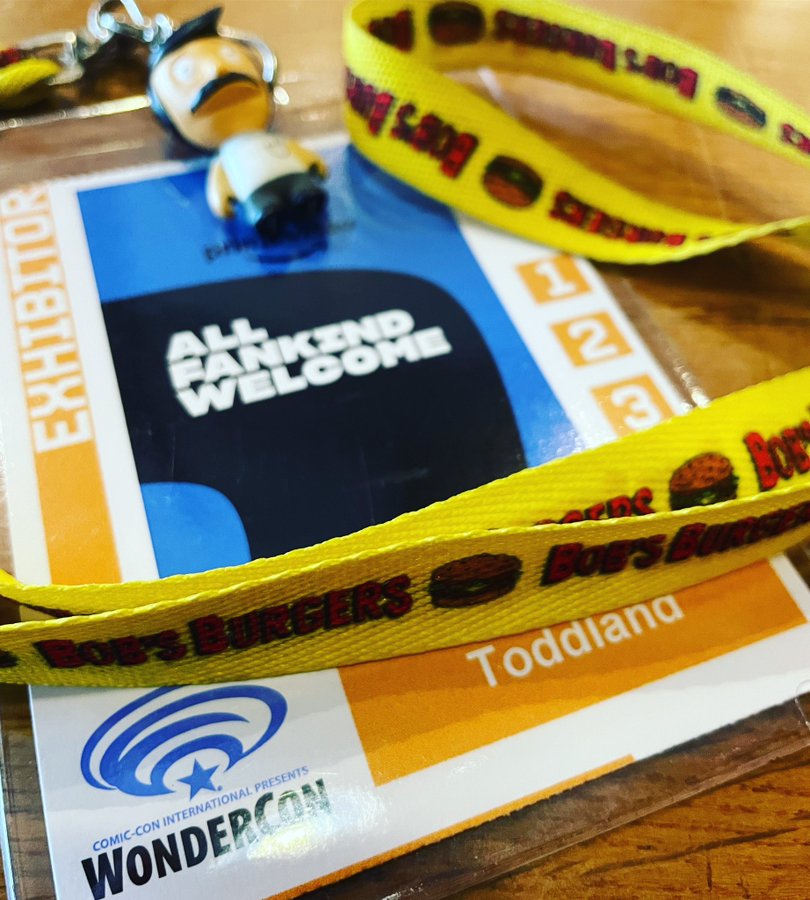 Comic writer and artist Daniel Warren Johnson had a packed WonderCon, filled with panels, artwork, commissions, and more — and he's coming to SDCC this summer to probably do it all again.
Murder Falcon sketch at #wondercon. Had a great time this past weekend! Thanks to all of you for stopping by and showing your support. SoCal has some amazing fans and I can't wait to come back! See you at SDCC! pic.twitter.com/8oIDdL1VvP

— Daniel Warren Johnson (@danielwarrenart) March 27, 2023
Anything we missed? Let us know in the comments, drop us a line, or tweet us @SD_Comic_Con.