Whelp, another weekend is in the books, and we're no math expert, but the calendar says there are only eight more weekend until San Diego Comic-Con. That means you have eight weekends to break in some comfy shoes. Eight weekends to sew up those cosplay items. Eight weekends to research and plan so you have the best convention ever. 
How can we help? How about with some more teases, sneak peeks and announcements, including news from Patrick Ballesteros, Fanbase Press, Chris Maze and many more.
Let's take a look at the news you might have missed:
Illustrator Cliff Cramp is knee deep in the creation of a brand new booth for San Diego Comic-Con, including an upgrade to a 20′ space and an illuminated logo. Friends and fellow creators Jerry Vanderstelt and Brian Rood will also be joining him. 
 

 

 

View this post on Instagram

 
Martin Hsu has released a few pieces of his new Goldfish Mermaid Artist Series, but the bounty of the whole pod will be releasing at his booth at San Diego Comic-Con. The details on these look stunning and we can't wait to see more.
To kick off my Goldfish Mermaid Artist Series at SDCC this year, here's a mini #MerMay release of 'Summer Fruits' by toy designer, MJ Hsu! 🍍🍉🍑
Meet Pineapple, Watermelon, and Peach – preview up in my online store now! https://t.co/f3XYLLMKbU pic.twitter.com/KeoPYmathY

— Martin Hsu 徐 👨🏻‍🎨 (@MartinHsu) May 19, 2023
And while we're talking about Martin Hsu… do you recall 2022's precious Ghibli x Star Wars mini prints sets? If you missed them and have been regretting it, now is the time to let him know, as he's contemplating a some additional ones for 2023.
We're just about 2 months away from SDCC 2023! Any interest in more of these 2022 exclusive Ghibli x Star Wars print packs?

if so, I'll make some 🙂 pic.twitter.com/5cS71yBc0G

— Martin Hsu 徐 👨🏻‍🎨 (@MartinHsu) May 20, 2023
Academy Award Winner Hannah E. Beachler took to Twitter to announce her San Diego Comic-Con panel, a talk about Wakanda and other Afro-Futuristic cities. The exact time and location will be released closer to the convention, but for now, pencil it into your schedule.
I'll be on a panel at Comic Con San Diego this year! Talking about Wakanda and self sustainable Afro futurist cities with some of my FANTASTIC crew! Please join if you can!!!!! #BLERD #Cosplay #Ori pic.twitter.com/WjwbItIDjU

— Cozy (@HannahEBeachler) May 19, 2023
Essential Sequential has updated their list of artists attending San Diego Comic-Con to include fan favorite Art Adams.


Let's turn that frown upside down! Joey Spiotto will indeed have a selection of his Grumpy Unicorn books available at SDCC. 
I will have my Grumpy books at SDCC! Nothing in the works currently for The Expanse but I might need a little Camina Drummer in my future #beltalowda

— Joey (@JoeySpiotto) May 21, 2023
Fanbase Press is now taking pre-orders for their upcoming title Four-Color Heroes, an LGBTQ+ graphic novel by Richard Fairgray. In a follow up Tweet, Fanbase confirms that SDCC attendees will get first crack at the book, with an early release as well as a creator signing at booth #O-03.
#PreOrder your copy of @Fanbase_Press' upcoming #LGBTQ+ coming-of-age #GraphicNovel, @4ColorHeroesGN, by @RichardFairgray and feat. contributions by @davidbooher & @ArkhamAsylumDoc! #MentalHealth #Comics #Superheroes #ComicBooks #LibComix #GraphicMedicine https://t.co/ffBUIkvJzA pic.twitter.com/aW6TChf3Hm

— Four-Color Heroes (@4ColorHeroesGN) May 19, 2023
Absolutely! Our official #SDCC press release will be forthcoming, but readers will definitely be able to purchase copies of @4ColorHeroesGN at #SDCC at the @Fanbase_Press booth (O-03), and @RichardFairgray will be signing throughout the week. (You heard it here first!)

— Fanbase Press (@Fanbase_Press) May 20, 2023
What do Hulk, Juggernaut, Spidey, Miles, Cyborg, a bunch of a-holes and the T.M.N.T. all have in common? Well, they will all be part of the mini-originals that Patrick Ballesteros will have at San Diego Comic-Con. But that's just the tip of the Ballesteros iceberg, so to speak. We know he'll have dozens more done before the show starts. If you're already picking out your favorites, you're not alone. Patrick's favorites include this John Wick pair.
Saturday…let's go!#SDCC #sdcc2023 pic.twitter.com/t169KI2noi

— Patrick Ballesteros SDCC DD-08 (@PatrickBallest) May 20, 2023
Riding into the weekend with these A-holes. Happy Sunday to you wonderful people!#sdcc #GotGVol3 #minioriginals pic.twitter.com/eF8kU0sCZ1

— Patrick Ballesteros SDCC DD-08 (@PatrickBallest) May 21, 2023
Well I know there will be at least 20 minis for SDCC. Also, here are 2 of my faves from my session today 😊.#JohnWick4 pic.twitter.com/Z83QNU7iiE

— Patrick Ballesteros SDCC DD-08 (@PatrickBallest) May 21, 2023
Ted Lasso's Roy Kent / Jamie Tartt bromance continues to blossom, and Patrick Ballesteros continues to honor one of the best shows in television, with this work-in-progress that might have you stuffing the swear jar.
Have a great weekend all you Kents!

I know, I know…1 quid for making you think it lol 😂.#roykent #tedlasso #sdcc pic.twitter.com/TEHvXioYmA

— Patrick Ballesteros SDCC DD-08 (@PatrickBallest) May 20, 2023
It's never too early for Comic-Con news, so here's a bit of it you can tuck away for 2024's show. Hermes Press will be publishing a follow up to Dethany and the Other Clique, by Bill Holbrook and H.H. Glynn, titled The Phantom of the Swim Team. Fans may recognize Dethany as a character from Holbrook's comic strip, On the Fastrack, in which Dethany is an adult. The graphic novel series, illustrated by Holbrook's daughter, shows Dethany in her formative, school age years.
Big news! The good folks at Hermes Press are going to publish a sequel to the graphic novel, "Dethany and the Other Clique," which will debut next summer at the 2024 San Diego Comic Con.

— Dethany Dendrobia 🦇 (@Dethany_D) May 20, 2023
Those of you who've read the first book know that it concludes at the end of the school year. The sequel, entitled "The Phantom of the Swim Team," picks up on the first day of summer vacation. Changes of all kinds are in store for the Other Clique.

— Dethany Dendrobia 🦇 (@Dethany_D) May 20, 2023
Back to the year 2023….Jin Yung Kim his putting the finishing touches on his first SDCC debut, a Power Rangers print. It's been a joy to see this print go from rough sketches to polished product over on Kim's Instagram.
 

 

View this post on Instagram

 
Stop-motion animation will hit the spotlight at the San Diego International Children's Film Festival with Amber Stacey's film, Stan & Sven: A Plan To Help Stan. The movie will be screened, with a Q&A, as part of the festival, which runs in conjunction with San Diego Comic-Con. Schedule forthcoming.
 

 

View this post on Instagram

 
As previously mentioned in our report regarding Good Omens, although the odds are looking very good indeed for a Good Omens 2 panel, writer Neil Gaiman will not be attending San Diego Comic-Con due to a family event. Not that we needed further confirmation, but he has also responded the same on Twitter. When asked about partaking in a panel about Jack Kirby, Gaiman closed the door on participating this year but left it open for the future, putting the ball squarely in the court of Mark Evanier, who serves as moderator for that panel. 
I can't make it to SDCC this year. But when I do I'd love to do that panel. @evanier will indulge me I am sure.

— Neil Gaiman (@neilhimself) May 20, 2023
Creative team Matteo Pizzolo and C. Granda (Rogue State) will have something to celebrate at San Diego Comic-Con; the debut of Calexit: The Battle of Universal City, about young rebels willing to risk it all for freedom of thought. You'll be able to purchase issue #1 at Comic-Con, ahead of it's wider release in comic book stores. As a bonus, this also confirms that publisher Black Mask Studios will be exhibiting.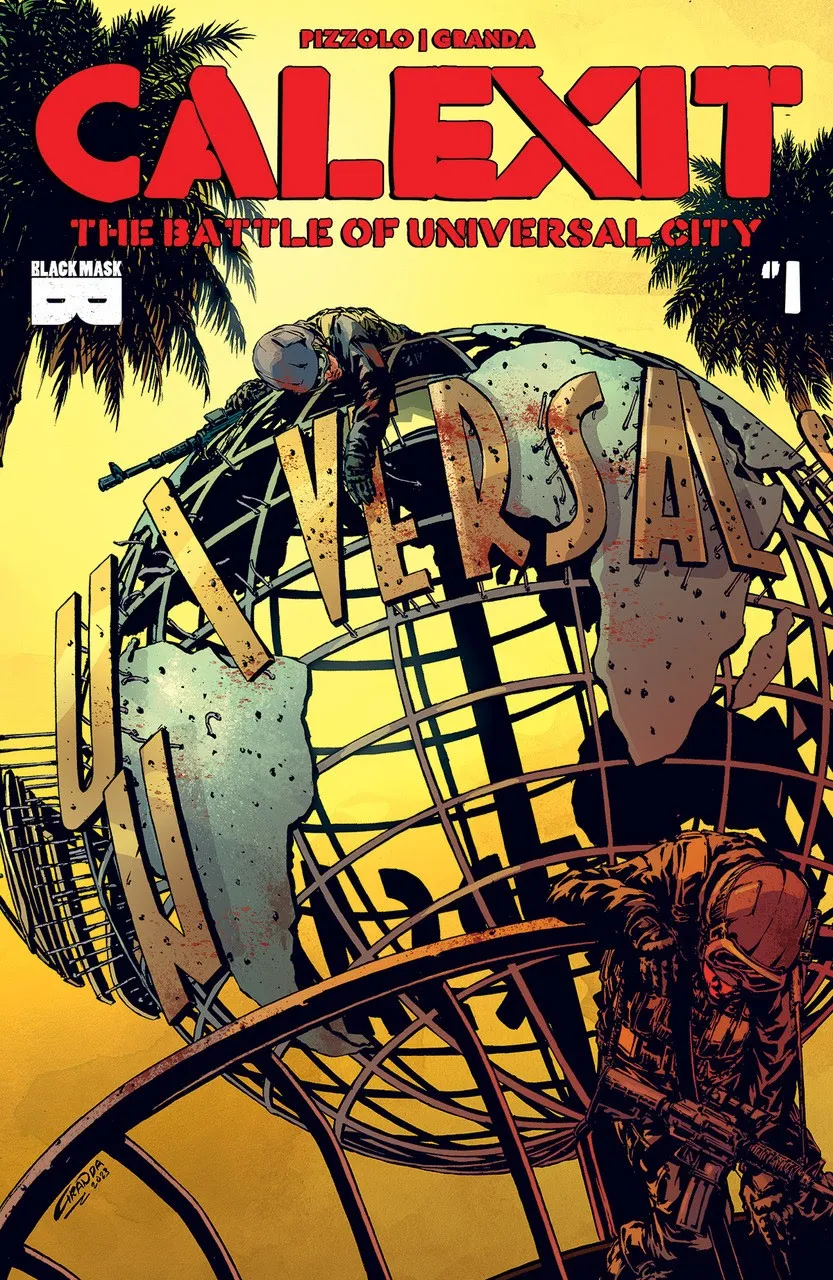 Artist Chris Maze continues to be cryptic, teasing that many of this new SDCC prints contain "words in some shape or form." We're waiting patiently to read those words and take in any illustrations that accompany them.
I'm arranging some of my newest prints for #SDCC and noticed that a good chunk of them utilize words in some shape or form. Either by typography or my own handwriting. Didn't realize it at the time until I saw all at once.

— Chris Maze (@MAZEhimself) May 20, 2023
Raise your hands in the air if you like exclusive Comic-Con merch! Yup, us too! The team behind Conquest, the convention history book are seeing your input regarding what kind of merch you like best. Let them know on Twitter.
Thinking of working on con exclusive merch ideas for #sdcc what would you all like to see? Pins? Clothes? Bags? Anything specific?

— Convention History 🏳️‍🌈 (@ConHistory) May 21, 2023
And lastly today, while masks may not be required to attend Comic-Con, you might want to wear one anyway, especially if it's a Composite Effects mask, from booth #2944. In addition to masks, they will also have a full selection of gloves, all at a special SDCC discount.
 

 

View this post on Instagram

 
Anything we missed? Let us know by dropping us a line, or tweet us at @SD_Comic_Con.
If you missed our previous Under the Tents 2023 posts, you can find them HERE