"Comic-Con is almost here. The smell of pretzels and hot dogs woft near. Mylanta on hand, you go forth with no plan, no agenda, simply a sneer.
Comic-Con is almost here. The cosplayers looking regal, "Is that Jason Segal" scurrying through the Bayfront Hilton you wonder, the upheaval answers your query. 
Comic-Con is almost here."
Let's take a look at the San Diego Comic-Con 2023 news you might have missed:
The Jack Kirby Museum & Research Center looks to have some sort of presence at Comic-Con this year based off of the calendar located on the site. You can find the calendar here and just scroll to the July.

Mouse Guard creator David Petersen is headed to San Diego Comic-Con this year. The question was asked on Twitter if David would be attending and David gave a "yes" response, and it doesn't get much more clear cut than that.
Yes. Still waiting on booth info details

— David Petersen (@mouseguard) May 22, 2023
Comic book and Eisner winner Colleen Doran will be a Special Guest at Comic-Con this year. On top of that, Colleen revealed on Twitter that there will be a spotlight panel and a Comic-Con Museum Exhibit panel that you can catch her on, ahead of her fall Museum exhibit.
Happy to announce I'll be at @Comic_Con as a guest of the @ComicConMuseum in anticipation of my upcoming exhibit this fall. I'll have a spotlight panel and there will be a museum exhibit panel. Looking forward to seeing you!

— Colleen Doran (@ColleenDoran) May 22, 2023
I love a good donut but what I enjoy even more is a themed donut! Donut Bar in San Diego recently teased a Super Mario themed donut along side the use of #sdcc. We're hungry already.
We've gotta hunch!! And wait until you all see what we've got in store for you this year!!! #SDCC #supermario #supermariobros #donutbar #goldcoin #donuts @ DonutBarSD pic.twitter.com/mfUz8ArmiG

— Donut Bar (@donutbar) May 22, 2023
GM and Youtube creator RealSmith recently announced they will be putting on a live show from Comic-Con this year. Get your favorite set of dice ready!
📣 EVENTS UPDATE! 📣 Just added SDCC to the list! Stay tuned for more details!#sdcc #gameconcanada #dndinacastle #gencon #dragoncon #d3atsea pic.twitter.com/0jkKkErRhi

— RealmSmith 🔜 Game Con Canada (@realmsmithtv) May 22, 2023
Artist Ethan Castillo is teasing some of his upcoming work for Comic-Con. There's one think we're pretty sure of: That Spider-Man will be involved somehow.
Some new stuff I'm working on for @Comic_Con 🙂 pic.twitter.com/oSHaztZpyk

— Ethan Castillo (@EthanCastillo05) May 22, 2023
DSTLRY Media recently confirmed on Twitter that it will have a limited preview run of Devils Cut available during Comic-Con this year.
We'll have a limited preview run at SDCC.

— Chip Mosher (@chipmosher) May 23, 2023
Geeky Hooker will be once again leaving little hand made surprises (aka "crocheted critters") around the convention center and recently showed off some of the creations that you should be on the look out for this year. Are you hoping to pick up a mini Mystique, Negative Man, or Namor?
Christmas came early this year! Since 2016 @moon_catcher has sent me critters of her own for me to drop on her behalf at SDCC, and this year's haul showed up early! Find them at SDCC and they're yours to keep! See the blog for details: https://t.co/6mzu5LDOFw pic.twitter.com/Fm539T7ofq

— Geeky Hooker (@GeekyHooker) May 23, 2023
Artist Carla Cohen will be making their first US appearance in three years at Comic-Con. You'll be able to find Carla at NR City Booth #2048 for signings and sketches. Carla also has a limited number of commission spots currently open.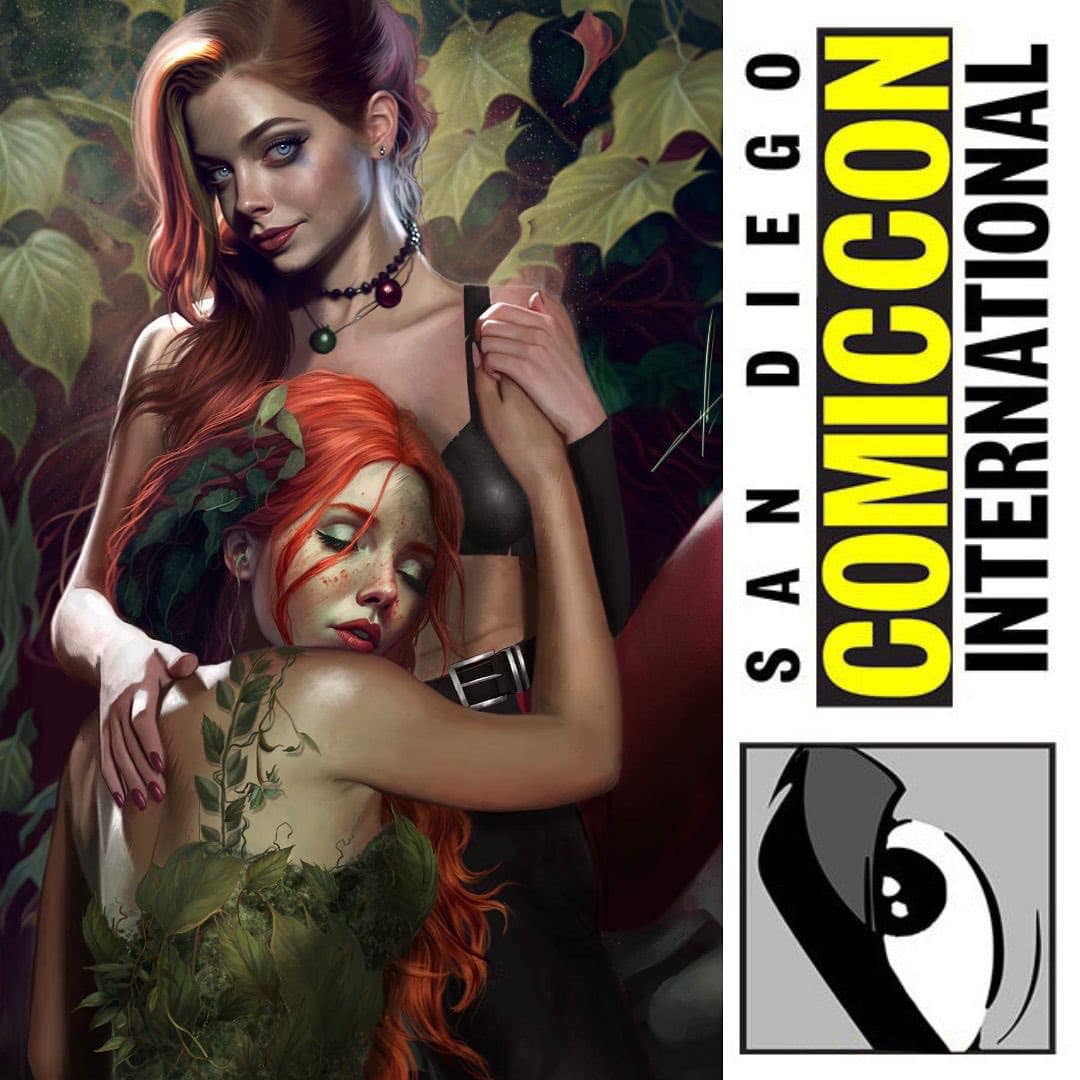 Let sleeping rabbits lie. Martin Hsu, who you'll be able to find at Booth #4530, will be debuting this gorgeous print at SDCC this year in celebration of Year of the Rabbit.
Here's a new print I'm excited to debut at SDCC this year titled 'Flower Viewing' 🙂 It's Year of the Rabbit after all! 🐰🌸 pic.twitter.com/kOSh6mysbu

— Martin Hsu 徐 👨🏻‍🎨 SDCC Booth 4530 (@MartinHsu) May 23, 2023
It's Wario as you've never seen him before! You'll be able to get your hands on this bee inspired Wario at Comic-Con (and online starting June 23) thanks to artist Camilla d'Errico who you can find at booth #4723.
Are you a Mario Bros fan? Brace yourself for chaos and mischief as Wario makes his electrifying presence felt at my San Diego Comic-Con booth 4723 and on my online shop June 23rd!
•
My epic June release is coming with bird and bee-inspired items! #wario #mariobros #SDCC pic.twitter.com/4Wzq409Yhf

— helmetgirl (@Helmetgirl) May 23, 2023
Nick Kremenek is working on a project for SDCC and while most details are still scarce, he has debuted the name and logo for it: Project ReForge. We're excited to see exactly what he's been reforging.
I've been slowly retooling old portrait art pieces in preparation for #SDCC & I finally have a logo to go with the project! Introducing Project ReForge! Are you ready?! 😀#NickKremenekArt #ProjectReForge #PortraitArt #ArtistOnTwitter #DreamforgerStudios @SD_Comic_Con pic.twitter.com/IckKZoTfj1

— Nick Kremenek (a.k.a. Dreamforger Studios) (@NickKremenek) May 23, 2023
Wondering if the San Diego MTS will be bringing back the trolley passes for Comic-Con this year? So were we. This mysterious tweet might be a good sign that they are indeed returning. 
Stay tuned for more details 👀👀👀

— San Diego MTS (@sdmts) May 24, 2023
Planning on checking out the Comic-Con Museum while in San Diego for SDCC? It looks like new exhibit details will be announced in June!
New exhibits will be announced next month!

— Comic-Con Museum (@ComicConMuseum) May 24, 2023
Anything we missed? Let us know by dropping us a line, or tweet us at @SD_Comic_Con.
If you missed our previous Under the Tents 2023 posts, you can find them HERE.