It hasn't been a week for massive SDCC news drops, but there have been a few notable blips that should be on your radar. We launched our new and expanded tiers for our Patreon, Funko initiated their Fan Rewards Program that includes sweepstakes with some SDCC-centric prizes (but has, as of Thursday, taken the program down temporarily.)
It has, however, been a pretty outstanding week for tiny bits of news. Lots of creator appearance confirmations, some sassy acrylic pins and potential party themes. We've got a little bit of a lotta different things.
Let's take a look at all those little bits:
"Convention season" means many things to many people, but to the Geeky Hooker it means furious yarn and hook work to create adorable creations that are randomly "dropped" in public places for attendees to find. How fun is that? The year, you just might be able to find a Rocket Raccoon or the previously announced Ted Lasso Dani Rojas. Watch their site for more details!
NEW CRITTER ALERT: After watching #GotGVol3 , I knew I had to make a little Rocket Raccoon for #critterdrop! I'm particularly proud of this one, because I got the head right on the first try! Find little Rocket Raccoon at SDCC and he's yours to keep! https://t.co/mfGlGw2TJ1 pic.twitter.com/Kl2VpavLJw

— Geeky Hooker (@GeekyHooker) May 11, 2023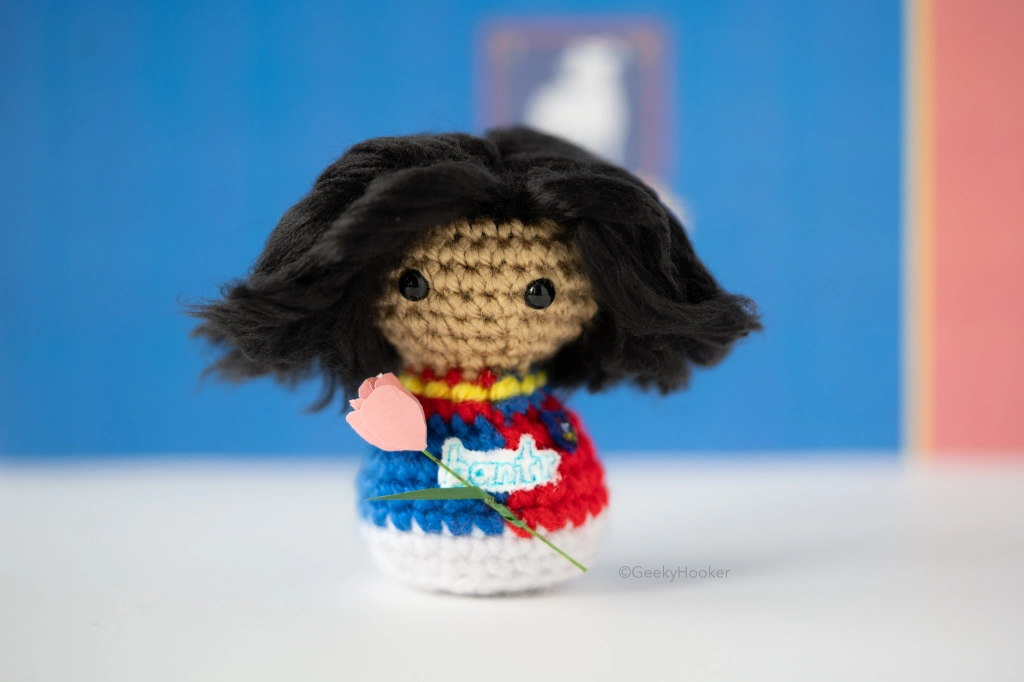 Alex de Campi is teaming up with game designer Cliff Bleszinksi for a brand new series coming from Image Comics and it's launching just in time for the big event. Scrapped #1 will release in July but Alex is already showing off the cover of issue #3, and adding in a casual SDCC announcement.
Guys I have absolutely ZERO chill about the cover to SCRAPPER #3 because DOG!!! WITH A JETPACK!!! also @juaneferreyra is the best and @therealcliffyb is also the best! Order the book from @ImageComics, first issue drops in July (yes we'll be at SDCC!) pic.twitter.com/cYgZT5oSGL

— Alex de Campi (@alexdecampi) May 9, 2023
Sonic the Hedgehog writer and illustrator Ken Penders has confirmed that he will once again be in Artist Alley this year. Find him at table #II-24.
I can now confirm I will be located at Table II-24 in Artists Alley at @Comic_Con this July. Looking forward to seeing everyone who shows up.

— Ken Penders (@KenPenders) May 10, 2023
Booth #2001 will be the place to find The Yuan Twins at Comic-Con. Matt and John Yuan are triple threats in acting, writing and illustrating.
We will be! Booth 2001! Thank you, ya cannibal!

— TheYuanTwins (@TheYuanTwins) May 9, 2023
 

 

View this post on Instagram

 
The totally tubular toddland is teasing us with news about Comic-Con samples arriving. Might we see some American Dad Roger merchandise at the event? Seems likely!
Comic con samples are rolling in and our art department and the teams at @AmericanDadTBS @FamilyGuyonFOX @BobsBurgersFOX @GreatNorthFOX and @Krapopolis are crushing it again! @AniDom pic.twitter.com/zN7guRenlZ

— toddland #stayrad® (@toddlandstore) May 10, 2023
We are less than a week away from XLE Productions announcing their popular San Diego Comic-Con parties, ticketed events that are deeply themed with no shortage of music and dancing. They have released hints for each nights theme on Instagram. Which one looks fun to you?
In the "could possibly be related to the previous item" department, the delightful 80s cover band The Flux Capacitors just happen to be booked solid for San Diego Comic-Con. Could they be playing the XLE Productions parties, as they have in the past? Maybe! We'll just have to wait and see where we'll be shakin' our groove thing in July.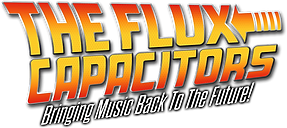 Pin-up artist Olivia De Berardinis is still working on original blank cover sketches. We love her style with these Barbie/Batman fusions! All her sketch covers will be auctioned off at her booth, #2129.
BARBIE & KEN! BATMAN & CATWOMAN💣💥Having a good time creating these blank comic book covers for our auction during @SD_Comic_Con this July. We'll be showing these at our @tweeterheadsf / Olivia booth. @barbie #barbie #ken #BarbieDoll #kendoll #CatDoll #OliviaPinupArt
💙💛 pic.twitter.com/eYUm0I19jh

— Olivia De Berardinis (@OliviaPinupArt) May 11, 2023
Just a reminder that I have NO convention plans this year. That includes SDCC, NYCC and the Alamogordo Petunia Festival/Comic Expo set for mid October. I hope to open up for commissions later this year.
Sorry, New Mexico. You know I love you.

— James Silvani (@SilvaniArt) May 11, 2023
Patrick Ballesteros is hard at work, drawing almost as many steps as he is characters for this San Diego Comic-Con work in progress. We've been known to pop a squat on that staircase, at least before we're told to "move along!"
Working on my big exclusive for #Sdcc. Currently, at about 140 characters in it. Wish me luck 😩.#Exclusive #patrickballesteros #sdcc #sdcc2023 pic.twitter.com/FJzspe3VTB

— Patrick Ballesteros SDCC DD-08 (@PatrickBallest) May 9, 2023
Here's a swell two-fer! Magnificent Eisner award nominated artist Mark Brooks tweeted a Scarlet Witch sketch cover he did, stating it would be available at SDCC in July. Now we know that Mark will be in attendance and that he'll have at least one sketch cover. Fingers crossed for more!
A sketch cover I did while is South Africa last week. Also something red so it fits the theme. This will be available at SDCC in July. #ScarletWitch #MarvelComics pic.twitter.com/QHssuC8IRH

— The Dread Pirate Mark Brooks (@MarkBrooksArt) May 9, 2023
Discord user arbitrarygenius dropped this little nugget of goodness in our server the other day. (If you haven't had a chance to join our Discord, you can do so here. It's a swell option to see all of our news, plus interact with other friends and followers.) Anyway! Back to the news! New York Times bestselling author Charles Soule will be embarking on a book tour for The Endless Vessel, with a confirmed stop at Comic-Con for panels and signings.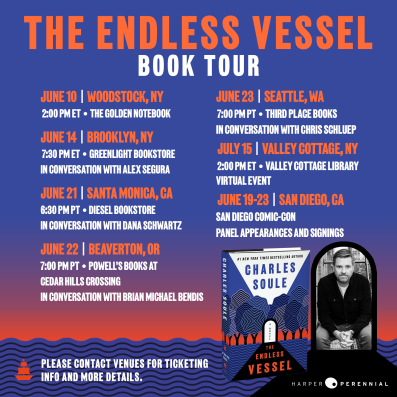 We don't traditionally deal in speculation but these two tweets seem to indicate that maybe, possibly, perhaps both James Tynion IV and Tim Seeley will both be attending San Diego Comic-Con. They will both for sure be in L.A. the week before.
Hey, me too!

— Tim Seeley (@HackinTimSeeley) May 11, 2023
Look, we like our Titans with a bit of sass and attitude and illustrator and designer Kevin Gemser has DELIVERED. These acrylic pins of Robin and Red Hood will be limited to 40 pieces each and available at Artist Alley booth #CC-13.
WHY HOWDY THERE FELLAS!

Looks like my acrylic pins for #SDCC 2023 have arrived! Limited run of 40 pins each, you can find them at Stellar Eleventh's artist alley table CC-13. pic.twitter.com/O2UKv8Dkjs

— Kevin Gemser 🔜 SDCC 2023 CC-13 (@KevinGemser) May 11, 2023
There are as many ways for an exhibitor to release exclusives as there are exhibitors and some methods are better than others, certainly. Priscilla Wilson is asking for YOUR opinion before deciding her method. You can weigh in on Twitter with your thoughts.
What is your favorite method for buying SDCC exclusives?
💙 FCFS staggered release with different drops different days
💚 FCFS but everything drops all at once
🧡 FCFS with limited allotments each day
💛 Online lotto before the con

— Art of Priscilla Wilson 🔜 SLO Comix Fair (@valorandvellum) May 11, 2023
Time to break that piggy bank open! A little birdie was told by Comic Sketch Art that their roster of guests for San Diego Comic-Con will be truly mind-blowing. While we wait to hear all the firm details, here's some of the names included:

Jeremy Adams

Rafael Grampa

David Pepose

Laura Braga

Collin Kelly

Jackson Lanzing

Nerf Alice

Tom Taylor

Jock

Joshua Cassara

Jim Zub

Swaby

Jody Houser

Clay Mann

Ryan Browne

Charles Soule

Frank Cho

Ryan Ottley

Mark Brooks

Mirka Andolfo

Greg Capullo

Ken Lashley

Mitch Gerads

Tom King

Agnes Garbowska

Scott Snyder

Frank Tieri

Dan Panosian

And finally today, Scott's Collectables will also have some stellar talent at their booth, including

Inhyuk Lee, Alan Quah, James Tynion IV, Marco Checchetto and Ram V. 
One final note, since this weekend is Mother's Day. We wish the happiest of days to all Mothers, Grandmothers, Dads who take the place of Moms, Step Moms, people who nurture like Mothers, surrogate mothers, foster Moms, fur baby Moms, Mothers who have passed, Mothers with angels in heaven and anyone who has every had or lost a Mom. We wouldn't be here without any of them. 💜
Anything we missed? Let us know by dropping us a line, or tweet us at @SD_Comic_Con.
If you missed our previous Under the Tents 2023 posts, you can find them HERE