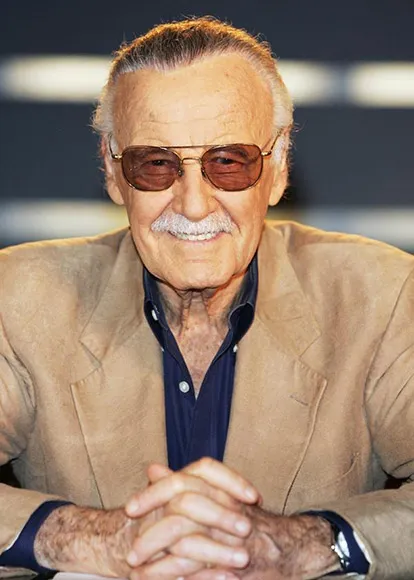 Kartoon Studios announced today that they'll be celebrating the legacy of Stan Lee with a new exhibit, opening at the Comic-Con Museum in Balboa Park, just in time for San Diego Comic-Con.
In honor of Stan Lee's 100th birthday celebration year, Kartoon Studios (the controlling partner of Stan Lee Universe, LLC) will be bringing fans a new exhibit, "Excelsior! The Life and Legacy of Stan Lee". It's set to open on Tuesday, July 18 — just a day before San Diego Comic-Con 2023 kicks off.
The new exhibit is set to run for eight months, and will feature never-before-seen items donated by auction houses and private collections. It will be highlighted by a series of paintings of Stan Lee from the renowned painter, Rob Prior.
The first section of the exhibit will be devoted to Stan Lee's co-creators of the Marvel Universe, including Jack Kirby, Steve Ditko, and others. You'll get to see rare comic books, beginning with 1941 (including a copy of Captain America #3 which includes the first use of the pen name Stan Lee), as well as historic original art from the Golden Art, including the earliest art known to still exist that features Stan's comic book writing.
You'll also get to experience "The Marvel Age of Comics", with rare pieces of original artwork focused on Jack Kirby, Steve Ditko, Don Heck, Gene Colan, Johnny Romita, John Buscema, Marie Severin, Jim Steranko, and more. Never before seen paintings by the legendary Greg Hildebrandt, who painted the first Star Wars movie poster and the 1970's Lord of the Rings artwork that influenced the look of the films, will be on display.
DC Comics has also loaned a display of comic books and original art from when Stan Lee met with DC Comics to influence many of your most beloved DC characters today, including Batman, Superman, Wonder Woman, and more.
"It has been our privilege to manage the rights of the Stan Lee brand and to ensure that we honor the legacy of one of the most creative forces of our generation, as we grow it into an ongoing robust business. As we celebrate what would have been Stan's 100th birthday year, we are grateful to have the Comic-Con Museum and the talents of Michael Uslan and David Uslan to curate this unprecedented exhibit and to continue to develop initiatives that pay tribute to the man responsible for creating some of the most memorable and successful characters and stories of all time!" Andy Heyward, Kartoon Studios' Chairman & CEO, said.
The Comic-Con Museum is open Tuesday – Sunday from 10am-5pm, and will also be open on Monday, July 24. Tickets are $25 for adults and can be purchased in advance at the Comic-Con Museum website.