It's been an emotional week so far for many Comic-Con attendees but let's try to find a reason (or several) to celebrate today. It's almost the weekend and we have a stacked UTT with lots of announcements regarding what you can expect to buy/see/do next month. 2000 AD Comics has a beautiful Judge Dredd print they are bringing, Ethan Castillo is promising  more than two dozen post-it creations, Kevin Smith re-confirmed his dedication to attend, and so much more.
Let's take a look at the news you might have missed:
Big congratulations to creator Kaveh Taherian, who toiled away at his new book, Mothman's Compendium of Southern California Cryptids to ensure that it would be ready in time for San Diego Comic-Con (which takes place in….Southern California!). Booth #BB-02 in Artist Alley is where you can pick this one up.
After months of hard work, I am thrilled to officially announce that my next book, Mothman's Compendium of Southern California Cryptids, will be ready just in time for @Comic_Con! Come find me in the same spot as last year at BB02 in Artists Alley and get yourself a copy! https://t.co/QeW3vnqxaa pic.twitter.com/Gm9G5PMeGa

— Kaveh Taherian (@kavehtaherian) June 22, 2023
Comic-Con's very own wunderkind, Ethan Castillo, is now at the ripe old age of 18 and still creating amazing post-it art. He'll have these Spider-Verse pieces, plus at least 29 more at SDCC.
Our boys, Hobie and Peter! Kickin @Postit work into gear for @Comic_Con!! I think I'm at 31 pieces so far? All of these guys'll be up on display and for sale too! More exciting stuff in the works! Love you!#SpiderVerse #SpiderMan #SpiderPunk pic.twitter.com/RoD6gvDXQf

— Ethan Castillo (@EthanCastillo05) June 22, 2023
Even Spider folks get hungry, and it's always Taco Tuesday somewhere. Taco Boy Designs is bringing this Spider-Man 2099 print directly to the fans at San Diego Comic-Con.
 

 

View this post on Instagram

 
Usagi Yojimbo creator and all-around nice guy, Stan Sakai, was giving fans a sliver of a tease regarding something brewing for San Diego Comic-Con. Could this be the Space Usagi we have all been waiting for? We will have to wait and see.
 

 

View this post on Instagram

 
Someone should really tell Alex Pardee that he's got some snot on his monitor…. What's that? It's SUPPOSED to look like that? 😲 😉 Well, I guess that's what happens when you're working hard on SDCC exclusives. 
I took a bad photo of my monitor to show you that I've been cooking for Comic Con. #SDCC drop reveals soon… Anyone going? pic.twitter.com/Y1bCcCbzWy

— Alex Pardee (@alexpardee) June 22, 2023
Acclaimed artist Matt Ferguson has created a stunning Judge Dredd image that 2000 AD Comics will be offering as a limited edition print at Comic-Con. You can choose from either color or the more moody black & white variant at their booth, #2121.
Going to San Diego Comic Con? Don't miss our EXCLUSIVE poster drop from Matt Ferguson (@Cakes_Comics)! Step into Mega-City One – grab your colour and B&W offset litho fine art variants from the @rebellion/@2000AD booth (#2121) before they go! https://t.co/omxMbwy5DF pic.twitter.com/TAx6aAKhsE

— 2000 AD Comics (@2000AD) June 22, 2023
Kevin Feige might not be attending Comic-Con this year, but another Kevin certainly is. One Kevin Smith, has confirmed on Twitter that he will be attending. Smith had mentioned a few weeks ago that he would be on hand for the return of his live podcasts (and it sounds like Mooby's is likely heading back as well), but we'll have to wait for more details.
I'll be there!

— KevinSmith (@ThatKevinSmith) June 22, 2023
Here is a better look at the cover for Opus Publishing Frank Frazetta's Tales of Science – Fantasy #2. This is a Diamond Comics Previews exclusive so keep watching Twitter for where it will be available.
Attention #Frazetta fans! "Tales Of Science Fantasy" issue #2 will have a San Diego @Comic_Con 2023 Exclusive variant! Keep your eyes on OPUS comics for more info on how / when to grab yours 🤘@frazettagirls

Artwork: @JosephLinsner pic.twitter.com/y4L9e2xM6y

— Opus Comics (@OpusPublishing) June 22, 2023
There can be only one….or one hundred and ten, in the case of this San Diego Comic-Con exclusive of Project Naosis Volume One. This version will feature completely remastered versions of Episode 0 and Episode 1 and is limited to 110 copies.
SDCC Exclusive only 110 Made! Volume 1 with a remastered Episode 0 & Episode 1. pic.twitter.com/zM5BuwICwr

— Project Naosis (@ProjectNaosis) June 22, 2023
Afghan-American creator and writer Ghezal Omar will be offering two titles representing 90s action-packed blockbuster inspiration and stories of female empowerment. .357 Magnum Opus and Pimp Killer will both be available from Artillery Network at Small Press booth # O-10. Omar will also be part of the "Asian American Built the Comic Market" panel on Saturday, July 22.
Lady Death creator Brian Pulido has long been a staple at San Diego Comic-Con and his company, Coffin Comics, is all packed up and ready to go with a pallet of merchandise headed for the exhibit floor.
"A third Red 5 exclusive has entered the chat…." Red 5 will have an exclusive version of Dying Days #1 by Matt Kund. It will be available at their booth during the event.
Our third SDCC exclusive variant reveal is Dying Days #1!

Let us know if you're attending #SDCC this year!#supportindiecomics #readmorecomics #sdcc2023 pic.twitter.com/PSewaxzeLf

— Red 5 Comics (@red5comics) June 22, 2023
Comic artist Peter Smith of Crimson Fable Studios was "super excited" to announce that he will be in Artist Alley at Comic-Con this year. Smith has been posting some amazing variant covers and original blank covers over on Facebook.
Avengers Assemble! Summon the Spider-Verse! All Marvel cosplayers are invited to the Marvel Photo Shoot on Saturday, July 22. Time and specific location will be announced one week before the event, which is posted on Facebook.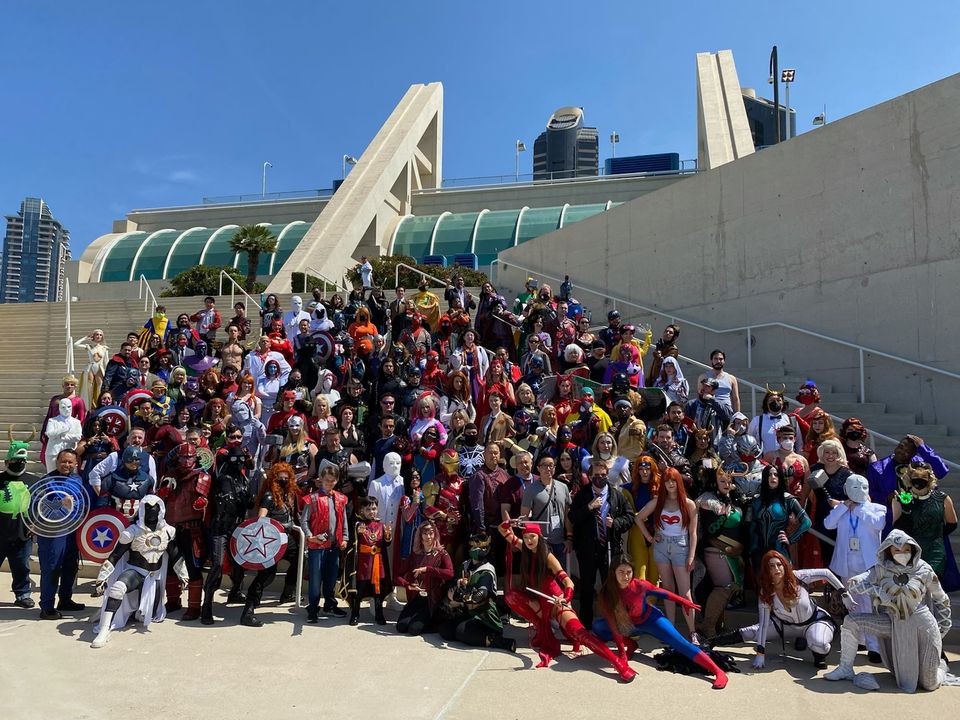 Hora Tora Studios creator Christine Shinn will be in Small Press at booth #N-05, holding court with her book Demon Bitch.
Well, we know where I'll be and that won't be in Hell even though they call me Demon Bitch!

I'll be in Small Press N-05 at SDCC come 7/19-7/23 this next month and #CAPS will bet in the Exhibitor area on F-01!

See you then while I work on more shit! pic.twitter.com/b9XBKSPehq

— HoraToraStudios @SDCC SP N-05 (@HoraToraStudios) June 22, 2023
Ball-jointed doll fans will have two chances to meet-up with fellow enthusiasts during San Diego Comic-Con. The first will be after the BJD panel, to take place on Sunday. Location and time TBA. The second will also be on Sunday, at the Marriott Marquis at 6pm, and is open to all fans, even those without badges. Check out the event on Facebook for all the details as they are announced.


While it doesn't outright say so, this tweet from Outright Games seems to indicate that Transformers Earthspark: Expedition game writer Simon Furman will be attending SDCC, as they are soliciting questions to ask him. You can also win a copy of the game and a Bumblebee figure by participating on Twitter.
Giveaway🚨
Wanna win a Bumblebee figure & a digital copy of our new #Transformers game?
To enter:
👥Follow @‌Outright_Games
❤️Like
💬Comment with your question for @SimonFurman3 the screenwriter of the game & add #TRANSFORMERSEARTHSPARKExpedition who'll answer them at @Comic_Con pic.twitter.com/VcgII4QnoV

— Outright Games (@Outright_Games) June 22, 2023
Martin Hsu has started the process of painting his large 11″ x 14″ Ted Lasso x Cats print. Will he finish in time for San Diego Comic-Con? We must BELIEVE!
Smells like potential 👨🏻⚽️😺 #TedLassoCats

Excited to start painting this 11 x 14" piece! #sdcc #sdcc2023 #tedlasso pic.twitter.com/xXD8ZwVTIo

— Martin Hsu 徐 👨🏻‍🎨 SDCC Booth 4530 (@MartinHsu) June 22, 2023
Las Vegas artist Kate "Katee" is participating  in a Stand Up To Cancer project called "Balls Out." Artists will paint baseballs which will be on display at San Diego Comic-Con and sold to benefit the charity.
Im painting my balls today… I am apart of a charity project raising funds for "Stand Up to Cancer." They are sending out baseballs to artists and having them paint them. They'll be on display at SDCC, and will be sold. All profit goes to chartiy. It's called "Balls Out." I'm… pic.twitter.com/7jUXzJdH6Q

— GFuel®️ 🎨Kateebear 🪿TeamShoeGoose (@KateeBear702) June 22, 2023
And lastly today, Metropolis Comics will be setting up shop at booth #5516 in the exhibit hall. They will be both buying and selling comics, as well as taking on consignments. You can find more info on their Facebook event.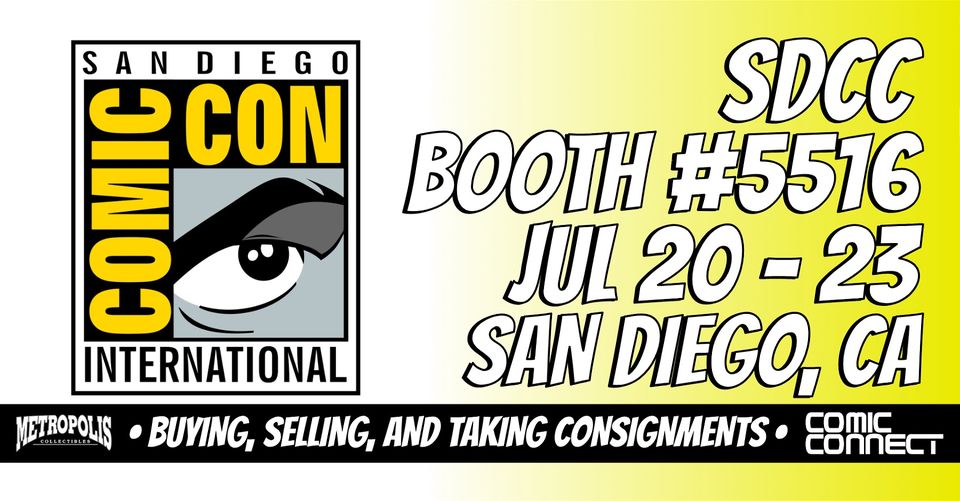 Anything we missed? Let us know by dropping us a line, or tweet us at @SD_Comic_Con.
If you missed our previous Under the Tents 2023 posts, you can find them HERE