We don't have "business hours" here at the UBlog. We have a national team of crack reporters scouring for information at all times of day, from multiple time zones. We don't recognize holidays (not in the summer anyway) or "weekends". But unlike Downton Abbey's Violet Crawley, that's because we work seven days a week to bring you the news. All the news. The who and the what and the when of San Diego Comic-Con. Why? Because we love it as much as you do. And we know that part of having a good time is being prepared.
So let's get you more prepared with some news you might have missed:
San Francisco Bay area artist Jesse Hernandez, also know as Urban Aztec, will have a booth in Artist Alley at #FF-12. You'll want to check out his melding of graffiti/street art with indigenous iconography.
 

 

View this post on Instagram

 
Actor Jackie Dallas (Stranger Things, 13 Reasons Why) will once again be available for autographs and photos during San Diego Comic-Con, upstairs in the Sails Pavilion every day of the convention. We expect the full Sail Pavilion schedule to be released very soon.
Exciting news! I'll be back again this year signing autographs & taking photos at the 2023 San Diego @Comic_Con in the Sails Pavilion from 10a-2:30p each day of the event! Come find me and let's hang!#sdcc #strangerthings #thewinchesters #criminalminds #ncis#actress#model pic.twitter.com/Et30eTtj2U

— Jackie Dallas (@JaxDallas) June 23, 2023
We are impatiently waiting to see what artist Joey Spiotto will reveal for his daily exclusive prints, and this tiny little tease (which appears to be from Legend of Zelda: Tears of the Kingdom) isn't nearly enough to satisfy us. Nice try, Spiotto, but we're gonna need a little more than that!
 

 

View this post on Instagram

 
Attendees will be able to see artist and illustrator Randy Martinez in action as he does some live painting during Comic-Con. Catch Randy on Wednesday and Thursday only at the Choice Fine Art booth, #4219.
 

 

View this post on Instagram

 
Over on Facebook, "Apes and Babes" artist Frank Cho, announced his summer convention schedule and lucky for fans, San Diego Comic-Con is included. Cho has done convention commissions before so we hope he'll be doing them again this year. (Shown below is Cho's cover for the upcoming Birds of Prey #1, due in September.)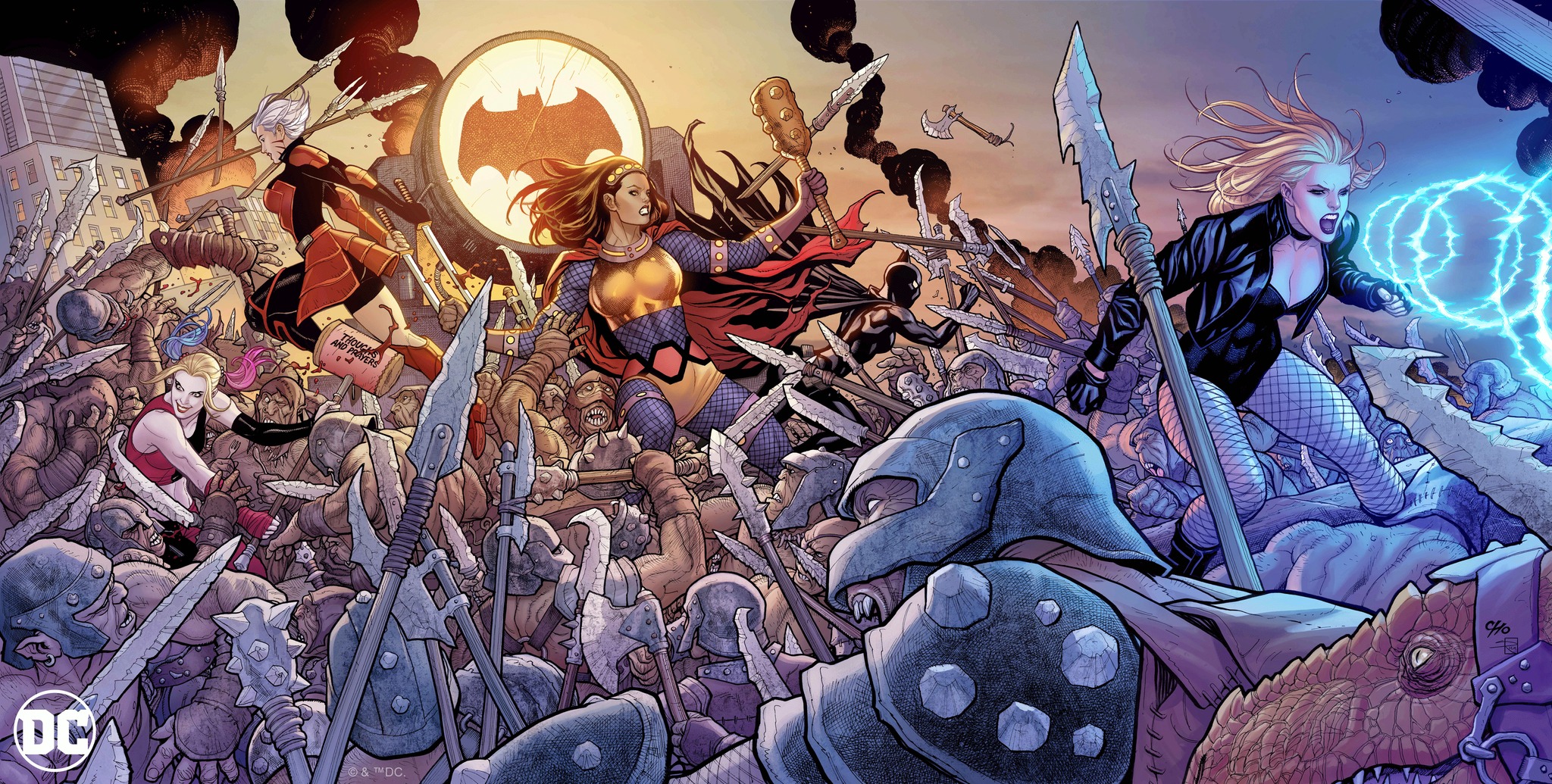 Another smiling face you'll see up in the Sails Pavilion, Karen Whitfield, the "Bronze Age Batgirl." Whitfield will be signing Thursday through Sunday, according to her post on Instagram.
And while we're talking about "bats"…. check out this one from artist Colleen Doran. Doran has a very busy agenda for Comic-Con, but when she's not signing at other booths she will be in Artist's Alley at #HH-20 with a selection of prints and book.
I'll be at SDCC this year in Artist Alley HH-20 and doing signings for the @ComicConMuseum and @DarkHorseComics I will also have a limited selection of licensed prints available like this BATMAN piece I did for Detective Comics, and a limited selection of original art. pic.twitter.com/xm27tDyyHn

— Colleen Doran (@ColleenDoran) June 24, 2023
A pair of petite post-it note Peter Parker Spider-Man pieces have popped up on the Instagram page of crackerjack pro Ethan Castillo. Ethan's taking suggestions if there is a character you'd like to see him work on.
 

 

View this post on Instagram

 
Following an appearance at Gallery Nucleus, Eisner nominated Swedish artist Linnea Sterte (Stages of Rot, A Frog in Fall) will be joining them at their San Diego Comic-Con booth all four days of the convention.
 

 

View this post on Instagram

 
 

 

View this post on Instagram

 
The whole gang from Print & Play Games, a board game print shop in Vancouver, Washington, will be sharing a spot with friends Breaking Games at booth #533. If you have a game idea percolating in your noggin, these are the folks to talk to.
 

 

View this post on Instagram

 
Artist Jason Edmiston continues to tease that something "big" is coming with him to San Diego Comic-Con. Based on his last tease and this one, it almost guarantees that we'll be seeing big Bruce from Jaws at booth #4617.
 

 

View this post on Instagram

 
As we get closer and closer to the convention, we appreciate this little reminder of where we can find artist Steve Bryant (#L-01), creator Michael Heffron (#M-14) and artist James Heffron (#M-15).
SDCC is trending, so this is a good time to remind everyone that @SteveBryantArt will be at L-01, @michaelheffron will be at M-14, and @james_heffron will be at M-15 with tons of comics and art for you to enjoy. (Small Press aisle L/M is at the end of aisle 1600, near Peanuts.)

— Chris Murrin also on Hive (@ChrisMurrin) June 24, 2023
Eisner nominated writer and all-around decent human Tom Taylor tweeted recently that he will be attending San Diego Comic-Con (not a surprise) but then also dropped a little nugget indicating we might get some exciting news from him and DC. Now that is how you drum up excitement. Will it be the new Justice League comic that the fans have been clamoring for? We'll have to wait and see.
Yes. I will be at San Diego Comic Con with @DCOfficial.
We will have something to talk about…#SDCC pic.twitter.com/GhJfd2nQaN

— Tom Taylor (@TomTaylorMade) June 23, 2023
Pride Month might be wrapping up soon but inclusivity and love lingers on, as demonstrated by this Ted Lasso x Cats piece by Martin Hus featuring the delightful Colin as an adorable feline. Expect the full reveal of this print next week and for it to be available to purchase at SDCC.
I love how #TedLasso celebrates love and relationships. Colin's story is especially important and personal to me. So grateful this show exists and continues to inspire compassion and kindness 🌈

Full reveal next week on @SD_Comic_Con ! #sdcc #TedLassoCats #SDCC2023 #Pride2023 pic.twitter.com/3KAhmMCwW4

— Martin Hsu 徐 👨🏻‍🎨 SDCC Booth 4530 (@MartinHsu) June 24, 2023
And finally today, tabletop game podcast Rolling Dice and Taking Names heard through the grapevine (or right from the source) that Solis Game Studio's Pocket Paragons will get a second printing plus a big announcement at San Diego Comic-Con.
Pocket Paragons from @solis_studio is a 5-10 minute two player card. Each deck has its own abilities. With challenge mode, you play with 3 characters where cards from one deck can be incorporated into others. A second printing is coming plus a big announcement at #SDCC2023 pic.twitter.com/KTm0wc0IgH

— Rolling Dice & Taking Names (@DiceAndNames) June 24, 2023
Anything we missed? Let us know by dropping us a line, or tweet us at @SD_Comic_Con.
If you missed our previous Under the Tents 2023 posts, you can find them HERE