Patience has never been a San Diego Comic-Con attendee's strongest suit in waiting for announcements to come in, even though long-time attendees know the pace of news is uneven (at best) leading up to that wonderful late July weekend: a few droplets through April, a drizzle in May, a steady downpour in June, then an absolute torrential storm in July.
The prospect of Hollywood strikes loom, yes, but the past week alone brought us: the ACE Parking lottery results (with the sale beginning June 26), the return of the OFFICIAL badge eBay auctions benefiting the Comic-Con Museum, Funko Fundays tickets going on sale (and selling out), and the announcements of the first-ever SDCC appearances for Japanese artists Makoto Yukimura and Peach Momoko. Like clockwork, the news cycle is ramping up in a big way.
If you haven't already, you'll be going from "there haven't been enough announcements!" to "I can't keep up with all these announcements!" soon enough.
Let's take a look at the news you may have missed:
Bleeding Cool reports the 40-page DC Manga Sampler will be debuting at SDCC ahead of its full, 160-page September release. The Sampler includes Volumes 1 of: One Operation Joker, Superman vs. Meshi, and Batman: Justice Buster, all which have been translated into English print for the first time.
DC Manga Sampler Numbers Tied To Comic Stores' Batman #900 Orders #sdcc #manga #batman #superman #joker #dccomics #kodansha https://t.co/g3Vn4eYc4R

— Bleeding Cool (@bleedingcool) June 8, 2023
Responding to a Twitter user, New York Times bestselling author Hugh Howey said he has been invited to San Diego, and it looks like he'll be responding yes to that RSVP. The author of the Wool series (which Apple TV+'s Silo is based on) also penned the Beacon 23 short story series, which has been adapted into an AMC series starring Lena Headey and Stephan James. The show has yet to premiere but has finished filming its first season… could we be getting a panel for either Silo or Beacon 23? Potential strike(s) aside, of course.
Just got an invite, so I'm thinking I will. 🙂

— Hugh Howey (@hughhowey) June 10, 2023
A triple dose of Martin Hsu updates! First, a sneak peek at his Ted Lasso & Cats series 3 in progress. Then, for a different kind of mashup, a preview from the latest of his Ghibli x Star Wars collection. Finally, if you want to meet Hsu, he's thinking of running back his "Meet the Artist" hours at his Exhibit Hall home, Booth #4530.
A happy ending 🙂 First look at new Ted Lasso & Cats series 3, here we go! 💙#sdcc #tedlasso #tedlassocats pic.twitter.com/CqBWPIKcBY

— Martin Hsu 徐 👨🏻‍🎨 SDCC Booth 4530 (@MartinHsu) June 9, 2023
Working on new Ghibli x Star Wars collection for #SDCC ! 😃 Look out for this little forest Jedi and friends as small originals and print packs! #SDCC2023 #totoro #usetheforce pic.twitter.com/jHyEQo10i1

— Martin Hsu 徐 👨🏻‍🎨 SDCC Booth 4530 (@MartinHsu) June 10, 2023
@SD_Comic_Con just reminded me we're less than 40 days away from SDCC 2023! 🤩 I'm thinking about repeating 'Meet the Artist' hours at my booth so I get to enjoy the con, too? 😅 Your thoughts are helpful and welcome! pic.twitter.com/tN0u2QFFzv

— Martin Hsu 徐 👨🏻‍🎨 SDCC Booth 4530 (@MartinHsu) June 10, 2023
The Hellfire Gala Walk, an unofficial event which was at Wondercon but is NOT affiliated with the D23 Hellfire Gala event at Parq, will be holding a "Mini Gala Walk" on SDCC Friday. They're looking for 5-10 cosplayers to sign up between now and June 18; you can do so via the Google Form they've set up.
 

 

View this post on Instagram

 
No room or schedule details yet, but writer and designer Nick Tierce will be on a panel with the hosts of the Heroes of the Halcyon podcast entitled "Star Wars Immersive Fandom — Galactic Starcruiser & Beyond."
Set your hyperspace compass for San Diego Comic Con!

Thrilled to announce that I'll be joining my friends @halcyon_heroes for the panel "Star Wars Immersive Fandom — Galactic Starcruiser & Beyond".

(Stay tuned for more details as the @Comic_Con schedule is announced.) pic.twitter.com/zzyJRuyKSg

— Nick Tierce (@nickytea) June 9, 2023
In the latest edition of "someone confirms they're going to San Diego Comic-Con in a Twitter reply," Jordan Blum, come on down! The co-creator of the M.O.D.O.K. TV series confirmed his attendance; and based on the original post, it'll be in support of his new comic series Minor Threats, which was co-created with actor and comedian Patton Oswalt.
No but I want it! We are doing SDCC. Details coming soon!

— Jordan Blum (@BlumJordan) June 10, 2023
In the latest edition of "someone confirms they're going to San Diego Comic-Con in a Twitter reply," Jimmy Palmiotti and Amanda Conner, come on down! Palmiotti confirmed he and his spouse/frequent collaborator will be doing panels and signings at the show.
So far 3-4 panels and a signing time to be announced.

— Jimmy Palmiotti (@jpalmiotti) June 11, 2023
Busy as always, artist Scott Koblish announced pre-orders are available for the trade paperback of Scotch McTiernan Versus the Forces of Evil. With a release date of July 19, Koblish will unsurprisingly be at SDCC to sign copies.
The TRADE paperback for Scotch McTiernan Vs The Forces of Evil is ready for order! FOC is THIS WEEKEND and the Diamond Code is MAY230172 – Order the book NOW, it comes out JULY 19th! I'll be signing it at San Diego Comic Con! #SDCC #SanDiegoComicCon @ImageComics @thebrianposehn pic.twitter.com/2jEv1zXL8d

— Scott Koblish GIANT KOKJÜ #3 in stores June 14th! (@Koblish) June 10, 2023
Well, this should be interesting! I'm moderating 3 panels at Anime Expo and 3 panels at San Diego Comic-Con. Stay tuned for days/times for these sessions — there's a few new ones, and some new faces on some of my tried and true panels at SDCC!

— Deb Aoki (@debaoki) June 10, 2023
Speaking of Deb Aoki, in addition to moderation duties, she'll be on a Podcasting 101 panel along with Tara Lynne and Jonathan Eigen. The gathering will be moderated by Amin Javadi, co-founder of A Podcast of Ice and Fire.
Looking forward to moderating our Podcasting 101 panel next month at @Comic_Con with a nice group of panelists, including @debaoki @aGeekSaga and @eigenvectorjon
— @friendsofcci @SD_Comic_Con @apoiaf @vokpodcast

— Amin Javadi (@JavadiAmin) June 10, 2023
Over on Instagram, Don Aguillo posted a finished Nightcrawler piece. While we know it will be available for purchase in San Diego, we are still waiting to find out exactly where. 
 

 

View this post on Instagram

 
Steve Bryant is here with the unexpected Scooby-Doo and Stranger Things mashup we didn't know we needed. You can find the Velma Dinkley and Eddie Munson print for sale in Small Press #L-01.
 

 

View this post on Instagram

 
 

 

View this post on Instagram

 
BB-CRE.8 shared a quick montage of their many works in progress as they steam towards SDCC; you can find the finished products available at Booth #1334.
Mad rushing to get so many new designs done before #SDCC! #sdcc2023 pic.twitter.com/X3ujUPHNRX

— BB-CRE.8 🔜@SDCC BOOTH 1334 (@bb_cre8) June 11, 2023
Artist and SDCC Exhibit Hall mainstay Jason Edmiston is teasing some big plans over on Facebook. How big? Jaws big.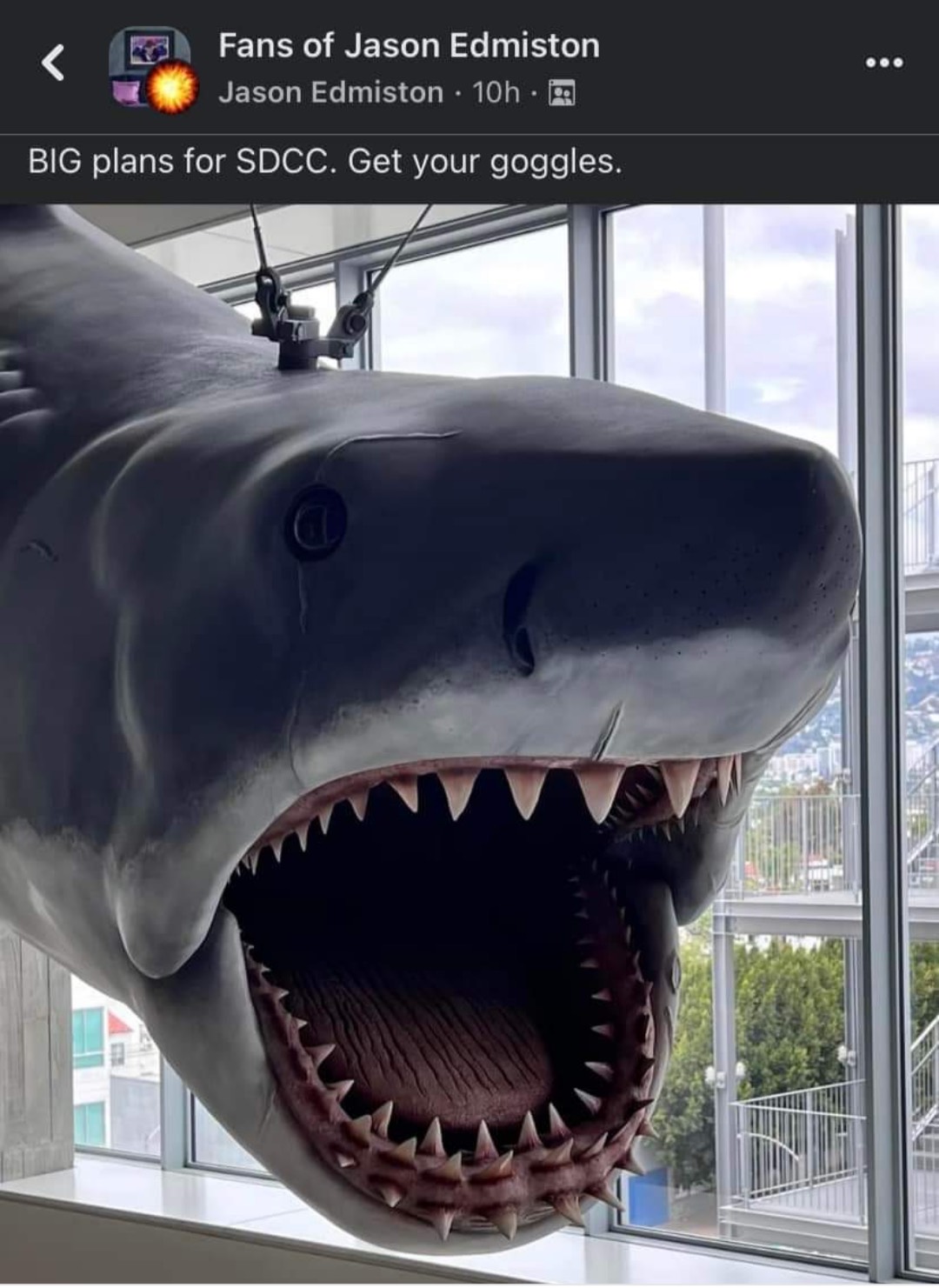 Anything we missed? Drop us a line or tweet us at @SD_Comic_Con.
Catch up on any of our previous Under the Tents posts here.