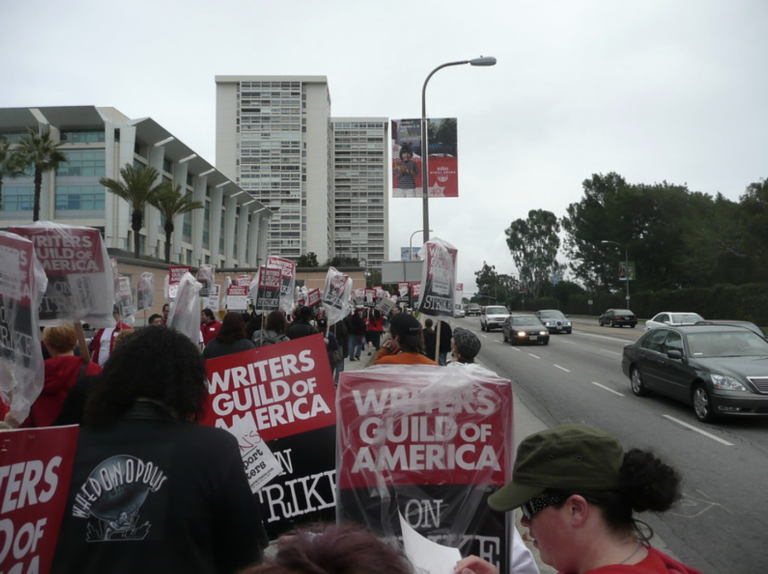 The Writers Guild of America began striking against the Alliance of Motion Picture and Television Producers (AMPTP) on May 2, and since then, Hollywood has been in an upheaval. It was pencils down, meaning that no additional scenes could be written or altered by WGA members, and the WGA has successfully been shutting down productions on both coasts as they continue to picket.
Last week, the Directors Guild reached an agreement with the AMPTA, averting a strike — but SAG-AFTRA (which represents  is still very much in play. Their agreement ends on June 30, and should they fail to reach an agreement prior to then, they will also be on strike starting July 1.
For anyone following Hollywood news lately, it's the biggest story of the summer, and (as we wrote last month) it all has the potential to create a huge impact on San Diego Comic-Con.
The WGA strike website confirms that its members are "prohibited from making… promotional appearances about your work" until the strike is over, which would also include projects already completed. What that essentially means is that for WGA members, they can appear at the convention in other capacities (to promote comics or animation projects, for instance), but not for any project with a WGA contract. That along would likely have a big impact on San Diego Comic-Con, as particularly with television, questions of "What's going to happen in the upcoming season?" are typically fielded to the people who, y'know, write the show.
Should SAG-AFTRA (which represents TV and film actors, journalists, radio personalities, voice actors, and more) strike, though, San Diego Comic-Con could potentially feel a much larger impact, as actors may be prohibited from promoting their projects with studios.
As Deadline noted regarding the convention, "many studios and networks are in a wait-and-see-mode as to how they'll trumpet shows and movies".
A Comic-Con spokesperson told Deadline, "With regard to the strike and its possible effects on Comic-Con, we tend to refrain from speculation or forecasting. I will say, our hope is for a speedy resolution that will prove beneficial to all parties and allow everyone to continue the work they love. Until then, we continue to diligently work on our summer event in the hopes of making it as fun, educational, and celebratory as in years past."
[UPDATE June 9] Deadline also reports that HBO is sitting out this year's convention, but we've confirmed that has to do with the timing of their release dates as opposed to the strike (and isn't new for HBO, who also skipped in 2018 for the same reason). Both of their two biggest Comic-Con-y tentpoles, The Last of Us and House of the Dragon are both very far from being able to air. 
We have also confirmed with HBO that while HBO proper is skipping, Max will still be in attendance in some capacity. We'll have to stay tuned for what they'll be bringing, but the Warner Bros. Discovery's streaming service has The Penguin out sometime in 2024, as well as Our Flag Means Death and the animated Harley Quinn out this year.
[PREVIOUS] However, all hope is not lost on movie/TV panels for this year. Even without actors or writers, there is still the potential of studio panels with footage, or even pre-recorded segments that the studios may have put together prior to July 1.
And, no actors is not as hard of a line as it is for the WGA. As Deadline noted, "[one] possibility that has some studio marketing execs at ease is that there could be a grace period for SAG-AFTRA members during July, allowing actors to possibly work and promote projects, should talks go smoothly. Despite the union's vote this week to authorize a strike, it's not necessarily a 100% work stoppage the day after the contract expires June 30 like there was with the WGA on May 1 with pencils down."
That's not a guarantee, but should SAG-AFTRA strike, that means there's a potential that actors could still potentially attend San Diego Comic-Con for their AMPTA projects.
Expect additional guidance from SAG-AFTRA about rules regarding what their members can and can't promote or do to arrive closer to a potential strike.
Should SAG-AFTRA project members from promoting projects, however, it will likely be similar to the WGA strike, and only pertain to studio projects. That means that actors could potentially appear on something like "Cartoon Voices", which is not studio-run and does not aim to promote any particular project, only to be about the broad world of voicing cartoons. Something like Fear the Walking Dead or Marvel Studios projects, though, would likely count.
Nothing is for certain yet, but we could be looking at a very different San Diego Comic-Con in 2023.