Happy Wednesday, friends! What a week it has been already with the NECA Creature From the Black Lagoon reveal, the insanely cool Alex Pardee event shirt that you should definitely pre-order and even the trolleys getting all decked out.
But that's nowhere near all because this UTT is full of other stuff. Cool stuff. Stuff you will want. Stuff you will need. Stuff you can only get at San Diego Comic-Con.
Let's take a look at the "stuff" you might have missed:
You'll be well taken care of if you can find this precious Big Hero Six Baymax and Mochi set, crocheted by the very talented Geeky Hooker. All of the Geeky Hookers creations are thoughtfully hidden near San Diego Comic-Con for the lucky finders to keep and cherish. You can find more info on their website.
Ask and ye shall receive, BAYMAX IS BACK! And he's a got a little hairy baby with him this time. Find Baymax and Mochi at SDCC and they're yours to keep! Details at the blog:https://t.co/qMyuMQ4HHo pic.twitter.com/UoSE30IWuj

— Geeky Hooker (@GeekyHooker) June 13, 2023
Also participating in the crochet "find and keep" is the Nifty Neuron, who will tempt you to "catch em all" with this Pokeball. Check out their Twitter for all the details about scoring this creation.
GOTTA CATCH 'EM* ALL!
* #crochetDrop buddies

Every week from now until SDCC, I'll be postiing the line-up (& rules) for this year's #SDCC #crochetDrop & #crochetCharity. Follow me on Twitter/IG for updates.

First #crochetDrop: PokeBall!#comiccon #SDCC2023 #crochet #pokemon pic.twitter.com/StzH7VaHTQ

— Nifty Neuron 🔜 SDCC! (@niftyneuron) June 13, 2023
We finally have a booth number for artist extraordinaire, E.M. Gist, whose recent comic covers have been stunning. You can find Gist at Booth #ii-06 all convention long. If you fancy a sketch or commission, you'll want to get there as early as possible.
 

 

View this post on Instagram

 
Ted Lasso's Roy Kent is not usually this off balance but we see him struggling in this new sketch that will be available as a 5″ x 7″ print called "Learn 2 Ride" at SDCC from Jin Yung Kim (JYK All Day). You'll be able to pick up this and all of Kim's other exclusives at his booth #CC-08.
 

 

View this post on Instagram

 
Could The Wheel of Time's Tweeter of Chaos be signaling San Diego Comic-Con? In this cryptic tweet reply the fingers appear to be poised to type out "SDCC," which could indicate they are working on some sort of WoT content for Comic-Con. *insert pic of fingers crossed here*
June 13, 2023
The incomparable Angry Little Girls will be represented at San Diego Comic-Con, according to this post on their Instagram. Hopefully their presence will remind us to be mindful little girls.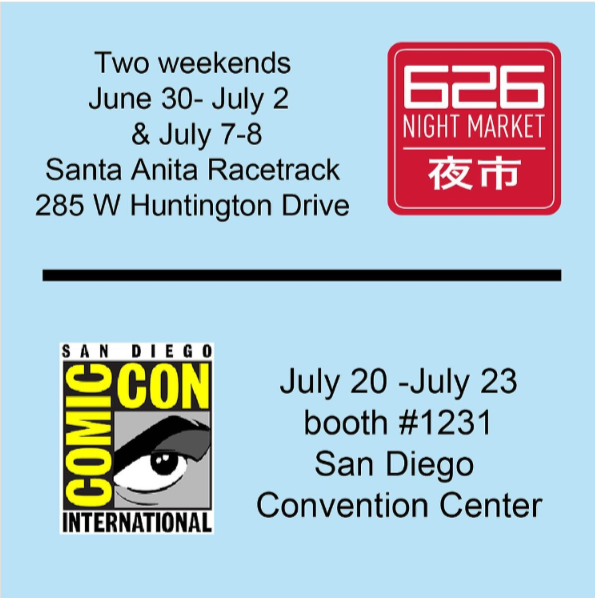 It looks like artist Chris Maze has a fat stack of fresh prints that he's set to let rain all over San Diego Comic-Con. What's on them is still a mystery, but keep your eyes on our post for updates.
Stack of fresh prints for #SDCC!

It's almost here!!! pic.twitter.com/5BdfqHp4Je

— Chris Maze @ SDCC Booth 2103 (@MAZEhimself) June 13, 2023
If we can believe the hashtags, we can expect some sort of Star Trek: Strange New Worlds offerings from Hero Within.
We have big plans for San Diego Comic-Con that are out of this world! We can't wait to share more details!#StarTrek #SDCC #StrangeNewWorlds pic.twitter.com/vsE18rUjb7

— Hero Within @ #SDCC (@HeroWithinInc) June 14, 2023
Fans of Vault Comics and their eclectic selection of books have much to celebrate. According to this reply, you'll be able to catch three panels featuring their staff and creators, and some autograph signings are also in the works.
We will have three panels at SDCC this year and we plan on doing some signings too. We would love to see you there! ♥️

— Vault Comics (@thevaultcomics) June 14, 2023
At long last this X-Men piece from artist Don Aguillo will be seeing the light of day, or at least the light of the exhibit hall. Check out this stunning work in progress video as well as the finished product.
 

 

View this post on Instagram

 
 

 

View this post on Instagram

 
No doubt, San Diego Comic-Con is the perfect place to debut a brand new comic book and that is exactly what is happening for Shitkicker + Bullseye, published by Bliss on Tap. According to the solicitation, you can expect a time-traveling cowboy, a wormhole in Death Valley and a train heist.  
My new comic Shitkicker+Bullseye will be available in stores and on all digital platforms July 12. The legendary Jack Gill of Stunts Unlimited is a story consultant. World debut at San Diego Comic Con on July 19.#sandiegocomiccon #comics #stuntsunlimited #film #movies pic.twitter.com/dbdMJhc5E1

— Cliffhanger Cowboys (@HuckManFord) June 9, 2023
Artist Scott Williams has perfected the art of the tease, with just this little bit of Colossus, part of a larger X-Men piece intended for San Diego Comic-Con. Way to leave us hanging, Scott!
 

 

View this post on Instagram

 
Martin Hsu is on track to have some amazing San Diego Comic-Con exclusives. We can't wait to see how he transforms these Pinocchio Pop figures.
Got my first ever #FunkoPops today at @HotTopic inside the mall I grew up in! These 'wooden' pinocchio figures caught my eyes last year at #SDCC. Can't wait to work up some Martin Hsu magic on them to debut at #SDCC2023! 😀🪵🌸 pic.twitter.com/PXWWrwMtuZ

— Martin Hsu 徐 👨🏻‍🎨 SDCC Booth 4530 (@MartinHsu) June 13, 2023
I've been invited SDCC to do another gaming panel. pic.twitter.com/tdHVUAqk5r

— Man Of Awesome (@S5Flare) June 14, 2023
Owen Michael Johnson, writer and cartoonist, as well as editor over at 2000 A.D. is attending San Diego Comic-Con. We hope he also has time for some fun in addition to business.
My next show is the big one. I'm returning to @Comic_Con between 19th-23rd July. If you're working it and want to discuss @2000AD business – please get in touch! pic.twitter.com/pEnLEmfr3W

— 🦊 Owen Michael Johnson @ SDCC (@Owen_Johnson) June 14, 2023
And finally today, Nucleus, formerly known as Gallery Nucleus, has posted a few of the things you can expect to see at Booth #2015 this year, including prints by Aymeric Kevin (Spiderverse), Yun Ling (Love Death & Robots, Spiderverse) and an art book by Sara Kipin.
Anything we missed? Let us know by dropping us a line, or tweet us at @SD_Comic_Con.
If you missed our previous Under the Tents 2023 posts, you can find them HERE