Rise and shine, friends! I am traditionally not an early-riser. In fact, I usually wake up much earlier during my vacation than I do normally, and that includes my trips to San Diego Comic-Con. There are far too many reason *not* to stay in bed; panels to line up for, exclusives to line up for, offsites to line up for and pancakes to line up for. As out Editor-in-Chief always says "Sleeping is for AFTER the Con."
Let's take a look at the news you didn't sleep through:
Let's get some bad news out of the way first, like ripping off a bandage…due to some medical issues, Special Guest Colleen Doran will no longer be attending. We will miss her and wish her all the best.
Hey folks, I've had bummerific medical news, and I regret to inform you that I won't be able to make San Diego Comic Con after all. I am so very sorry. I was so looking forward to seeing everyone and it's such a disappointment. I hope you all have fun.

— Colleen Doran (@ColleenDoran) June 27, 2023
As part of Invincible's 20th anniversary, Skybound will have playable demo copies as well as bonus cards of their upcoming Invincible Dice Game and Walking Dead Dice Game at their booth during Comic-Con. Both games are produced in partnership with Mantic Games.
We've seen Nan Hockin working hard to prepare for Comic-Con and she appears to be on track for a fantastic show, including a bin of $8 – $50 originals, several dozen donut shaped pins and ornaments, and some $20 mystery bags which will include products worth $40.
I'll have a bin full of originals priced at $8-$50 in various sizes. Come take a look at F-11 at Comic Con San Diego! See you all soon! #SDCC2023 #SDCC pic.twitter.com/SSbTczNJzE

— ArtByNan (@nanhockin) June 27, 2023
Been getting a lot of requests if I will have donut shaped ornaments and pins for SDCC! I have limited stocked! #SDCC2023 #SDCC pic.twitter.com/D6ea9cdI3w

— ArtByNan (@nanhockin) June 27, 2023
Are u you looking for Comic Con deals? Shop for friends and families! Make great con gifts! Stop by F-11 for Mystery Grab Bag! It's a $40 value but will be sold at $20. Limited supply! I'm retiring these prints! #SDCC #sdcc2023 #ComicCon #comicconsandiego #comiccondeals pic.twitter.com/1szC2Wmblw

— ArtByNan (@nanhockin) June 27, 2023
Artist Ryan G. Browne has created an SDCC variant cover for the upcoming Skottie Young comic The Unbelievable, Unfortunately Mostly Unreadable & Nearly Unpublishable Untold Tales of I Hate Fairyland #1. Only 500 copies will be made and will include a Certificate of Authenticity. El Rey Comics is offering a scant few copies online, but you can also grab them at their booth at Comic-Con.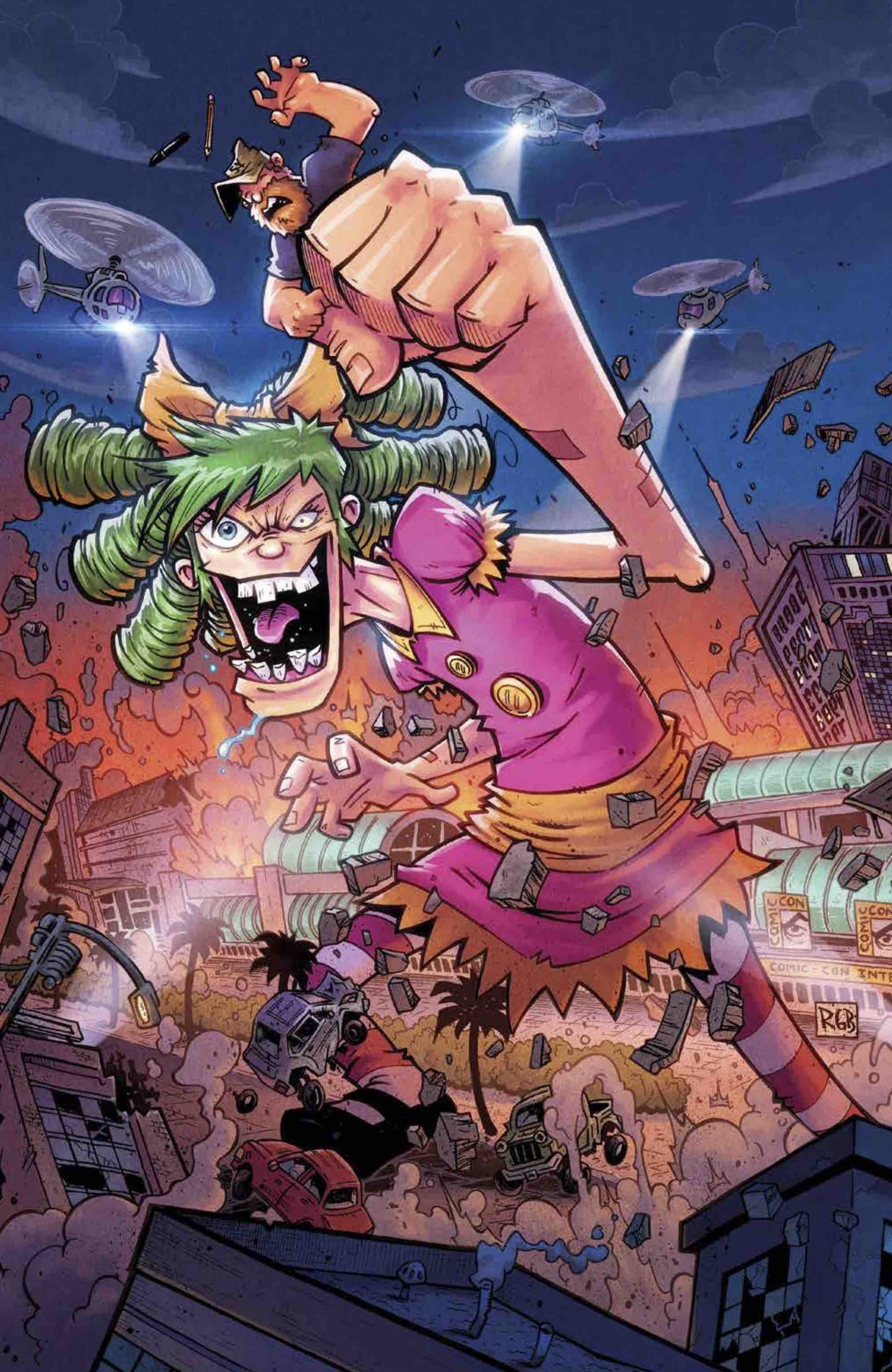 Jeff Pina has revealed a few more items that he will be bringing to Comic-Con, including a Tron original and some blank cover creations. These will be at Jeff's booth in Small Press at #Q-06.
And if none of those Jeff Pina originals strike your fancy, don't worry, there are plenty others to choose from, like these Babylon 5 ones.
 

 

View this post on Instagram

 
Branden Sanderson's Malevolent Rising #6 is rising to San Diego Comic-Con, and he has given his fans over on Instagram a look.
 

 

View this post on Instagram

 
Prolific comic artist Marco Checchetto will be a guest of CMON Games at Booth #329. Checchetto worked on CMON's Marvel Zombies – A Zombicide Game and Metal Gear Solid: The Board Game as well as multiple titles for Marvel Comics.
 

 

View this post on Instagram

 
Did you miss out on the pre-order of Stan Sakai's perfect Space Usagi action figure? Fear not, the space-and-time-traveling samurai will be available in a limited quantity at Comic-Con from Sakai's Booth #4807.
A huge thank you to our amazing fans for helping us sell out during the pre-sales! Missed out? Going to #SDCC? Don't worry, we got you! We've set aside a small handful for the convention! Stop by Stan Sakai's booth (#4807) to pick up your figure! pic.twitter.com/b7bClsk6Hv

— dogu_publishing @SDCC (@dogu_publishing) June 28, 2023
From outer space to under the sea, SDCC truly covers a lot of ground… or water. Comic artist Ian Chase Nichols is hoping to have a plethora of these Undersea Hero #0 sketch covers at Booth #2200.
Hopefully the first of many. Undersea Hero Issue Zero #sketchcover with Krakus.

These will be at @Comic_Con booth 2200.#comics #comicbooks #comicart #comicartist #creatorownedcomics #penandink #drawing #art #cuttlefish pic.twitter.com/GST6XDX1tv

— Ian Chase Nichols (@IanCNichols) June 28, 2023
We warned you to get your shiny costumes ready! The California Browncoats are hosting a Star Wars x Firefly cosplay contest featuring judging by award winning costume designer Shawna Trpcic, artist Nick Kremenek and a host of podcasters. Costumes must meld elements of both Star Wars and Firefly and the contest will take place during their panel, details of which will soon be announced.
Have you been working on your Star Wars x Firefly cosplay for #SDCC? Because our panel of judges features Firefly/Mando costume designer @trpcic herself! She will be joined by @NickKremenek and Shaylynne Campo of @QuestMePodcast and Josh Mattson of @SuddenBut! Shiny! pic.twitter.com/QoqCWxofeM

— California Browncoats: Comic Con Revolution #1046 (@CABrowncoats) June 28, 2023
Hero Within is still teasing about their upcoming San Diego Comic-Con exclusives. Only a few more days to wait.
In a few days, we'll be announcing something special we're bringing to San Diego Comic-Con! It's a doozy so brace yourself!#SDCC #StarTrek pic.twitter.com/5AgrLFeayV

— Hero Within @ SDCC (@HeroWithinInc) June 28, 2023
In an earlier UTT we teased that Alex Deligiannis was working on another SDCC exclusive print…and we meant it. He's literally working on a new SDCC exclusive print in this Instagram post.
 

 

View this post on Instagram

 
Emmy-award winning artist and teacher Mark Kistler, star of the The Secret City in the and The Imagination Station, is the subject of a film that will make it's premier during a panel at San Diego Comic-Con. The Secret Cities of Mark Kistler is a film by Jason Brown.
And lastly this morning, Heritage Auctions will be displaying portions of the Irwin Allen Collection. The film and television producer's extensive collection will be up for auction on July 29.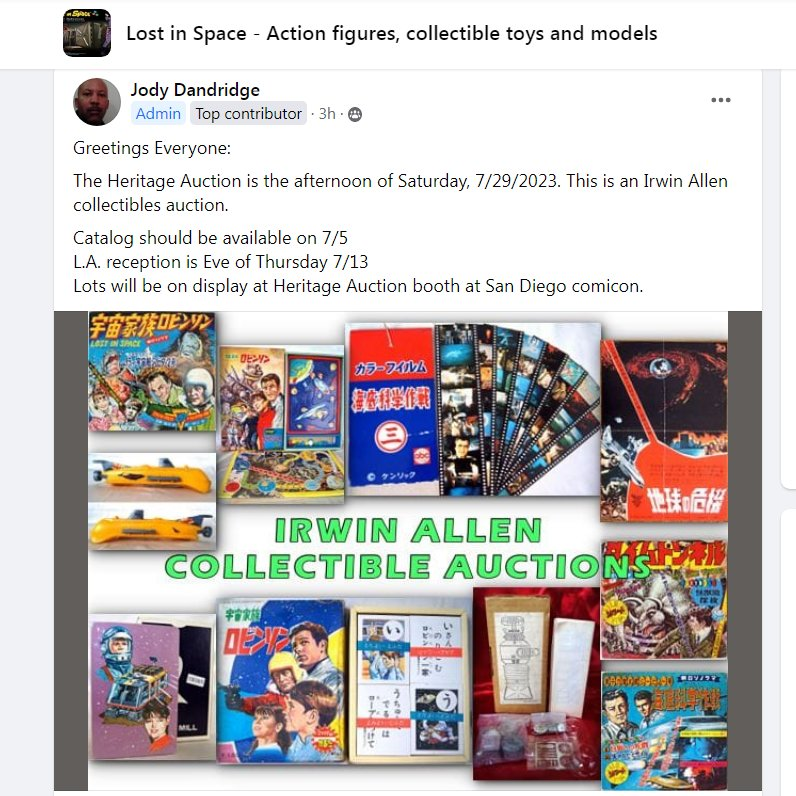 Anything we missed? Let us know by dropping us a line, or tweet us at @SD_Comic_Con.
If you missed our previous Under the Tents 2023 posts, you can find them HERE