We are just over five weeks away from San Diego Comic-Con news, which means it's time to buckle in, because the news is going to start coming fast and furious. Things are already picking up (Under the Tents, two days in a row?!), and it won't be long before this baby hits 88 miles per hour, and we start seeing some serious… well, you know how the rest goes.
Today, we've got updates on some exclusives that are BAKED to perfection, news of the return of Legion M, more details on Priscilla Wilson's Soonay meet-up, and plenty of art and artists, as well as panels.
Let's take a look at the news you may have missed:
Legion M kept their promise. Last year, the fan-owned entertainment promised fans they'd see them again in 2023 — and the company confirmed on an investors call that they will indeed be returning to San Diego Comic-Con this year with a booth (and presumably more, but details are still TBA).

We've got some news fresh out of the oven! PopTaters™, which reimagine Mr. Potato Head as iconic characters throughout pop culture, are getting a whole new wave of licensed character. You may remember UCC's very fun Deadpool PopTaters™ exclusive from a few years ago. Details are still TBA, but Action Figure Insider reports that there will be more PopTaters™ characters released at San Diego Comic-Con 2023. We can't wait to see who this year's character(s) might be.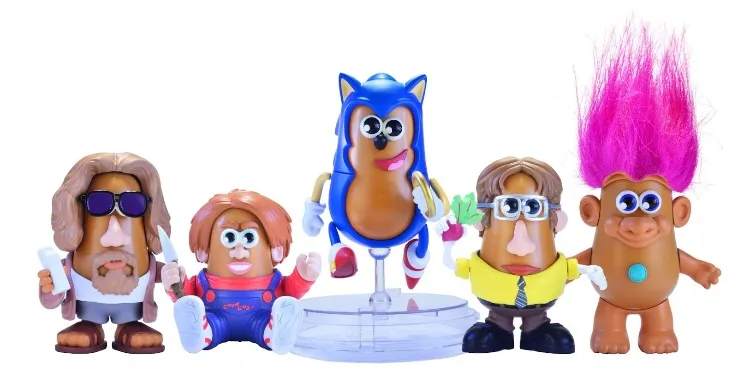 I blocked in the character silhouettes this morning, just to help see the shapes of the characters a bit better. The next step will be to do the shadow flats, then do the detail flats. #criticalroleart #MightyNein #wip #sdcc pic.twitter.com/vckjJnTfbl

— Tyler Walpole 💙🌻Magic Con Minneapolis (@TylerWalpole) June 11, 2023
Yes! I'm planning to do a large size limited edition version for SDCC and Gen Con, in person and on my website.

— Tyler Walpole 💙🌻Magic Con Minneapolis (@TylerWalpole) June 11, 2023
Can you not wait for the details of Priscilla Wilson's Meet-Up at the con? In addition to her regular exclusives, she'll also be hosting a Soonay Meet-Up, where you can meet other fans, say hello to Wilson, and even try to snag one of her FREE limited edition meet-up only Gaslamp Soonay and Toratai pins. We should hear more soon(ay), but for now, we know it's on Thursday night after the convention ends and likely to be at the Bayfront bar.
Hoping to have more details in the next couple of weeks or so! It'll be Thursday night after the con ends (though some people may show up earlier to hold their spot) at or just outside the Bayfront bar.

— Art of Priscilla Wilson 🔜 Hype Con (@valorandvellum) June 11, 2023
Any time Nan Hockin reveals something, you just know it's going to be adorable. And that's exactly what her latest original art pieces are, so be sure to stop by Booth #F-11 in Artists Alley if you'd like to snag these super cute originals.
Can't believe Comic Con is next month! Stop by and check out all my originals! Please do not feel obligated or you have to purchase something. I enjoy guests who are just browsing and I love having good conversations! It helped me practice my social skills. #sdcc2023 #sdcc pic.twitter.com/mN7kxw9X6k

— ArtByNan (@nanhockin) June 12, 2023
We're feeling catty! And you will be too after you see Martin Hsu's first sneak peeks of his San Diego Comic-Con 2023 exclusive mini paintings that re-envision Ted Lasso characters in feline form. Which one is your favorite?
Surprise! Meet the CATS of Ted Lasso & Cats! 😻 SDCC 2023 exclusive mini paintings and print packs coming soon! Who do you spot? 🤭#sdcc #sdcc2023 #tedlasso #tedlassocats pic.twitter.com/rxSi2QlstH

— Martin Hsu 徐 👨🏻‍🎨 SDCC Booth 4530 (@MartinHsu) June 13, 2023
Now that the San Diego Blood Bank's annual Robert A. Heinlein Blood Drive has opened appointments for San Diego Comic-Con 2023, it's time to start planning! And that's exactly what Nifty Neuron is doing, promising to do another crochet drop at or near the blood drive. Keep an eye out for more information.
Confirmed — I 'm donating a #crochetCharity buddy to this Blood Drive at #SDCC! Last year, I crocheted a Baymax. This year's buddy will be revealed soon.

Sign up for an appt, walk-ins are good too! If you're donating, see poll in next tweet to help me decide when to drop it off https://t.co/JCsd1ARz48

— Nifty Neuron 🔜 SDCC! (@niftyneuron) June 13, 2023
Artist Lee Kohse has a very busy San Diego Comic-Con planned. You'll find him at Booth #1605 where he'll be joined by DCD Collectors and special guests, (including Kai Lun Qu, who will be doing live art demos with Kohse throughout the show). Kohse will also be offering CGC graded sketch covers, a limited number of Bernie Wrightson Tribute Book in hardcover with remarques, original Frankenstein Art available, G.I. Joe "Cold Slither" album art, new mouse pad designs, and plenty of original art for Star Wars, Street Fighter, Indiana Jones, Aliens, and more.
Additionally, you'll also catch him on a panel on Friday, July 21 for "Making A Living Being Creative" at 7:30pm with Steven Edwards (Production Manager, Into/Across the Spider-Verse, Twilight of the Gods) and moderator (as well as #1 PaceyCon fan) and podcaster Johhny Kolasinski (Hi Everybody, A Bad Medicine Podcast).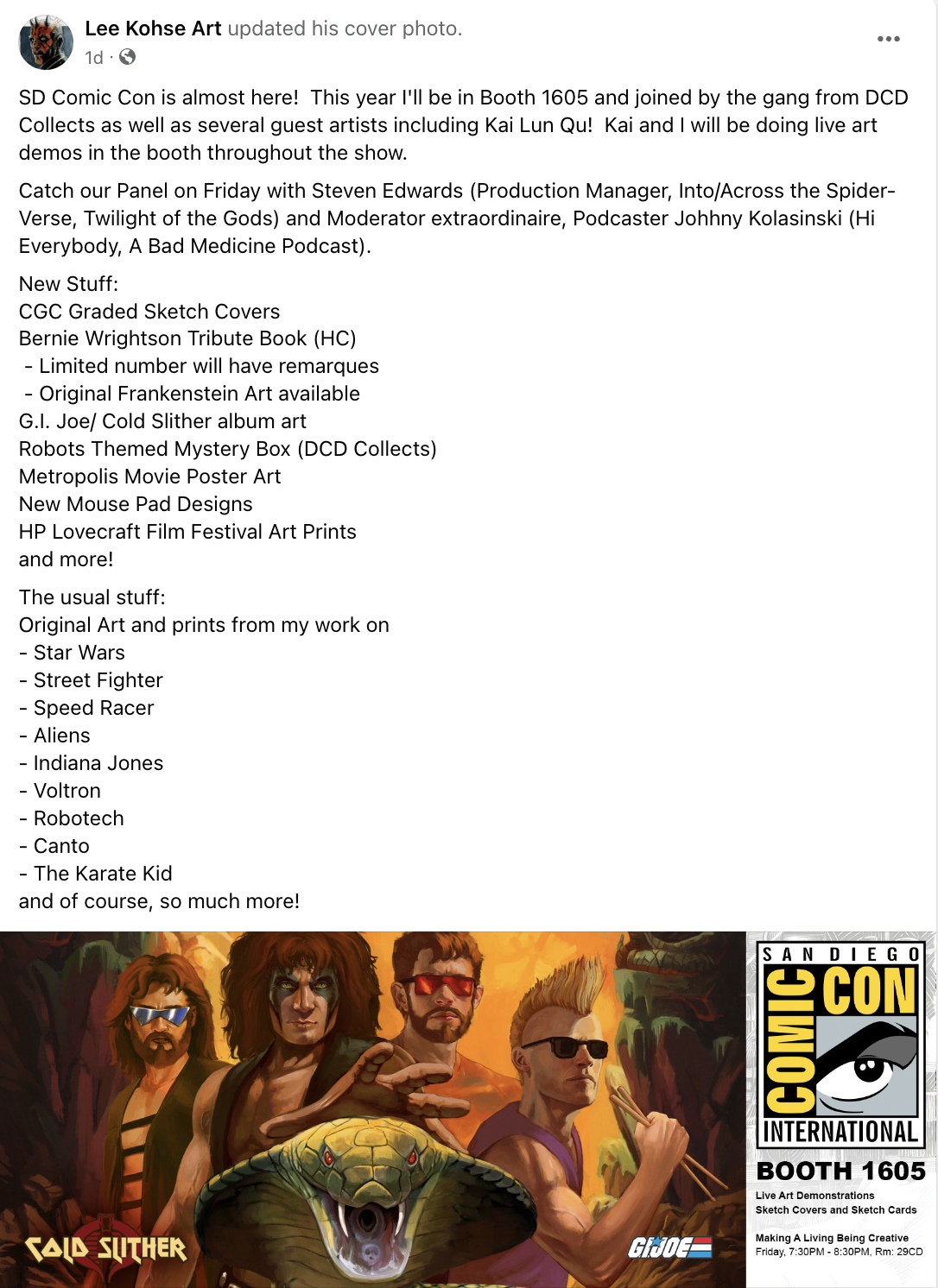 Brief schedule update: looks like I won't be able to make it to San Diego Comic-Con this year. Deadlines on Murtagh are too tight. Sorry folks!

— Christopher Paolini (@paolini) June 12, 2023
It's always panel season on this site, and author Neo Edmund revealed that he's got two in the works.
Two panels booked for San Diego Comic Con! 💥 #ComicCon #SDCC

— NEO EDMUND (@NeoEdmund1) June 12, 2023
 

 

View this post on Instagram

 
Comic artist, writer, and creator Jimmie Robinson (Power Lines, The Empty, Bomb Queen) announced that he'll be part of a panel at the convention this year, titled "Comics and Mental Health — Overcoming Depression and Anxiety" on Saturday, July 22 at 3:30pm-4:30pm in Room 26AB. You can join Robinson, David Walker (Bitter Root), Melissa Paglucia (Above the Clouds), Jenn Haines (Dragon Comics), and moderator Natasha Yglesias as they discuss various steps and support systems to stay creative in comics.
Award-winning creators Jimmie Robinson (Bomb Queen), David Walker (Bitter Root), Melissa Pagluica (Above The Clouds), Jenn Haines (Dragon Comics) and moderator Natasha Yglesias (NY Times best selling author) talk various steps, support systems to stay creative in comics.

— Jimmie Robinson (@Jimmie_Robinson) June 12, 2023
Anything we missed? Drop us a line or tweet us at @SD_Comic_Con.
Catch up on any of our previous Under the Tents posts here.