DKE's booth is always like stepping into another world at San Diego Comic-Con. Their designer toys are both works of art and commentary, and over the years they've delivered everything from political satires to one of the best exclusives of all time. 
Just like last year, they'll be doing a split approach for San Diego Comic-Con. Of course you can still find them on the show floor, at Booth #2643, where they'll be sharing booth space with Creature Bazaar — but they warn that their in-person inventory will be "extremely limited".
Instead, they recommend that in order to secure your item, you take part in their online sale on Friday, July 14 at 12pm PT with owner Dov Kelemer, as well as co-hosts Janky Toys, Barbarian Rage, and Ian Wilcox. Anything not sold out on the live show will then be taken to San Diego Comic-Con — and anything remaining after the convention will be placed on the site after the show.
They'll have 16 exclusives this year, as well as two mini art shows. Artist Stoger has created "Cantina Aliens", which includes a hand cast 3.75″ scale figure on 12″x9″ painted wood panel, with 19 pieces to choose from. You'll also find artist Dustin Benzing and his "Second Quarter of the Third Batch Art Show", which features Dustin's signed one-of-a-kind hand carved and painted wood blocks.
Let's take a look at what DKE will have at Comic-Con this year:
[UPDATE July 8]
Cantina Wars by Stoger – $150
Hand cast 3.75″ scale figures on 12×9″ painted wood panel
Signed and numbered edition of 21
Chewy by Dead Greedy, Paulitoy & UMEtoys – $75
Hand cast and painted 2.75″ scale boxed resin figure
Signed and numbered edition of 20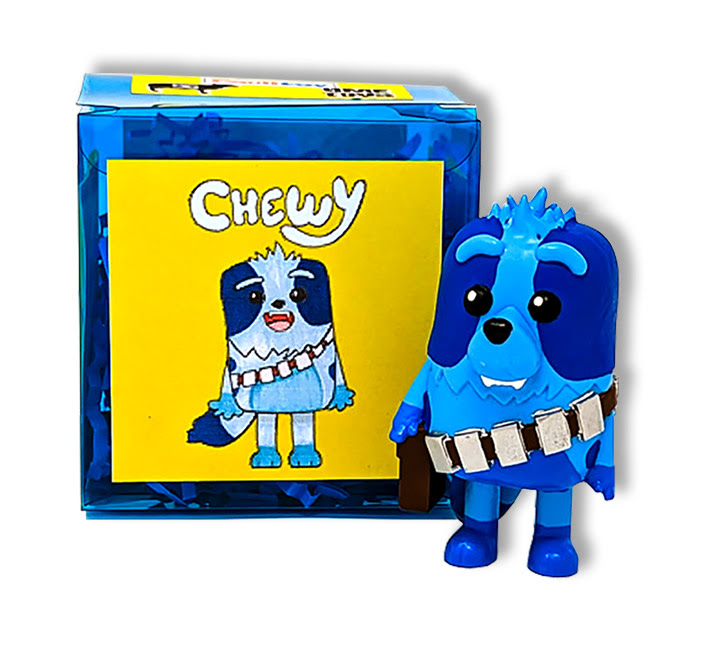 La'ang Vader By Camote Toys – $75
Hand cast 4″ carded black clay figure
Signed and numbered edition of 20
Mad Marx by Blue Monday Press – $85
Hand cast and painted 3.75″ scale carded resin figure
Signed and numbered edition of 25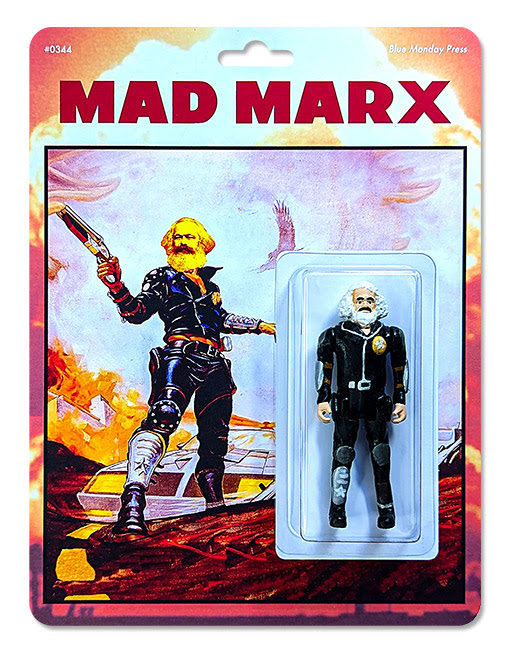 [UPDATE July 7]
Second Quarter of the Third Batch Art Show by Dustin Benzing – $75
Hand carved and painted wood blocks
Signed one of a kind pieces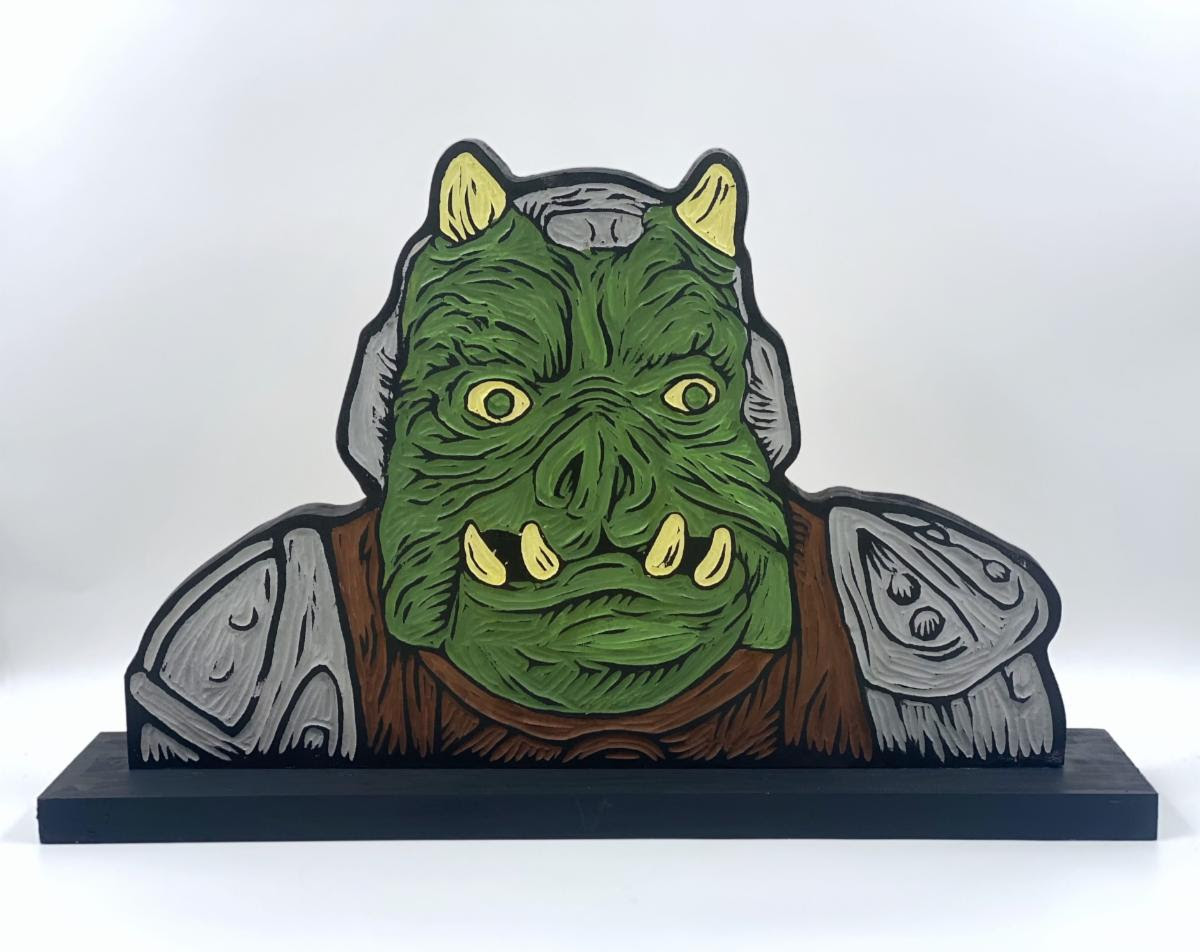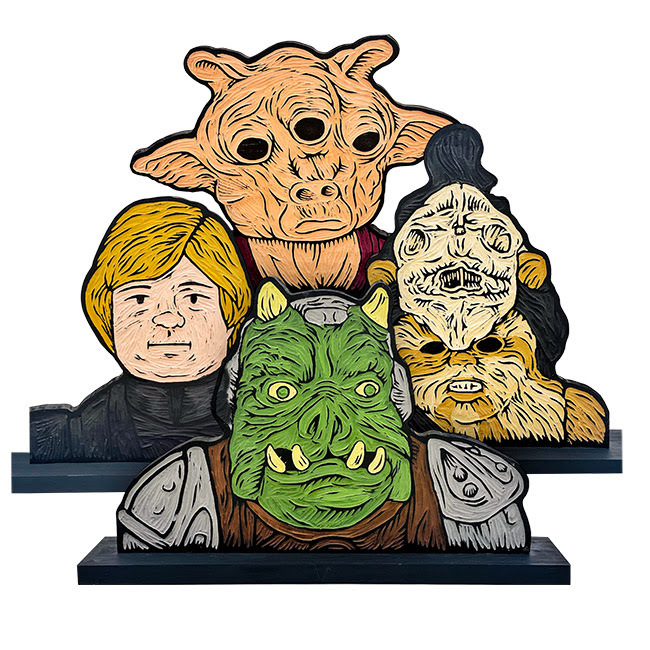 Ended 'Em by Steve Casino – $100
Hand cast and painted 2″
Carded resin figure
Signed and numbered edition of 15
Fiorella by plasticpurpose – $50
Hand cast and painted 3″
Carded resin figure
Signed and numbered edition of 15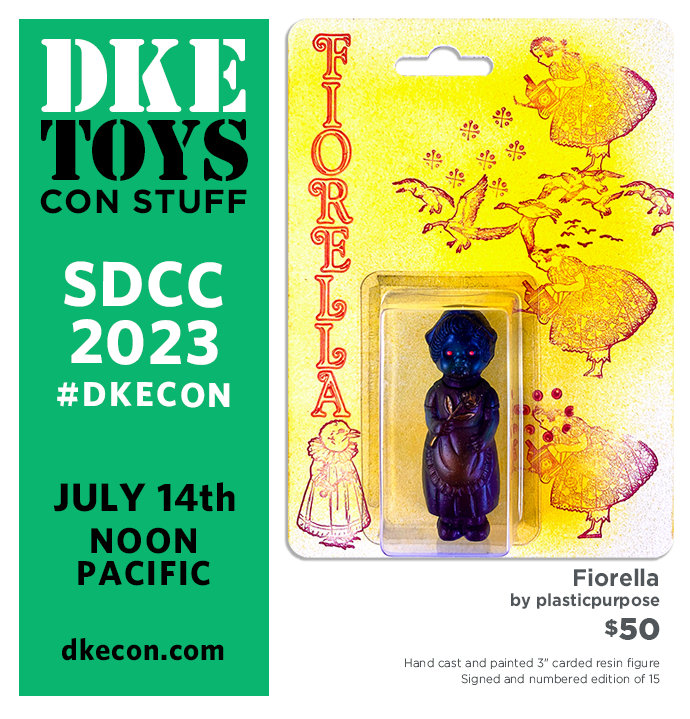 Hero of Canton by DLL Customs  – $40
Cold cast aluminum 3.75″ scale
Carded resin figure
Signed and numbered edition of 10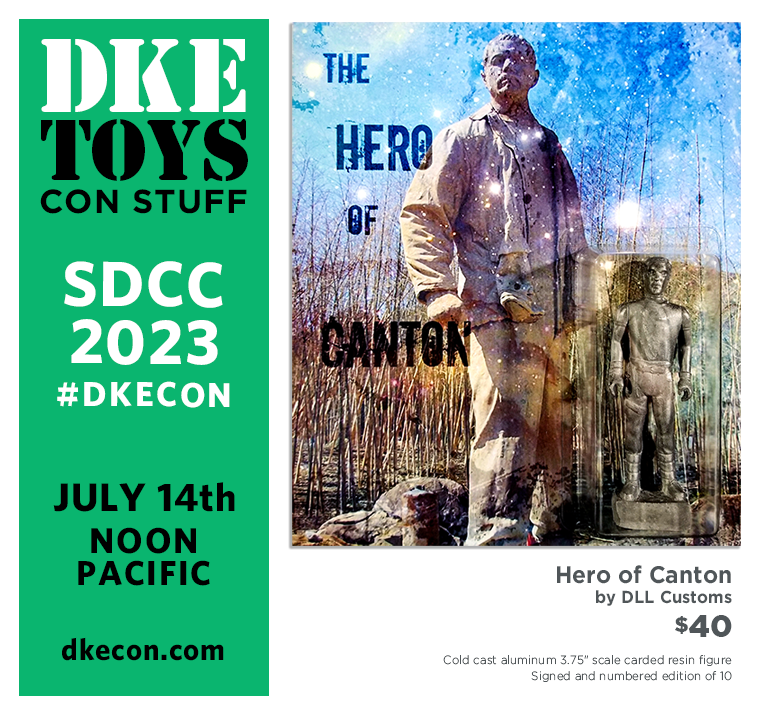 [UPDATE July 6]
Chali 2na Kush Edition by Hip Hop Toys – $65
3D printed 3.75″ scale
Carded resin figure
Signed and numbered edition of 8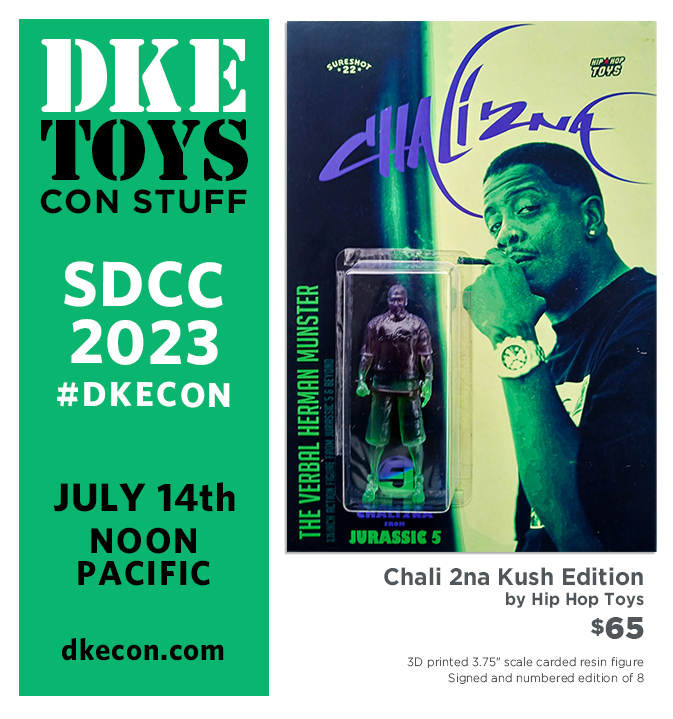 Bounty Funter by Buzzard Guts -$55
Hand cast and painted 3.75″ scale
Carded resin figure
Signed and numbered edition of 20
Card by @lastbosscomics
Bootleg Vinyl: Lord Fader by Abrakadapoof – $75
Hand cast and painted 3.75″ scale
Carded resin figure
Signed and numbered edition of 22
X-Ray Man With Ram Head by Barbarian Rage – $125
Hand double cast 5.5″ resin figure in bag and header card
Signed and numbered edition of 15
Forlorn Ghost Knight by Luke Chueh – $100
Hand cast and painted 3.75″ scale
Carded resin figure
Signed and numbered edition of 50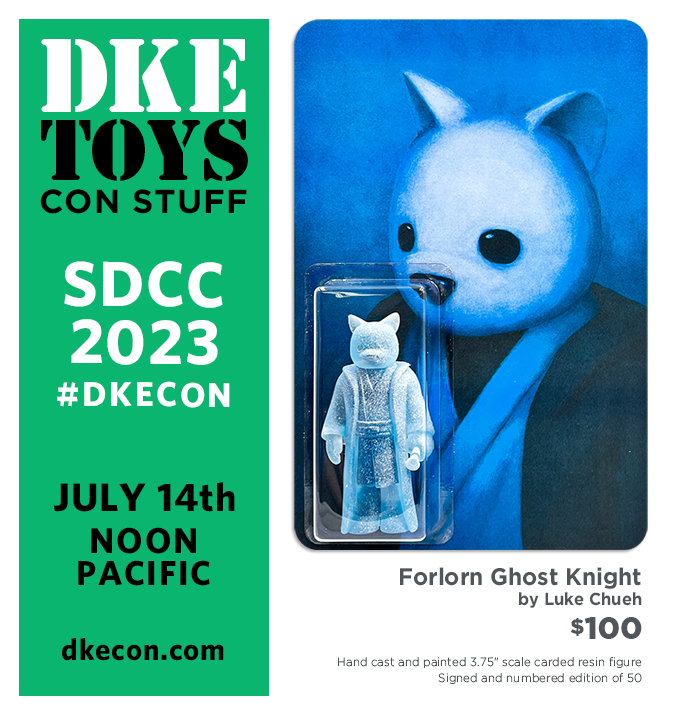 The Kid by FEOND – $50
Hand cast 3.75″ scale
Carded resin figure on silkscreened card
Signed and numbered edition of 10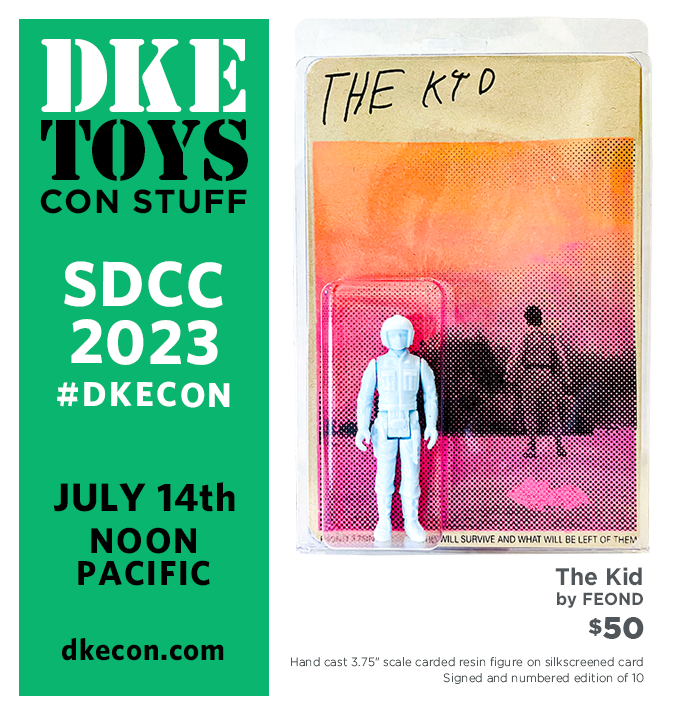 Grand Sultan Vüder by King Spider Toys -$80
Hand cast and painted 3.75″ scale
Carded resin figure
Signed and numbered edition of 20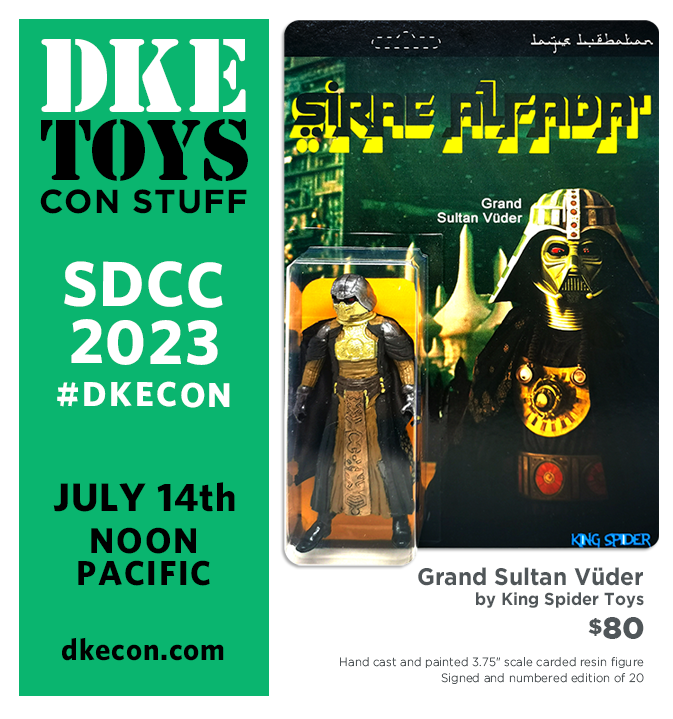 INVADER V by Punk and Pop Toys – $70
Hand cast and painted 3.75″ scale
Carded resin figure
Signed and numbered edition of 20