For Super7, San Diego Comic-Con is always something of a home convention, as the city holds one of only two brick-and-mortar Super7 locations. Their physical store is one of the hottest places to shop in both the Gaslamp and the convention center floor every year.
This year, they've got new exclusives, debuts, and more heading to Booth #2543.
[UPDATE July 13]
Here's a rundown of what Super 7 will have at their off site pop-up shop, Cobra Global Operations, at 701 8th Ave, San Diego.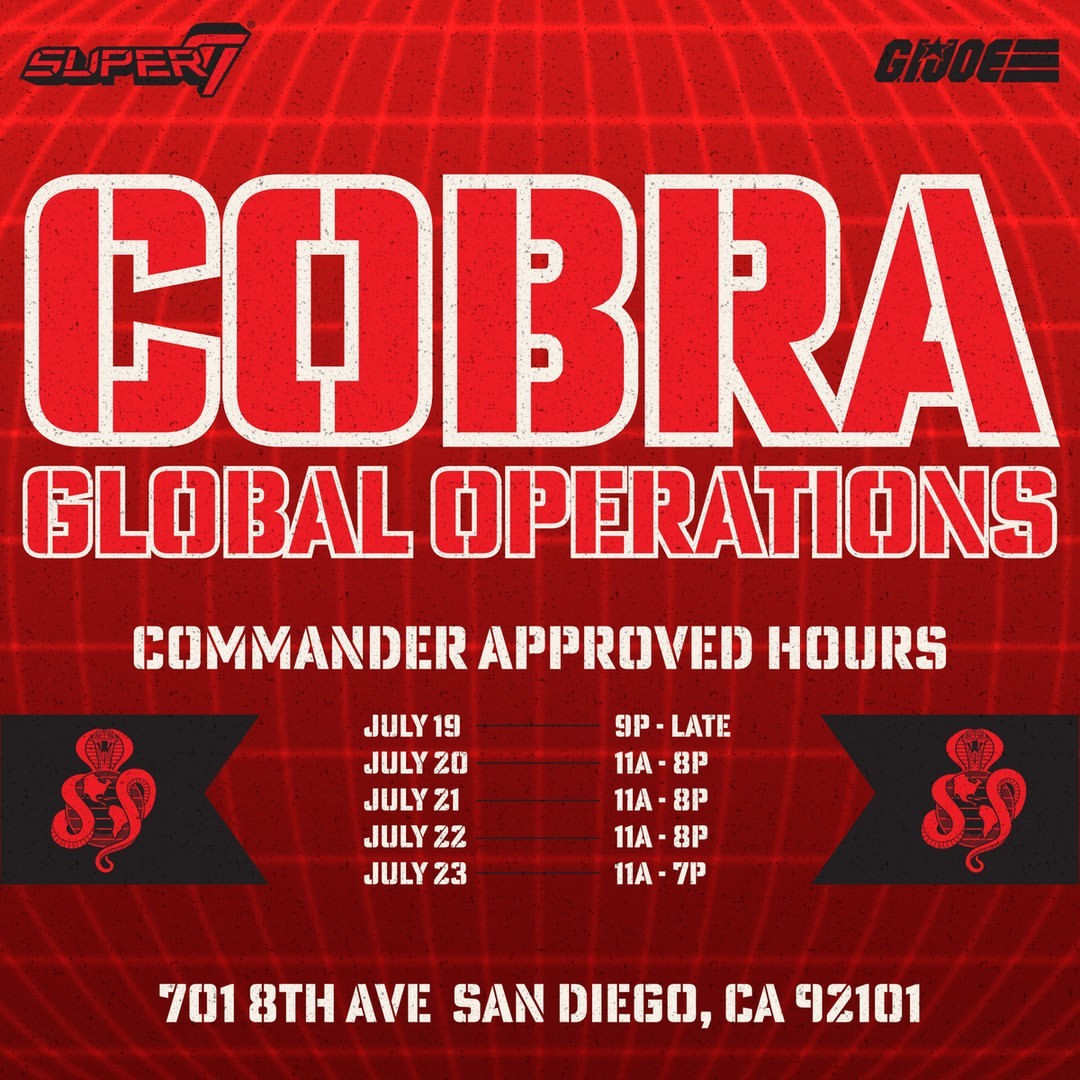 A selection of G.I. Joe clothing suitable for civilians.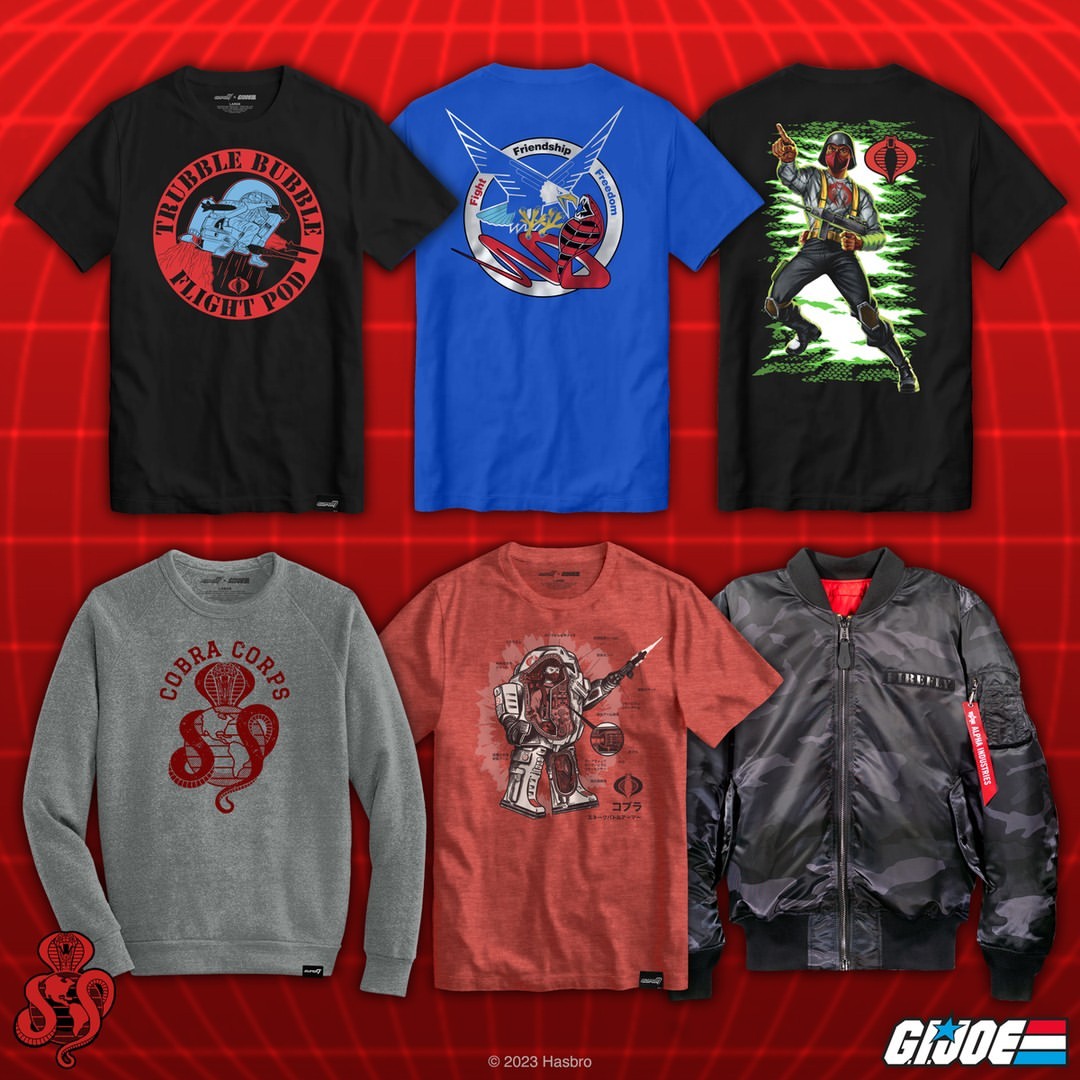 SDCC Edition G.I. Joe ReAction Figure of G.I. Joe MP
Official G.I. Joe Trading Cards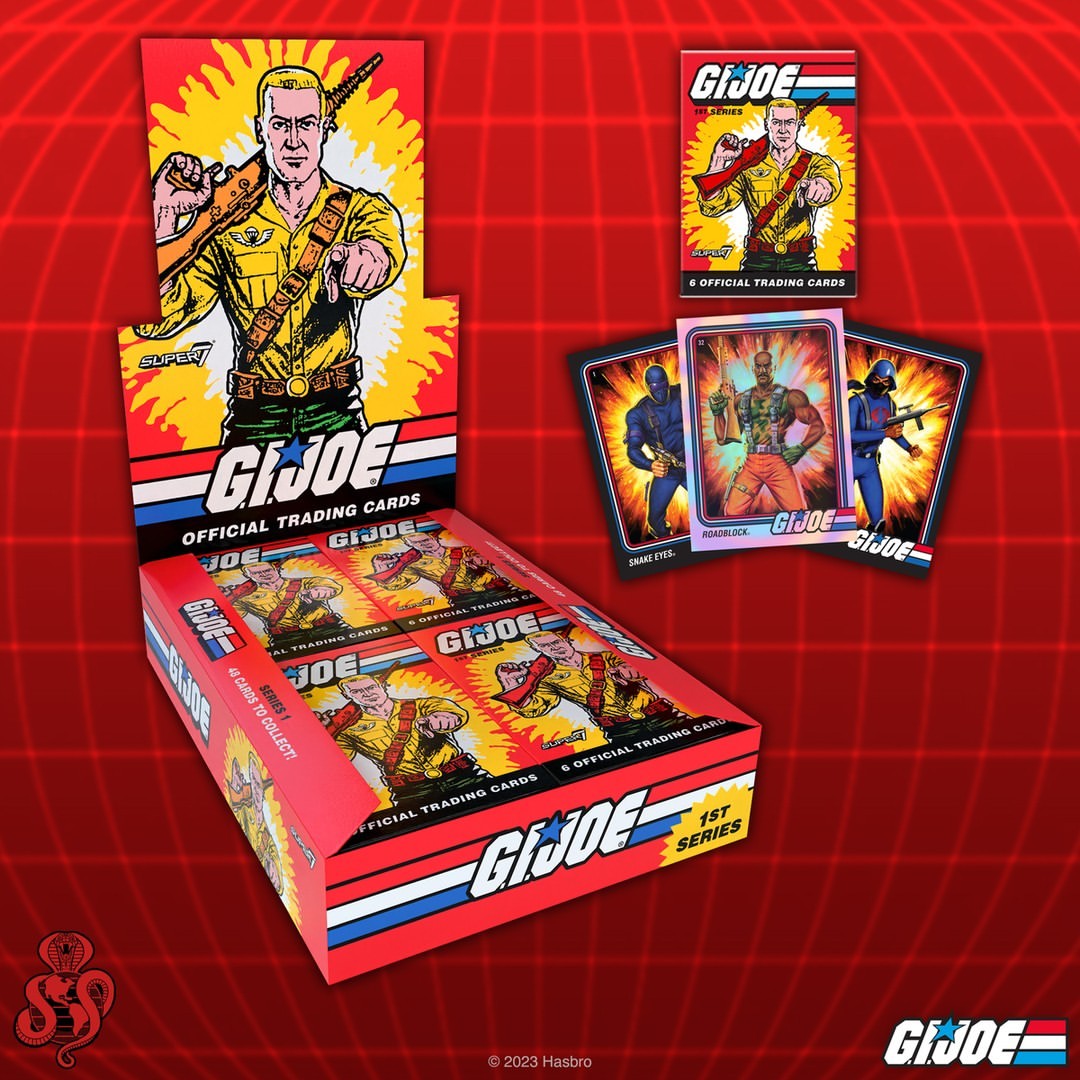 G.I. Joe Cobra Commander Puzzle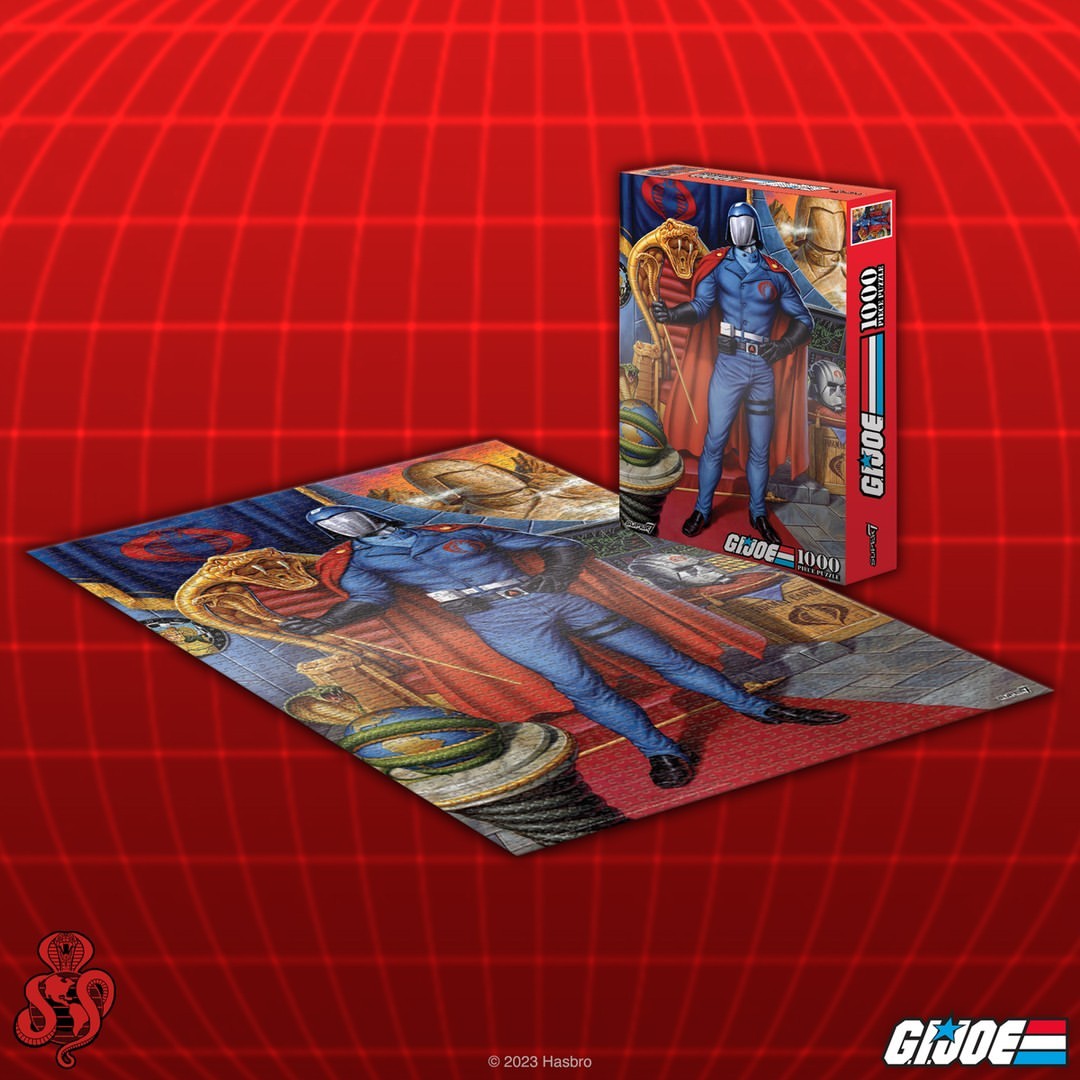 SDCC Edition G.I. Joe ReAction Figure Python Patrol Cobra Trooper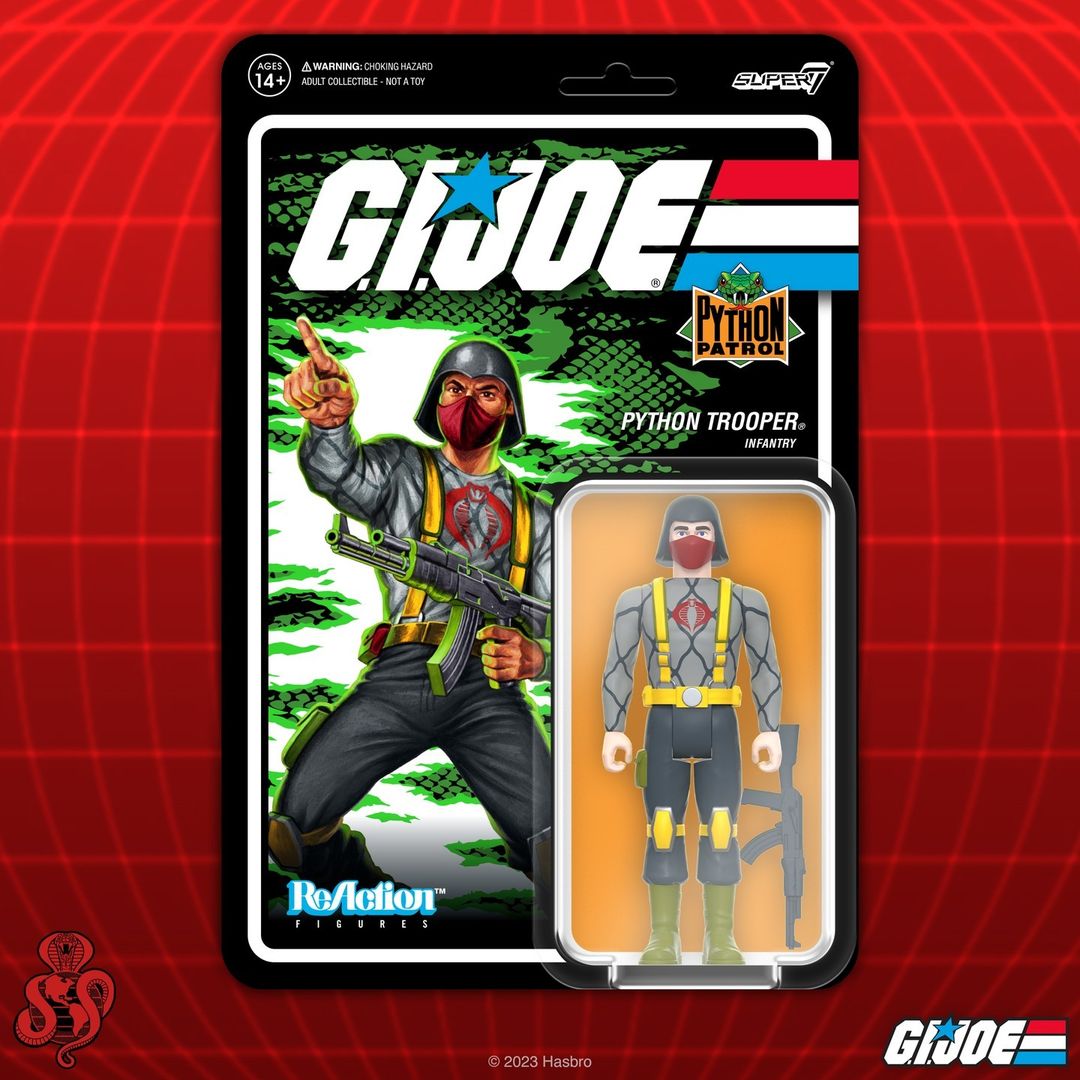 SDCC Edition G.I. Joe City of the Dead ReAction Figure box set "The Pyramid of Darkness: Part 3"
Super7 G.I. Joe Super Cyborg of the S.N.A.K.E. Amor 11″
Rednok Variant Baroness and Red Jackal Variant Destro ULTIMATES Figures
Let's see what they're bringing to Booth #2543 this year:
[UPDATE July 11]
Not sure how something so large slipped right passed us but, well, it's con season. Super 7 has announced a super sized and highly articulated 7" scale San Diego Comic-Con edition of Godzilla. You can expect premium paint detailing, interchangeable heads and hands, a cute little innocent bystander and more.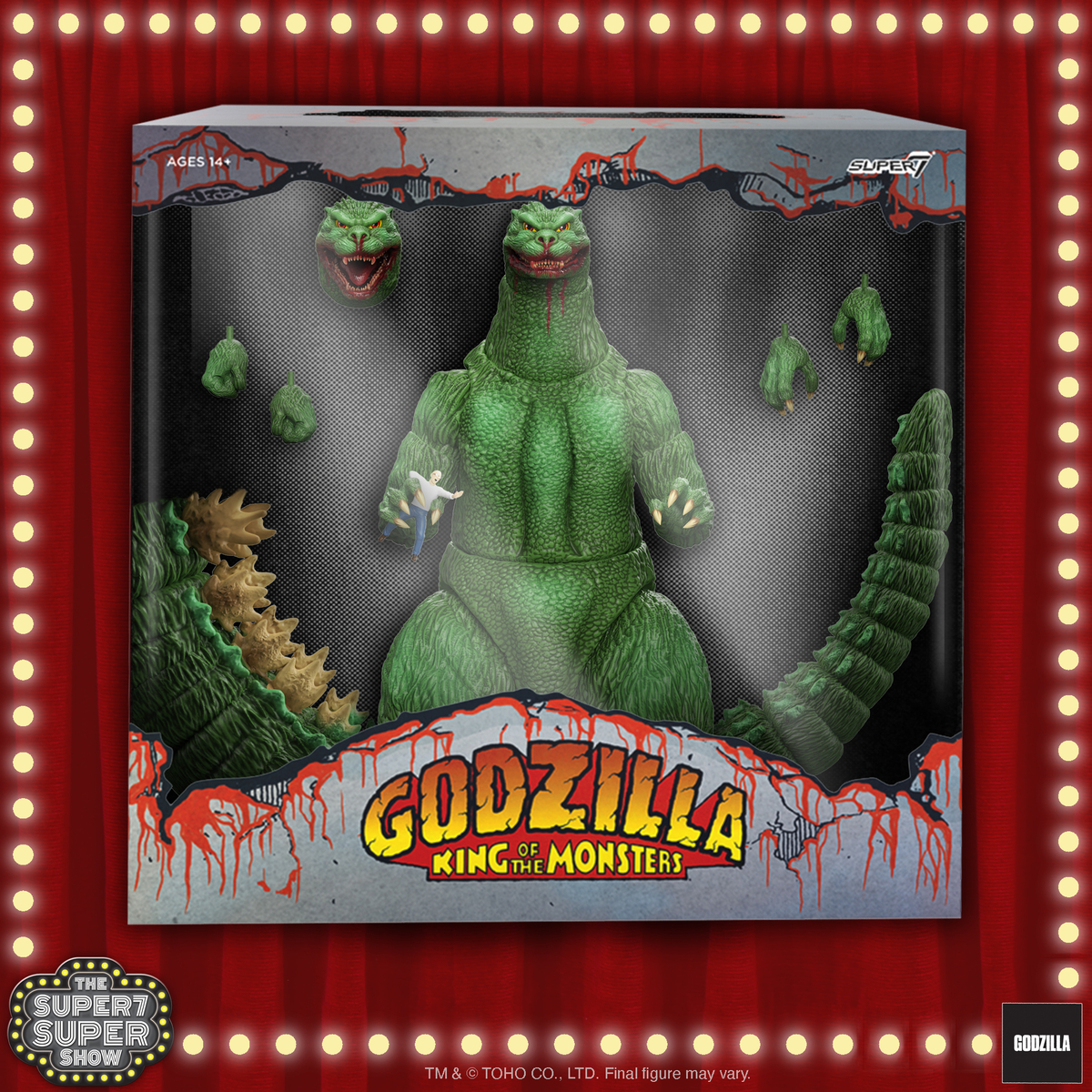 [UPDATE July 10]
Super7 is bringing back two new versions of some of their classic soft vinyl mascots Mummy Boy and Gator Boy, in 6″ form. Get them at Booth #2546.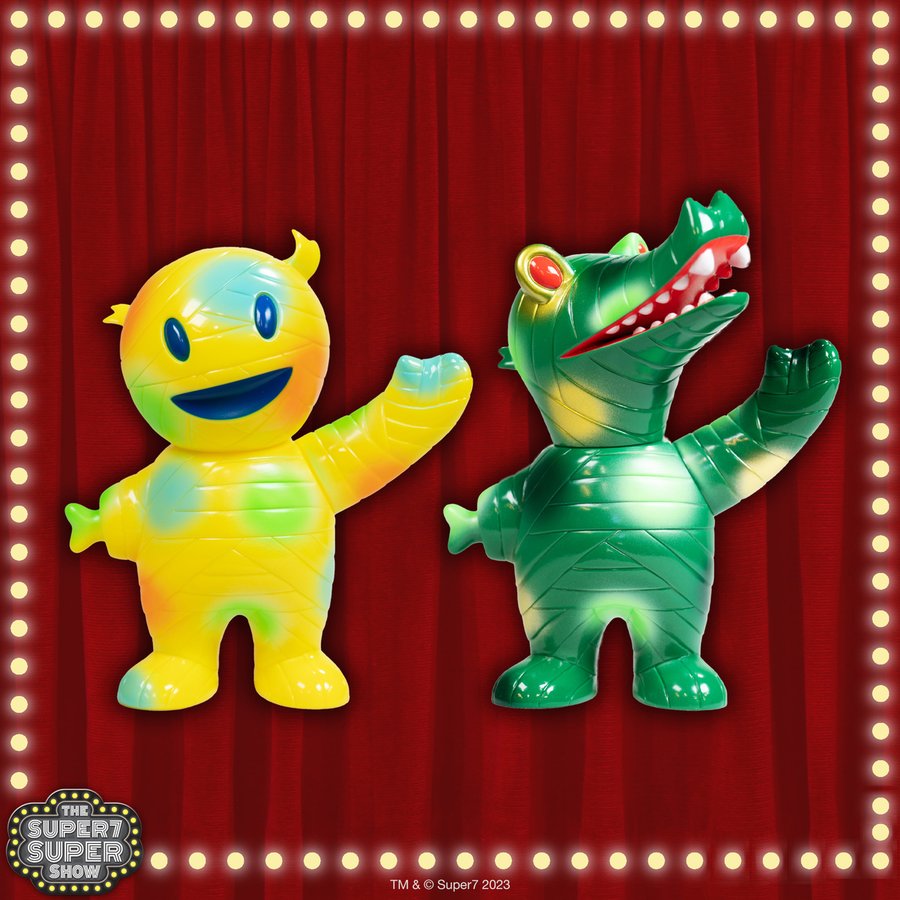 Blast off…for fun and adventure….with the Snoopy Apollo Launch Team shirt, available at the Super 7 booth, #2543.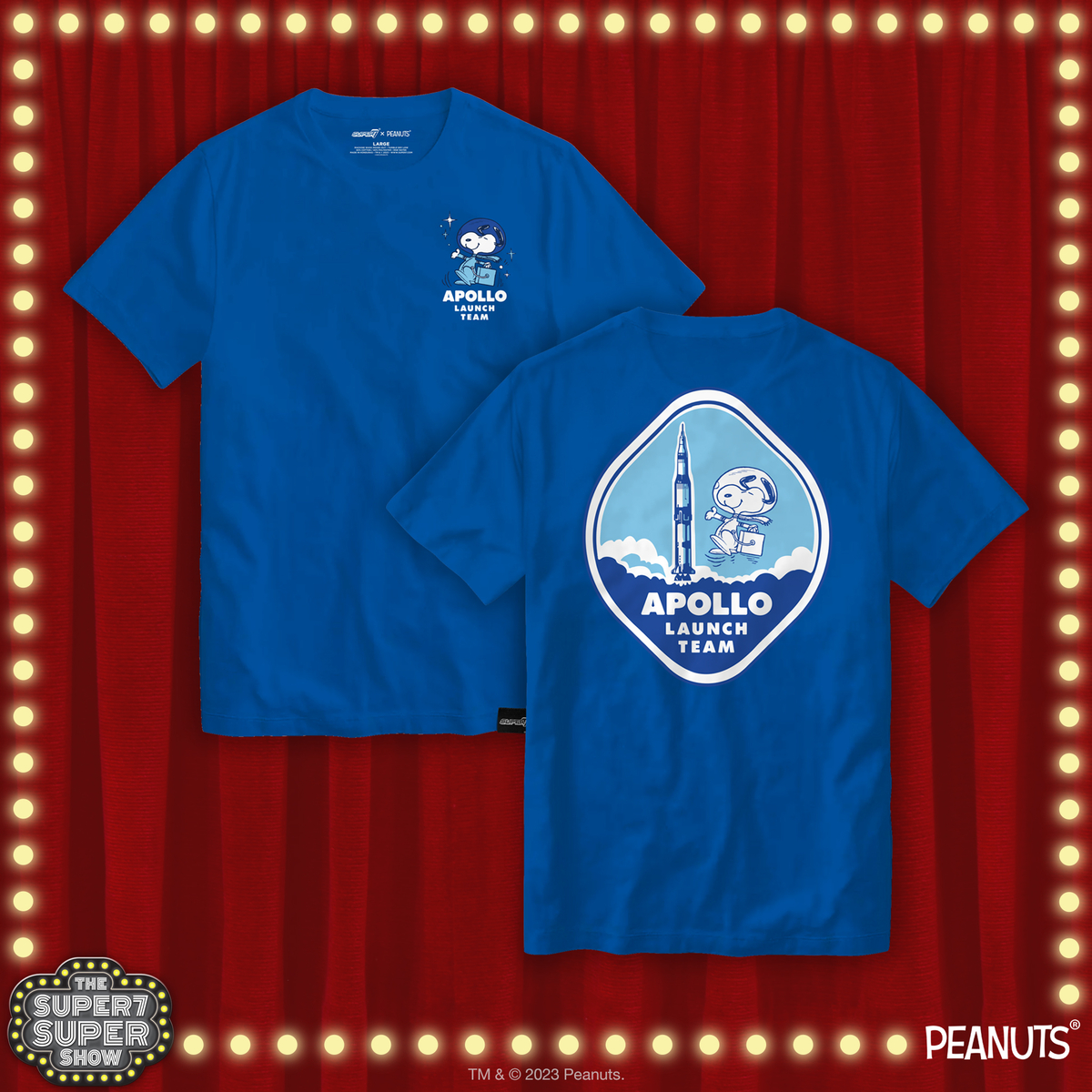 It's time for Camp….Camp Snoopy that is, fun for all and all for fun. This is the perfect shirt to play capture the flag, or relax around the bonfire.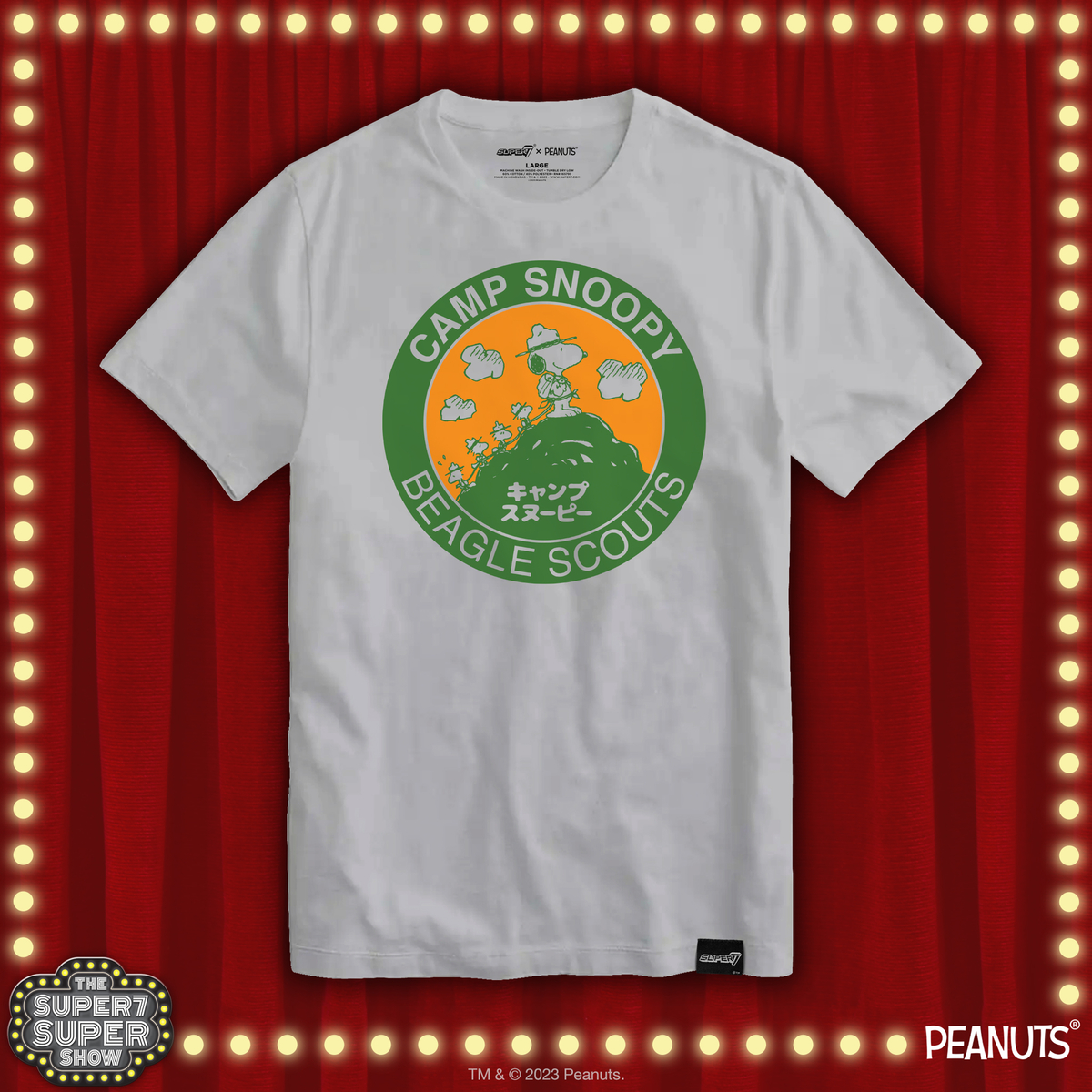 Here comes Charlie Brown and boy, does he ever look irritated. Can you blame him? He just missed out on all the Super 7 San Diego Comic-Con exclusives. Don't be like Charlie Brown.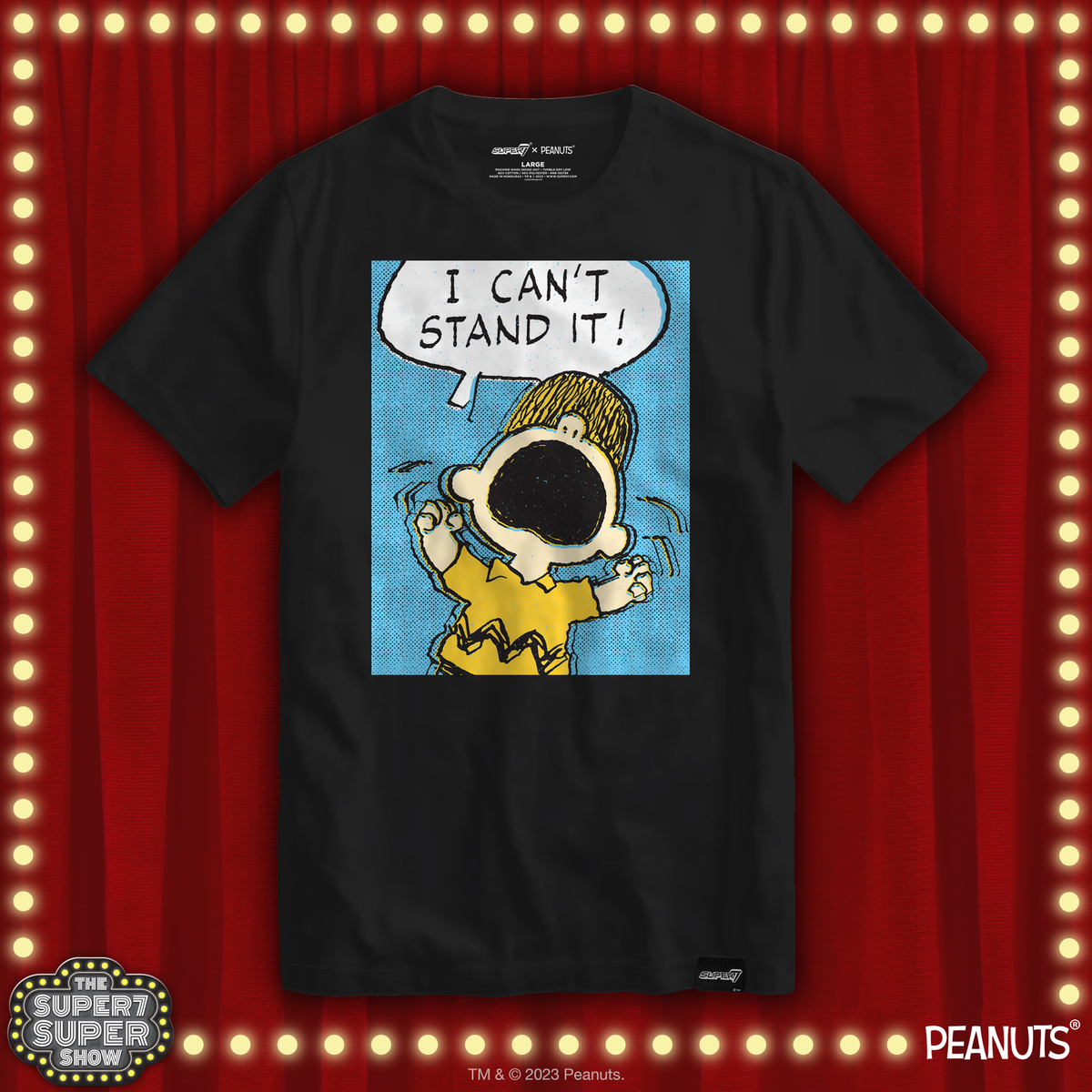 A laugh can be a very powerful thing. This Who Framed Roger Rabbit ReAction 2-pack features  Roger Rabbit and Judge Doom figures housed in a wooden crate box straight from the ACME Gag Factory.
Look stylish in the complementary Meow The Jewels t-shirt.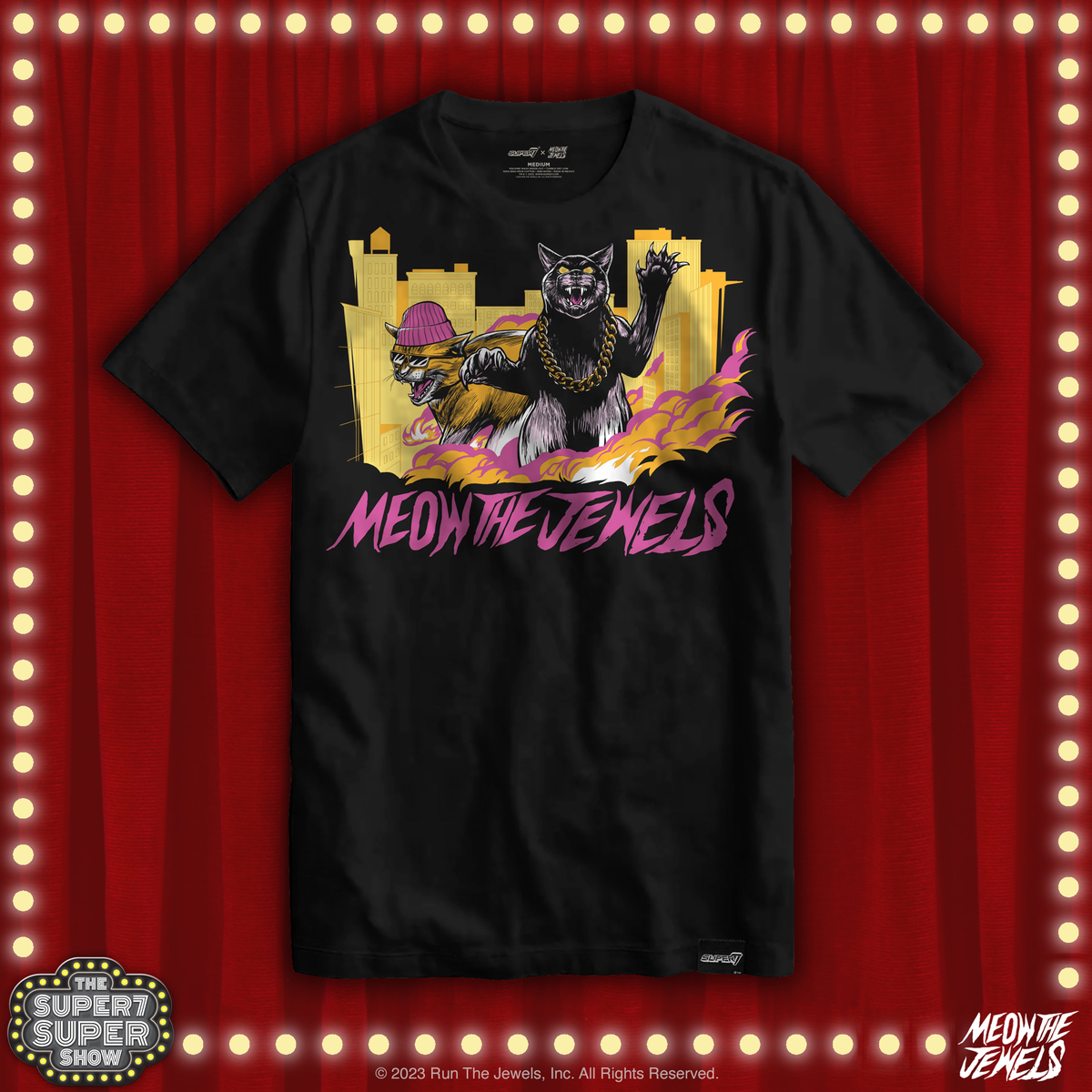 These Run the Jewels "Meow the Jewels" ReAction Figures are inspired by the feline-focused remix album from 2015. A portion of the proceeds from sales of this release will be donated to the National Lawyers Guild Mass Defense Program. Pick up the 2-pack at #SDCC.
[UPDATE July 7]
"Say goodbye, Megatron!" Or say hello to this 12" Transformers Super Cyborg Megatron, inspired by the vintage Goodbye Megatron G1 toy from Transformers: The Movie.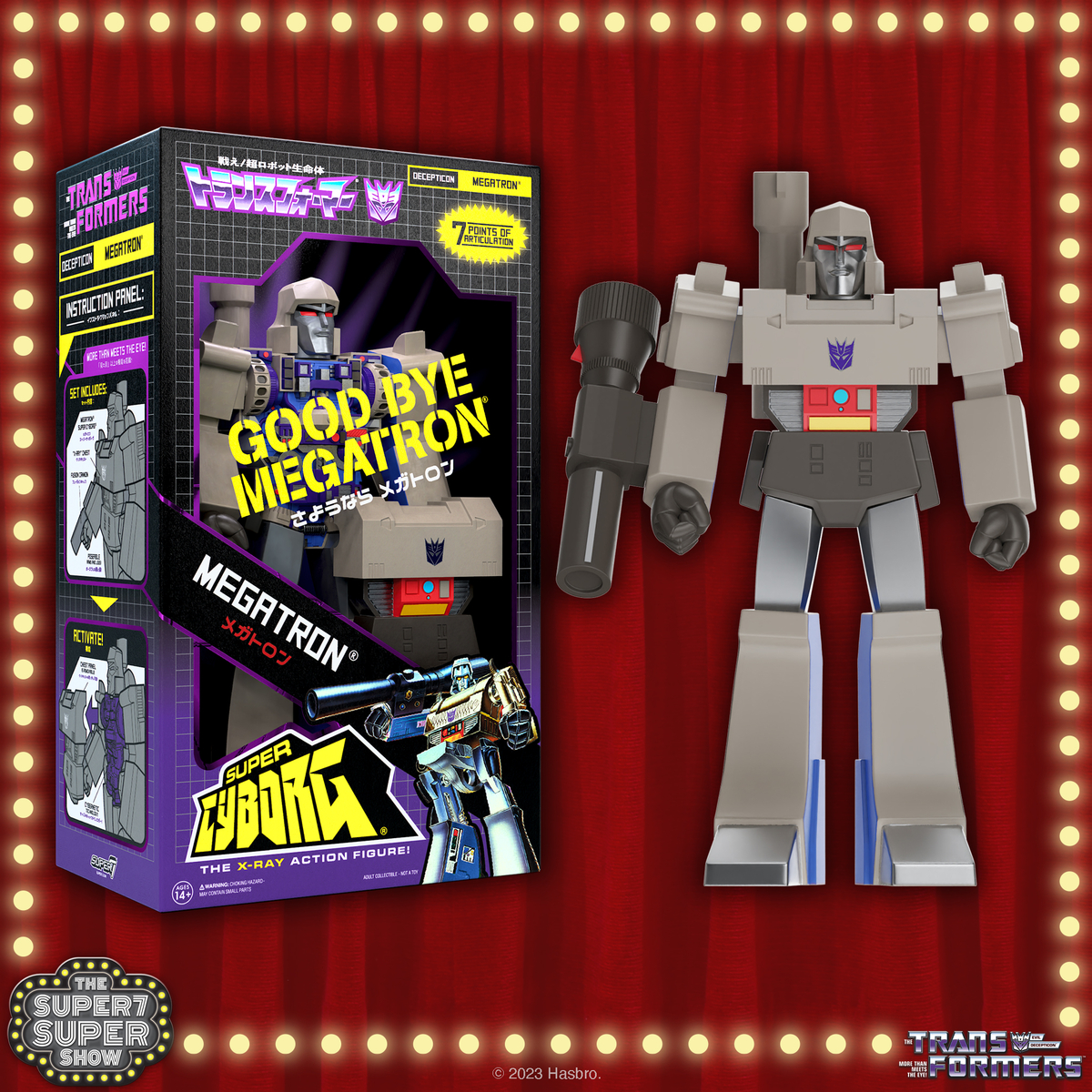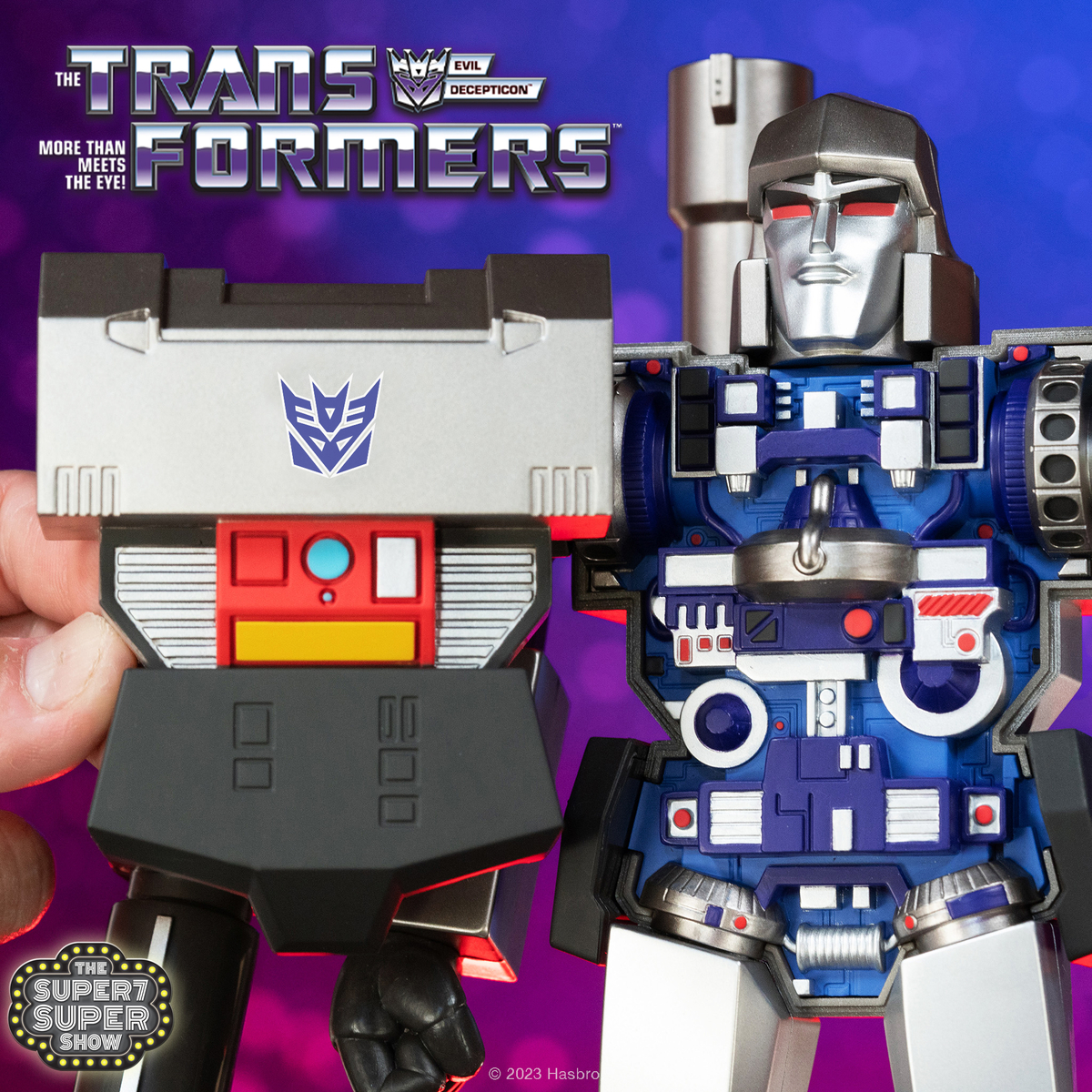 Show off your love of Shredder-in-a-Can with this vintage Teenage Mutant Ninja Turtles shirt from Super7, inspired by the mail-in promo.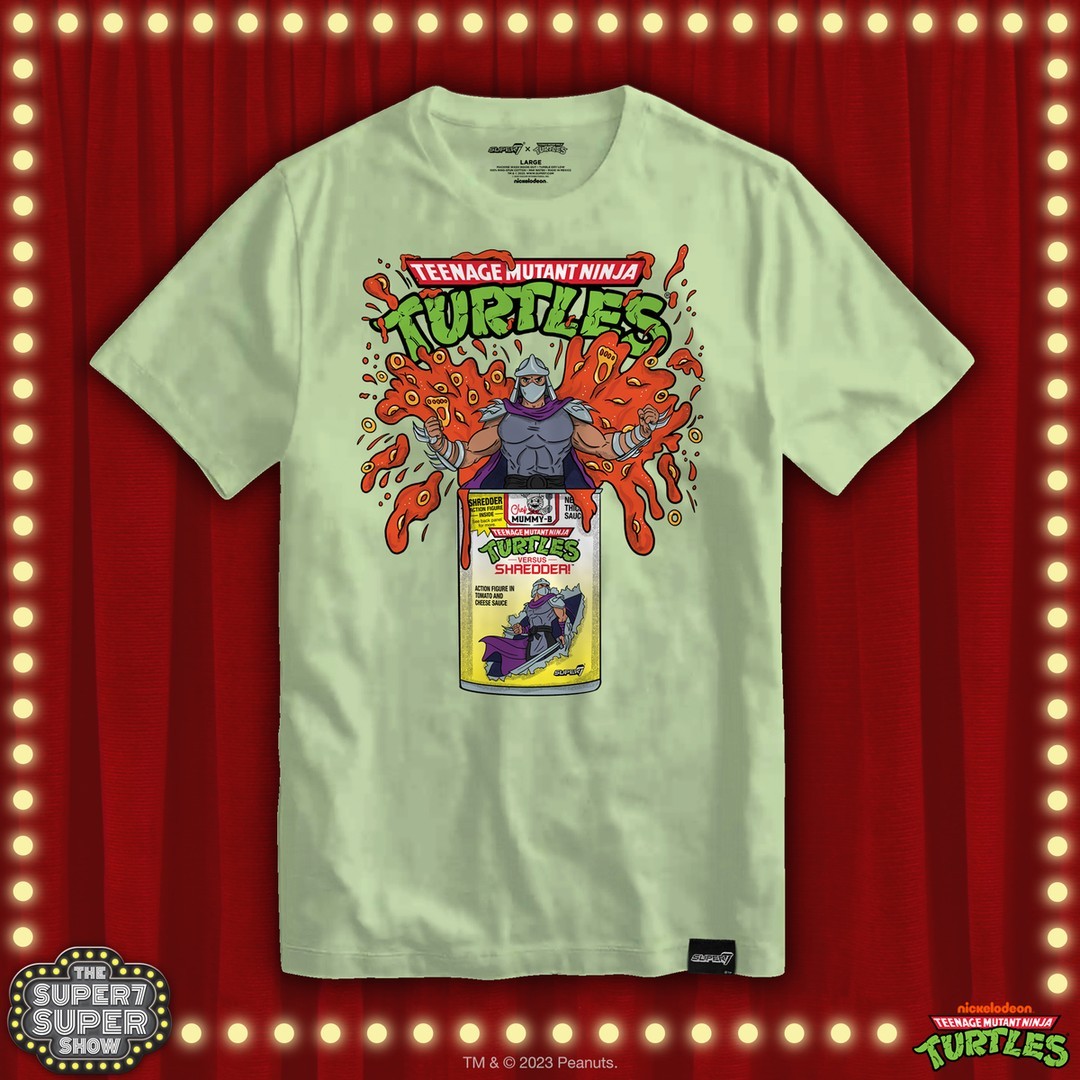 No Foot Clan allowed! This Teenage Mutant Ninja Turtles Undercover Turtle T-shirt feature a Neighborhood Sewer Watch logo on the front and Undercover Raphael on the reverse.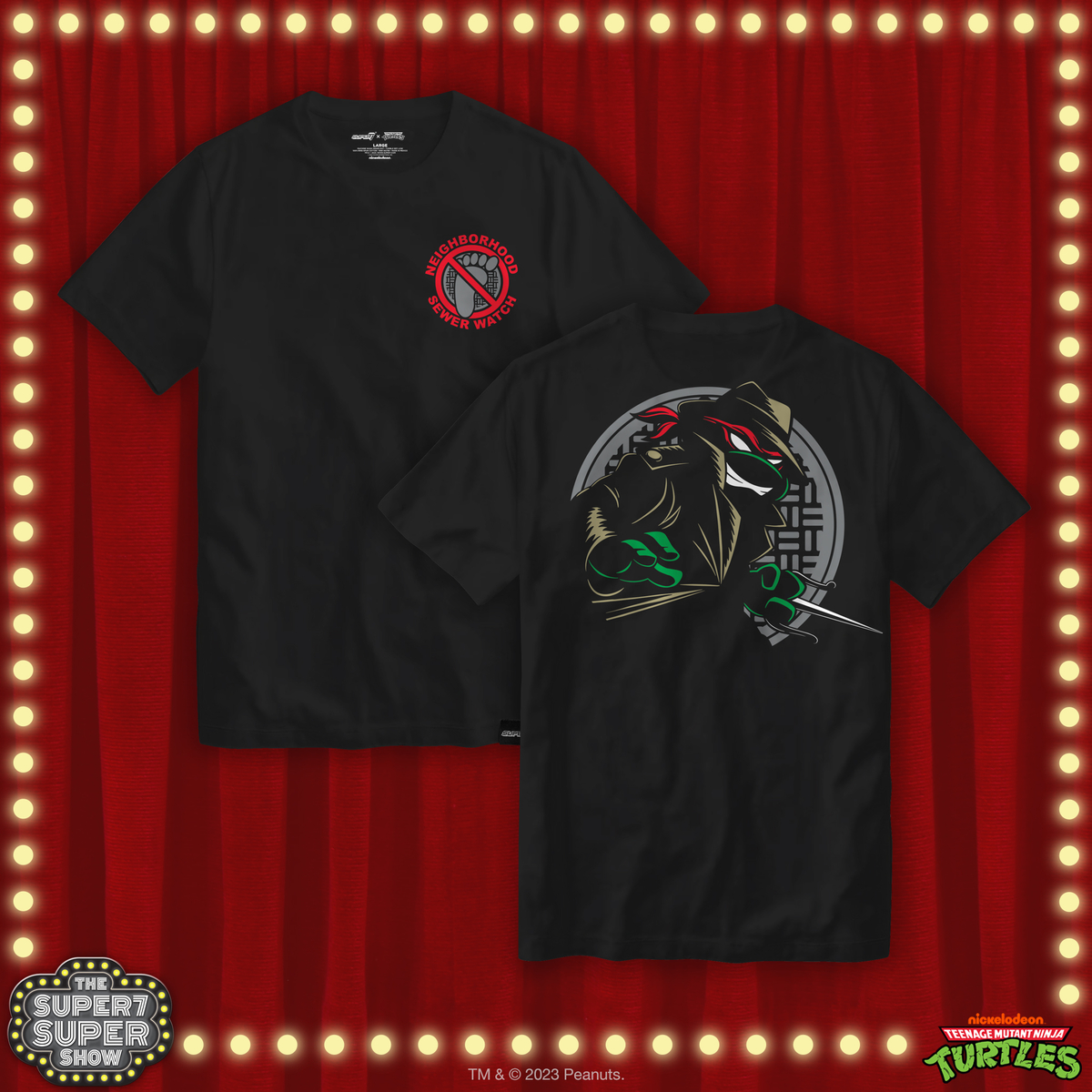 Declare your allegiance to the Mighty Morphin Power Rangers White Ranger with this stylish t-shirt. Features "Power Rangers" in  Kanji script. Available during SDCC at booth #2543.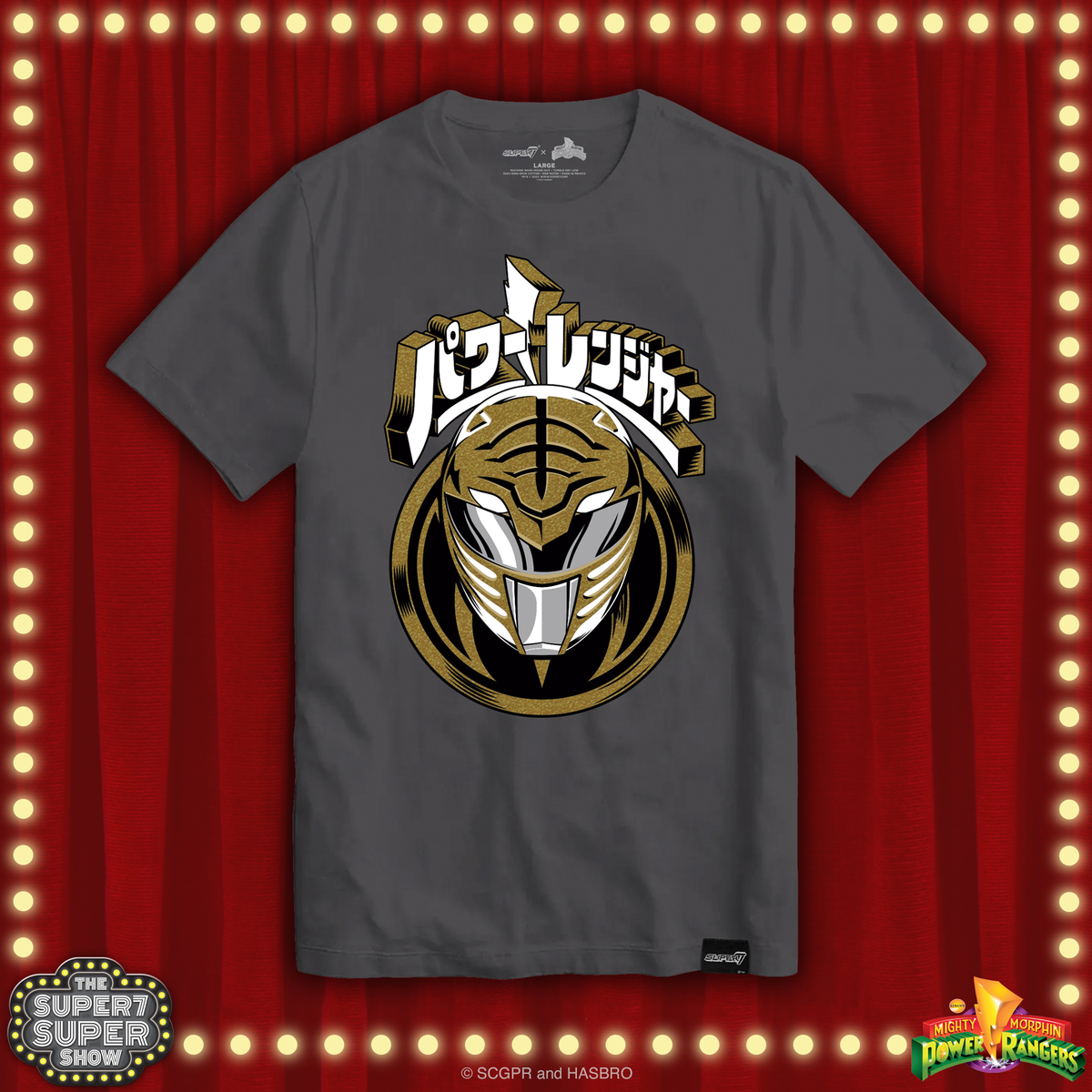 You'll be the center of the universe in this Mighty Morphin Power Rangers t-shirt. Featuring the giant robot, firing missiles and the name  "Dragon Caesar" in Kanji script. Snag this at booth #2543.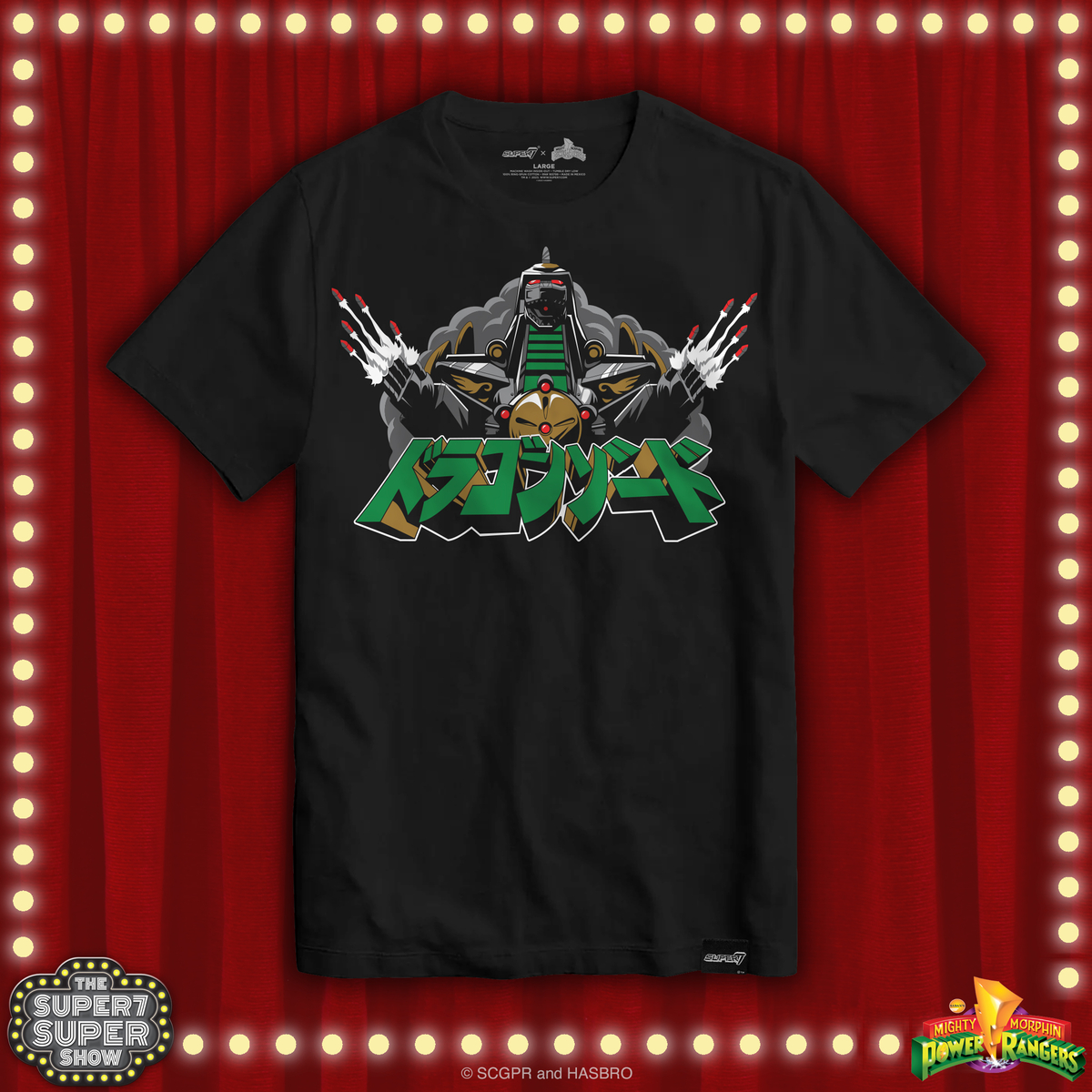 Who is your favorite Power Ranger? The correct answer is Trini. In any case, you'll be able to get them all with these Mighty Morphin Power Rangers ReAction Figures, inspired by the beloved 90s versions.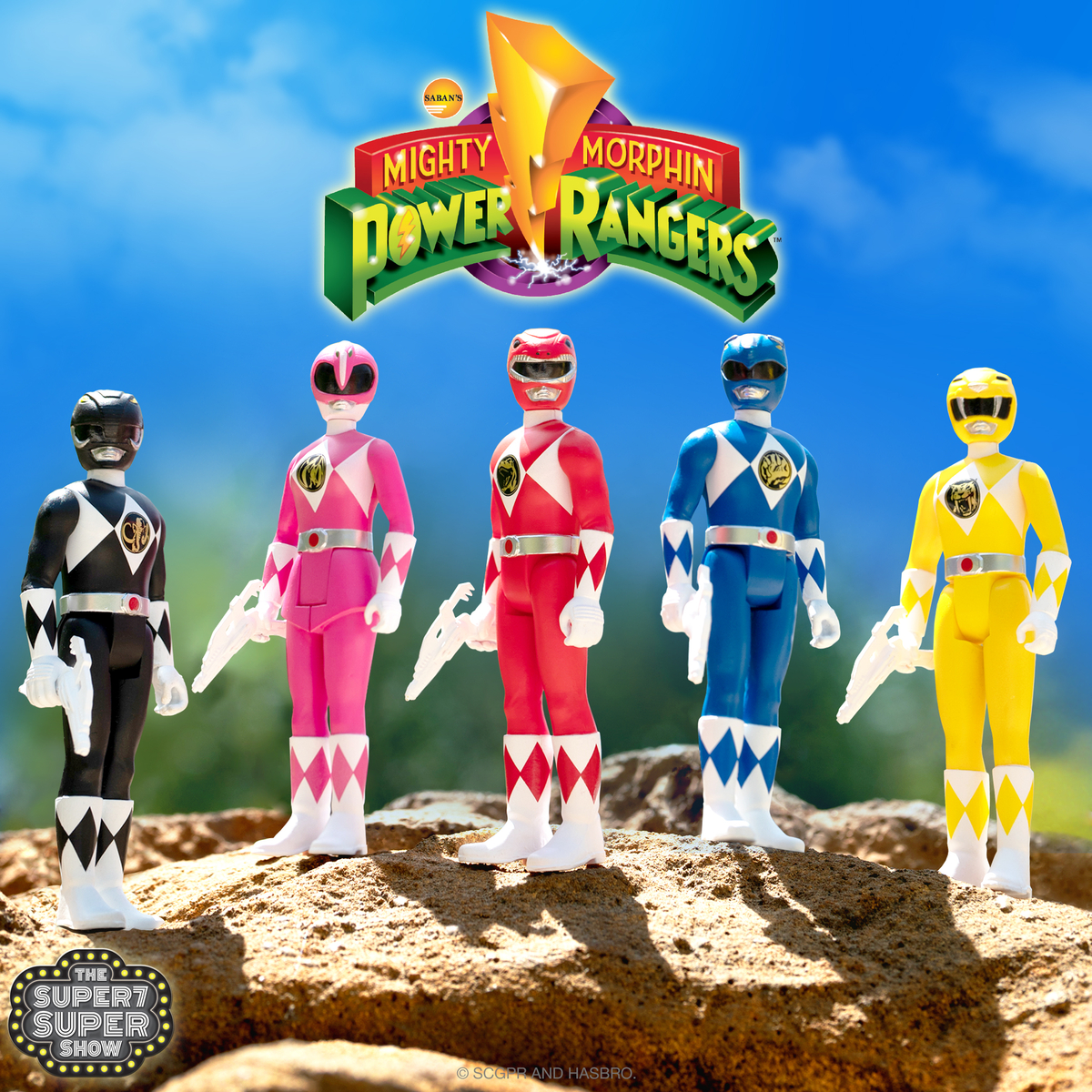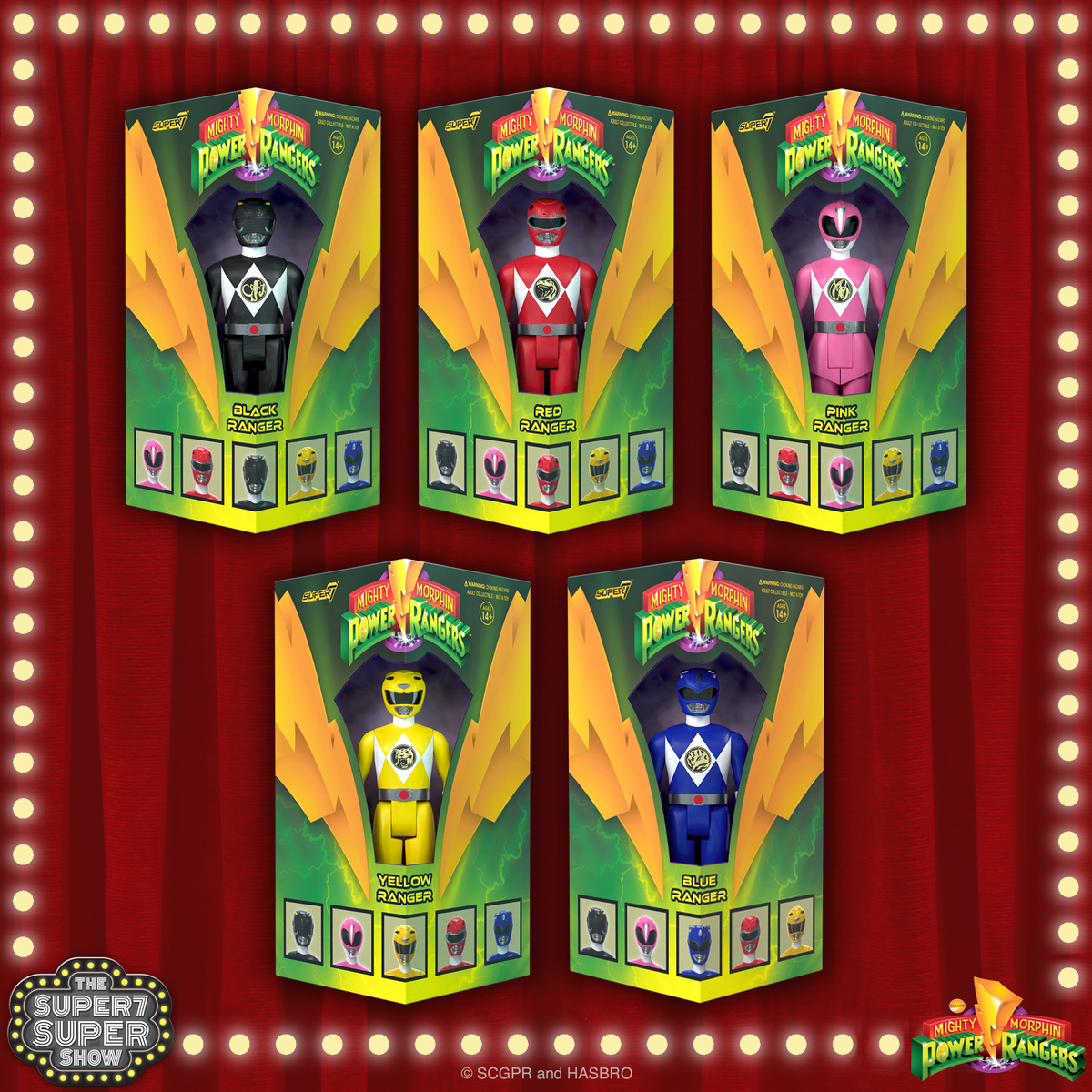 Next up, Super7 are going "mighty" with a Mighty Morphin' Power Rangers ULTIMATES! Dragonzord in Black & Gold. It's a whopping 9″ tall, and will be available at Booth #2543.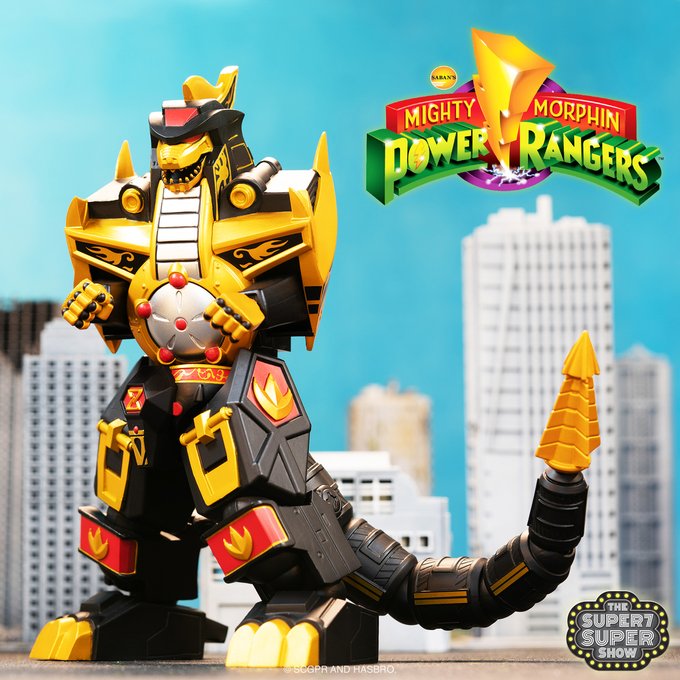 Would you like some Teenage Mutant Ninja Turtles Shredder to go with that? Super7 is bringing you a Shredder ReAction figure, sinpired by the vintage Shredder-in-a-Can mail promotion.
[UPDATE July 6]
The only thing scarier than King Kong is Wing Kong. Get this 3.75″ ReAction Figure of Tiger Wing Kong at Booth #2543.
We think the opposite of "Put on a happy face" is probably "Put on your Super7 Smog Monster Hedorah Mask", but this officially licensed Super7 Toho retro mask is pretty sick. Pick it up at Booth #2543.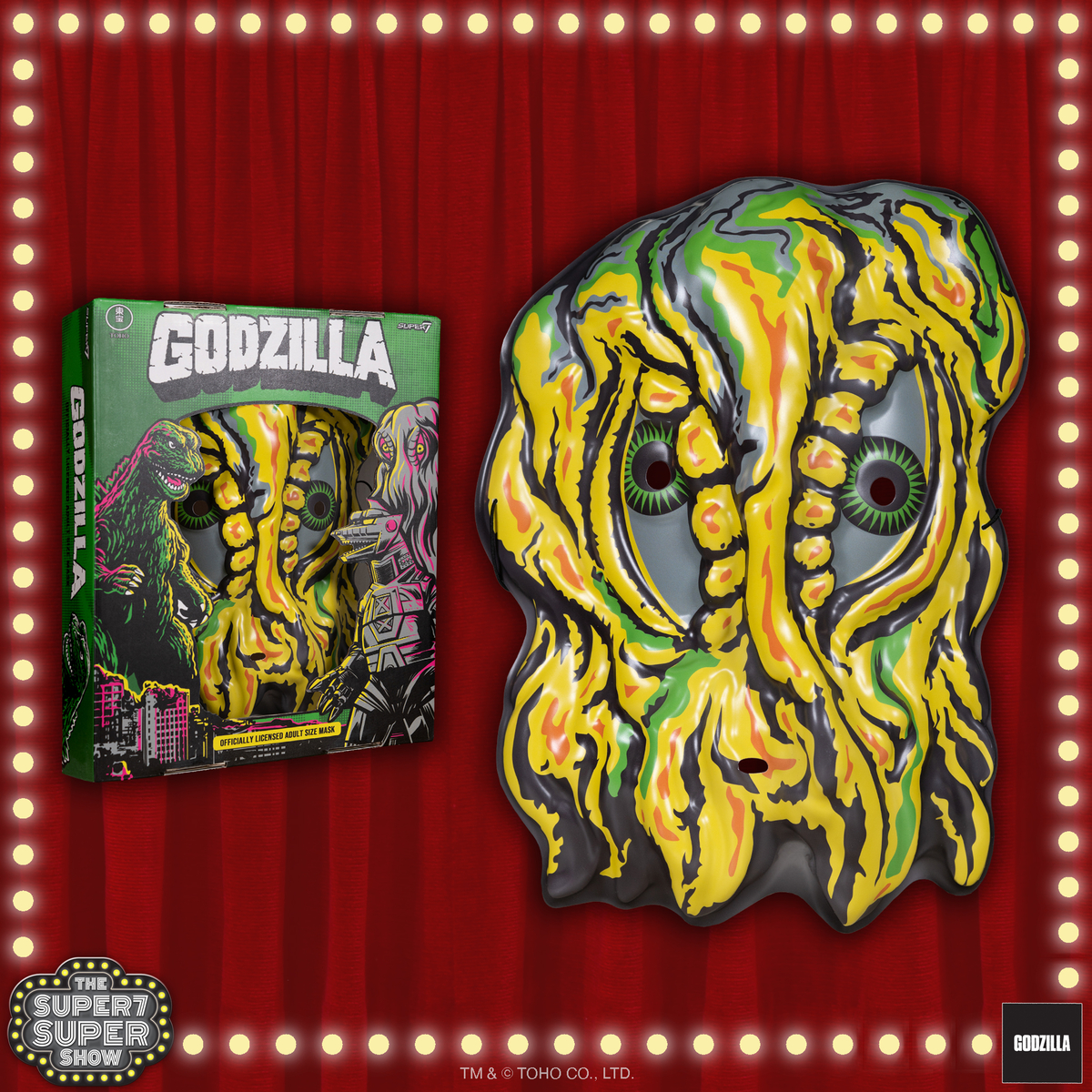 Is this a match made in heaven, or hell? Why, made in Tokyo, of course! Toho Godzilla ReAction Figures of King Ghidorah and Hedorah can light up the night. Each ReAction figure glows in the dark. Available at Super 7, booth #2543. 
This Godzilla is out for revenge in a new Toho Thirsty for Blood Godzilla tee, inspired by the cover art from the first issue of Godzilla, King of the Monsters! Pick it up at Booth #2543.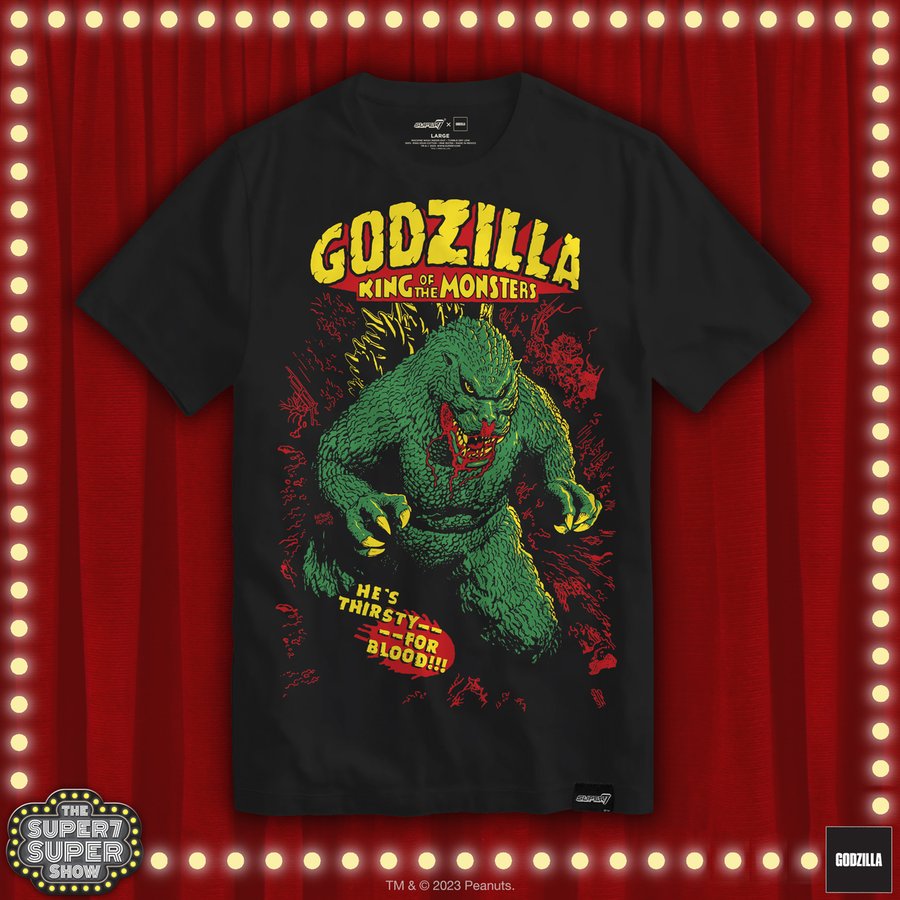 The King of the Monsters is rising from the ocean at San Diego Comic-Con this year in this new 3.75″ scale ReAction Kaiju Godzilla. It's articulated and will be available at Booth #2543.
This Rodan from Super7's Shogun Figures series is flying into San Diego Comic-Con this year. It features giant 7.5″ "flying" wings that move, as well as articulated legs, and the mouth opens to reveal sharp teeth.
No word yet on pricing.
There will also be a Toho Rohan shirt, with no word yet on pricing.