Historically, the few days between the weekend before July 4 through the actual holiday are a very quiet, slow period for San Diego Comic-Con news — but no one appears to have gotten that memo in 2023, as the news has been coming in hot and heavy. Today, we've got a jam-packed edition of Under the Tents for you, mostly focused on artists, with updates from Brandon Kenney, Monkey Minion, some bat-sized art from Art by Nan, original pieces from Jeff Pina, and Chris Uminga's take on one of DC's most beloved characters… plus more!
Here's a look at the news you might have missed:
Artist Jeff Pina has been creating tons of original art for you, including sketch covers, for everything from Teenage Mutant Ninja Turtles to Star Wars and beyond. Come claim your favorite at Small Press #Q-06, and pick up some graphic novels and comics while you're at it.
Printing out some new art. Full reveal soon! Discord members have already seen it, btw – in case you needed another reason to check out our server. 😉 #skylab #sdcc pic.twitter.com/uVPTAFel7Q

— dane /@monkeyminion.bsky.social (@monkeyminion) July 2, 2023
Fanbase Press President Bryand Dillion revealed that attendees will be able to to stop by Small Press #O-03 to pick up Fearworms, then visit cover artist Bill Sienkiewicz at Booth #2614 to get it signed.
Pick up a copy of @Fearworms from the @Fanbase_Press booth in small press, then visit #BillSienkiewicz so he can sign the amazing cover art he created for the book (plus, you can purchase some unbelievable stellar art while you're there)! #FanbasePress #Fearworms #Horror #Poetry https://t.co/4cvaNCFth1 pic.twitter.com/DoWuTy9ruZ

— Bryant Dillon (@ComicBookSlayer) July 2, 2023
Blessed be the ogre. Rockman Art showed off a new print featuring Shrek and his onion as you have never seen them before. You can pay your respects at Artists Alley #EE-08.
🧅🙏Hallowed be thy onion…🙏🧅

(Prints available at Anime Expo and San Diego Comic Con, and later this year on my store!) pic.twitter.com/Y2NIuZeBEz

— RockmanQQ | AX AA Table H38 (@RockmanQQ) July 2, 2023
You know your ABC's, but do you know your B-Movies? Artist Matt Hebb has a delightful ABC book featuring scenes from 26 B-movies, which will be available at San Diego Comic-Con in hard cover as a SDCC exclusive, as well as regular paperback release later. Stop by Artists Alley #EE-23 to find your own. Alan Bagh, star of Birdemic, will even be on hand to sign copies.
 

 

View this post on Instagram

 
Are you in SoCal a few days before the con? You can get the party started early with Top Cow, who will be hosting creators Stjepan Šejić (Sunstone, Fine Print) and Linda Šejić (Blood Stain, Punderworld) for their first U.S. appearance in over six years with signings on:

Saturday, July 15 1pm-3pm – Collector's Paradise Pasadena (319 S Arroyo Pkwy #4, Pasadena)
Sunday, July 16 1pm-3pm – 4 Color Fantasties (8045 Archibald Ave $120, Rancho Cucamonga)
 

 

View this post on Instagram

 
At this point, it's really not even in question if there's a Babylon 5 panel, even though it hasn't been "officially" announced. But creator J. Michael Straczynski basically confirmed as well on his own Twitter, when answering a question about if a hypothetical panel would be live streamed. Hint: It probably won't, you'll have to catch the panel live.
No, but in general SDCC doesn't do this. https://t.co/iaDJOwBQlU

— J. Michael Straczynski (@straczynski) July 1, 2023
Listen up, Agents of S.H.I.E.L.D. Writer Eric Palicki's new Agents of S.H.I.E.L.D. book will be dropping, though we'll have to stay tuned for more details.
Five (!!) years ago, Larry Young, a comics creator I idolized as a lad for his DIY ethos and his own series Astronauts in Trouble, asked me to pen the intro for his collection of essays on Marvel's AGENTS OF S.H.I.E.L.D.

This year at SDCC, the book will release. pic.twitter.com/Lr55HYAAaB

— Eric Palicki 🐺🌕 (@ericpalicki) July 2, 2023
No Latency, a podcast radio play, revealed that they will have a panel at San Diego Comic-Con this month.
Oh yeah. We have a panel at comic con San Diego 2023.

Who wants to see us play #cyberpunkred in person? https://t.co/va5N7WVLF8

— No Latency (@nolatencypod) July 3, 2023
You're dead, you're dead, you're dead… You're dead and heading to San Diego Comic-Con. Nan Hockin showed off some original pieces for the battiest bunch of roommates from What We Do In the Shadows, which will be available at Booth #F-11 in Artists Alley.
Limited prints of these 4 at SDCC! Are you a big Shadows fan like me? I love this show and it's back on soon! My favorite character has to be Guillermo. Did the trailer show him becoming a vampire and not having any powers? 😆 #sdcc #sdcc2023 #whatwesointheshadows pic.twitter.com/SI2xIaHdOf

— ArtByNan (@nanhockin) July 3, 2023
We don't think these new San Diego Comic-Con acrylic pins from artist Brandon Kenney should leave. The artist teased three exclusive pins, which will be available at #BB-14 in Artists Alley.
I'm very excited to be exhibiting at this year's San Diego Comic Con! I'm offering these acrylic pins as an exclusive for the show I'll be at table BB-14 in Artists' Alley! @SD_Comic_Con #SDCC #ITYSL pic.twitter.com/QP4vQKxG2o

— Brandon Kenney (@BrandonsBrain) July 3, 2023
Harley's all dressed up and ready for SDCC (and some mayhem) in a new piece from Chris Uminga, which will be available at #BB-18 in Artists Alley.
New Harley Quinn for SDCC. #harleyquinn #art @SD_Comic_Con pic.twitter.com/06MNKKM6NU

— Chris Uminga SDCC BB-18 (@Uminga720) July 3, 2023
While he won't be officially exhibiting, artist Tony Parker will be wandering around San Diego Comic-Con, and you can order a limited number of pre-show commissions from him now.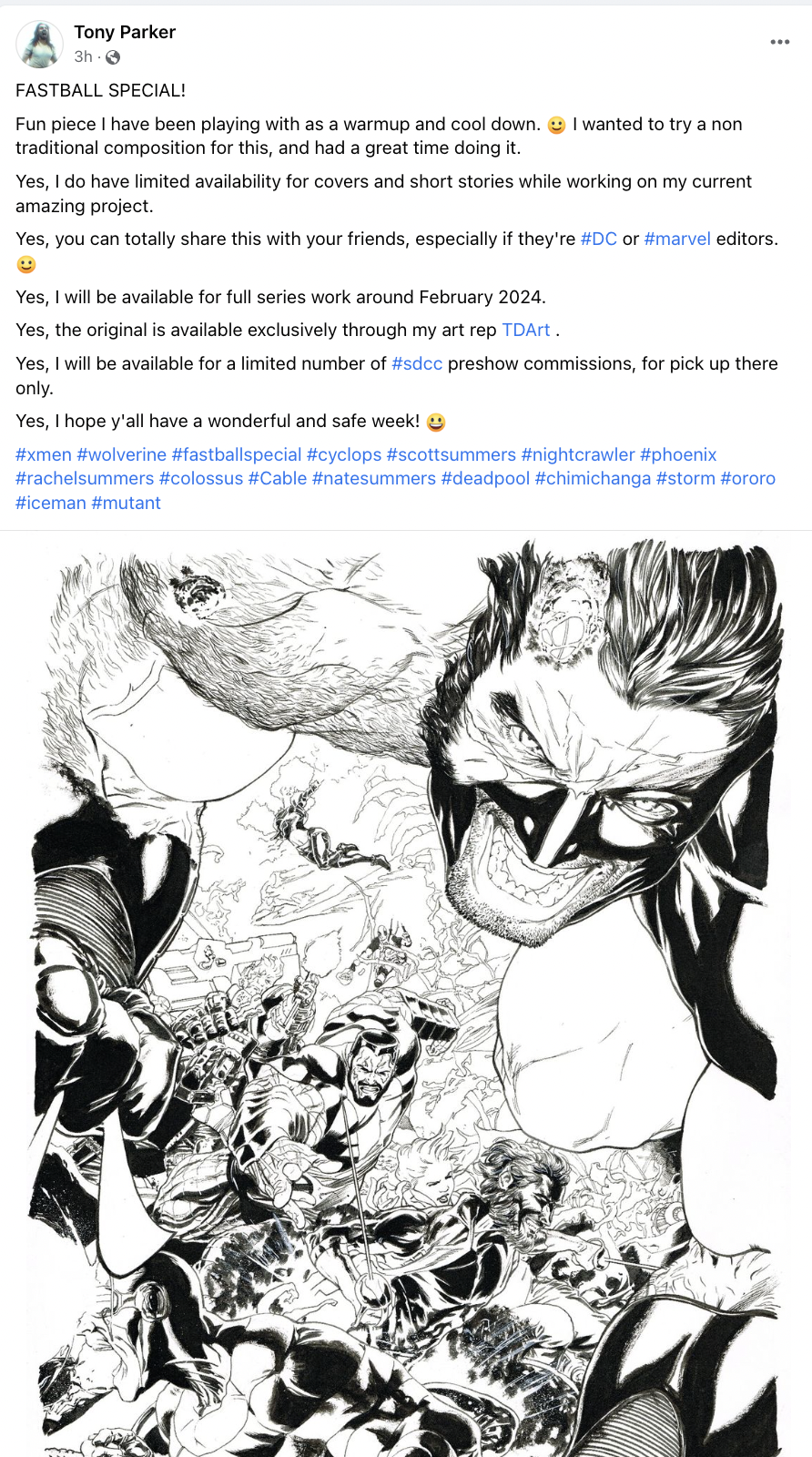 It's never a real edition of "Under the Tents" without at least some crochet creations, and Morgan Slay has two for you — a Spider-Hat, and a Dionysus. Make sure you're following along with them on social for your chance to find it during the con.
I'm on a roll this year! Here's my Dionysus critter and my Spider-Hat from #ATSV. Find me at #SDCC2023 in my Dionysus or Spider-Punk cosplay and take one home with you! More to come! #critterdrop #sdcc pic.twitter.com/UOfAyGGB2I

— Morgan ''No Cops in Schools'' le Slay 🚩🏴 (@morgan_slay) July 3, 2023
Something cute this way comes!
Look out for MetaZoo's newest collaboration with @HelloKitty and Friends.
Follow along with some of the entirely too cute new friends our Beasties will be making!
Come see what all the adorable fun will be at San Diego Comic Con 2023!@Sanrio pic.twitter.com/cfqO4QZumY

— MetaZoo Games (@MetaZooGames) July 3, 2023
Every year, San Diego Comic-Con is also home to the Independent Film Festival at Comic-Con International — and this year's iteration will see 56 films across genres, screening at the Marrioss Marquis Grand Ballroom 6. You can find the complete schedule of programming and screenings on CCI's site.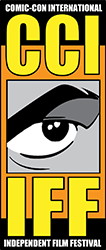 Anything we missed? Let us know by dropping us a line, or tweet us at @SD_Comic_Con.
If you missed our previous Under the Tents 2023 posts, you can find them HERE.