All around the country and coast to coast / People always say, "What do you like most?" / Now I don't wanna brag, I don't wanna boast / I always tell 'em I like toast.
YEAH, TOAST! Did you know there's an entire song dedicated to toast? Oh, yeah, and we have San Diego Comic-Con 2023 news for you, too.
Here's a look at what you might have missed:
📍 Thu, July 20th at 10:30AM and 3PM
📍 Fri, July 21st at 10:30AM and 3PM
📌 Fri, July 21st at 5:30PM @ War Machine Booth #1415 for a very special gift
📍 Sat, July 22nd at 10AM and 3PM
📌 Sat, July 22nd at 5PM @ Room 4, Cristina will be hosting the panel "The Art Of Board Games"

— Lacuna Coil (@lacuna_coil) July 14, 2023
💥New Exclusive💥
For San Diego Comic-Con, our Star Trek Tech Jacket is back but now in all three division colors and with customizable patches!#StarTrek #SDCC pic.twitter.com/cjtKf5tW7B

— Hero Within @ SDCC 1943 (@HeroWithinInc) July 14, 2023
Here's where you can find me next week at SDCC! pic.twitter.com/5f65zraXNM

— George Mann (@George_Mann) July 14, 2023
Another sketch! Available at booth 4901 at San Diego comic con! pic.twitter.com/5LwEu02t8T

— Ryan "vanish boy" $tegman (@RyanStegman) July 14, 2023
❗️Gear up for the thrilling updates of our first event at SDCC ‼️ Dress up for a chance to win THE GRAND PRIZE at Scissor Seven Assassins Cosplay Contest! Time to show off your incredible Scissor Seven costumes! More details will be provided soon✂️#ScissorSeven #SDCC2023 pic.twitter.com/ei8MG1eTJW

— Scissor Seven (@SevenScissor) July 14, 2023
 

 

View this post on Instagram

 
Mutant 5-pack.

Available for sale at my table,
Artist Alley GG-17.#SDCC. pic.twitter.com/FuYzetoUDQ

— JOSH Cassara (@joshuacassara) July 14, 2023
🗣️ A0KI FAM!!! Dim Mak x Dragon Ball Super pre-release is NOW LIVE 🎉

The exclusive pre-release window is open Friday – Sunday only, before the collection drops at San Diego Comic Con!

What're you waiting for!? Unlock your Season 2 merch discount code & get your pieces TODAY👇 pic.twitter.com/7rJKfKG0qR

— A0K1VERSE (@a0k1verse) July 14, 2023
Hello, Mischief & Malice fam! We are going to be at SDCC this year, and we have some goodies to hand out. Check out this Maestro of Malice promo card, which is exclusive to SDCC 2023 and limited to 1000pcs.

Keep an eye on our socials to learn more about how to claim this promo! pic.twitter.com/5HMznD0QxD

— Mischief & Malice TCG (@MischiefMalice_) July 14, 2023
The @Mattel #WWEEliteSquad brings WWE action figure reveals and WWE Superstar guests to San Diego Comic-Con! @notsam and @JohnnyGargano host this year's panel featuring @WWERollins, Mick Foley and more!

Join us on July 20th in Room 6A at 11:15am PST for the WWE #SDCC panel! #ad pic.twitter.com/0rzD6xJZUh

— WWE (@WWE) July 14, 2023
Canto figures are coming to SDCC!

These are blind boxes with 7 variants & different hit rates. Limited to 1000. Available in person at the SDCC Whatnot Hero House. @Drew_Zucker & I will also be dropping them on our @Whatnot streams.

Follow along here: https://t.co/Wr4Ao7jMN5 pic.twitter.com/1kNEcAUF5G

— David M. Booher (@davidbooher) July 14, 2023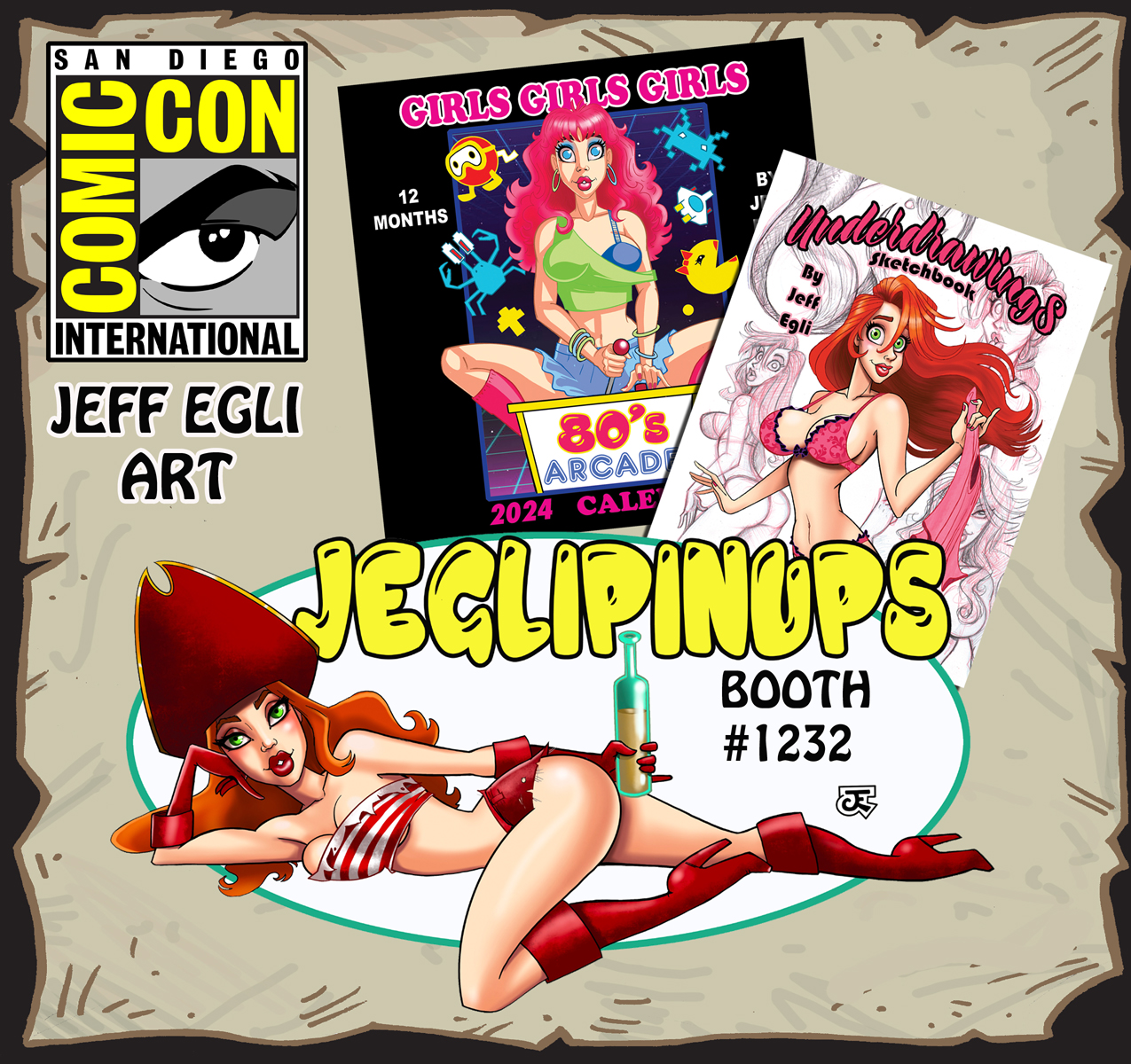 1 in 3 wins. New Atom Eve and Darkwing Duck variants! I'll post pics as we open them at the con! You gotta see what we're giving away. Going to be an amazing year at sdcc! See you at booth 4901 NEXT WEEK! pic.twitter.com/EAK1nqUTQJ

— RYAN OTTLEY (@RyanOttley) July 14, 2023
New 2023 Sketchbook is here! 52 pages packed with art, rough sketches, prelims, before-and-afters! This will be debuting at SDCC next weekend, and then will be available online shortly after. So glad to finally have a new art book for the year! #sketchbook #artbook pic.twitter.com/uffEWzajAd

— chrissie zullo uminga (@Chrissie_Zullo) July 14, 2023
Got some serious opinions about breakfast breads? Let us know by dropping us a line, or tweet us at @SD_Comic_Con.
If you missed our previous Under the Tents 2023 posts, you can find them HERE.