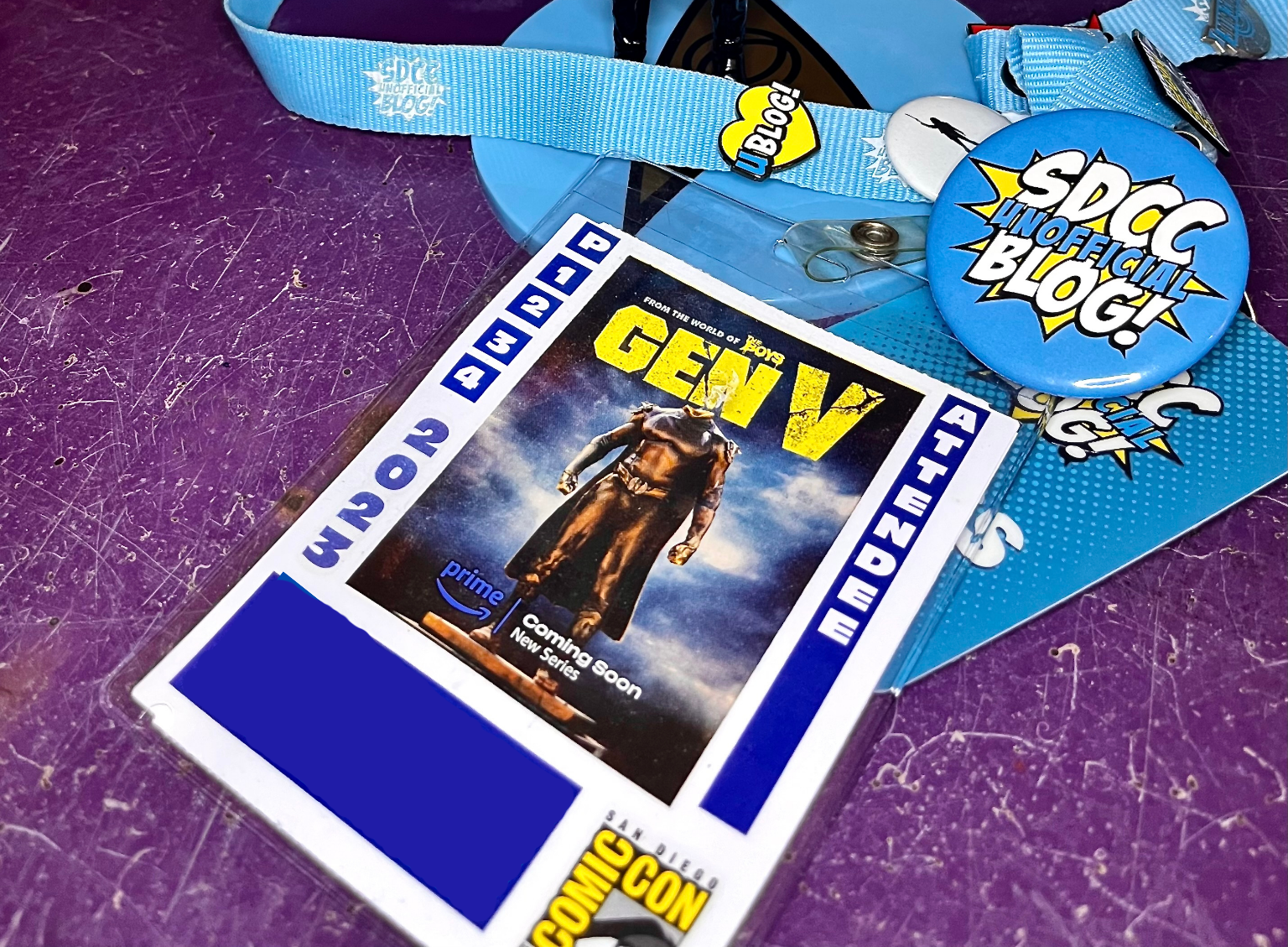 Are you fully recovered from Returning Registration? Well, ready or not… Here we go again.
CCI just confirmed that Open Registration for San Diego Comic-Con 2024 will take place on Saturday, November 18.
Yes, for those looking to score San Diego Comic-Con 2024 badges, November 18 will be your (mostly) final chance to score entry into the convention (just remember that there's always various contests afterwards, and the Comic-Con Museum also frequently runs a seemingly infinite number of eBay auctions closer to the convention).
For those who participated in Returning Registration, the process is virtually the same. For those who weren't eligible for that sale, things may look a little different than you remember.
Beginning at 8AM PT, eligible attendees will be able to login to their Member ID to be taken to a QueueIt waiting room. Gone are the "codes" we used to enter, and there are no links, per-say. This sale is open to anyone who did not purchase a full four day badge with Preview Night in Returning Registration (any other combination, including four day WITHOUT Preview Night, will be eligible). Unlike in previous years, it appears that you can still make a Member ID now and be eligible.
You will have until 9AM PT to enter the waiting room. At 9AM, QueueIt will randomize everyone and begin letting folks through to purchase. For those who had previously purchased a Four-Day badge without Preview Night, you'll be able to add Preview Night on as a stand-alone option for $55 (and if you purchased any other combination of single day badges, so long as you didn't purchase Preview Night, you can also pick up extra days). Confused about your eligibility? Simply login to your Member ID and look for the checkmark for "Comic-Con 2024 Open Registration".
Here's a look at the prices for badges this year, with a full four day with Preview Night badge running $350. Each member's badge purchase will also incur an additional $15 handling fee: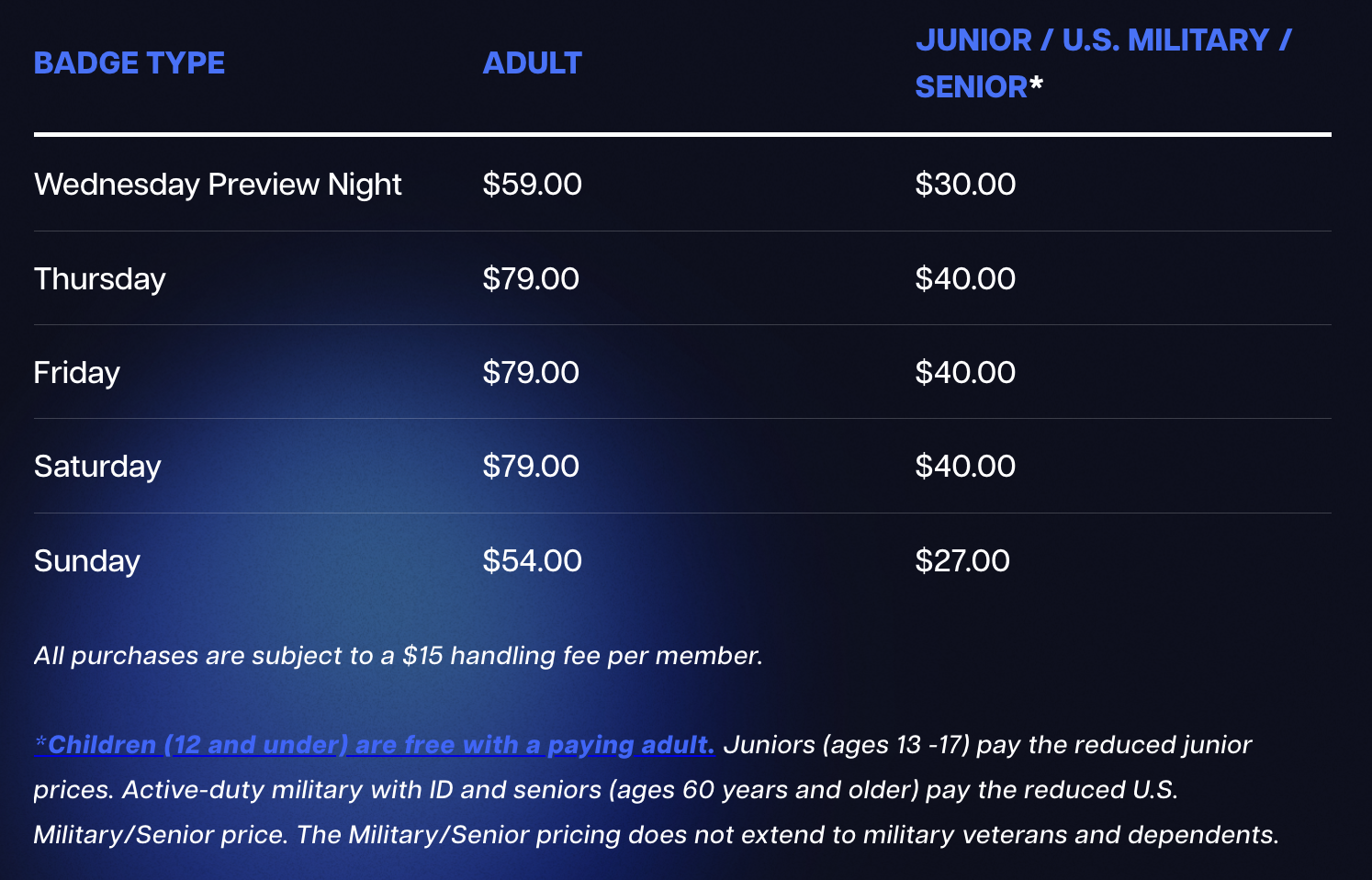 Once you're into the system, you'll be able to purchase badges for up to three eligible Member IDs, including yourself.
As always, this sale does not guarantee that those who are eligible to participate walk away with a badge. For years now, the demand by those wanting to attend the pop culture behemoth has far outweighed the actual number of badges available. CCI is always hesitant to relay actual numbers, but we roughly estimate that there are around 55,000 badges up for grabs in Open Registration — which would put your odds of scoring one somewhere around 6% if 900,000 people are trying (a number from 2015, so that statistic is likely a bit out of date).
However, don't let this deter you — thousands of attendees walk away with a golden ticket — er, badge — every year in this sale. Nothing is over yet.
Returning Registration this year was met with a few errors and glitches, and we'll cover solutions to many of them in our coming Visual Guide, which will be up shortly.
The San Diego Comic-Con Unofficial Blog will be hosting a live SDConCast during the sale beginning at 8:30AM PT on November 18, as well as sharing any glitches or issues that crop up during the sale on Twitter.
Will you be trying for a badge next weekend? Let us know in the comments.