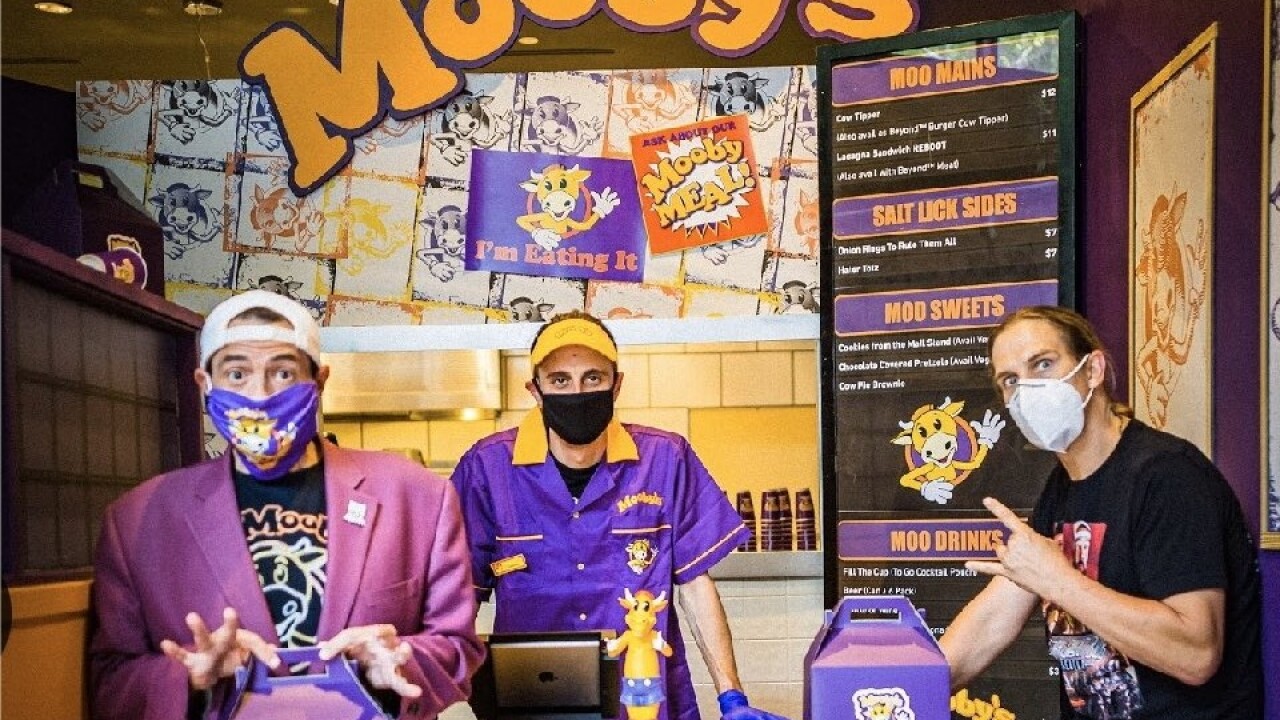 Mooby's Pop-Up
Everyone knows that the best San Diego Comic-Con offsites involve food, and this is a big one.
Mooby's, the fictional restaurant from the world and films of Kevin Smith, will be bringing its popular Pop-Up to San Diego Comic-Con this summer to the Tin Roof (401 G St). The pop-up, which has already taken over several other cities, typically offers menu items (both non-vegan and vegan options) from his mythical fast-food franchise, and features theming to mimic the film version of the restaurant.
[UPDATE]
The event is open daily Thursday, July 21 – Sunday, July 24, and you can book your timeslot now for $30. Each ticket includes a Mooby's Meal with your selections of a Moo Main + Salt Lick Side (vegan and non vegan options available).
Mooby's Soda, Mooby's Chronic Con Beer, additional salt lick side items, yummy desserts, and new merchandise will also be available for purchase at the pop-up.
You can purchase up to four tickets. Walk-ins will also be available at the con.
[PREVIOUS]
The Tin Roof will serve as the hub for all things Smith all week long, according to a recent episode of Fatman Beyond, with the plan being to also have live streaming shows. The venue will have seating for a 150-200 person audience, and Smith mentioned they hoped to do live shows of his popular podcasts Hollywood Babble-On, Fatman Beyond, and Jay and Silent Bob Get Old.
"We'll do them there at the space so people can eat Mooby's, get their drink on, and watch the shows. Gonna be a good time. I'm really looking forward to it," Smith said in the podcast.