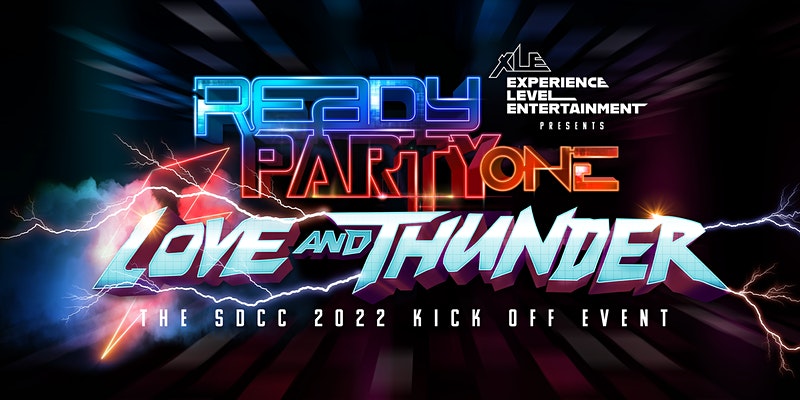 Ready Party One: Love and Thunder, SDCC Kick Off Party!
Experience Level Entertainment (XLE) are kicking off the con with a Ready Party One: Love and Thunder party on Wednesday, July 20 at 8pm at Parq Nightclub.
The evening will include the flashback band The Flux Capacitors, DJs, live performances, and more. [UPDATE #2] They said it couldn't (should't?) be done…but they are doing it anyway. the Love and Thunder SDCC Kick Off Party will now feature goats…live goats, for some heroic photo ops. Additionally, fans will find airbrush tattoos from 9pm-12am.
General tickets are available for $45, or you can get an Early Bird ticket for $35 (either the first 200 or by June 30, whichever comes first). There is also a VIP option available with perks like dedicated entry, VIP-only photo op, a Popminded by Hallmark gift bag, a light up VIP badge, exclusive VIP areas, and more, for $100 (Early Bird VIP is sold out).
Want a guaranteed table? You'll want one of the VIP table options for $275, but note that there is also a 1 bottle minimum when you arrive for this option.
ReelwUrld, the first social film studio, is giving out a $10,000 development and production deal during San Diego Comic-Con week at XLE's special events. You could star as an original character that you create in your own origin story episode within our first show produced with a community, Justice For Hire. Come to the party dressed in an original hero design with a backstory to enter.
Performing with The Flux Capacitors will be special guests Danny Cooksey (Salute Your Shorts), Bonnie Gordon (Star Trek: Prodigy), Gigi Edgley (Farscape), and Jason Paige (Pokémon theme song).