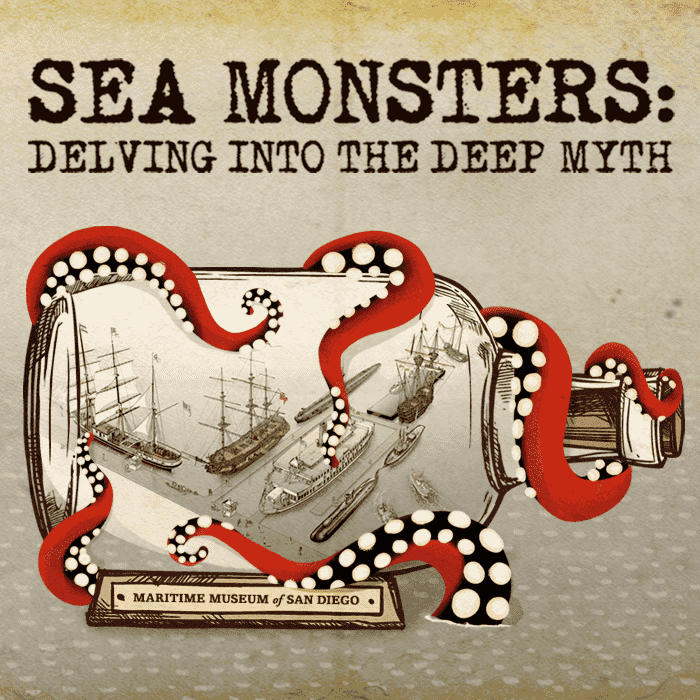 Sea Monsters: Delving into the Deep Myth
The Maritime Museum of San Diego's educational, entertaining and interactive exhibit returns, staged aboard the world's oldest active sailing ship Star of India.
Sea Monsters: Delving into the Deep Myth is an exhibit complete with dramatic Kraken-inspired tentacles climbing across the yards and rigging of the legendary Star of India, will take visitors on an imaginary journey at the end of the 19th Century, when a fictional, dynamic, daring, and somewhat eccentric world-exploring naturalist chartered the Star of India for an expedition with the task of investigating the existence of Sea Monsters in various parts of the globe.
Exhibit entrance is free with purchase of museum general admission tickets for $20 ($10 for children 3 to 12).
Wandering the deep hold of the Star, specimens both real and reconstructed will engage visitors with trying to understand and explain an aspect of human interaction with the unknown and the ongoing quest for monsters of the deep. Visitors will explore evidence and a series of cultural projections that express humanity's innermost fears, our search for truth, and the thrill of discovery that ultimately bring Sea Monsters to life for everyone…both real or imagined including skeletal marine reptile replicas, marine biological specimens, historic zoological hands-on immersive activities within the MMSD's unique venue, the nineteenth century Star of India.
A Sea Monster "crime scene" board will identify the various sea monster sightings around the globe and provide visitors with a global view of cultural legends and primary documents of their impact on those communities through newspaper clippings, stories and first-hand accounts. A special exhibit show will also illuminate cultural images of sea monsters seen through the lens of the late 19th century.