Last year's Offsite Events list was a huge success and my goal for 2011 is to make one that's even bigger and better. As before, the list starts out with only a handful of events and will grow in size until the Con begins. I will add events from the top down so check back often to see what new stuff is at the top of the page. Very important to note is that, unless specifically noted, none of these events require an SDCC badge to attend. So feel free to go to them even if you won't be at the con.
UPDATE: You can now hover over the link at the top of the page and the "Ordered by Time View" will pop up. Click it to see all the events ordered by their start times and dates.
Remember, if you hear of an Offsite Event that's not on the list, email it to sdcomiccon.blog@gmail.com and I will be sure to credit you when I add it.
Movies On Demand "MOD Lounge" – Throughout the conference, the lounge at the Hard Rock Hotel will be a place for movie fans to stop by and learn more about what's coming up on MOD, enjoy movie-themed giveaways and "green screen" themselves into a movie scene.  The MOD Lounge will also be home base for the launch of @moviesondemand on Twitter and for updates about MOD during Comic-Con and beyond on Facebook.
Film District at the Hard Rock Hotel – Stop by the Hard Rock Hotel's Bar 207 on Thursday, July 21 from 9-11:30pm to meet Guillermo del Toro and Troy Nixey. Tweeted from the @FilmDistrict official Twitter account.
Face Off Viewer's Choice – Join Face Off's McKenzie Westmore and Glenn Hetrick at the Soleil @k Restaurant on Saturday, July 23 as three contenders compete in a live challenge to secure a spot on season 2 of the hit series. Watch the process in action, see the before and afters, and vote for your favorite makeup artists' design. Makeup application runs from 10am – 2pm, and the Lounge and voting opens from 4:30pm – 8pm. Check out the Syfy Comic-Con site for more information.
Syfy Cafe Diém – Syfy's Eureka-inspired hotspot is back in action, dishing out a breakfast, lunch and dinner menu named after Syfy's popular programming. Open throughout the con at 207 5th Avenue. Download the PDF menu here.
Comic Vine SDCC Meet-Up – Join the Comic Vine team on 8-9pm on Friday, July 22 at Sloppy Joey's (548 5th Ave in San Diego) to talk comics and have food and drink. Check the Comic Vine page for more information, and follow @Riezner on Twitter where they'll be updating everyone if something changes.
Centre City Slam II – 11 big matches capped off with the first ever Mach-1 Melee match! One man from each team starts; alternate members enter the fray every two minutes. Single elimination, and NO DISQUALIFICATION!! It all goes down Saturday night, July 23rd at 9pm from the Downtown YMCA on 500 W Broadway. Tickets are $15 for adults, $10 for children under 12 and students with ID. Process go to benefit the Downtown YMCA. Check the Mach One Wrestling Facebook page for more info.
Comic Concert: A Night Of Geek Rock – ComicsOnline and The Stage are pleased to announce The Third Annual San Diego Comic-Concert: A Night of Geek Rock on Thursday, July 21st. This special event features performances by San Diego's own geek comedy band Random Gibberish, and Seattle's geek rock specialists Kirby Krackle. The celebrity MC will be Jon St. John (the voice of Duke Nukem). This event will be held at The Stage in Downtown San Diego – 762 5th Avenue (only 6 blocks from the San Diego Convention Center) from 8pm-12am. Ticket prices are $15 for General Admission. Check out the event's site for more information and to purchase tickets. (21+)
Endless Summer Party Comic Con Edition – In conjunction with Gamercon at the 10th Avenue Theater in Downtown San Diego, celebrate the 4 Year Anniversary of afterschoolspecial, and My NInja's new Summer Collection on Friday, July 22 at 8:00pm – July 23 2:00am at the 10th Avenue Theatre Rooftop. With Special Performances and Guests including  afterschoolspecial, Kero One (Plug Label), IAMMEDIC, Peter Rocks. First 100 in the door get a special gift bag with goodies courtesy of the artists, MY NINJA!, KoreAm Magazine, and much more. Check the Facebook event page for more details. (18+, 21+to drink)
NBC at the Tin Fish Restaurant – NBC will make a big splash by taking over a large portion of San Diego's Tin Fish restaurant (170 Sixth Avenue), located across the street from the Comic-Con site at the San Diego Convention Center. The space will be transformed into a series of themed experiences, allowing guests to enjoy a glimpse of the NBC's new series.On Thursday, July 21, Tin Fish will channel the glamour and style of NBC's new drama "The Playboy Club"; Friday, July 22, Tin Fish will take on the eerie, atmospheric look of the network's new drama "Grimm"; and Saturday, July 23, NBC will showcase new and favorite NBC comedies. Check out NBC's Comic-Con page for additional details.
iFanboy/Graphicly SDCC Happy Hour – After you hit the con on Friday, July 22 stop by the beautiful roofdeck at the Andaz Hotel from 6-9pm for a drink, a bite to eat and a chance to see Josh, Conor and Ron from iFanboy as well as other members of the iFanbase. No RSVP required – Open to Everyone! Check the Facebook event page for details.
Pop Candy's 2011 Comic-Con Meetup – Join Pop Candy's Whitney Matheson at the scenic Wine Steals at 793 and 795 J Street adjacent PETCO Park for an evening of fun and free goodie bags. The meetup starts goes from 5:30pm – 8pm on Saturday, July 23. Read the Pop Candy blog post for info on the meetup.
Hammer Improv – Hammer Don't Hurt'em will be at San Diego Comic-Con 2011 and performing on preview night, Wednesday, July 20. Los Angeles based Hammer Improv, AKA Hammer Don't Hurt 'Em, serves up long and short-form improv comedy from the nerdy, oft-irreverent, creative minds behind much of the current buzzed about content on the web: The Guild, Legend of Neil, Diggnation, and The Jeff Lewis 5-minute Comedy Hour. The talented cast creates a high energy, totally improvised journey through the unexpected. Hammer is: Felicia Day, Alex Albrecht, Sandeep Parikh, Tony Janning, Jeff Lewis, Tara Perry, Eddie Repanich, and Brooke Seguin.  See the 4th & B site for tickets.
South Park Ultimate Fan Experience – Come visit this office event located at 405 2nd Avenue (at 1st Street and J Avenue) and experience several fan-related activities including a cafeteria with Cheesy Poofs and snow cones, the Art of South Park, karaoke and trivia and more. The event opens Thursday, July 21 at 1PM, and Friday and Saturday at 10AM.
Xbox Lounge at the Hard Rock Hotel – Gamers looking for the hottest action off the show floor can get early hands-on experiences with an array of the hottest upcoming titles for Xbox 360, Xbox LIVE Arcade and Games for Windows, including "Kinect Sports: Season Two," "Dance Central 2," "The Elder Scrolls V: Skyrim," "Batman: Arkham City," "Rise of Nightmares," "The Gunstringer," "Age of Empires" and more. Held in the Edge Room on Saturday from 9am to 7pm and Sunday from 9am to 5pm. Check out Major Nelson's site for more information.
Comic-Con Tweet Up 2011 – This year, Xbox's Major Nelson (Larry Hryb) is teaming up with Zachary Levi (NBC's 'Chuck') and his NERD HQ to kick off the show in a big way. Come meet fellow gaming and comic book nerds at NERD HQ. Major Nelson be there along with Zach and Stephen Toulouse from the Xbox Enforcement team. Plus, immediately after the event Nerd Quest will begin, which will probably be the biggest and craziest scavenger hunt you'll ever be a part of. Head to Jolt'N Joe's on 4th Ave on Thursday, July 21 from 10am -11:30am for the event.
Marvel Monstergeddon – True Believers attending this year's San Diego Comic-Con can stop by Culy Warehouse at 335 6th Avenue on Wednesday, July 20 through Sunday, July 24 for a five-day preview of what's to come in 2012, including an unveiling of one of the most exciting 10,000 pound Marvel heroes created for Marvel Monstergeddon! Check out the Facebook page for daily updates, including making-of videos and appearance times to meet the man himself, Stan Lee!
CNET Base Station – GameSpot will host a free 2-day interactive environment directly across the street from Comic-Con at Lou & Mickey's Restaurant, right at the Gaslamp Archway. Taking place on Thursday & Friday of Comic-Con (July 21 & 22) and open all day from 11am onwards, the CNET Base Station will act as a hub for Comic-Con attendees looking to take a break from the show, as well as anyone else who wants to stop by. Guests will be encouraged to "Power up, Play on, and Win big!" It's the place where anyone can get superhero treatment with gadget charging stations, food and drinks on the house, play hot new video games and win cool prizes like gaming consoles, tablets, iTunes and gamepoint cards, cameras and more. A local DJ will spin fun music while guests relax, mingle and recharge. To let them know you're coming, RSVP at the Eventbrite page.
Shark Night 3D Experience – Relativity Media invites Comic-Con attendees to experience the sheer terror of a shark attack before the September 2nd release of SHARK NIGHT 3D. The star of Shark Night 3D Experience at Petco Park is a hungry, man-eating, interactive mechanical shark available for photo ops with brave fans – with photo print-outs and uploads to Facebook and Twitter. Thursday, July 21st – Sunday July 24th, 9am – 5pm. More information can be found on the Facebook event page.
Alienware Mobile LAN Tour – Located at Petco Park at the D1/D2 parking lot at the corner of Harbor Drive and Park Blvd from July 21-24, 2011 during Comic-Con San Diego during exhibit hall hours. Be sure to stop by and check out Alienware H1 Hummer stocked with PCs for you to play demos of City of Heroes Freedom and Guild Wars 2. The LAN Tour will have additional activities for you to partake in also, and you could pick up some great giveaways! More information can be found here.
The Aquabats with Koo Koo Kanga Room – The greatest crime-fighting force ever assembled — MC Bat Commander, Crash McLarson, Jimmy the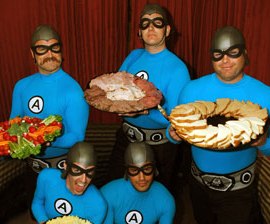 Robot, Ricky Fitness and Eagle Bones Falconhawk – will showcase their extraordinarily unique musical talents in a concert at the House of Blues on Saturday, July 23 at 7 p.m. PT, blending live-action comedy with animation segments sprinkled throughout in what promises to be a ridiculously fun concert for kids of all ages.  Tickets can be purchased in advance directly through the House of Blues. All Ages, but under-18 needs to be accompanied by an adult 25 years or older.
IGN – Sprint Experience – The Sprint Gaming Lounge, presented by IGN, provided exclusive looks at three upcoming Capcom games: Marvel vs. Capcom 3, Street Fighter x Tekken and Street Fighter III: Third Strike Online Edition. IGN, Sprint and Capcom fans can also play games on the HTC EVO 3D, experience the 3D Photobooth with characters from Marvel vs. Capcom 3 and get custom t-shirts, sunglasses and more. Open Thursday through Saturday, from 10 a.m. to 7 p.m. and Sunday from 11 a.m. to 5 p.m. at Martin Luther King Promenade Park in front of the Hilton San Diego Gaslamp Quarter on K Street.
IGN Oasis – The destination spot throughout the long weekend for Comic-Con attendees and IGN fans, the IGN Oasis, presented by AMD, is the perfect venue to chill out at, get limited edition t-shirts, create and share fun photos and videos, enter to win prizes, and meet special guests. Located across the street from the San Diego Convention Center at Hard Rock Hotel's 207 bar and outside patio, the IGN Oasis will be open Thursday through Saturday, from 10 a.m. to 5 p.m. at 207 Fifth Avenue.
Ghost World 10th Anniversary Screening – In conjunction with Reading Cinemas and Fantagraphics Books, the San Diego Film Critics Society will celebrate the 10th anniversary of Terry Zwigoff's 2001 film Ghost World with a 35 mm screening at 9 p.m., Saturday, July 23, at Reading Gaslamp Cinemas in downtown San Diego. The screening will take place during Comic-Con, the world's largest comic book and pop culture convention. Tickets for the event are only $5, and Comic-Con badges are not required. Tickets will be available when the box office opens on Saturday, July 23.
BOOM! Studios Annual Drink Up – BOOM! Studios invites all Comic-Con attendees to celebrate BOOM! Studios' 6th Year Anniversary with our annual Drink Up* taking place at the Hilton San Diego Bayfront Odysea Bar, Thursday July 21st from 9pm to ??? during Comic-Con International 2011 in San Diego, California. No RSVP or tickets required. No age requirements specified in the announcement, but since it's a bar we're thinking it's 21+.
SUBversive SD feat. Low Limit & Salva – The SUBversive SD event, presented by group of DJs called SUBversive from the Bay Area, will be held on Saturday, July 23, 2011 at 9:00 PM through Sunday, July 24, 2011 at 4:00 AM at the Onyx Room. The event, specifically catered to the heavy bass/electronic music crowd, features two HUGE Bay Area artists – Low Limit & Salva – to provide a night of unique/eclectic dance music in the Gaslamp District. Check the Facebook page for more info, and Eventbrite for tickets ($12-$14). (21+)
Attack The Block Screening – Sign up quick via GoFobo for this free screening on Thursday, July 21 10PM at the Reading Gaslamp cinemas to see the UK import taking the US by storm. From the producers of Shaun of the Dead and Hot Fuzz, ATTACK THE BLOCK follows a gang of tough inner-city kids who try to defend their turf against an invasion of savage alien creatures, turning a South London apartment complex into an extraterrestrial warzone.
Comic-Con Happy Hours – SignOn San Diego posted a wonderful list of all the happy hour specials at the various pubs and bars in and around the downtown/Gaslamp district. Check out the site for the exhaustive list of daily food and drink specials and plan your escape from the hustle and bustle of the convention center. (21+) [thanks @sdut!]
Recreator Midnight Screening – Saturday, July 23 – A group of teenagers stumble upon a secret lab and encounter superior clones of themselves in writer/director Gregory Orr's science-fiction thriller Recreator. Join the official launch at Comic-Con with a midnight screening on Saturday July 23 at Reading Cinemas Gaslamp. Visit the official Facebook fan page for more details.
Downtown Comic-Con Scavenger Hunt – Saturday, July 23 – Discover the hidden secrets of San Diego on a downtown scavenger hunt. Check out the scene surrounding Comic-Con and experience how Downtown comes alive during this fun weekend. Search the city's coolest rooftop lounges, hip hotels and scenic hot spots for a chance to win prizes like Best Costume, Best Creative Comic-Con Photo and more. A great bonding experience for co-workers, family members or friends! Tickets are $22 and can be purchased via Goldstar. [Thanks Xiomarasword!]
The Venture Brothers Blog Tweet Up – Saturday, July 23 – The Venture Bros. Blog will be hosting its second Venture Tweet Up at SDCC 2011. The Tweet Up will be held at the San Diego Marriott Marquis & Marina bar and lounge on Saturday, July 23nd at 6pm. Tickets are free. Check out the Eventbrite page to RSVP. [thanks Mark]
Can't Stop The Serenity – Wednesday, July 20 – Watch a special 8PM screening of Serenity at the Reading Stadium Gaslamp 15, put together by the California Browncoats, a non-profit organization dedicated to the promotion of the Firefly and Serenity fandom, cast and crew through charitable work. Tickets are available now through Fandango, and are $15. The charity supported by this screening is Equality Now. Check out the CA Browncoat's events page or their Facebook Event page for more info. (All Ages)
NCSoft Meet & Greet – Friday, July 22nd – At the Meet & Greet, ticket holders can meet fellow players of their favorite NCsoft games while chatting with City of Heroes Freedom and Guild Wars 2 developers and artists. Guests will be treated to refreshments and could take home some nifty game swag. Attendees can also get hands-on time to play City of Heroes Freedom, as well as Guild Wars 2. Valid photo ID is required for admission. No under 21 will be admitted, due to requirements of the venue. Admission to the event is limited to NCsoft San Diego Meet & Greet ticket holders only and is granted on a first-come, first-served basis to the capacity of the venue. Check NCSoft's official Comic-Con page for more info. (21+)
BioWare Base at the Hilton Gaslamp – Throughout the Con – BioWare is once again returning to the San Diego Comic Con and this year they are giving fans the first opportunity to play Star Wars: The Old Republic, Mass Effect 3 and a never before seen, Dragon Age II DLC. In addition, they will be hosting the first annual BioWare Costume Contest on Friday, July 22 for the best BioWare inspired costumes.  They'll be giving away awesome convention swag, opportunities to meet members of the BioWare staff, and they'll have a special designated area for cos-play character photo opportunities and much more. More details on the offsite will be revealed closer to the event. (All Ages)
Lord of the Rings: War in the North Special Event – Saturday, July 23rd – Warner Bros. Interactive Entertainment invites Comic-Con fans to a special event at 8 p.m. on Saturday, July 23, at 5th Avenue and J Street in the heart of San Diego's Gaslamp Quarter. Fans can experience Middle-earth like never before and play the new The Lord of the Rings game months before its official release. Beginning on Wednesday, July 20, fans can text WITN to 82257 or log on to warinthenorth.com/comic-con for more details about the event.
Nerd HQ 2011 – Throughout the Con – Chuck's Zac Levi is taking over the Gaslamp district with his company Nerd Machine and Nerd HQ 2011. Setting up shop at Jolt'n Joes, Nerd HQ promises to provide a weekend full of Xbox gaming, special star-filled panels and autograph sessions, the Second Annual Nerd Party and more. Admission is free, but they are asking for a $20 donation, of which 100% will go "to providing life-changing surgeries for children through Operation Smile". The schedule of events is not yet posted, but check the site throughout the coming weeks to learn more. (All Ages, 21+ after 8PM)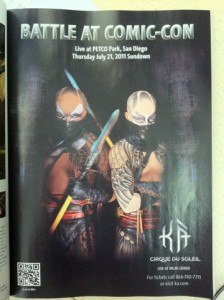 Cirque Du Soleil: Battle San Diego – Thursday, July 21st. The countdown to KA Battle San Diego has begun! Be at PETCO Park on the opening night of Comic-Con, Thursday July 21 to witness this once-in-a-lifetime live 3-D stunt! The event starts at sundown. No ticket required, admission is free (All Ages).
SMODCAST: Jay & Silent Bob Get Old with Jason Mewes & Kevin Smith – Friday, July 22nd – Join the popular SModcast with a live performance by Kevin Smith and Jason Mewes at the San Diego House of Blues. Tickets are $26.99 for general admission standing  (200 tickets), $37 for general admission seating (100 tickets). Hollywood Babble On opens for the SModcast at 9PM, followed by the main event at 11PM. Doors open at 8PM. To purchase tickets, visit the official SModcast web site. (21+). Credit – Xiomarasword
San Diego Symphony Martial Arts Trilogy – Thursday, July 21st – Love – Betrayal – Death – Revenge. Academy Award-winning composer Tan Dun will conduct his scores to three of the most critically acclaimed martial arts films in cinematic history. In this dramatic and beautiful presentation, scenes from Crouching Tiger, Hidden Dragon, Hero and The Banquet will play on jumbo video screens while conductor and orchestra deliver the passion and power that thrilled movie audiences worldwide. The link to the event can be found here, and you can score half-price tickets by getting your tickets here. Credit – Xiomarasword
Dr. Who Fan Meetup – Friday, July 22nd – There are tons of Who fans at the con and this could be the best place to chat and hang out with the biggest. Expect lively debate, conversation, and fun at the Rock Bottom Restaurant and Brewery. Check out the website here or follow them on twitter to keep up and RSVP. (All Ages)
The Haunted Hotel – Friday and Saturday, July 22nd and 23rd – This mega popular San Diego hotspot was featured on the Travel Channel's best haunts and is having a special two day opening during the summer for the Con crowd. The price is $17 but they're open from 7 to 11 PM both nights and it could be fun to stop in and get a scare. Check out their official site here. (All Ages)
New Media Meetup – Thursday, July 21st – Do you watch, make, or dream of making a web series? What about any other kind of new media? Why not meet other like minded people to discuss, make connections, and celebrate the future of this evergrowing trade. The Bristol Hotel is hosting the meetup and not only is there no RSVP, sponsor blip.tv is giving free drinks to the first 35 people in attendance. More details here. (All Ages)
Slashers Dinner Fan Meetup – Friday, July 22nd – For the seventh year in a row readers and writers of homoerotic fanfiction of all fandoms can meet and discuss old loves and new shows alike in a friendl, and supportive atmosphere – all over a delicious dinner. The event's open to all and attendees can look forward to meeting fellow readers, writers, artists, and appreciators! More details, including how to RSVP, are available here. (18+)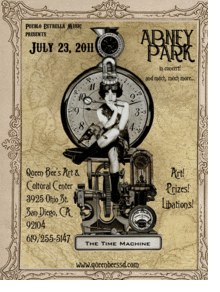 Time Machine (Steampunk Party) – Saturday, July 23rd – Queen Bee's Art and Cultural Center is hosting this concert and show with the band Abney Park headlining. A ton of other musicians, DJs, and Steampunk art and fashion will also be featured. Tickets are $27 but this is a pretty big event and I'd think anyone even partially interested in Steampunk will want to give it a look. More info and tickets are available here. (All Ages) Credit – Goldie
Generation Kill Fan Mixer – Friday, July 22nd – One of the most acclaimed mini-series of all time still has its fair share of devotees and they will be meeting up during the con. The Rock Bottom Restaurant & Brewery is hosting, prizes will be given out, and a handful of the shows stars will even be in attendance. It's a great chance to meet fellow fans or even some of your favorite people from the show. Tickets range from $25-35 but include dinner and drinks. Get them here. (All Ages)
USA Network Fans Meetup – Saturday, July 23rd – Whether your favorite USA shows have a panel, were left out of the con, or are already cancelled, this is the place where you won't feel left out. Just head into the TGI Friday's closest to the con and meet with fans of every show past and present. Eat, talk, and possibly even win a prize if you have the best USA-themed outfit. RSVP here to make sure you get a seat at your favorite show's table. (All Ages)
Marked Men Party III – Friday, July 22nd – One of the biggest con parties returns for another year and this time it happens on the HMS Providence, an actual ship from the Pirates of the Caribbean films. Pirate themed happenings, music, drinks, and a huge dance floor are the usual features of this SDCC favorite. As always tickets are quite expensive ($50 for non-VIPs), but if you want to go to a big event during your stay, it might as well be on an awesome pirate ship! Tickets are on sale here (21+) Thanks Mark Rossi for the Tip
TechKaraoke – Saturday, July 23rd – It's a fairly standard karaoke themed event but they're expecting a large crowd and hopefully the con crowd will bring some flair and great music choice to the proceedings. It might not be the most convention-specific event, but it sounds like a fun way to cool down on Saturday night. It's free but you have to RSVP here. (All Ages) Credit – Mark Rossi
GGN Geek-Out – Friday, July 22nd – The Geek Girls Network once again hosts this meet-up / mingling event at the Vin De Syrah lounge for a night of "nerds, tunes and prizes." It was a big success last year and this year's should be another chance to meet awesome people and have a good time. Tickets aren't on sale yet but you can RSVP to their facebook event and get alerted when the $5 tickets do go on sale. More details here. (21+) Credit – XioH01
Gam3rs: The Play – Throughout the Con – Complimenting the convention below, this one-man performance aims straight for the nerd market and with a story of pure video game love. Tickets are $20 and the trailer doesn't give me much confidence, but it could be worth a look. Here's the official site (warning: trailer plays automatically) and you can purchase tickets by clicking through it. (All Ages)
Gam3rCon – Throughout the Con – Touting itself as "four floors of activities and interactive entertainment," this mini-convention looks to cater to both video and table-top gamers with panels, demo rooms, and probably some shopping. It's kind of hard to gauge how well-planned or big the event will be, but passes are currently free and events run the whole week. Get more details and reserve your free passes at the official site. (All Ages) – Credit goes to Xiomarasword for the Find
Gam3r Parties – Thursday and Friday, July 21st and 22nd – In addition to the events talked about above, Gam3rcon is also two big parties on the roof of its building. The first "Samurais and School Girls V2.0," costs $20 to get in but features a wide variety of entertainment and activities. The second, "Re: Fresh + Re: Boot," sounds a little more laid back with no entry cost and a variety of musical performances. Here's the site to get more details on both. Get your tickets for SaSG here. (SaSG is 21+, RFRB is 18+)
X-Sanguin X: Last Call – Saturday July 23rd – Known for their all night Saturday parties, X-Sanguin returns to the con again with this massive event. Taking place at the Spin Night Club, Last Call promises 3 floors of dancing, a rooftop bar, and a short walk from the con. Costumes are suggested and tickets are now on sale here. Check out their Facebook page here. (21+) – Thanks Artimus for the Tip
Trickster – Throughout the Con – Comic writers and artists have started their own venue right across from SDCC and anyone can stop in. You can either pay to see workshops by big name industry people or enjoy galleries, drinks, and shopping for free. This definitely sounds like it could be worth a stop and comics fans should make it a priority. Check out their Facebook page and official site. (All Ages)
GQMF Star Trek Meetup – Sunday, July 24st – If you're around for dinner on the last day of the con and a fan of the JJ Abram's Star Trek film, put this event down as a must. Meet up with other fans and discuss the new start of the series over dinner. More details here. (All Ages) – Thanks GQMFacacia for the Tip
Super Hero Pub Crawl – Saturday, July 23rd – For the second year in a row attendees can take a break from the con and relax with cheap drinks at the areas bars. You can partake in the crawl for much of Saturday but an after party goes straight into Sunday morning. Tickets aren't too expensive and both special drinks and cheaper prices are promised. Check them out here and get an awesome deal here. (21+)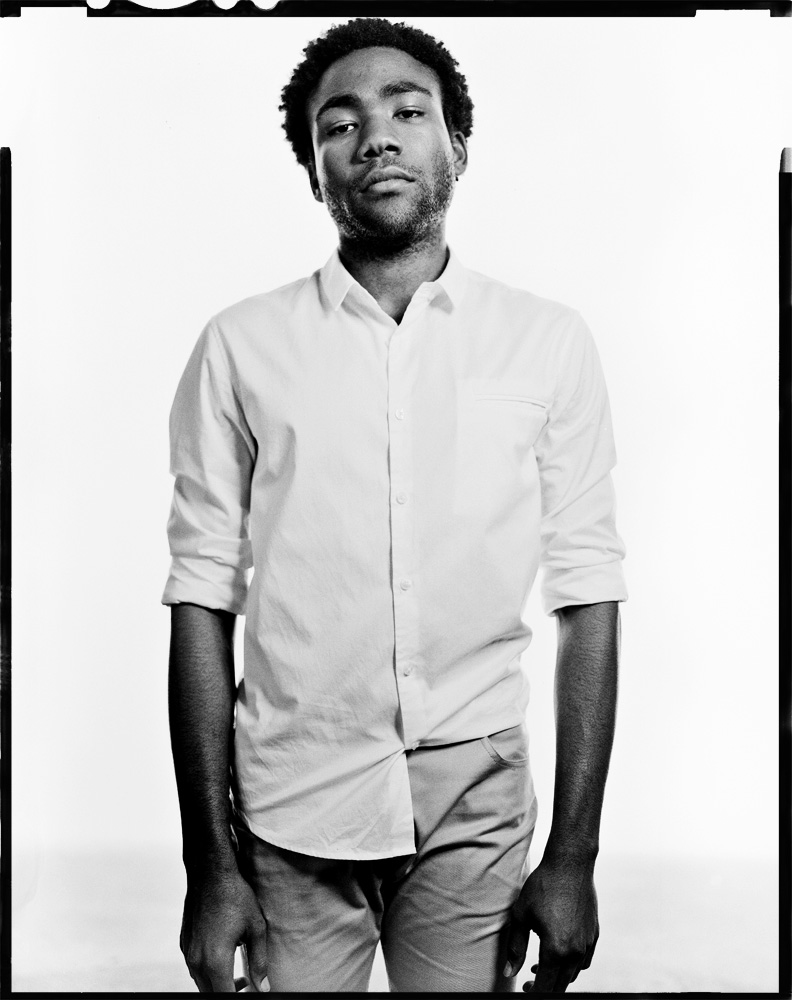 IAMDONALD Tour: Donald Glover + Childish Gambino – Friday, July 22nd – Donald Glover brings both his comedy and rapping to San Diego in a hodgepodge of the two. Fans of Glover on the TV show Community will likely enjoy his stand-up, and his music is smarter and more pop-culture-influenced than much of what's out there. Tickets are available here and you can check out his site to get an idea of what to expect. (All Ages)
Demetri Martin – Saturday, July 23rd – This standup comic brings his act to San Diego just in time for the con. His dry and smart humor likely appeals to many con attendees and those that haven't should check him out on Youtube. Tickets are a bit on the expensive side and it's happening during the most popular night of SDCC, but fans should definitely consider. Tickets and details are now available. (All Ages)
Heroes Fan Meetup – Thursday, July 21st – The fanbase for this show is one of the most dedicated out there and even though it was cancelled over a years ago, they just keep on going. People looking to meet fellow devotees and discuss the show over dinner should be sure to check this one out. More details, including how to RSVP and get a nametag, are over here. (All Ages)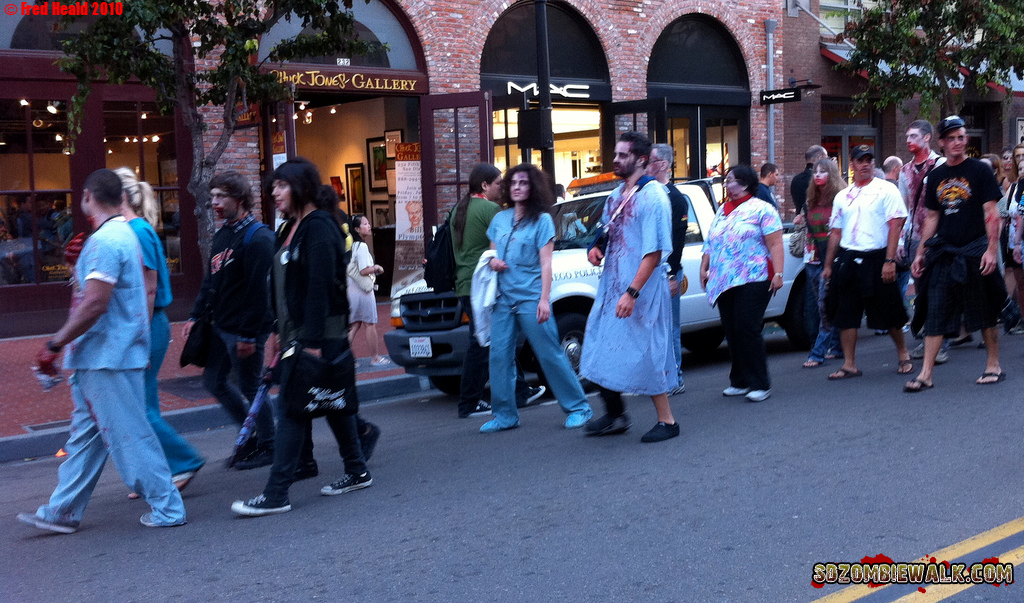 Zombie Walk – Saturday, July 23rd – One of the more popular offsite events returns for its fifth year. You can either slap on some zombie make-up and join the huge crowd as they trudge through the main streets of San Diego, or stay on the sidelines and watch the madness go down; either way it's free. I participated a few years ago and can attest to how much fun it is, and the 7:30-8pm end time means it can be stuck in with other activities on Saturday night. Preliminary details are on their Facebook page and official site. (All Ages)
The Casbah – Throughout the Con – San Diego's premiere music venue has a variety of bands performing during the week of SDCC. Though it's not the typical Con event, music fans might greatly enjoy a night away from the hustle and bustle of the convention. Performers include Ty Segall, Iceage, Cult of Youth, The Burning of Rome, and Wallpaper. Official Site (21+)
Dr. Horrible's Sing Along Blog Live – July 17th to 30th – SDCC attendees are known for their Dr. Horrible love and this sounds like it could be great. A professional stage adaptation backed by a real cast and crew with a visible passion for the material. Even better is that performances run throughout the con! Tickets are on sale here and a lot more information is available on their Facebook page. (Ages 13+)
The Comic-Con Dive – Thursday, July 21st – Those looking to add a little adventure to their trip can join the Roddenberry Dive Team on a scuba diving expedition of the La Jolla Shores. Starting out Thursday morning with a trip to the bottom of the seas might be just what some people are looking for. To see more information and RSVP (which is required), check out the official site here. (All Ages)
White Collar Fan Meetup – Thursday July 21st – Fans of the popular USA series White Collar are sure to come out in droves to The Lime Tequila Bar for this meet and greet. Trivia, food, and games will compliment the chance to meet fellow Collar watchers at this completely free event. More details can be found here. (I expect the bar location will merit an Ages 21+ requirement)
Nerdist Podcast Live – Saturday, July 23rd – Chris Hardwick has expanded his Nerdist name and website into a full blown empire and now he's bringing it to Comic-Con with a live recording of the site's podcast. Guests are TBA but he's been known to draw big names and the show is often a fun listen. Whether it's worth paying to see live depends on your tastes, but if you think it is, tickets are on sale here. UPDATE: 2nd show added at 11pm – get your tickets here. (Ages 21+)
w00tstock – Thursday, July 21st – Tickets are still on sale for this geeky variety show hosted by comedians Paul and Storm, Mythbusters co-host Adam Savage, and overall SDCC idol Wil Wheaton. Featuring various comedians, actors, singers, and other performers from the geek world, this is expected to be one of the most popular and fun events of the year. Buy your tickets here and for more information, head over here. (All Ages)
Thanks for reading!