I'll be starting the Offsite Events 2011 page in early June, but I wanted to give everyone a heads up now about tickets to one of the most popular events. w00tstock is a geeky variety show that's hosted by comedians Paul and Storm, Mythbusters co-host Adam Savage, and overall SDCC idol Wil Wheaton. Each event features various comedians, actors, singers, and other performers from the geek world having fun and doing whatever it is they do best.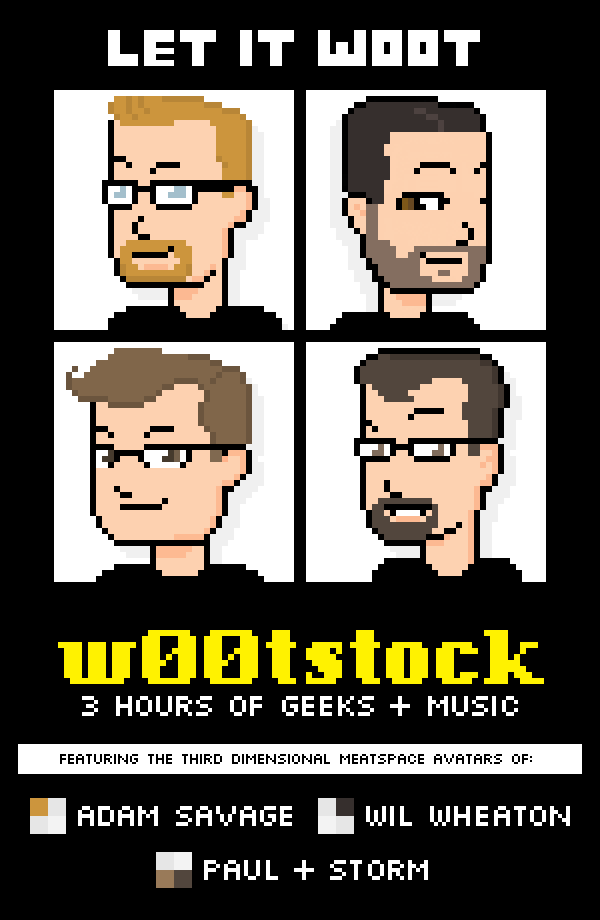 Last year's Comic-Con show featured musician Marian Call, comedian Chris Hardwick, all three of the Riftrax guys, and many more. Though the performers aren't announced in advance, you can be confident they'll have a great selection. This year's show is on the Thursday of Comic-Con at 7 PM and only a few blocks away from the convention center. Another great thing is that you don't need an SDCC pass to attend. Even if you're just a San Diego resident or have individual day passes that don't include Thursday, the show is open to you! In addition, unlike last year, this year's w00stock is open to all ages.
Tickets just went on sale and though they probably won't sell out for a while, the best ones will go quick! You can guarantee a great seat right now by picking up tickets right over here!