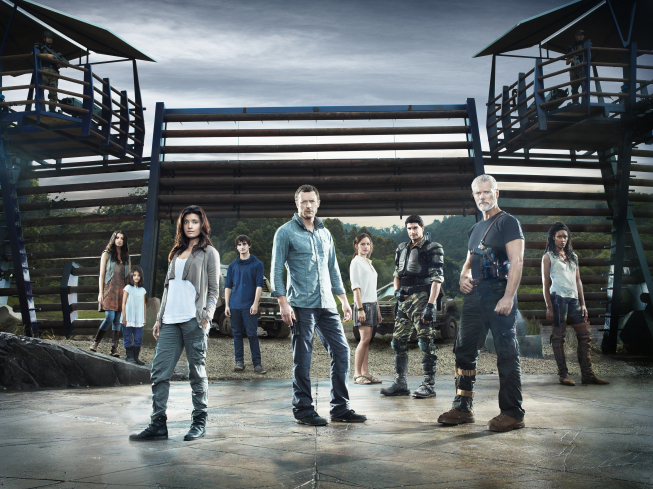 20th Century Fox TV just laid out their entire con schedule and it's pretty great. Returning shows are Glee, Bones, Family Guy, The Simpsons, American Dad, The Cleveland Show, Futurama and Bob's Burgers, while new shows  Terra Nova, Awake, The Finder, Allen Gregory and Napoleon Dynamite will also have panels.
All the returning shows are to be expected but some of the news stuff is a nice surprise. They'll be screening the entire pilot of Terra Nova, which should be a very big deal, and I'm happy to see my most anticipated new show, Awake, has earned a panel and screening. I personally think Allen Gregory and Napoleon Dynamite look terrible, but good con buzz could convince me to take a second look. The Finder is a Bones spin-off and from the press release below it just sounds like a little segment of the Bones panel. Still, it's exciting news for all the show's fans. I'd say the weirdest news is the splitting up of their animated shows between three days but I suspect only Saturday's block will happen in Ballroom 20 (with Thursday's and Sunday's in smaller rooms).
Which show do you want to see the most?
Here's the full details:
THURSDAY, JULY 21
Napoleon Dynamite: Original cast members from the hit indie film, Jon Heder, Tina Majorino, Efren Ramirez, Jon Gries, Sandy Martin, Diedrich Bader and Executive Producer Mike Scully (The Simpsons) present a new series following your favorite awkward teenager like you've never seen him before – animated! Join us for a sneak peek at never-before-seen footage of the newest member of FOX's Animation Domination lineup and a "sweet" Q&A session.
Awake: Since the trailer was unveiled at NBC's upfront presentation in New York, this spellbinding sci-fi drama about the power of the mind from the brilliant creators Howard Gordon (24) and Kyle Killen (The Beaver) has been one of the most eagerly anticipated series of the 2011-12 season. While most viewers will have to wait months to sample this series about a detective Jason Isaacs (Harry Potter) desperately straddling two realities as he copes with immeasurable grief, Comic-con fans will get an exclusive first look at the entire first episode of the series, and an audience with Gordon, Killen and star Isaacs.
FRIDAY, JULY 22
Bones: Creator/Executive Producer Hart Hanson, Executive Producer Stephen Nathan and Stars David Boreanaz and Emily Deschanel will be on hand to discuss the shocking finale of Bones season 6 as well as what's in store for Booth and Brennan in an exciting season 7! Hart Hanson will also introduce the audience to the stars of The Finder, his new Fox series premiering in January, followed by fan Q&A.
Bob's Burgers: Creator/Executive Producer Loren Bouchard and Executive Producer Jim Dauterive and Bob's Burgers cast H. Jon Benjamin, John Roberts, Dan Mintz, Eugene Mirman and Kristen Schaal, will be on hand to entertain animation fans with hilarious never-before-seen clips from season two followed by a fan Q&A.
SATURDAY, JULY 23
Terra Nova: Star Stephen Lang (Avatar), executive producer Rene Echevarria (Castle, Medium, The 4400, Star Trek: Deep Space Nine), executive producer Brannon Braga (24, Star Trek: Enterprise) and co-executive producer Jose Molina will finally unveil this epic adventure series 85 million years in the making, set to premiere this September on Fox. This new event drama from the brilliant minds of Steven Spielberg (Jurassic Park, The Pacific) and Peter Chernin follows an ordinary family on an extraordinary journey back in time to prehistoric Earth as a part of a massive expedition to save the human race.
Futurama is back! Again!!! On stage will be Creator/Executive Producer Matt Groening, Executive Producer David X. Cohen, and stars Billy West (Fry, Professor Farnsworth, Dr. Zoidberg), Katey Sagal (Leela), John DiMaggio (Bender), and Maurice LaMarche (Kif Kroker, Calculon, Morbo). Get a sneak peek at never-before-seen footage of Futurama reincarnated as Japanese anime, along with a thrilling preview of this summer's all-new season on Comedy Central. Plus more! Much more! Moderated by Bill Morrison.
The Simpsons: Now entering its record-annihilating 23rd season on Fox, and airing its landmark 500th episode on February 19, 2012, The Simpsons has won 27 Emmy awards, was the subject of an international film smash in 2007, inspired a ride you ride again at Universal Studios, and Homer Simpson was named the greatest television character of the last 20 years by Entertainment Weekly. Get an insight into the daily doings of this series from Creator Matt Groening, Showrunner Al Jean, Co-Executive Producer Rob Lazebnik, Co-Executive Producer Matt Warburton, Supervising Producer Mike Anderson and Producer/Panel Moderator Tom Gammill.
Family Guy: Join Alex Borstein, Seth Green, Adam West (Batman) and executive producers Mark Hentemann, Steve Callaghan and Kara Vallow for a sneak peek at the all-new episode "Stewie Goes For A Drive" featuring voice guest star Ryan Reynolds followed by a Q&A session with the audience.
American Dad: Catch a preview of the season seven premiere of American Dad, featuring guest star Cee-Lo Green as a signing hot tub, followed by a Q&A with cast members Wendy Schaal, Scott Grimes, Rachael MacFarlane and Dee Bradley Baker and executive producers Mike Barker, Matt Weitzman and Kara Vallow.
SUNDAY, JULY 24
GLEE: Join Creator/Executive Producer Ryan Murphy and Creator/Executive Producer Brad Falchuk and stars of the sensation Glee for a tuneful sneak peek at never-before-seen footage and behind-the-scenes secrets, followed by a Q&A session in which fans can ask everything they ever wanted to know about the Golden Globe winning musical series hot off its blockbuster international concert tour.
Allen Gregory: Join Creator/Executive Producer and star Jonah Hill (Superbad, Get Him to the Greek) Showrunner David Goodman (Family Guy), and Creators/Executive Producers Andrew Mogel and Jarrad Paul along with an all-star voice cast for a sneak peek at FOX's new animated series that tells the story of the most pretentious 7-year-old of our time. Glimpse exclusive Allen Gregory animation followed by a fan Q&A session.
The Cleveland Show: Join the cast and executive producers for a look at The Cleveland Show's not-to-be-missed parody of Die Hard followed by a discussion with panelists Mike Henry, Sanaa Lathan, Kevin Michael Richardson, Reagan Gomez, Rich Appel and Kara Vallow.