For those going to SDCC for the first time this year, your expectations are that you are going to get swag. A lot of it. And you are correct. Bags, t-shirts, posters, comics and other tchotchkes handed out seemingly at every turn on the show floor. And that's in addition to all the stuff you're going to buy at the con, because there's no shortage of exclusives and other hard-to-find merchandise lining vendor booth walls.
In our previous post, we offered tips for saving money for meals and for setting expectations on panel and event scheduling. This time, we're going to help you find all that great exclusive merchandise, and, more importantly, how to get it home.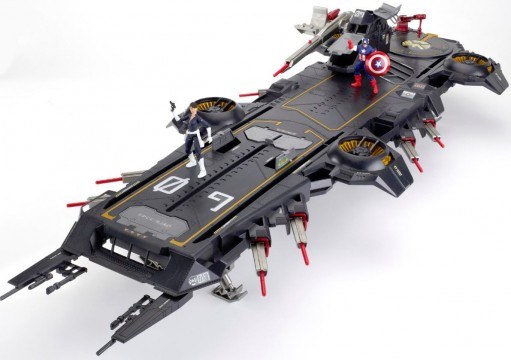 Geek's Booty
You've seen here, and you've probably read elsewhere all the great stuff that will be available only at the con this year. And if you are budgeting based on previous years' exclusives, you're going to need a small fortune to get it all. That we can't help you with, because when the blast of energy from the show floor hits you, there's no such thing as willpower.
First, get a list of which exhibitors have the stuff you want. If Hasbro is on your list, you'll want to hit them first because lines are long and toys go fast. Most exhibitors allocate only a certain amount of their stock per day, to ensure people have a chance to buy until the last day of the con. So if you want the awesome Hasbro Super Hellicarrier, and it sells out on day one, you have another shot the next day. Now here's the bad news – since Hasbro's exclusives are so popular, they sell out early in the day. Last year, Hasbro was one of a few exhibitors which handed out tickets before the show floor opened which would secure you a timeslot to stand in line. These tickets were hot, and would frequently be handed out hours before the doors opened. We also ran into more than a few upset ticket holders who had timeslots for later in the day, and by that time the stuff they wanted was gone for the day.
Now, there was an exception to this rule which we'll share but won't guarantee it will be allowed again this year. If you got to the booth within minutes of the show floor opening, line security would let a few non-ticket holders in line before it got too long. So if you aren't able to score a ticket for a timeslot that day, try to get to the booth as fast as you can and see if they'll let you in line anyway.
UPDATE FOR 2012: Because of the long lines at Ballroom 20 and pre-registration last year, Hasbro and MattyCollector lines were relatively short, and attendees were allowed at times to walk right in without a ticket. We don't know if it will be the same this year, but check our Twitter feed throughout the show as we will be updating everyone on the wait times for the merchandise lines.
There is another way around the ticketing system that Hasbro and Mattel used. For the past two years, Mattel allowed attendees to pre-order their merchandise online and pick up during the show. This was a sure way to get what you wanted, but there were reported issues last year where Matty wasn't able to fulfill some orders for people, even though they had a confirmation email from the MattyCollector.com voucher pre-sell. We believe this won't be a problem again this year, as Mattel has learned from past issues with the pick-up process, such as expanding the days and times pre-orders could be picked up. Hasbro hasn't yet adopted the pre-order process, and we wish they would. Even though there have been some bumps in the process in years past, we would still recommend pre-ordering any merchandise you can when it's offered by the exhibitor, and we hope that companies continue to improve on the purchase and pick-up processes. After all, we have enough lines to wait in at the con, don't we?
Second, plot your course. Everyone in attendance will get an events guide with a map of the convention center and layout of the show floor. The layout will list where all of the exhibitor booths are. Remember that list of exhibitors you made? Find where each of them are located on the floor and when those doors open, walk (no running allowed!) straight there – do not pass "go", do not collect $200.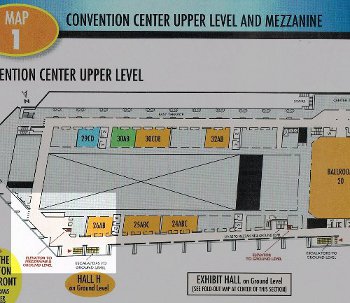 When you've made it to your top booth in record time, only to find a line a mile long, no doubt you'll be wondering, "where did everyone come from?" Well, that, my True-Believers, is what we'll share with you next. Most people line up in Sails Pavilion, on the upper level of the convention center, before the show begins. It took us a couple days of starting here and finding the line to the booth we were headed to was already cut off for the day within a couple minutes of the start of the show to realize there was a better way. Indeed there was. Around Ballroom 20 at the east side of the convention center, there is another line. If you get there at a decent hour, you'll get a great shot of being among the front of the pack.
Up, Up and Away!
Now, for those of you who will be driving to the con, getting all of these goodies home won't be a problem. But for those who have to get on a plane, packing up all this stuff in a suitcase is no small feat. That's why you'll want to bypass the airlines altogether – along with their crazy luggage handling fees and tendency to lose checked bags – and ship your stuff home.
To do this, you'll want to first sign up for an account with one of the big shipping companies. FedEx works best, although you can call ahead to your hotel and see if they also do pick-ups from UPS, DHL or any other shippers. You don't even need to be a business to have your own account, and it's free to sign up. You'll be asked to enter a credit card and billing information when you create your account, but this is a good thing. By having a billing address on file, all you have to do is write your account number on the shipment and the shipping fees are all billed to that account. No settling with the hotel or worry about how much postage you'll need. Lots of people use this method to ship their luggage when traveling nowadays, and we've used this method on several occasions and swear by it.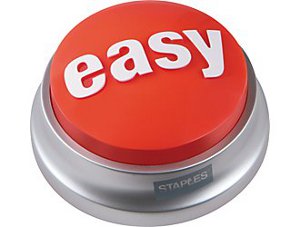 Now if your luggage just won't have enough room to bring home all the stuff you're planning to buy, or if you don't think you'll be able to securely pack it to survive the trip home without breaking valuable merchandise, there's an important second part to this tip. We all know Staples, right? Well, you can order all your shipping supplies from Staples.com and have them delivered directly to your hotel in advance of your stay. This is what you'll need:
Boxes – they usually come in bulk, so you'll end up with more boxes than you'll need. Also, make sure you order boxes large enough to ship home your big merchandise. UPDATE FOR 2012: If your merchandise requires odd or large-size boxes, save your money and camp out behind one of the exhibitor booths. They toss out the empty shipping boxes when they sell the merchandise, so you'll be able to score a huge box meant for case of Super Hellicarriers, for the low, low price of free. And usually, since the boxes are meant to hold more than one unit of the product, you'll be able to fit some of your other merchandise in there as well.
Packaging Tape – when you're shipping valuable, exclusive merchandise that you can't get anywhere else, you'll want to close up the box with more than scotch tape and bubble gum, right?
Bubble Wrap and Packing Noodles – Again, some of those SDCC toys and collectibles can be pretty fragile, so you'll want to make sure they are securely packed for a cross-country trip.
Mailing Tubes – You're going to get tons of cool posters and prints that you won't want to fold. That's why the tubes are an essential shipping supply. A 24″ width is a good size – we went with the 36″ size in prior years and had to stuff the end to prevent our posters and prints from moving around. But it all depends on what size you're going for, so determine what will work best for your needs.
One other thing to note, most everything you order from Staples comes in bulk, so try to find someone to go in with to save on costs.
It's as easy as that. Just call ahead to make sure your hotel will receive shipments ahead of your stay. Also, if you're hotel doesn't offer pickup services from your shipping company of choice, just go on their website and find one in the area that will. Being in the center of the city, most likely you won't have to go far to find one.
UPDATE FOR 2012: Our best recommendation is to use the FedEx office inside the convention center. This way you won't even have to leave the building with your merchandise, and your back will thank you for not having to lug it all the way to your hotel room. The FedEx office also sells shipping supplies, so if you didn't come prepared with bubble wrap, packing popcorn or packaging tape, you can get it there. And if you sign up for a FedEx account prior to the con, all you need is to fill out your account number on the packing slip and the credit card on the account will be automatically billed. How's that for easy?
Like what you've seen so far? Then keep an eye out for our next Newbie Guide post coming soon!
Is there a specific tip you would like to learn more about? Leave a comment below or let us know via Twitter!