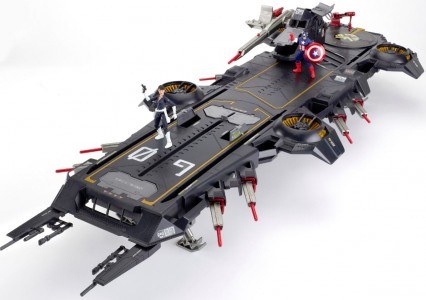 We've been holding back for the full announcement of Hasbro exclusives for this year's SDCC, but we just can't contain our excitement for what was announced today. Avengers fans, you're gonna want to see this.
The Los Angeles Times' Hero Complex released a picture and description of what will be, literally, one of the biggest pieces of merchandise at the con. Behold the Super Hellicarrier, a special edition version of the S.H.I.E.L.D. Hellicarrier announced at this year's New York Toy Fair, and part of the Avengers movie toy line found at your favorite local retailers. And it's what makes this one "super" that has us jazzed.
The SDCC-exclusive version is over four feet long – that's a full foot longer than the retail version. It also includes two 3.75 inch figures of Captain America and Maria Hill, decorated with "additional weaponry", and enclosed in the requisite special packaging we've come to expect from Hasbro SDCC-exclusive merchandise, designed by our favorite Cup o' Joe (Quesada) himself.
The retail version is appropriate for ages four and up. We're pretty certain our four year-old ain't getting anywhere near this one.
The price? A cool $129.99. We don't know what will be more painful, shelling out the cash for one of these (just one?) or trying to get this home on the plane. Hey, maybe we can fly this home instead.
Check out the Hero Complex post for all the juicy details. And we recommend getting in line now.