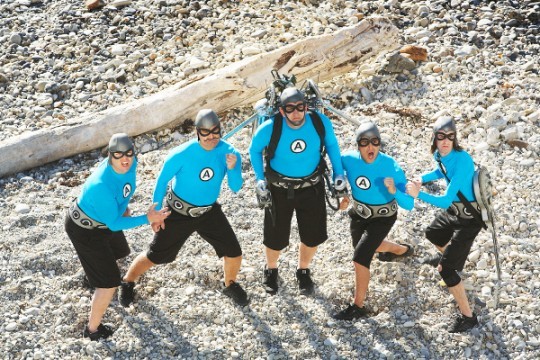 For the uninitiated, Comic-Con can be a pretty daunting experience. There's the crowds, and the lines, and the sheer magnitude of the event to deal with. And on top of that, there's all the super villains lurking around every corner. Like Man-Ant, The Time Sprinkler, and the Sand Fleas.
Only one team of super heroes can save us from such threats. Justice League? Naw, too old fashioned. The Avengers? They're too busy prepping for their Hollywood debut.
It's…The Aquabats. Stopping intergalactic terrorism through pop/punk/ska music since 1994, the California outfit known for their over-the-top live performances is comprised of bassist Crash McLarson (aka Chad Larson), guitarist Eagle Bones Falconhawk (aka Ian Fowles), keyboardist Jimmy The Robot (aka James Briggs), drummer Ricky Fitness (aka Richard Falomir), and lead singer MC Bat Commander (aka Christian Jacobs, Yo Gabba Gabba).
And this fall, they'll be flying into action courtesy of The Aquabats Super Show! on the Hub TV Network.
Only The Aquabats, in their first official appearance at San Diego Comic-Con, could announce a children's television program and at the same panel entertain a raucous crowd by performing a full-on back-flip from the Q&A table in room 5AB and closing it out with a full-on, riotous, and totally impromptu, kaiju battle with costumed audience members. It's the closest Comic-Con has come to some cosmic Jerry Springer segment, but that's an achievement they were able to reproduce the energy frequently on display during their live shows.
http://youtu.be/dhwKsfmTO1A
Following the panel, the band, staying in character of their onstage alter egos ("We play tennis in these costumes," MC Bat Commander revealed), sat down with us to talk about the upcoming Hub TV show, how it came to be, and what hijinks we can expect from the greatest crime-fighting super group ever assembled.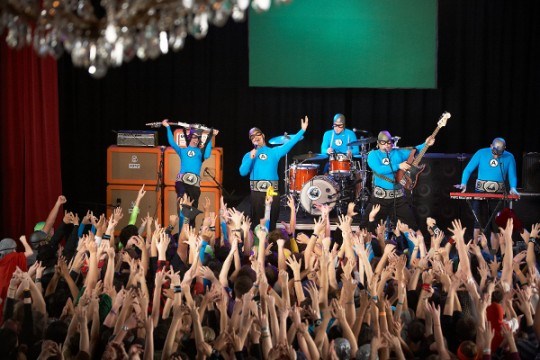 If you've ever seen the Aquabats live, there's a good chance you've seen The Aquabats Super Show! in its infancy. Since 2008, the band has shown clips of a pilot episode during their concerts, and they've been shopping it around to networks ever since.
"It's crazy, we've been trying to do the show for so long. I can't even remember how long we've been trying to do this," says Crash McLarson, as MC Bat Commander holds up three fingers to remind those around him of the number of years. "But, I think, where we're at now is the best possible way this show could have happened. It's the only way the show will come out as awesome as it's going to be."
The Aquabats have released five albums in their fifteen-year existence, their latest Hi-Five Soup! released in January 2011, but they're a live band, first and foremost. The best way to describe them is a cross between the Japanese kaiju shows of the '60s and '70s and the theatrics of Gwar, frequently engaging in epic, onstage battles with costumed villains. They're aiming to take that same crazy energy to the small screen.
"The pilot was 50-50. 50% animated, 50% live-action. We did that for a strategic reason – some networks like cartoons more than other networks," says the Commander. "We wanted to say, 'this could be both shows'. But really what we always wanted to do was be a 'live-action cartoon show'. And in talking to the Hub about that, that's what they wanted, too. They saw the strength was in the live-action show, because it's, like, nothing else really out there on TV. I mean it is, but it's totally making fun of that stuff, [like] Power Rangers, but it's totally silly and crazy, and [with] music. So we slimmed down the animated portion of the show and cranked up the rock."
Why The Hub, a Hasbro-owned cable network that's known primarily for My Little Pony, The Transformers and G.I. Joe? Not that we mind, because we love all-things Hasbro. And judging from the lines at the HasbroToyShop booth at Comic-Con, we're certainly not alone. But The Aquabats could be seen as strange bedfellows, given their pedigree of playing to a mosh pit of sweaty twenty-somethings.
"Because The Hub is not afraid, " the Commander adds. "They're looking at new programming and doing things differently, from a different standpoint that a lot of networks are still scared or they aren't able to do. The Hub is fresh and new so they can take new ideas and new shows, things that are kind of funky, or things that other networks would say, 'The Aquabats? That's stupid! Those guys are old and fat!'"
McLarson interjects. "Whereas The Hub goes, 'The Aquabats? Those guys are old and stupid and fat! Perfect!'"
The more MC Bat Commander talks about the relationship with the network, the more sensible it sounds. "Hub is an incredible experiment by bold and risky pioneers in the industry. Hasbro put their money where their mouth is, doing movies, they're making a TV network. I mean, this is incredible, it's unprecedented, really to go all the way to do that."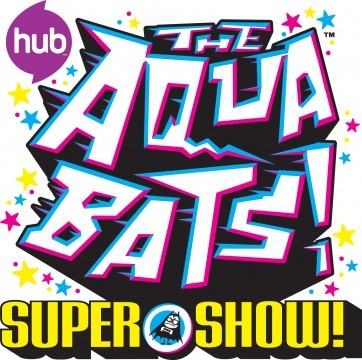 With The Aquabats Super Show!, the format of the show will attempt a traditional narrative. But as MC Bat Commander explains, 'it's more of a magazine for older kids as well because it weaves in here and there" – fake commercials like those shown at their live shows, animated segments and music videos that go along with the story, "a la a musical".
"You know, singing about desks and dancing with trashcans, whatever they do in musicals." The Commander looks around the room. "What do they do in musicals?"
"I've never seen a musical," admits McLarson.
"Singing in the rain!" The Commander reaches a moment of faux-inspiration. "We'll be singing in the rain. In the show."
The Hub's key demographic plays to kids between the ages of 6 and 11, generally younger than the band's typical audience. But as MC Bat Commander explains, they're prepared to turn kids of all ages into a legion of fresh, new Aquacadets.
"I think we'll want to put things in there for an older audience, because we realize we have an older audience, but then also we want the young kids, to not have it go over their heads. You can't put a six year-old in front of Lost and really expect them to care from episode to episode. Each episode is pretty self-contained, but there will be stuff that carries through from episode-to-episode. And stuff that doesn't make sense at all, just for fun."
If anything, the band has been evolving toward a younger audience for years. Take off the mask and wipe off the painted-on mustache from MC Bat Commander and you get the co-creator of everyone's favorite kids' show, Yo Gabba Gabba. Airing on Nickelodeon since 2007, the show has been popular with kids and adults alike, spanning several seasons of retro-inspiration, celebrity guest stars, and popular music acts – The Aquabats among them.
Jacobs…ahem…The Commander explains. "We hold the record on Yo Gabba Gabba for Best Band. We've been on Yo Gabba [Gabba] the most, they keep calling us back for some reason. There's just obviously something about the costumes and being super heroes that really appeals to younger kids, and I think we always knew that as a band. And we get excited to see parents with their kids at shows, three year-olds on their shoulders, kids getting thrown off balconies into the mosh pit. You know, things like that. We're really excited about that. Family entertainment. Of course we'll have to tone that down a little bit now with the world watching us…"
The Commander continues. "I think it's exciting, it's definitely helped. I think its opened it up to bringing The Aquabats kinda out of the basement a little bit, and exposing people that normally wouldn't maybe find The Aquabats, especially kids, through Yo Gabba Gabba. I mean, we've been on the show three times or four times? With [Yo Gabba] Gabba, the idea was creating a new show, too, that parents could watch with their kids and not be like, 'this show's just for my kid, I can't stand it', but something that's for everybody. Same as The Aquabats Super Show! Little kids will watch it and compare it to Batman '66. When I was a kid, obviously we loved that show, Batman was so awesome. I watch it now and love it even more because it's so silly. And it's so obviously silly. They were all having a good time making that show. And that's what I hope people can see, that we're just fantasy fulfillment, doing  something that's just too fun."
Look for the premiere of The Aquabats Super Show! on The Hub this fall. Which, ironically, is a year before the dreaded apocalypse of 2012. "It's fitting that we would have a show come out on the last year on Earth", says MC Bat Commander.
And if there's anyone who will be able to save the world from certain doom, it'll be The Aquabats.