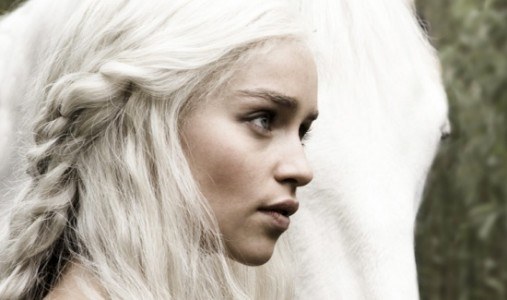 HBO earlier today confirmed dates and locations for its two big returning panels. As expected, the Game of Thrones panel will indeed be held in Hall H, on Friday July 13 at 3PM as previously reported. The other, True Blood, will be held on Saturday July 14 in Ballroom 20. No timeslot was given in the announcement for True Blood, but as soon as we hear we'll let you know.
In other news, Psych actor Dulé Hill confirmed via Twitter that USA Network's longest-running original series will be returning to SDCC this July, ahead of its seventh season premiere. No date or location was given in the brief confirmation, but at least we know it's coming.
[blackbirdpie url="https://twitter.com/DuleHill/status/211642840126730240″]
The show has built a loyal following and is known for its entertaining panels in prior years.  We expect fans of the show are ecstatic over this news. [UPDATE: Thanks to reader Kerry for the tip!]
[UPDATE 2] TVLine's Michael Ausiello added Psych's panel would be on Thursday, July 12. Time and location TBA.
Lastly and unconfirmed now confirmed [please see below], Twitter account @MovieElijahWood tweeted that FX's Wilfred, starring Elijah Wood, will be returning to the con for a panel and new episode screening on Thursday July 12 at 4PM. Room and panel guests were not included in the info, but as soon as we get confirmation we'll pass it along.
[blackbirdpie url="https://twitter.com/MovieElijahWood/status/213334291143327744″]
This was originally tweeted by Wilfred executive producer David Zuckerman, so it's definitely confirmed.
[blackbirdpie url="https://twitter.com/David_Zuckerman/status/211290736199606272″]
Also, now that Wilfred and Archer have both been announced confirmed for this year's con, we're hopeful that we'll soon hear the statuses of other FX series such as American Horror Story and It's Always Sunny In Philadelphia.
Which of this afternoon's announcements has you most excited for SDCC? Let us know in the comments.