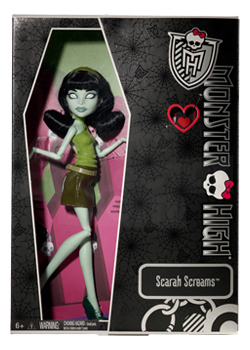 If you weren't able to attend this year's SDCC, or you did but came home empty-handed, take note. MattyCollector will be holding an online sale, dubbed the "After Party" sale, starting today at noon ET/9AM PT.
And it's not just leftovers, either. They'll be putting some sought-after items on sale, including the hot Monster High Scarah Screams doll. Here's the full list of the items which will be available online later today:
MOTUC Vykron™ "Tank Top"
MOTUC Vykron™ "Space Ace"
Batman™ The Dark Knight Rises Movie Masters® Figure
DCUTiny Titans
DC Comics Vertigo™ Death
Disney • Pixar Cars Mater
Ghostbusters™ Zuul
Monster High® Scarah Screams™ Doll
Polly Pocket® DC Comics Villains Set
Quantities will be limited, so get in (or on) line early. The sale will start today at noon ET/9AM PT on the MattyCollector website, and is slated to go through August 6.