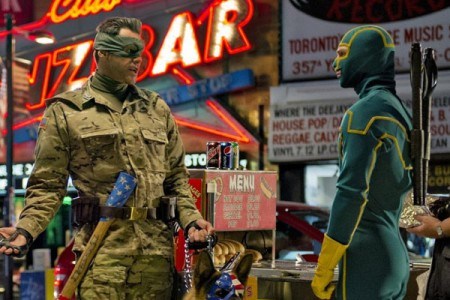 We're always on the hunt for more panel news. Nothing here is confirmed, but we've got info on what might be some potential Hall H panels this year.
A couple of weeks back, Borys Kit of The Hollywood Reporter tweeted the news that two upcoming comic adaptations, R.I.P.D. and Kick-Ass 2, had received updated release information:
Release date news: R.I.P.D. now in 3D (still on July 19), 2 GUNS moves from Aug 16 to Aug 2. KICK-ASS 2 moves from June 28 to August 16.

— Borys Kit (@Borys_Kit) March 1, 2013
What's of interest here is the release dates of R.I.P.D. and Kick-Ass 2 are during and a few weeks after this year's San Diego Comic-Con, respectively, which makes a Hall H appearance of both films a likely scenario.
R.I.P.D. is scheduled for July 19, which is smack-dab in the middle of SDCC. It's not unheard-of to have a movie appear at SDCC on the eve of its release, however – Angelina Jolie's Salt did in 2010, for example. Given that R.I.P.D. is a niche comic book movie, we think the film would take advantage of a typically light Hall H Thursday schedule and a big void left by the conclusion of the Twilight films to garner some additional mainstream press in advance of its wide release.
As for Kick-Ass 2, for which MTV posted a new red-band trailer earlier today, remember director Matthew Vaughn premiered the first movie to a receptive Comic-Con audience in 2009 that kicked off a frenzy of coverage from the mainstream film blogs. /Slashfilm called it "undoubtedly the biggest surprise at Comic-Con", and the positive buzz led to the independent production being picked up by Universal for distribution. The new release date of August 16 gives the studio a chance to bring the sequel to SDCC and generate buzz for the film and its planned last film of the trilogy. It would also, from our recollection, be the first appearance of Jim Carrey in Hall H, and would certainly throw some heat on those Guardians Of The Galaxy rumors as well.
On the flip-side of this argument, both films are being distributed by Universal Pictures, which sat out of the con last year. Universal heavily promoted Scott Pilgrim in 2010 and Cowboys & Aliens in 2011 at the con – big events which were met enthusiastically by attendees but did not translate to box-office dollars. The poor reception at the box-office probably had more to do with the quality of the films than anything else, but nonetheless it sparked a debate on whether studios were getting a return on their investment at Comic-Con and was one of the main reasons attributing to big Hollywood opting not to make the trip to San Diego in recent years.
Saying that, will Universal return to their fan-favorite ways of old and bring both films to SDCC this year? Or will they continue to sit out and decide to spend their marketing dollars outside of the films' core audience? Time will tell, but we're hopeful.
R.I.P.D. is based on the Dark Horse comic of the same name, about a recently slain young cop who joins a team of undead police officers working for the Rest In Peace Department. Its all-star cast includes Ryan Reynolds, Kevin Bacon, Jeff Bridges, Mary-Louise Parker and Robert Knepper. Kick-Ass 2 reunites the title character and fan-favorite Hit-Girl with new crusader Colonel Stars and Stripes, played by Carrey, as they battle the evil Red Mist.
Would you be excited to see R.I.P.D. and Kick-Ass 2 on the panel schedule for this year? Let us know in the comments.