UPDATE: Thanks to everyone's overwhelmingly positive response on our April Fool's prank! Since people are still interested in reading it, we've republished it to the site. Of course, the cat's out of the bag, so we've clearly marked it as an April Fool's Day joke.
Thanks so much to our readers for making it such a big hit! Enjoy it and see you at the con!
Consider this the megaton news of the year.
It appears CCI erroneously posted an early draft of the Comic-Con 2013 programming schedule, on or shortly after midnight PT. They must have realized their mistake quickly, as it was taken down almost immediately; however our friend Google Cache was crawling the right place at the right time. The text was crawled and a snapshot image of the MySched site was made for the search results.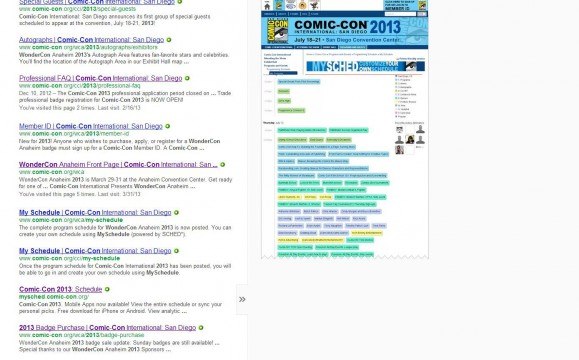 Like last month's Nerd HQ leak, the page was pulled so fast, only images of portions of the schedule were captured. Below you'll find all the detailed information we could cull from the information made available online. The original cached images are linked at the bottom of the page.
Also note since this is a very early version, the schedule is always subject to change. So don't get your hopes completely up or down yet, and wait for the final schedule to be released in July.
With that said, here are our highlights:
Wednesday, July 17
6:00pm
Special Sneak Peek Pilot Screenings
Mayhem — From Allstate and adapted by Star Trek's J.J. Abrams, Mayhem follows the adventures of the immortal demi-god from ancient Greek mythology. A trickster by nature, Mayhem enjoys causing chaos wherever he goes, blaming his exploits on natural events or poor vehicle maintenance. We follow Mayhem throughout his history, and witness the trouble he has caused on our planet, where he has never been seen by human eyes. That all comes to an end when he crosses paths with mortal Rachel in the present-day. Mayhem stars Dean Winters (Undercover Angel) and Cobie Smulders (How I Met Your Mother) as Rachel. The series will air on CBS in September.
Once: Wonderland – The spinoff to Once Upon A Time wont air until January 2014, but lucky atttendees will be able to get a sneak peak of the pilot episode at this exclusive Comic-Con screening in Ballroom 20. Set before the Curse, Once: Wonderland follows the exploits of Alice in the mirror Wonderland universe. Executive produced by J.J. Abrams.
Star Wars Episode VII: The Continuing Tales — From executive producer George Lucas and J.J. Abrams' Bad Robot productions, this epic adventure thriller centers around a family struggling to reunite in a post-revolution, multi-planetary, landscape that has been plunged into chaos. The series stars Carrie Fisher (Star Wars), Harrison Ford (Star Wars), and Mark Hamil (Batman: The Animated Series). Star Wars Episode VII: The Continuing Tales will air on ABC this Fall.
Ballroom 20
Thursday, July 18
10:00am
The Amazing Spider-Man 2 – Meet Mary Jane!
The highly anticipated sequel to 2012's The Amazing Spider-Man will premiere in May of 2014. Emma Stone (Gwen Stacy) and Shailene Woodley (Mary Jane Watson) appear to discuss the films, their characters' relationship with Peter Parker and their five lines of dialogue per film. A live arm-wrestling battle between the two beauties refereed by J.J. Abrams will be held for attendees to determine who is the worthy arm candy to our favorite web-slinger. Kirsten Dunst moderates the panel.
Room 32
11:20am
Nickelodeon: More Blood & Guts & Krabby Patties!
Nickelodeon executives and members of the network's creative teams, along with J.J. Abrams, will be on hand to discuss the new direction the network will be taking this Summer: Adding three new shows in the world of SpongeBob SquarePants, and another Avatar: The Last Airbender sequel, entitled Republic City After Dark. Also featured will be a sneak peek and discussion of Nickelodeon's new horror movie aimed at youngsters: Death Under the Sea!
Room 6ABC
12:00pm
TV Reunion Day: ALF
Hide your cats! Your favorite television family of the '80s returns to Comic-Con's big stage! The Tanner family – Max Wright, Anne Schedeen, Andrea Elson, Benji Gregory – and J.J. Abrams join everyone's favorite Melmac import for big laughs and a few tears along the way. Jim J. Bullock moderates from the upper-left square.
Hall H
Friday, July 19
10:00am
Serenity Returns
Joss Whedon and J.J. Abrams make a special announcement regarding the future of the Firefly franchise. The new made-for-television movie, Serenity II: The Legend of Curly's Gold airs this November on the Science Channel. Special guests: To be announced.
Hall H
11:00am
Visionaries with Charlie Sheen
The Visionaries panel returns in 2013 with an American legend. Charlie Sheen sits down with J.J. Abrams (Felicity) in the annual series to discuss how he survived the three "H"s of Hollywood: Hot Shots, hookers and hard drugs. Also expected are in-depth discussions on alien abductions and his work with Oliver Stone, which may very well be one and the same.
Ballroom 20
12:30pm
Introducing S.H.I.E.L.D
In the vein of Lois & Clark: The New Adventures of Superman, ABC Television brings us S.H.I.E.L.D. based on Marvel's surprise indie hit The Avengers. With Agent Coulson back from the dead, will he be able to use his new-found super powers to save the planet from a new, mysterious enemy? Panel guests include Jeph Loeb, Joss Whedon, Jed Whedon, Zack Whedon, Groucho Whedon, Chico Whedon, Clark Gregg and J.J. Abrams. Moderated by Harpo Whedon.
Room 25C
Saturday, July 20
10:00am
Expendables: Round 3
A Comic-Con favorite, Nathan Fillion, brings new blood to this "aging" franchise. Panel guests for 2014's Expendables: Round 3 to include Sylvester Stallone, Paul Reubens, Corey Feldman, Jay Baruchel, Jon Heder (Napoleon Dynamite) and J.J. Abrams.
Hall H
11:00am
Warner Bros. Studios Panel and Q&A
Warner Bros. Studios will preview several of its upcoming films for attendees of San Diego Comic-Con. The presentation will also include the exclusive announcement of its DC Cinematic Universe plans, starting in 2015 with J.J. Abrams' The Flash starring Jack Black.
Hall H
3:00pm
Marvel Studios Presents
Join Kevin Feige as he introduces Marvel Cinematic Universe: Phase Three. Notable panel guests include J.J. Abrams, as well as Marvel's new Tony Stark — actor Ken Jeong! Special appearance by Kim Jong-un, who recently signed a deal to play as himself as the Avengers' newest and greatest foe, based on his experiences of creating large-scale superhero battles with his Marvel action figures as a grown man. NATO spokesman Dennis Rodman moderates.
Hall H
5:00pm
Teenage Mutant Ninja Turtles
Those alien turtles are back! Michael Bay and J.J. Abrams bring us the first footage from his new TMNT motion picture. Will Donatello and April's relationship survive the news that he is from another planet? Will their baby be more alien, turtle, or human? And, how can the turtles be mutants if they are aliens? Bring your questions and Michael Bay probably will not answer them!
Hall H
6:00pm
An Evening With Kevin Smith
Continuing the ancient tradition, Kevin Smith's Saturday night panel returns to Comic-Con with a very special event. This year, Kevin brings us his new line of plus size hockey jerseys and 5XL and above size pants. J.J. Abrams will be on hand to drown in the cloth.
Hall H
7:00pm
Veronica Mars Movie Premiere
Kickstarted and filmed within an incredibly quick one-month timeframe, Comic-Con proudly present the world premiere of the Veronica Mars movie! Presented by Kristin Bell (Movie 43), creator Rob Thomas and J.J. Abrams (Everything) we learn what Veronica has been up to these past few years, and what new adventure fans have kickstarted.
Hall H
Sunday, July 21
10:00am
Supernatural: The College Years
Series stars Jared Padalecki (Friday the 13th [2009]) and Jensen Ackles (My Bloody Valentine 3D), recurring guest stars Misha Collins (Ringer), J.J. Abrams (Regarding Henry), and consulting producer Ben Edlund (The Tick) return to Hall H to answer questions from the audience about what's in store for the ninth season of the long-running series, which follows the Winchester kids during their early years as fraternity members of Lambda Lambda Lambda house. Fans will see an exclusive video presentation featuring series highlights, as well as meet newcomer Dustin Diamond, who will play the Winchester's big brother.
Hall H
11:00am
BBC America's Doctor Who
BBC America's Doctor Who star Matt Smith and award-winning lead writer and executive producer Steven Moffat bring along new footage of the upcoming season which pits the Doctor against the rogue Time Lord Doctor Whodat, played by J.J. Abrams (Forever Young), in a storyline that's promised to shake up the British import more than Prince Harry at a strip poker table.
Hall H
2:00pm
Dr. Horrible's Sing Along Blog 2: The Redemption
"Half the Singing, twice the Horrible." The entire Dr. Horrible team returns to Comic-Con to premiere exclusive footage from the upcoming feature-length sequel to the Internet sensation. A live performance will include Jed Whedon, Maurissa Whedon, Curly Whedon, Zack Whedon, Joss Whedon, Neil Patrick Harris, Zombie Felicia Day, and Nathan Fillion's hammer. Moderated by J.J. Abrams (Armageddon) with a special guest appearance by Liv Tyler.
Hall H
The early schedule can be viewed via Google Cache. Check it out now before it is erased from the interwebs.
Which panel are you most excited for? Let us know in the comments.