Breaking news regarding Nerd HQ, the popular counter-convention started by Zac Levi back in 2011 and held during San Diego Comic-Con.
According to Google web caching, Nerd HQ will be held in Petco Park for 2013. Upon performing a Google web search for "Nerd HQ Petco Park", the following shows up in the cached results for The Nerd Machine's Nerd HQ official page:

The Nerd Machine's "Nerd HQ" is back, and bigger than ever. This year Nerd HQ is taking over San Diego's Petco Park. You read that right, Petco Park.
The information above does not appear published on the official Nerd HQ page, which means it was probably posted at one point and subsequently taken down.
[UPDATE] We've taken a screenshot so that everyone can have a closer look. Click on the image below for a fulls-size image of the page's web cache.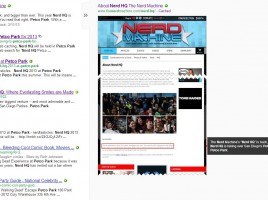 Currently the website reads, "The Third Annual NERD party will be bigger and better than ever at the HQ."
No other details are offered but we'll update everyone as soon as we hear.
Are you excited for a bigger, better Nerd HQ this year? Let us know in the comments.