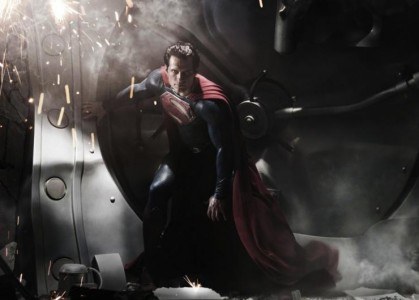 Long before there was legitimate talk of an Avengers film, a Justice League movie project was already a veteran of the rumor mill. Although things have heated up…and cooled off repeatedly  the nerd populace is hungrier than ever to see their favorite DC stars team-up. With recent talk of Nolan leading efforts to guide Superman and Batman jointly to film, it got us looking closer at some items that make us wonder if San Diego Comic-Con's Hall H could become the site of a major Warner Bros. announcement this July. Here are some Justice League thoughts that intrigue us:
Warner Bros. Has Stated It's Going to Make an Announcement
We've all read the recent comments by Jeff Robinov, President of Warner Bros. Picture Group, about the imminent announcement of a direction for the DC universe on the big screen. Stating that an announcement of a definitive approach will occur in the next several weeks, one has only to look at the calendar and see the perfect fit for a marriage of SDCC and a casting announcement. Warner Bros. can build steam going into Man of Steel with a Justice League announcement and get all of us salivating for casting news that could very well follow in the middle of July…at a convention…in San Diego.
The Potential for a Diminished Marvel Films Presence at SDCC Opens the Door for Warner Bros.
I know, I know. You really want Marvel to be at SDCC. I know you hate the idea of this even being mentioned, and we are with you. No one hopes for a strong Marvel film presence more than the SDCCBlog team, but it is inarguable that ever since Disney's acquisition of Marvel, their presence has been substantially different at Comic-Con. Anyone that spent the day chasing Item 47 last year or bemoaned the Avenger's assembling in the Anaheim Convention Center at D23 Expo in 2011 rather than in Hall H knows that things have been different since Black Widow moved into Cinderella's Castle. Will Marvel return to its dominant position this year like the old days when Joss Whedon and Robert Downey Jr. owned SDCC? We hope so! Many SDCC attendees fell in love with Comic-Con because of the Marvel films.
Although WonderCon is a totally different show than SDCC, there were some interesting findings at this year's convention. There was no true Marvel presence, comic or film, at CCI's sibling show this year. With Marvel sitting out the show in Disney's backyard, Warner Bros. and DC made big moves to focus the spotlight firmly on their section of the caped universe. While the most Marvel-centric panel WonderCon hosted was writer Dan Slott's (Spider-Man) spotlight, DC was in full swing with 17 DC/WB-centric panels. These ranged from comic-specific panels all the way up to screenings and panels of things like Arrow, the Lego Batman film, Teen Titans Go! and a new animated Superman film, Superman: Unbound. DC Entertainment was an official sponsor of the show and the program book was a bold Jim Lee design of Superman. It wasn't just that DC attended WonderCon and Marvel didn't…it was that DC made a statement. Although Warner Bros. did not seize the opportunity to push Man of Steel, that seems to coincide with a strategic plan to keep things related to the film as quiet as possible until after Iron Man 3 repulsor-rays its way through a big weekend or two. Released footage has been absent of the "Oh My God!" moments thus far and they've even kept their toys – always filled with spoilers – boxed up for what is a very late release in the toy game (mid-May for Lego).
No one is saying there won't be a huge Marvel booth with an Asgardian throne or a Guardians of the Galaxy spaceship at the center of SDCC this July, but history must be considered. There is a D23 Expo in August and Disney isn't known for giving their IP away for free. Regardless of whether or not Marvel films plays strong at Comic-Con, the question marks do provide DC and Warner Bros. with some leverage they have never had in the film universe. Could this be foreshadowing for the DC heroes finally getting their moment in the San Diego sun?
Opportunities for "Avengers Assemble" Moments are Rare
Few argue that the "Avengers Assemble" moment of 2010's SDCC is one of the top all-time SDCC moments. Moreover, it left a pronounced mark on the entertainment industry and helped to propel Marvel's Avengers to record-breaking box office numbers. Although many would argue that a similar play by DC would be derivative, we all know that it is the name of the game in entertainment. When something works, it quickly becomes a norm and it is inarguable that just about everything related to the Avengers worked. For Warner Bros. and DC to come to the pop culture mecca and pay tribute to the nerds that have made its shareholders so very wealthy would make the geek world explode. Outside of a Star Wars film reveal (also unlikely with D23 Expo in the mix), is there anything that could steal the entertainment spotlight in America more than a Justice League moment in Hall H? To see an Ant Man-like piece of test footage or to "assemble" the Justice League cast in front of an electric Hall H crowd could even rival the special moment of 2010.
At this point there is little known about the future of a Justice League film, but it is difficult to imagine a future where the movie isn't made. The Avengers proved many things, but most importantly it proved that there isn't a bigger business than super hero team movies. Although producing a Justice League film without the benefit of universe building in stand-alone films the way Marvel did could prove to be a less successful approach, it is undeniable that the film would be big business..and it is also undeniable that Hall H is the place to introduce big business like this.
In the end, there is much to consider. While we hope this year has the biggest presence of DC and Marvel movies ever, we are also paying attention to history. Just the same as our desire to have a huge Marvel film presence doesn't mean that it will occur, the same can be said for all of our Justice League dreams. Warner Bros. hasn't been able to match the Marvel magic in the theaters yet, so why should we think they'll make Marvel magic in Hall H this July? Nerds can hope, can't we?
What do you think? Any chance of the Justice League turning Hall H into their own Hall of Justice this July? Let us know in the comments.