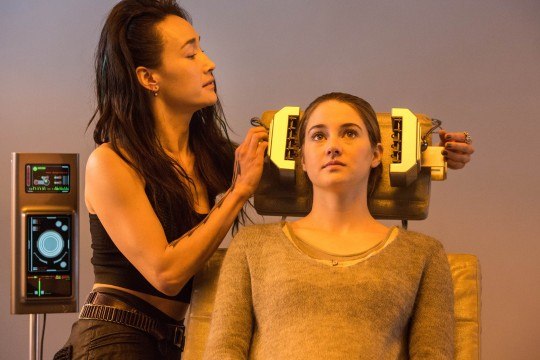 [UPDATE]
Fan site Divergent Fandom has announced that they received further details on the Divergent panel for Thursday from Summit Entertainment.
The panel, set for Hall H, will include "the first footage ever" of the upcoming feature film, and will also feature a Q&A with cast members Shailene Woodley, Theo James, Miles Teller, Maggie Q, Ansel Elgort, Mekhi Phifer, Ben Lamb, Ben Lloyd-Hughes and Christian Madsen. Also in attendance will be novelist Veronica Roth and director Neil Burger.
Summit Entertainment's booth will also be giving away premium promotional items for the film throughout the convention, and the cast members will also be holding an autograph signing.
[PREVIOUS]
We have some big news about two of Summit Entertainment's biggest upcoming releases, and their plans at San Diego Comic Con this year!
Some had speculated that Summit Entertainment's early announcement of Ender's Game meant that would be the only property the studio would be bringing to Comic Con this year – but we now know they'll also be bringing Divergent and Escape Plan on Thursday!
Actress Maggie Q, who will also be at SDCC for the final season and panel for her TV show Nikita as well an Entertainment Weekly panel on Saturday (which may be their annual "Women Who Kick Ass" panel), revealed on her Twitter that she will be a panel for Divergent:
I just wrapped on Divergent!!!!! See you at Comic Con on July 18! Nikita July 19! EW panel July 20! I'll pretend to be interesting. Promise

— Maggie Q (@MaggieQ) June 29, 2013
According to Moviehole.com on their Twitter, Summit Entertainment will also be bringing the Arnold Schwarzenegger and Sylvester Stallone film Escape Plan for a Hall H panel on Thursday. This would mark the duo's second year in a row to fill Hall H, after attending for last year's Expendables 2.
Comic Con attendees! See Arnold Schwarzenegger and Sylvester Stallone in-the-flesh at the "Escape Plan" panel in Hall H on July 18!

— Moviehole (@Moviehole) June 29, 2013
All three Summit films – Ender's Game, Divergent and Escape Plan are likely to have back-to-back Hall H panels on Thursday. And though no other cast or times has been announced, we'll let you know as soon as we hear more.
Are you excited? Did your schedule planning just get harder? Let us know in the comments!