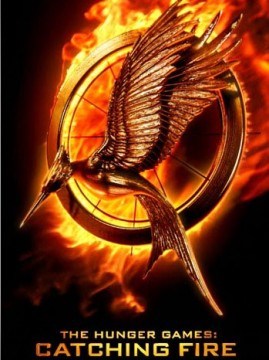 Saturday is going to be one busy day in Hall H.
Not only will we have the big Warner Bros. Pictures and Marvel panels, but now Lionsgate is throwing its hat into the ring and will bring The Hunger Games: Catching Fire and I, Frankenstein to Hall H on Saturday July 20, via Fandango.com. Panel guests were not listed, but "will feature talent from both films along with never-seen-before footage."
Fandango's own Dave Karger will be moderating, and he has asked fans to submit questions via Fandango's Facebook page, using the hashtag #CatchingFireComicCon and #IFrankensteinComicCon.  For those who will not be able to attend the panel, the answers to these questions will also be posted on the Facebook page following the panel.
Fans have been clamoring for a Hunger Games panel since before the first movie was released, but this will be the movie franchise's maiden voyage in panel form (the cast was at the Lionsgate booth last year for an autograph session). I, Frankenstein is the film adaptation of Danny Boyle's stage production and stars Aaron Eckhart as The Monster, Bill Nighy and Yvonne Strahovski (rumored to also be at Comic-Con for TV Guide Magazine's Fan Favorites panel, and probably also a lock for the last Dexter panel).
It can be deduced that the panel time will be earlier in the day, as Warner Bros. and Marvel will be taking up the later afternoon slots in the big room. Interesting that Summit Entertainment, which is now part of Lionsgate, was not included in the panel line-up. Traditionally Summit has held the first Hall H panel of the show with the Twilight franchise, and it was strongly rumored that parent Lionsgate would have a shared panel to again kick off the Con. We know that Ender's Game, a Summit production, will be at Comic-Con – might Summit hold its own panel as with previous years? We'll see.
Ready for a long Saturday in Hall H? Let us know in the comments.