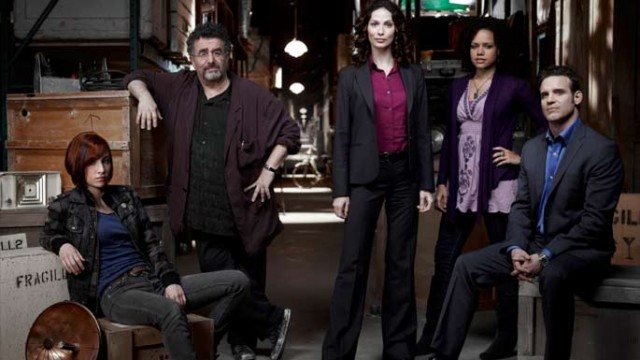 Syfy will be returning to Comic Con this year with four panels (plus the previously announced Haven) for series Defiance, Helix, Being Human and Warehouse 13.
This will be fans last chance to say goodbye to the entire cast of Warehouse 13 before its fifth and final season, as well as their chance to catch a glimpse of the upcoming series Helix (from Battlestar Galactica creator Ronald D. Moore), which will begin airing this fall.
No official details on whether or not Syfy will be taking over the Hard Rock cafe space again (which in the past has been Cafe Diem from Eureka and Defiance Cafe from Defiance), but we expect them to occupy the space again.
Here's their full schedule:
FRIDAY, JULY 19:
DEFIANCE
PANEL: 10:30AM-11:30AM  ROOM 6A
Earth has changed, and entertainment will never be the same. Join Grant Bowler (Nolan), Julie Benz (Amanda Rosewater), Stephanie Leonidas (Irisa), Tony Curran (Datak Tarr), Jaime Murray (Stahma Tarr), Jesse Rath (Alak Tarr), Executive Producer Kevin Murphy and more from Syfy's groundbreaking multi-platform series as they discuss the overwhelming success of Defiance (the show and game) and share exclusive details from the second season.  Moderated by Maureen Ryan, TV Critic for Huffington Post.
HELIX
PANEL:  11:45AM-12:45PM  ROOM 6A
Leave sunny San Diego behind for an icy chill as the team behind Helix (Executive Produced by Battlestar Galactica's Ronald D. Moore) discusses Syfy's hotly anticipated new series. Get an inside look at the thriller about a mysterious outbreak at a desolate Artic outpost. The truth will spread!  Moderated by Entertainment Weekly's Geoff Boucher.
SATURDAY, JULY 20:
BEING HUMAN
PANEL:   4:00PM-5:00PM HILTON BAYFRONT, INDIGO BALLROOM
Itching to know what goes on behind the scenes of Syfy's smash hit series Being Human? Give in to your temptation and join cast members Sam Witwer (Aidan), Meaghan Rath (Sally), Sam Huntington (Josh), Kristen Hager (Nora) and Executive Producer Anna Fricke as they discuss what's in store for the new season.  Moderated by Aaron Sagers, entertainment journalist (CNN.com/MTV.com) and geek culture expert.
WAREHOUSE 13
PANEL: 5:00PM – 6:00PM HILTON BAYFRONT, INDIGO BALLROOM
Go behind the scenes of America's top-secret supernatural storage facility with Warehouse 13's Eddie McClintock (Pete), Joanne Kelly (Myka), Saul Rubinek (Artie), Allison Scagliotti (Claudia) and Jack Kenny (Executive Producer).  Take a look back at four out-of-this-world seasons and get a glimpse of what's in store for the fifth and final season of the beloved Syfy series.  Moderated by Entertainment Weekly's Geoff Boucher.